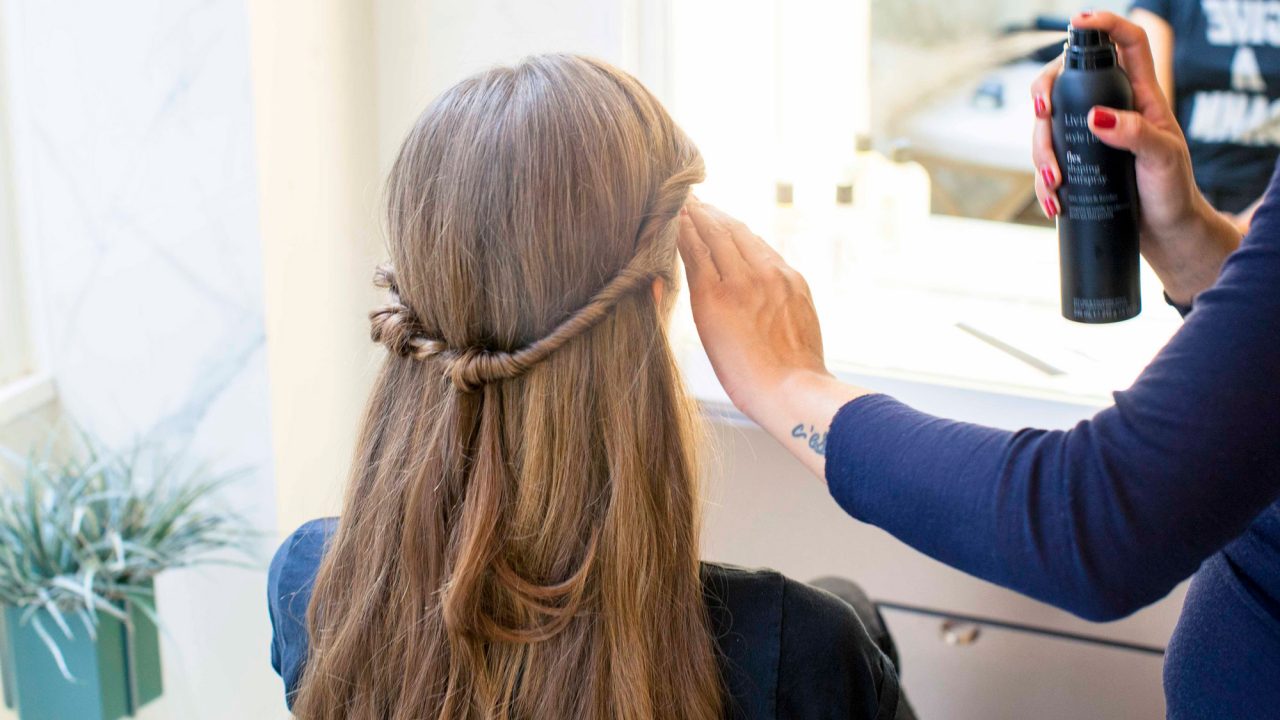 3 Runway-Inspired Braids for Fall
Even if you can't get the full runway look, you can at least get the hair.
Newsflash: summer is over. And in case you haven't heard it a million other ways over, it's officially time to GYST. And because we've been rocking hair that's wet and slicked back in a bun since Memorial Day weekend, October is as good a time as any to maybe, actually, style our hair before leaving the house. As if reading our minds, Blackstones Salon invited us over (founder Joey Silvestera is coming soon to a Coveteur near you, too) for some easy-to-do hair tutorials. Of course we said yes—a morning spent drinking coffee and eating fresh croissants in a Parisian bathroom-inspired salon while getting hair schooled is our kind of morning. And stylist and hair expert extraordinaire Angela Soto took care of us by recreating three of our personal favorite braided looks from the runways and then breaking it down so we can do it at home. They're just dreamy enough to make us forget that winter is coming.
---
"This is the ultimate downtown cool girl braid—messy and undone but sort of sweet at the same time. I love how effortlessly chic it is. It's pretty easy to achieve if you have the length, salt spray and an elastic band."
2. "Spray Sachajuan's Ocean Mist at the root all over generously for volume, misting the rest of the head lightly. Rough dry hair while pushing it in the opposite direction you will wear it. Scrunch as you dry to bring out any natural wave. If the hair is still soft, you can repeat those steps to build product up in your hair."
3. "Toss hair to one side and loosely braid behind the ear to the ends and secure with a small elastic band. Gently pull soft hairline hairs out and pull the braid apart a bit—you can use U-pins to do this for an even softer finish. The key for this look is texture, volume and softness."
"The Céline woman is the epitome of sophistication. I love how a simple braid can really turn up the statement. The slickness of it makes it a power look. But it's a combination of tomboy meets Sade—the height in front gives it a sense of masculinity, but the braid is more feminine. A strong red lip really ties together the entire statement."
2. "Start with a deep side part. Take a triangular section to the high recession of the hairline. Using a small round brush, brush just that piece and clip to set, about two sections."
3. "Remove pins, spray dry shampoo or Sachajuan Volume Powder on those sections and lightly back-comb. Use a long clip to secure it on the side while you brush everything back. Use a little pomade on the sides and nape of the head to make it clean and slick, and spray with Living Proof Flex Shaping Hairspray."
4. "Secure a tight ponytail using an elastic just below the crown of the head. Brush ends and use pomade to lightly smooth over before braiding. Braid tightly from the base to the ends and secure with an elastic.
5. "Use hairspray to clean up strays and baby hairs on the side and nape of neck and over braid."
"This look can be worn for special events or a wedding—it gives an effortless romantic feel but still very elegant at the same time. It's fantasy princess hair, perfect for an ethereal or royal vibe."
2. "Make a short center part, take a triangular section from the part to the high recession on both sides, clip aside. Take the rest of the hair about 1-1 1/2' deep from the hairline and prep with Sachajuan Volume Powder. Pull back softly and secure both sections with an elastic—not too tight, it should hang by mid-ear."
3. "Prep remaining top pieces with dry texturizer, brush for fullness, twist back along hairline and insert underneath the pieces that are already pulled back. Pull down and around, looping it along the section horizontally. When you finish the other side, use a U-pin to secure it. Pull at the hair looped around to break it up and give the section more volume. Loosely braid the lower length of the hair and secure with an elastic. Pull braid apart to loosen."