Food
Courtesy of Toronto's new cozy snack spot, Pray Tell Bar.
Jaclyn Locke
When we aren't shooting one-of-a-kind Pablo jackets or coming out with a coffee table book (!!!), chances are we're eating something, somewhere. Lunch discussions at Cov HQ are taken very seriously, and we pride ourselves on uncovering new spots to indulge. So, when we came across Toronto's College Street Pray Tell Bar—the cutest little place that is practically exploding with plants (in the best way)—we knew we had to make a trip there immediately to try one of everything on the menu, this King Cold Roll included (it's like a healthier version of a spring roll). And since it was so damn good, it would've been a little selfish for us not to share Chef Sonia Mondino's creation with you.
---
INGREDIENTS
4 Sheets Rice Paper
1 Large King Oyster Mushroom (sliced—marinated in soybean sauce—see recipe below)
1/4 cup Carrots (julienne strips)
1/4 cup Daikon (julienne strips)
2 Sprigs Mint (off the stem)
2 Sprigs Thai Basil (off the stem)
1/4 cup English Cucumber (julienne strips—pickled in white vinegar for 1 hour)
1/6 thinly sliced Avocado
1 tablespoon Peanut Sauce (see recipe below)
3 tablespoons Dipping Sauce (see recipe below)
GARNISH

3 Sprigs Cilantro (on the stem)
1 tablespoon Nori and Sesame Furikake
Directions:
 
1. Grill the king oyster mushrooms on high heat for approximately one minute each side. Allow them to cool before cutting into julienne strips—set aside.
2. Place the four sheets of rice paper in a bowl of lukewarm water. Once softened, remove them from the water and separately place them onto a clean work surface, making sure not to tear the sheets. Remove any excess water off the sheets by dabbing with a clean tea cloth or paper towel.
3.  Place one rice paper in front of you and layer all of the ingredients across the centre of the rice paper, one at a time.
4.  Slowly roll the cold roll together, allowing your fingers to help guide the ingredients to ensure a tight roll. Do not panic if your rice paper tears or rips, that's what the other three are for.
5. Using the same rolling process, add the other three rice papers to the roll.
6. Using a sharp knife, slice the roll into six even rounds and place standing up onto a clean plate.
7. Drizzle the peanut sauce*** over each piece and sprinkle nori and sesame furikake over entire plate. Place pieces of cilantro in end pieces.
PEANUT SAUCE
2 cans Coconut Milk
2 stalks Green Onion (roughly chopped)
3 inch nub Ginger (roughly chopped)
1/2 cup Smooth Peanut Butter
1 tablespoon Sriracha
Salt to taste
Directions:
1. Heat a small pot and add coconut milk, green onions, and ginger and allow it to reduce to half.
2. Strain the coconut milk into a clean bowl and whisk in peanut butter, sriracha and salt.
3. Pour into a squeeze bottle and allow to cool (will thicken when it's cool).
SOYBEAN MARINADE
1/4 cup Soybean Paste
1/4 cup Vegetable Oil
2 tablespoons Grated Ginger
1 tablespoon Grated Garlic
1/2 tablespoon Crushed Chilis
Directions:
Mix all ingredients together in a clean bowl.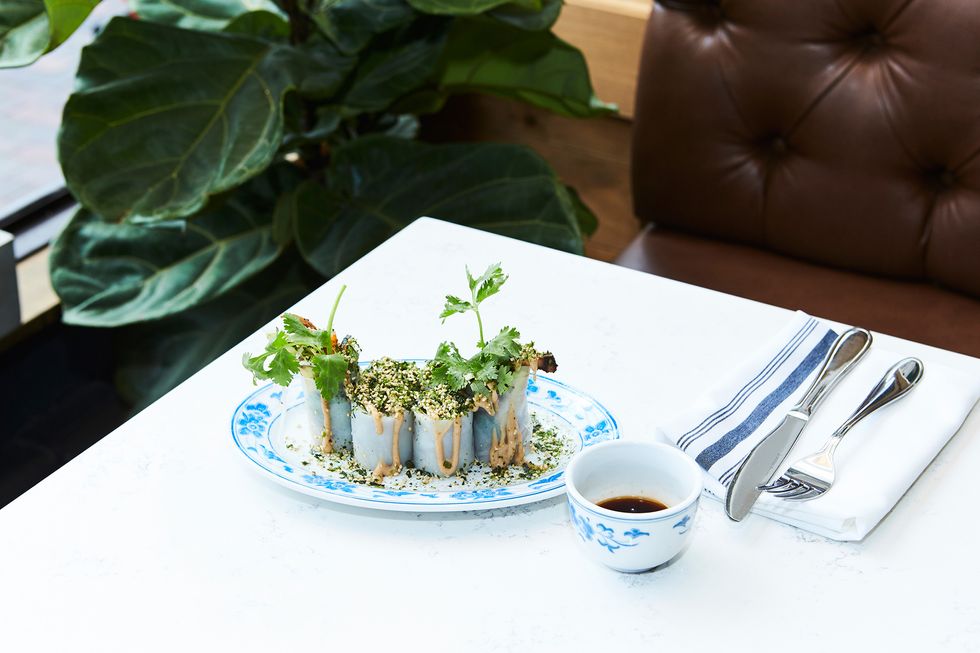 DIPPING SAUCE
1/3 cup Soy Sauce
4 tablespoons Rice Wine Vinegar
2 tablespoons Grated Ginger
1 tablespoon Sriracha
Directions:
Whisk all ingredients together in a clean bowl.