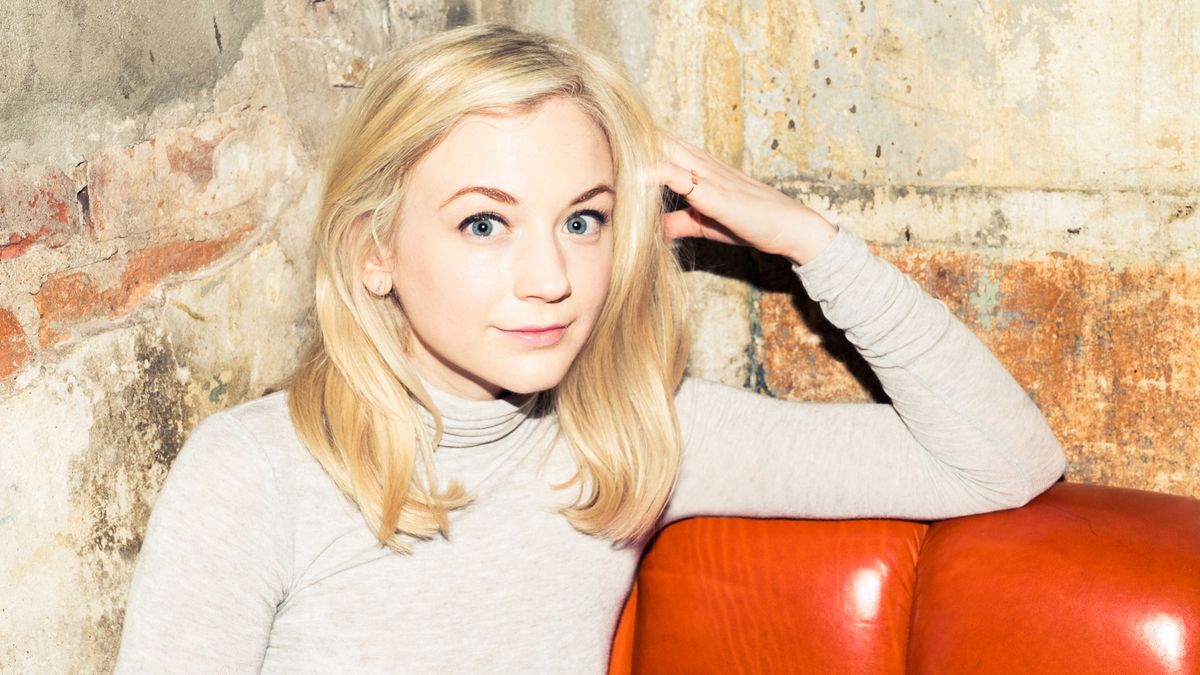 Celebrity
The actress and songwriter is out with a new EP and starring in a new, very different role.
Renée Rodenkirchen
It's been a couple seasons since Emily Kinney's character on the insanely cult-y and successful zombie drama, The Walking Dead, was killed off. But girl is just ramping up. With a new EP out this month, gigs booked across North America, and a starring role in the new series Conviction, where she plays a tough, brilliant young lawyer (a *real* big contrast to her soft, sweet persona on The Walking Dead—until, you know, her final scene), it's easy to see that she's not one to get type-cast. And we couldn't think of a better way to catch up and talk about what life is really like after The Walking Dead (for the record, she still has some pretty interesting encounters with fans—and, yeah, we may have grilled her for spoilers)—the importance of music in her life, and the challenges she didn't expect with her newest role—than over tacos and super spicy margaritas at La Carnita.
---
Her gradual rise to fame & what life has been like since The Walking Dead:
"By season three and four of The Walking Dead, people started being like, 'Oh my god, I think I know you from the show.' So it was somewhat gradual. It became a bigger and bigger and bigger thing. Now that I'm not working on the show, my life has changed—I got into the routine of being in Atlanta [where the show is filmed] quite a lot. Since then I've worked on other TV shows, like Masters of Sex, The Knick, now Conviction."
How singing became a part of Beth's character:
"Before I booked the role on The Walking Dead, I played a lot of gigs around New York City and was recording an EP with my friend Conrad. I had a gig in Atlanta and between seasons two and three, the writers would come to my shows. Right before we started to work on season three, the showrunner at the time, Glen Mazzara, called me and said, 'I have this idea; maybe [your character] Beth is a singer, and there's a moment around the campfire where you start singing. Are you comfortable with that?' It just became a part of who she was, which was really cool. There was so much fighting and violence, you needed moments of calm and emotional release."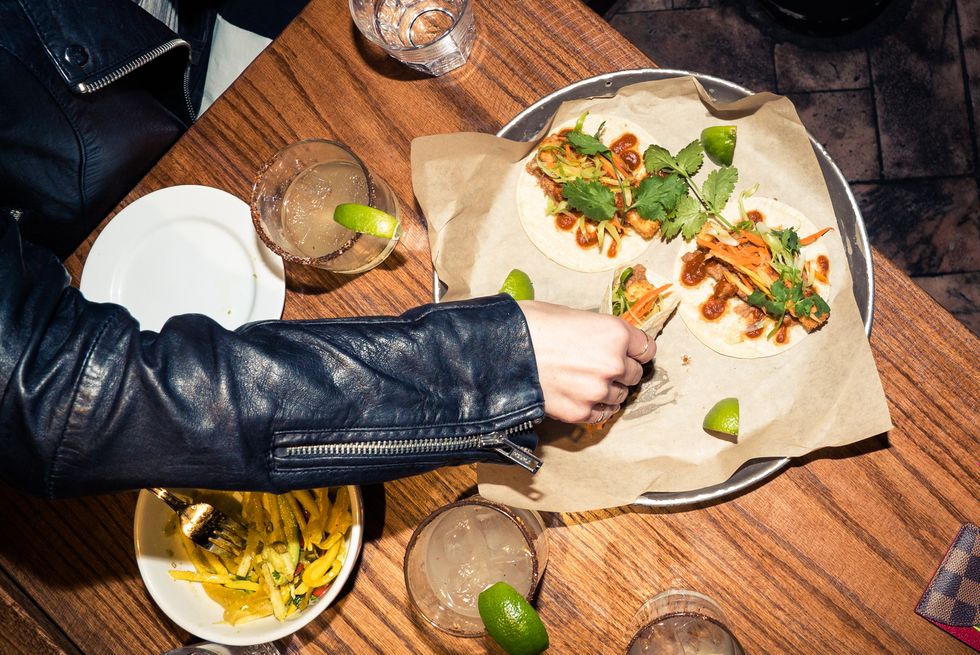 If she's keeping up with The Walking Dead since leaving the show:
"I don't actually, to be honest. I don't watch a lot of TV. I'll tune in every so often—I'm more of an irregular watcher. It's a different experience than it is for a fan. For me, these are my friends and I see them outside of the camera, so it's very different."
What she's been up to:
"My new show, Conviction, just premiered on ABC. And I have two new songs that are on 7-inch vinyl. The songs themselves aren't necessarily '70s-sounding, but I wanted to get the feel since my inspiration comes from Carole King and similar artists. I wanted a cool way to put out two new songs, because I think it's going to be a while until I release another full album. I want to take a lot of time and work with different producers before the next one, but I didn't want it to be two years until I released any new music. I'm always writing, so I want to get it out there."
On her new show:
"[Conviction] is a procedural, what's cool is that we're investigating cases each week where the person who was convicted may have been wrongly convicted—it's tapping into the Serial podcast or Making a Murderer theme. Within that weekly news story, we all have our own storylines. Tess, the character I play, is the youngest of the lawyers that work in the 'conviction integrity unit,' so she's very eager and trying to prove herself. I always have a lot of facts to spew, which is really fun. It takes a lot of memorizing; I talk to walls in my apartment trying to remember my lines, saying them aloud over and over again. Once in a while, I'll do a weird letter-association thing. Tess has a secret past and more reasons to be involved in this work than you first realize—it slowly comes out over the course of the season."
The surprising challenges that come with her new role:
"I didn't realize what a gift and relief it was to be working on a show where it's the end of the world and you can just look crappy all the time. I would never look in the mirror when filming The Walking Dead—it was great if I looked awful, exhausted and covered in dirt, there wasn't a lot of pressure. With this show, for some reason, I feel more pressure to look nice and a certain way. I find it a bit distracting to be so worried about my appearance.
"I would say the lines in this show are a new challenge too because of the legal jargon. I'm on set every single day with a new chunk of information, so it's a test to my brain more than the emotional capacity part of acting [like on The Walking Dead]."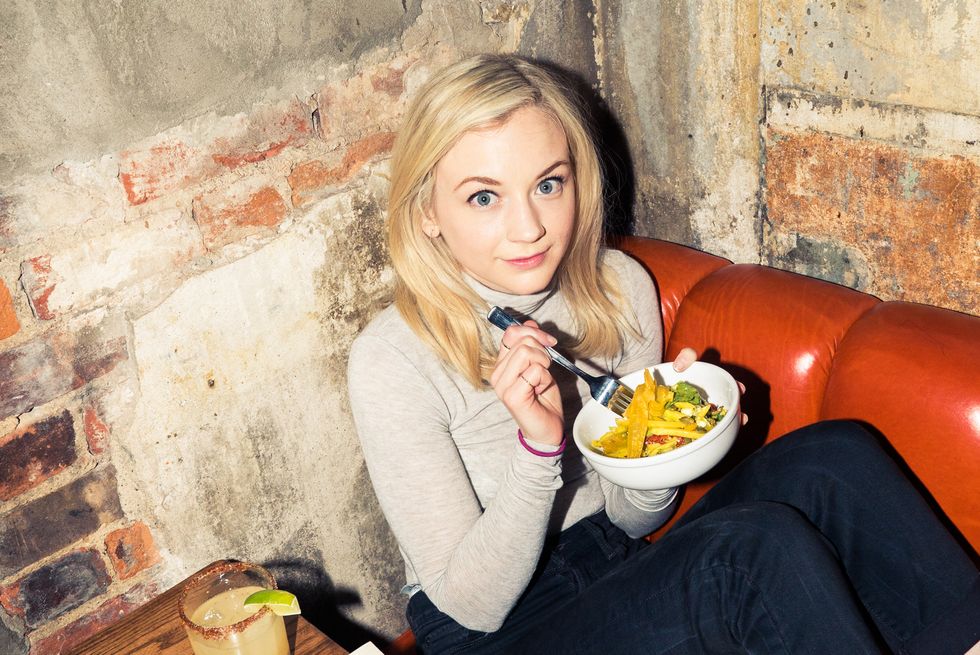 Her fuel and ultimate last meal:
"I love coffee. If I don't have coffee, I can't function in the morning until I have it. I'll take it either hot or cold.
"I have two things that I'm thinking of for my last meal. I love avocado toast—I know it's so trendy and basic, but honestly, I would eat it for breakfast, lunch, and dinner. My favorite is avocado, cucumber, sprouts, and hot sauce on a really grainy bread like Ezekiel. I really love macaroni and cheese, too. It has to be worth it, though—I'm very specific."
What she's noticed while filming in Toronto:
"Canadians are extremely polite, but not to the point of annoyance. I've realized if you want something, you have to apologize first. If you're at a store and want a different size of jeans, you have to be like, 'I'm so sorry, but I was wondering if maybe you have a different size of these jeans?' instead of 'Do you work here? Do you have a different size of these jeans?' It's a Nebraska thing, too. But in Nebraska [where I'm from], you don't say it before you ask for things.