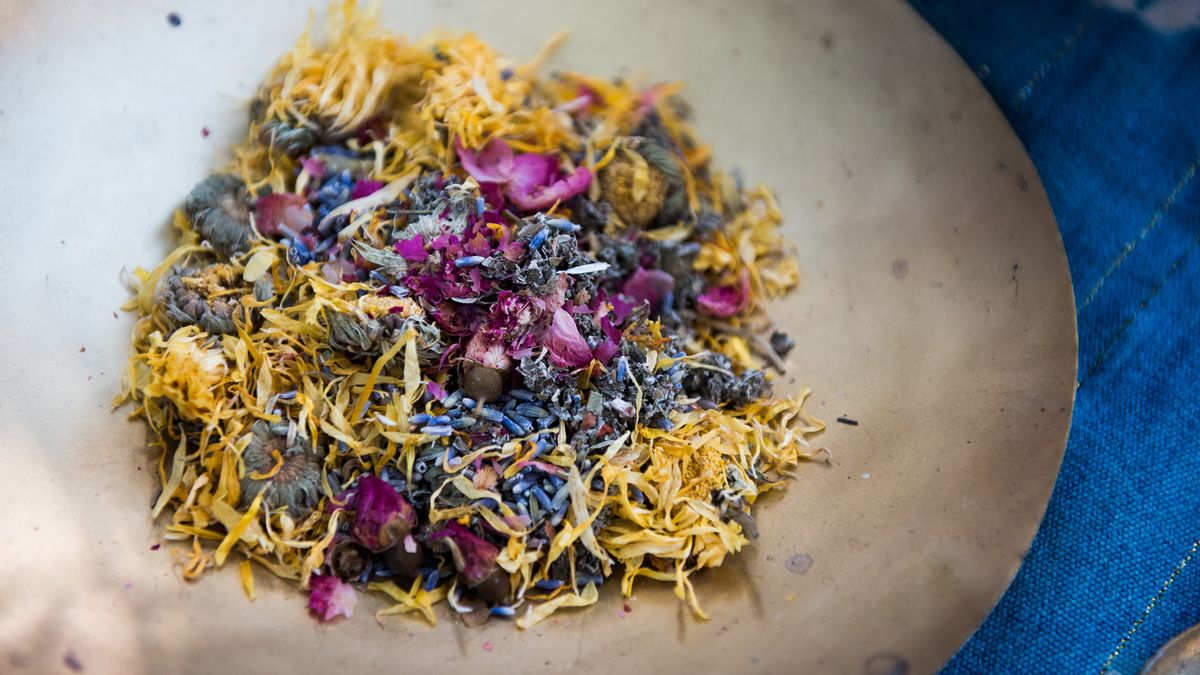 Health
Your beauty routine is about to get a whole lot more meditative, courtesy of Shiva Rose.
So you've tried Headspace, deep breathing, and what feels like every "meditation for beginners" guide ever. And still, nothing. So what's a girl with 15 million things on her mounting to-do list, who's never not on the verge of spiralling all the way out, to do?
If this sounds like you, you may want to try paying a visit to Shiva Rose's home in the Pacific Palisades. The moment you step inside, you feel like you're in an entirely other, decidedly zen, world. But since dropping in on Rose the way we did isn't exactly feasible (sorry!), you *can* recreate the next best thing at home, inspired by two integral parts of her dedicated wellness, beauty and self-care routine—the tea ceremony, and her herbal face steams. After all, Rose, who recently launched her own line (the products of which she still whips up at home, in her garage, BTW—we saw it for ourselves), is proof positive that a little mindfulness can go a long, long way.
---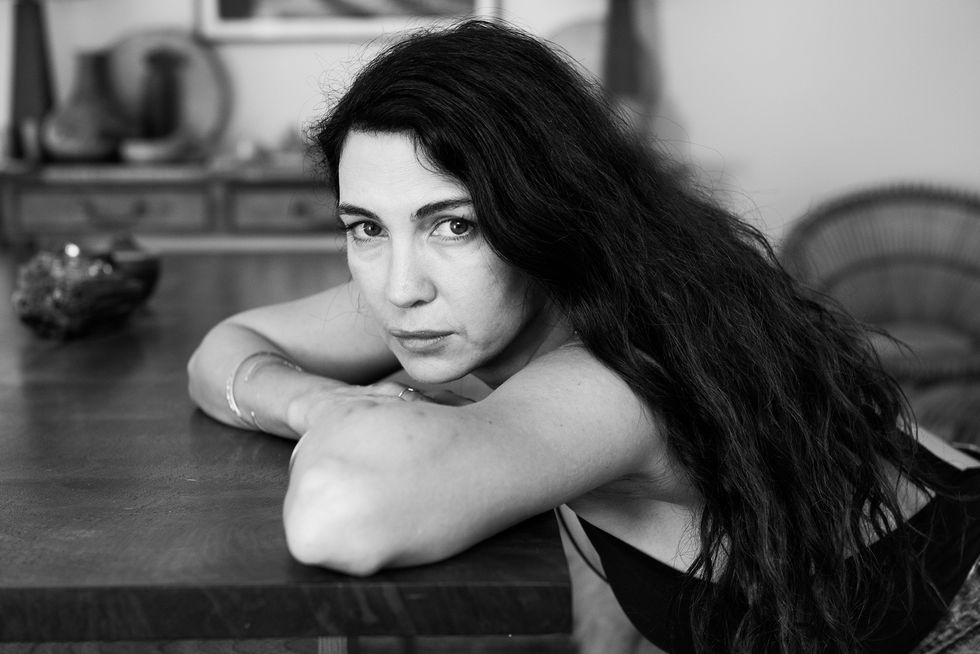 You might not have an actual ceremonial tea house to call your own; and what's an idyllic backyard setting for Shiva may be an itty-bitty bathroom you share with ten roommates. But as Rose explains, what really matters is the intention you put behind the whole thing. "You're honoring yourself. Seven years ago, I got divorced, and I felt one of the ways to heal myself was by self-love. That's something we're not usually taught." So what does that have to do with steaming your face open with dried rose petals? "In today's society, we've lost touch with the feminine. Everything is so fast-paced, so type-A. I'm trying to take things back to the feminine, which is about receiving. That's hard sometimes for us. This is a way I receive love and I receive nourishment." She continues, "Yeah, anyone can steam their face, but when you light a candle and incense, put in intentions into the beautiful calendula blossoms that are going to clean your pores, and the rose that's going to open your heart, that takes it to another level. And why not?" she says, smiling. When you put it like that, it's pretty damn near impossible to argue otherwise.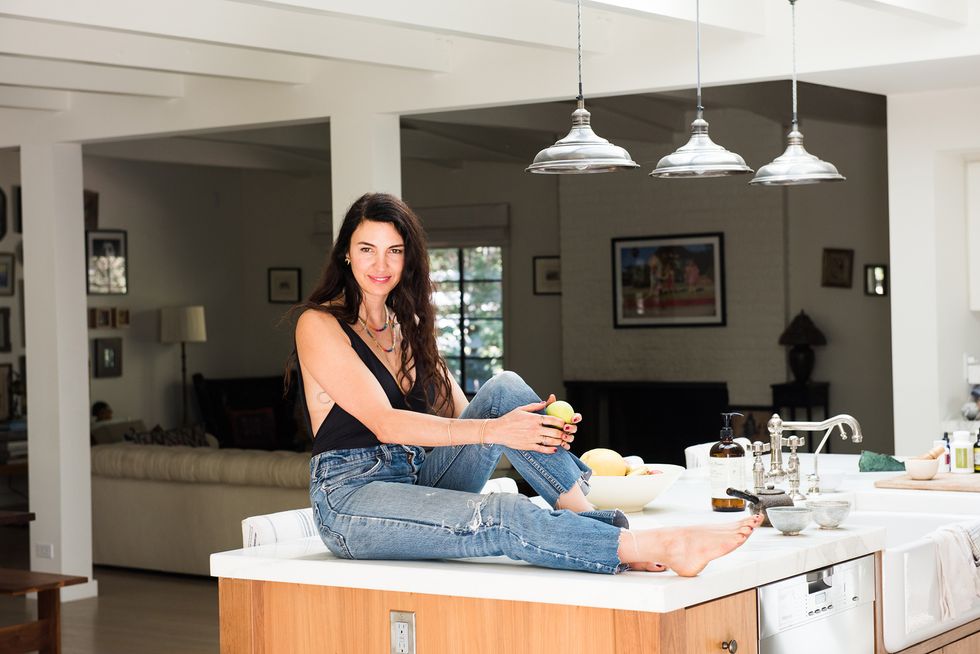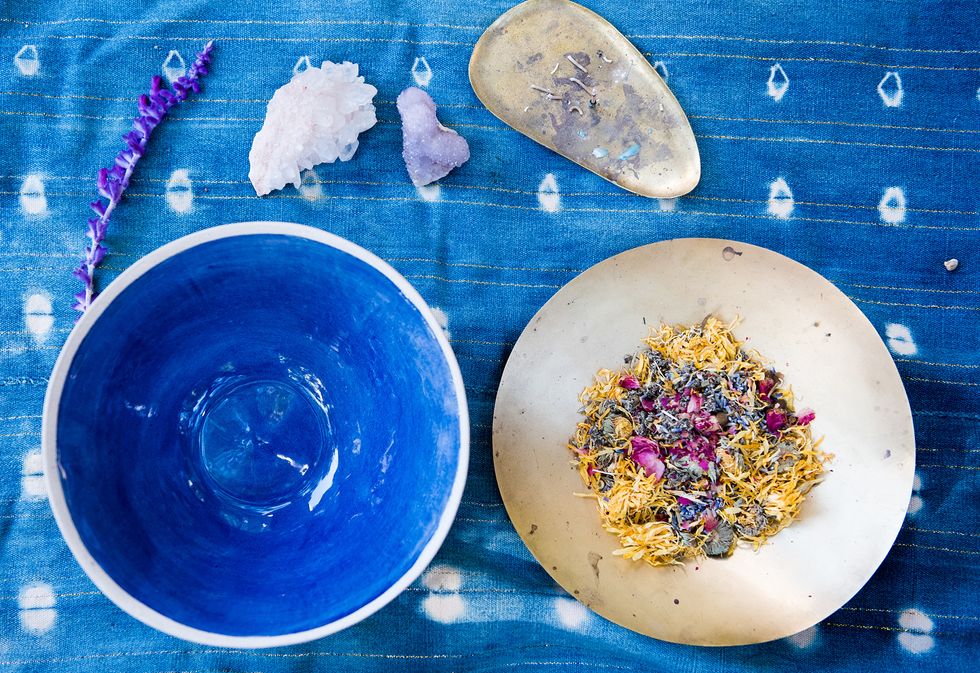 1. First up? Set the scene. "You can make it into a ceremony by putting the steam on a beautiful altar, lighting a candle, incense, and setting intentions," Rose explains.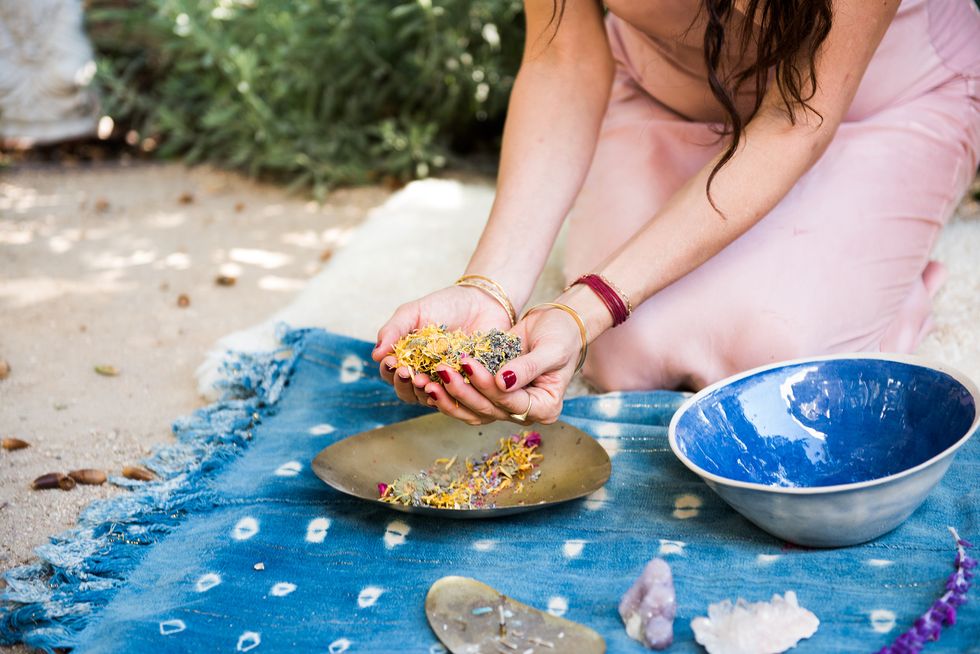 2. Place a few tablespoons of dried flowers and herbs, like the ones found in Rose's Glowing Rose Facial Steam, in a large bowl (think: one that is slightly bigger than your face).
Rose's formula is made with dried calendula for dry skin and anti-aging properties, rose for its anti-inflammatory power, yarrow to help with circulation, and more, but she encourages a DIY approach, too. "If you live in a place where you grow your own stuff, it's very easy. Marshmallow root is great, raspberry leaf is great, nettles are great for people who live on the East Coast."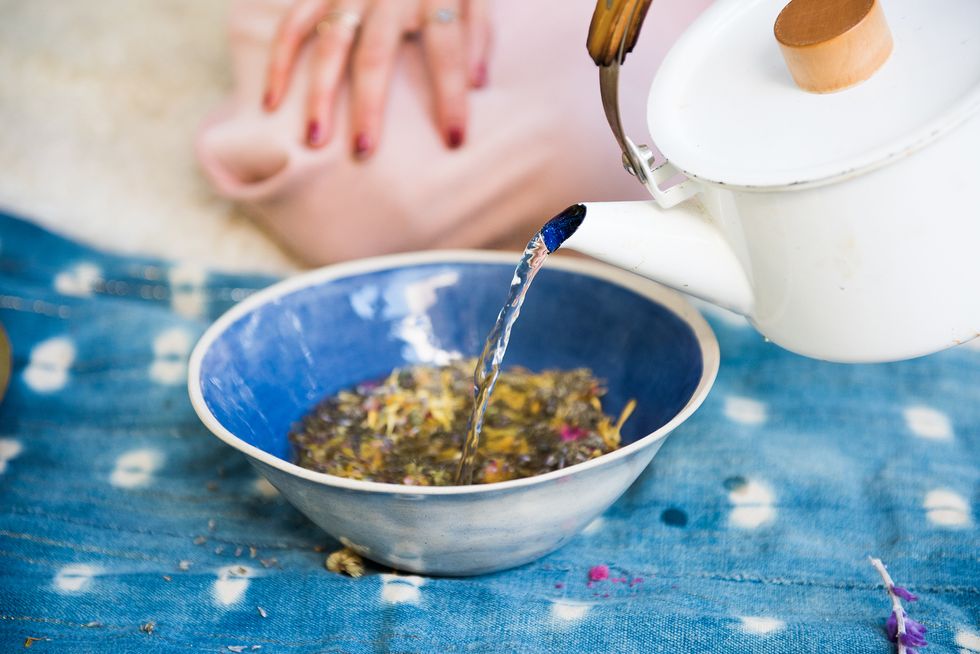 3. Place the dry herbs in a large bowl and add boiling water.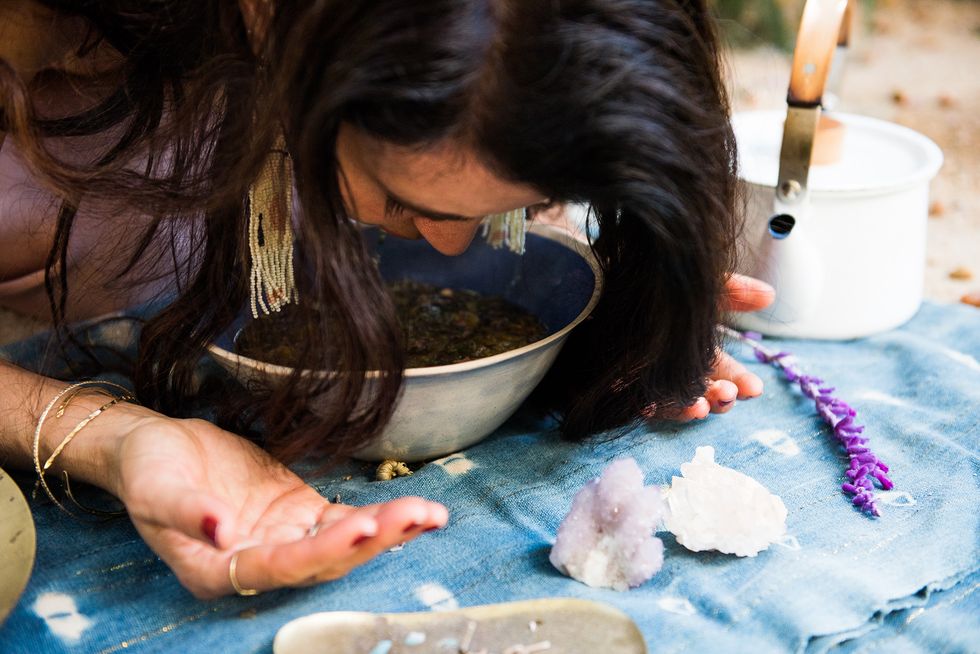 4. Place a towel over your head. "Just sit under there for a few minutes. It really opens your pores, and with the quality of the herbs—make sure they're organic, because you don't want pesticides—you're getting plant medicine too," Rose explains.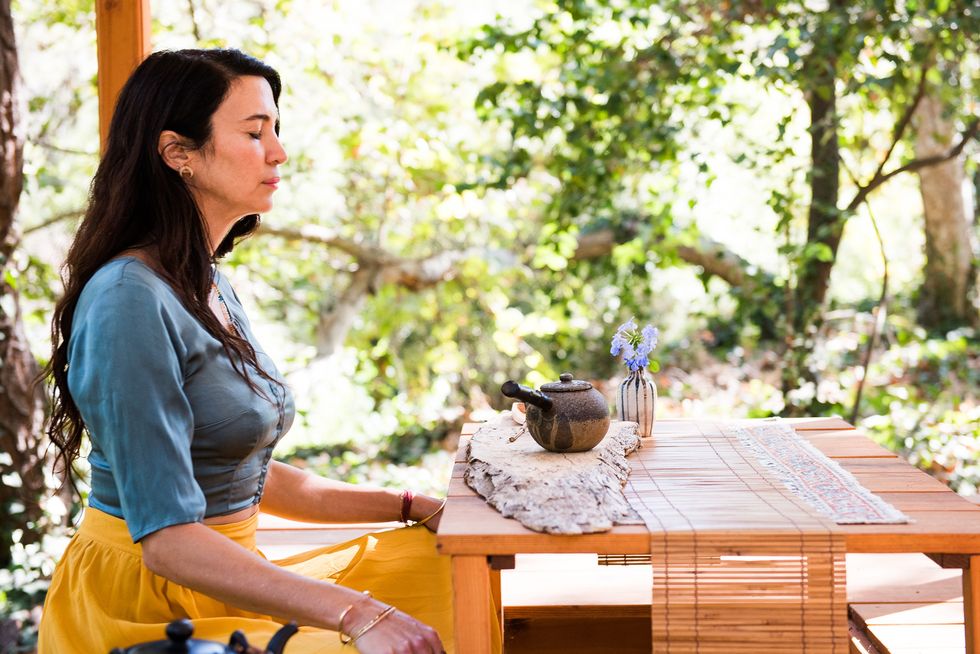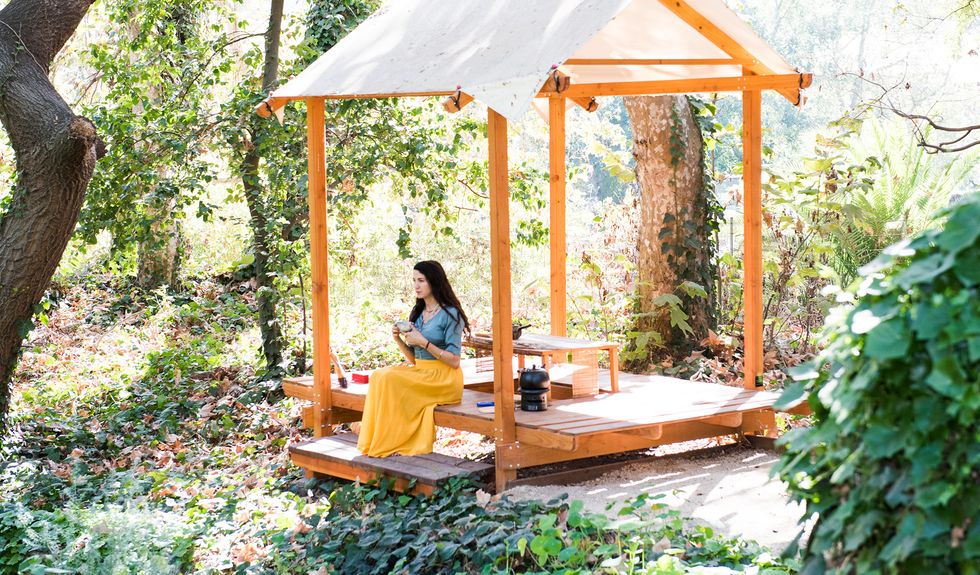 Is meditation the type of thing that makes you want to throw your phone out the window? Been there. Try taking yourself for a cup of tea when you hit the three o' clock slump instead. As Rose describes her tea ceremonies, "it's sort of like a meditation. It's all about the less-is-more mentality, and being in the moment. You clear your mind. Thoughts will come, they'll go, and it's sort of this beautiful act." Try this one with a little almond milk—it's been formulated with Ayeurvedic plant medicines to help keep you calm, and boost your immune system.