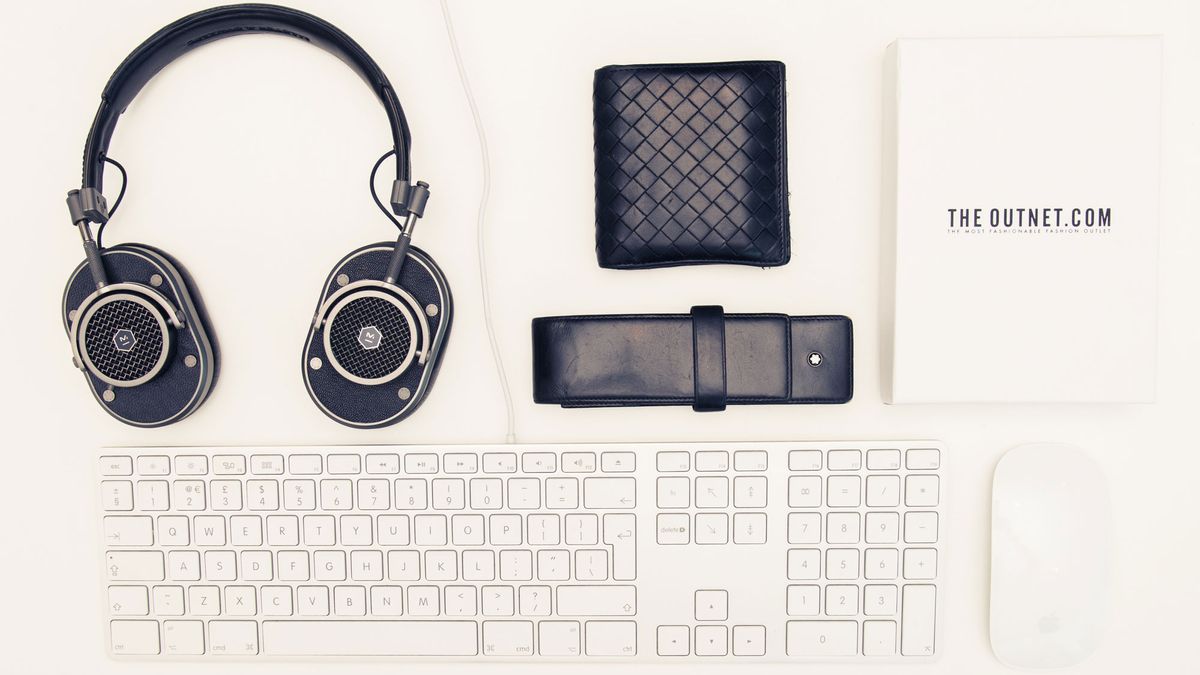 Career
Meet the Man Behind Your Next Designer Shoe Sale Score
Andres Sosa on why there's more to selling discounted Saint Laurent than you think. In collaboration with THE OUTNET.
Laurel Pantin
You'd think there wouldn't be much to pushing heavily discounted Balmain and Chloé. As in, isn't that the sort of thing that sells itself? But after visiting THEOUTNET.com's Executive Vice President of Sales, Marketing and Creative (fancy title, right?), Andres Sosa, at his office during the height of London Fashion Week, our perspective on the business has changed—drastically.
As it turns out, Sosa (and, in turn, the brand) is committed to doubling down on contextualizing their customer's dream designer pieces; or as he puts it, "[we] talk about personal style, rather than upcoming trends." Isn't that what it's ultimately all about? And for the record, as far as Sosa's personal style goes, it was everything you'd expect: from his incredible office (complete with the chicest of workday essentials, like Tom Dixon pieces and leather-bound Smythson notebooks) to the shoes on his feet (Gucci sneakers embroidered with roses that we were thisclose to snatching up for ourselves). Here's what we learned about his… well, we all know it's not *really* a 9-to-5.
---
Where his love of fashion began:
"I was born in Caracas, which was such a vibrant and colorful city to grow up in. I began to notice that women really took pride in their appearance in Venezuela; nothing happens by chance, everything is carefully curated. As a child, I also spent a lot of time in the US, which meant that I was bilingual, too."
How his career began (and how he wound up at THE OUTNET):
"I studied and started my career in Venezuela, but was quickly transferred to London for a global role. After a year of living in London and having the chance to travel around the world implementing global communication strategies, I realized that I wanted to stay and develop my career here in the UK. Retail and luxury were always a passion of mine, and after working in communication and advertising agencies, I began to realize that I wanted to make the move to client side, hence joining THE OUTNET."
The biggest lessons he's learned in his career:
"[I've learned that] relationships are key and to treat people how you would like to invariably be treated, regardless of which point you are at in your career. If you remain at people's disposal, you will attract and cross paths with like-minded people that you can grow with. Also, be sure to continue to build and nurture those relationships once you have your foothold in the industry. I think that in creative industries, such as ours, it is all about building and maintaining relationships. It's a part of the job that I really enjoy, as you get to meet some really interesting people along the way."
The most challenging part of his 9-to-whenever:
"Being structured with time and my calendar is really key. Heading up sales, marketing and creative means lots of different conversations about lots of different projects at one time. Being organized and methodical is really key for me."
What an average day actually looks like:
"THE OUTNET office really is a super-paced environment, which means that our working day tends to fly by, but also means that there's lots of variation to keep it interesting. I always start the day with a coffee, my favorite at the moment is a coconut latte! Throughout the day, I try to attend as many meetings as I can, touching in with the different teams I manage. I could spend one day working with our creative director on our new campaign shoot and the next meeting press and editors with our PR team."
His favorite industry reads:
"Of course I always read the usual fashion titles, but I also have a real passion for interiors, so like to pick up Wallpaper and Architectural Digest for some inspiration. I travel quite a lot for work, so love to read books on planes. It's the ideal time to step away from the digital world and get stuck into a good book. I like to read a lot of fiction."
His workday essentials:
"I like to be meticulously organized, so I always make sure that I am fully prepared with a good pen and notebook to tackle the day ahead. I am also never without my iPhone. It's my life, especially when it comes to my calendar. I like to plan the day ahead. I always tend to carry a spare pair of glasses with me, too. Dashing from meeting to meeting, I have been known to leave them behind once or twice!"
The biggest perk of the job:
"I am very fortunate to be in a job that I love and one that inspires me daily. Being part of such a dynamic and entrepreneurial global company allows to me to able to travel to different markets and immerse myself in different cultures while learning about our customer. I love the opportunity to visit these markets, meet our customers and help to use this knowledge to progress and drive the company forward."
The biggest impact social media has had on his job:
"Social media platforms are such a big tool for us as a brand. They are an extension of our brand voice now, and they let us talk to a much larger demographic of people. We also really enjoy working with different influencers within the industry; we like to see them as part of THE OUTNET family helping to grow and develop the brand. I also love social media. I am an avid user of Instagram and I regularly check it for inspiration."
The best career advice he's ever received:
"I would have to say, listen to your gut instinct. It's something I always say to my team and this mind-set has definitely helped me to achieve my goals and get to where I am now. And stay curious. Wanting to know more and learning as much as you can, not only career-related, but in all areas of life, is a key thing to remember. Knowledge is definitely power."
His advice for anyone who wants to work in fashion:
"Stay focused and keep going. It's natural to have a few doubtful moments, especially when you are at the beginning of your career, but if you keep your endgame in sight and strive to be the best you can, the only way is up. Gaining experience is key, as this helps to create those strong working relationships which can pave your way forward."
What's next for THE OUTNET:
"We have so many new projects planned and we've had such a busy summer! We've just hosted an amazing light installation at Lights of Soho, directly opposite the site of London Fashion Week. We installed an LED screen which amplified the participant's personal style using light and color. The result was a unique GIF which people could share across their social media channels. Over the week we saw more than 1000 participants step through the door and join in, so it was a really successful initiative for us, allowing us to talk about personal style rather than upcoming trends. The next couple of months will probably be our busiest as a retailer. We will implement a dedicated Holiday Shop and launch this in mid-October. We have a super exciting concept planned using an illustrator to celebrate the holiday moment, but that's all I can say for now. You'll have to watch this space!"