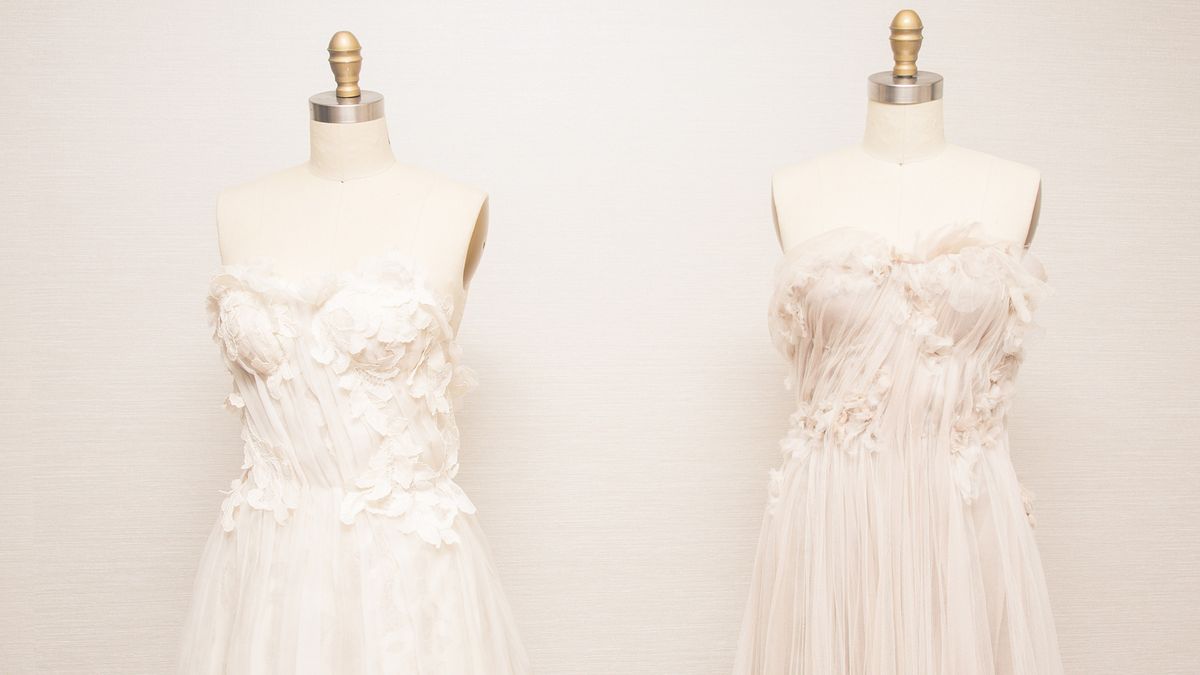 Designers
Samuelle Couture's custom gowns are the stuff of fairytales.
Alec Kugler
Should you be in the market for a whimsical and timeless wedding dress (who cares if you're not even engaged yet—a girl can dream), consider your search over. Sam Walls of Samuelle Couture has been in the biz for fifteen years now and her custom bridal gowns are the type that you'll never want to take off—no pre-reception change needed. Wells has a love for embellishments and couture finishings, and taking a stroll through her portfolio, it's evident that she has an eye for both. We sat down with Wells to get the details on how she first got started, where she finds her inspiration, and which bridal trend she can't stand.
---
How she got started in bridal:
"I first started designing one-off bridal gowns for my artist friends in London who wanted something more bespoke and unusual. It was a perfect balance to my other job at the time as a psychotherapist!"
On the Samuelle Couture bride:
"Most of my brides work in fashion or a creative industry, are aware of the mass market, but are looking for and appreciate a gown that's handcrafted and not mass-produced. They want a very personal and creative collaborative process with a designer.
"Most of my brides have a very unique vision for their wedding day, and want a gown that reflects their individuality."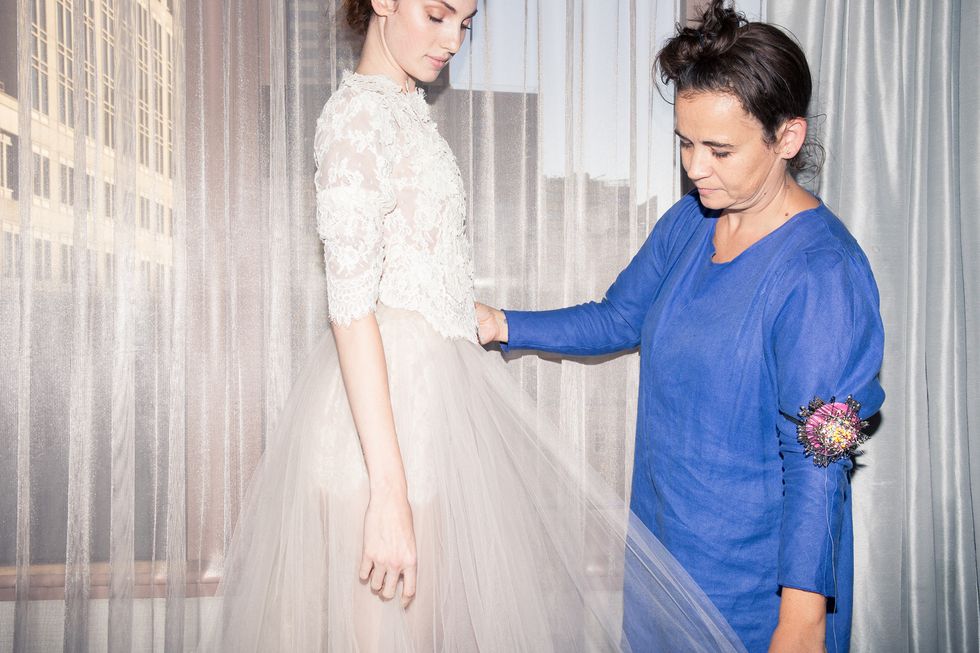 Why she loves designing bridal:
"Bridal allows me to focus on 'slow' fashion—to invest time and quality in a one-off garment that is equally loved by its owner as it is by its maker. Designing bridal offers me a platform to relish in my passion for beautiful materials and couture processes. My background was originally in textiles—construction and manipulation—so I am always trying to take a material and do something unique with it and present it in a new way. I dye, paint, print, appliqué, and layer techniques to create something new."
Her thought process when designing a collection for Bridal Week:
"I think about my previous brides and what they have brought to the table. I think about how they want to feel and radiate on their wedding day. I feel that my designs are timeless, so for me it's about creating more options that can be customized to be unique for each bride rather than dictating trends."
On the trends that she loves, and those she hates:
"I hate synthetic fabrics, as well as the sprayed-on, see-through, over-the-top embellishment gowns currently in trend. I love the craftsmanship in Naeem Khan, and Marchesa."
On what brides today are looking for:
"Brides are inspired more by celebrity weddings or fashion trends, such as the boho trend, or Kim Kardashian's figure-hugging gown—hence inspiring the trend for extremely fitted sexy wedding dresses. I think brides used to be a bit more demure."
On her custom design process:
"All of my dresses are custom made, so they have the possibility of being completely unique in terms of color, materials, detailing, etc. I meet with the bride and she tries on styles from my collections and decides on one. [Then] I take her measurements, create a pattern, then a toile. At the fitting, we look at fabrics and discuss the possibilities for the actual gown, then we move to fabric and creating her gown. There might be more fittings during this time to look closer at detailing such as lace appliqué, beading, etc. When the gown is finished and the bride has found her shoes, we cut the length and do any final tweaks."
On the experience between her and the bride:
"I think for both of us, we embark on a journey together. It's very personal, where the bride is in my thoughts a lot and we are communicating closely on how the dress is developing. She sends me her inspirations and I send her mine."
Where she gets her inspiration:
"Working with brides directly is an inspiration, as well as the fabrics and embellishments available, and the opportunity to invest so much attention into one garment."