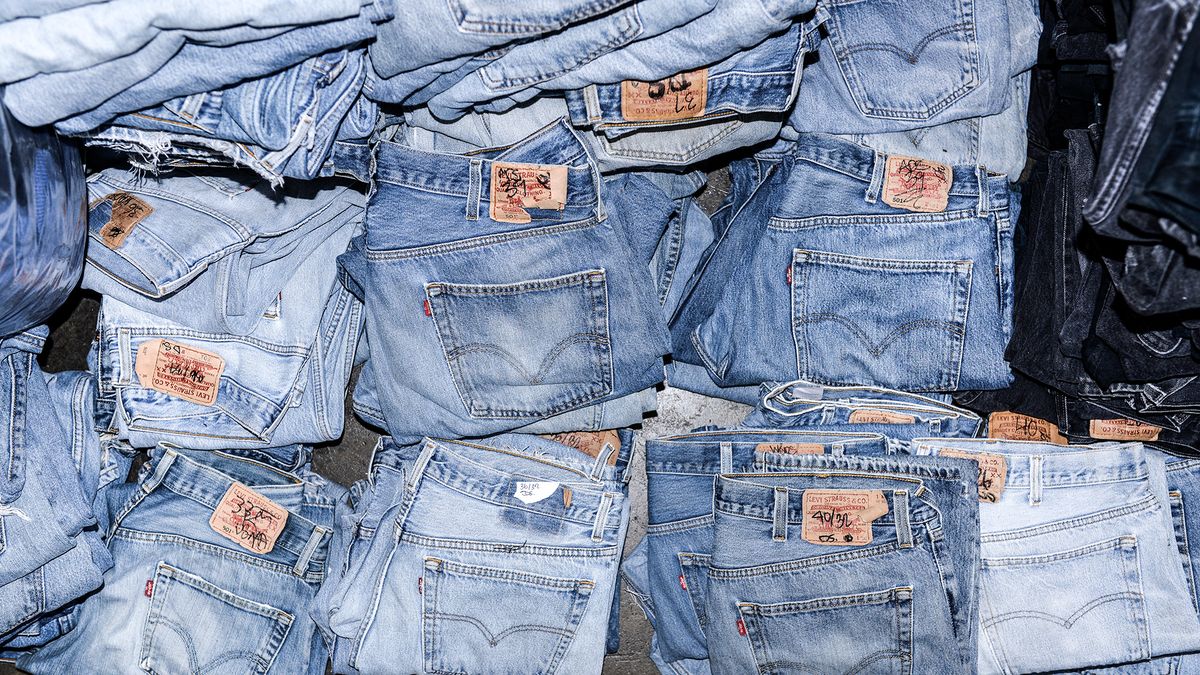 Designers
Plus, what warrants the $200+ price tag.
Cibelle Levi
The presence of 'content' everywhere, every second of the day, means that the lifespan of certain words and phrases has become (relative to their popularity, of course) shortened drastically. Which is my very long-winded way of saying that if I have to hear the word disruptive in relation to a company's mission one more time, I'm going to throw my computer out a window. Even so, there's no way of getting around that adjective when describing what Re/Done, the Los Angeles–based luxury denim-focused label that's a favorite of every cool girl, has done to the industry in a very short amount of time (a little over two years).
Re/Done founders Sean Barron and Jamie Mazur's mission started out seemingly simple enough—reworking classic (iconic, even) heritage pieces, starting with classic Levi's jeans. As Barron put it, the start of the brand came out of the idea that "all the cool girls loved to wear vintage Levi's, but they have a hard time finding a pair." We wholeheartedly agree, and the brand's long list of past collaborators only confirms it—everyone from Leandra Medine and Pamela Love to model Elsa Hosk. And the way Barron tells it, we only have more Re/Done (you get the name thing now, right?) classics to look forward to—including a partnership with a certain shoe brand. You heard it here first, kids.
---
Where you might know Sean & co-founder Jamie from, pre-Re/Done:
"I founded and started Katayone Adeli, and before that, I had a company called Joie. I was between those two, taking some time off and fooling around. Jamie [Mazur] had Underground Denim, which was pre-digital-age. He would buy all the jeans off the LA guys, like Seven and True Religion, all that stuff, and would sell them all over college campuses all over the place. So he had this crazy business, pre-internet."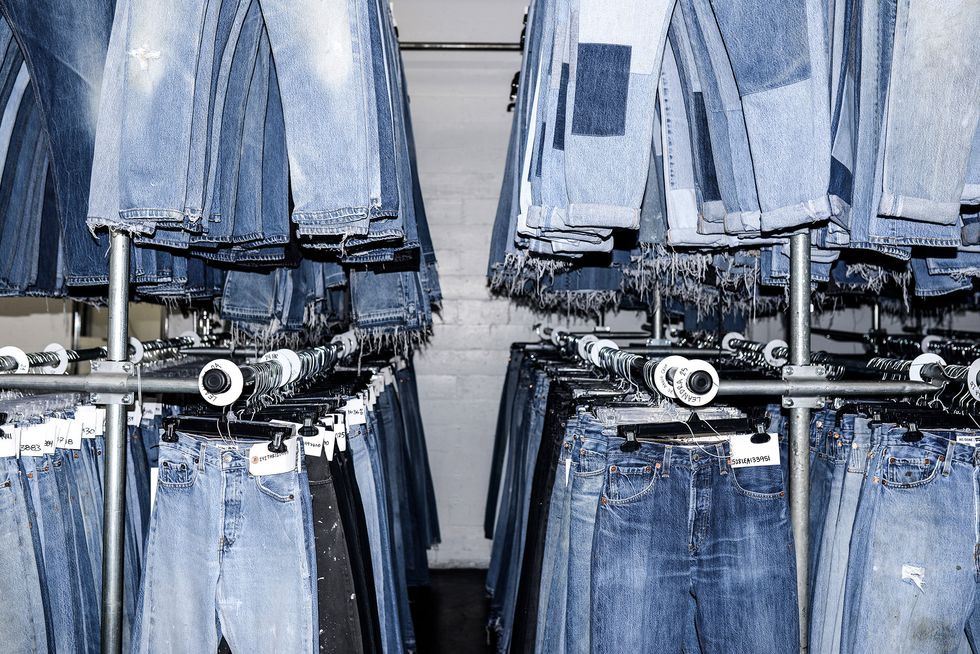 What led to them launching the brand:
"It's funny. There was no catalyst other than that the two of us were sitting and having lunch. We were talking about Levi's and how all the cool girls loved to wear vintage Levi's but they have a hard time finding a pair. He said, 'Is there any way you could do that on a production level?' And I said, 'No way, impossible.'"
How perseverance lead to the birth of Re/Done:
"What's most important to the e-commerce customer is three things: one of them is exclusivity, one is scarcity, and one is this kind of serendipitous storytelling. All three of those things were in that crazy idea, but the problem was you could never make those kind of jeans happen. But knowing that if I had those three things I could probably have a business, I said, 'Why don't we at least try to con some factory into doing this?' Because it's a very hard process.
"For nine months we could not get a jean to fit, it was really becoming stressful. Then on the day I said, 'This is the last time,' it worked. It was kinda funny, because I was like, 'I'm pulling the plug on this craziness.' And it worked. There never was really a plan other than 'this is a good idea.'"
When they knew they were onto something:
"The day we launched at midnight, we sold out in 20 minutes. When we woke up, I think there were 2,100 people on the waiting list. I was like, 'Oh, that's interesting. Does that mean I have to work again?' So we did another run of 300 more jeans, and we sold those out in the same time frame; and there were 4000 people on the waiting list."
The process for sourcing pieces:
"We've got a supply chain that we massage on a daily basis. It's challenging, to say the least. With Hanes, we didn't want to buy old T-shirts because an old, dirty jean is cool; but an old dirty T-shirt is gross. We went into their archives, and looked at all the decades. What does the '50s look like in terms of a T-shirt? We realized that the fabric from the '50s and '60s was totally different than it is today, so we went into their fabric technical books and were like, 'Oh! They made it differently.' So we duplicated that process of how they knit that fabric; we reverse-engineered it. That's why people are dying for our T-shirts, because they actually feel [like a vintage T-shirt]. Now you can buy that in bulk from us."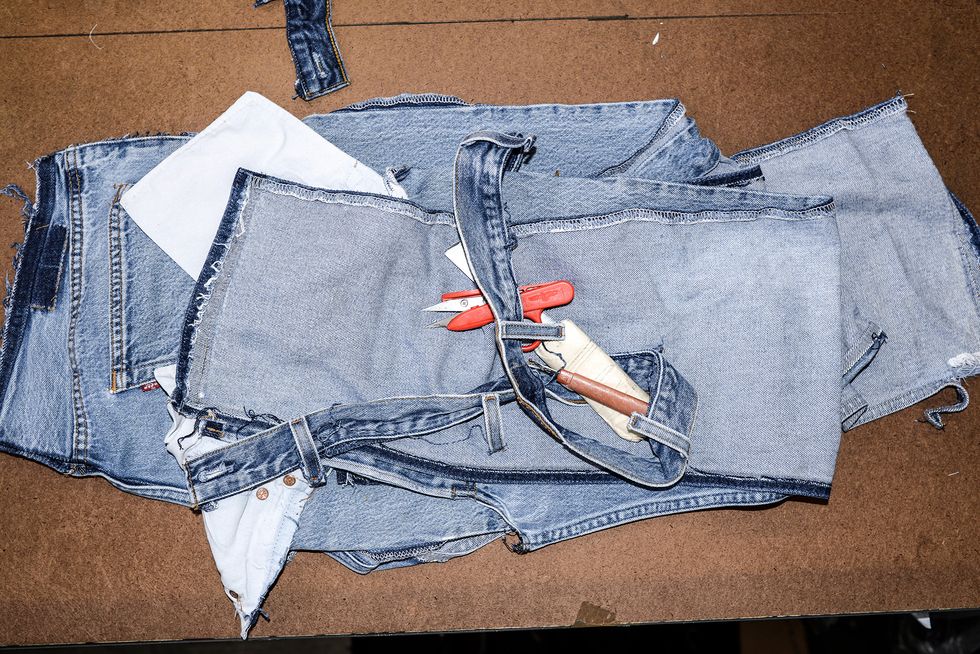 How the brand's collaborations began:
"All of it has been super organic. There was never a plan. Jamie read something about this girl named Elsa [Hosk], who was a new VS girl, and she grew up making her own jeans, and she was a vintage junkie. He tried through all his sources to get ahold of her, and then just one day she bought a pair of jeans from us. So he emailed her directly, like, 'Do you want to do a jean with us?' And she was like, 'Hell, yeah.' One of us bumped into Leandra [Medine]—we didn't know her—in Florida. We were like, 'Do you wanna do a jean?' and she was like, 'Yeah!'
"We wouldn't do it with a girl that is not a jean-centric kinda gal. We are in talks with people—I can't tell you—but needle moving jean girls coming up next year."
The reasoning behind that price point:
"It's very expensive to do this. We are taking apart a perfectly good jean that somebody sewed and put their energy into, and we're taking it apart and remaking it. It's not the normal factory level, it's actually more artisan. The people that work for us in our factory are not typical garment factory sewers, because they're not doing it that way. They get paid a lot more money than the average factory sewer, and we care about them. They have a craft that no one else has. One would think it's easy to buy a Levi jean but when you buy the grade—the nice ones, that we buy—they're not cheap."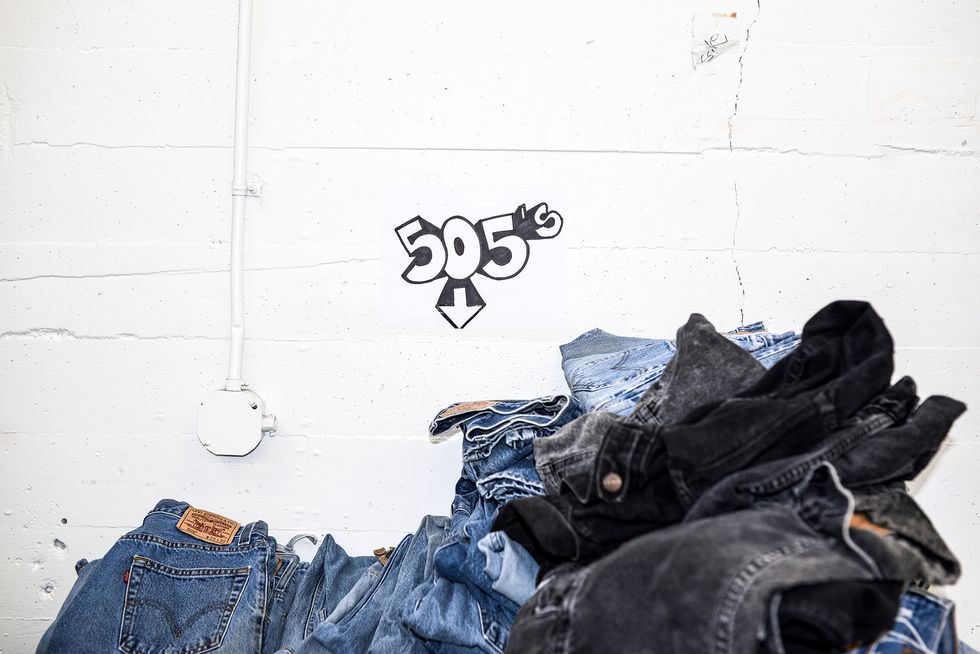 What's next for the brand:
"Let's just say it's some iconic girls coming; and an iconic shoe brand that we are doing something with that is really amazing. We are also doing some eyewear pieces with an iconic American heritage eyewear brand.
"We're also launching our own jeans called Re/Done Originals. We do it for a reason, not just to create volume, but because we want to add stretch for those girls who need it. So we have the same fabric Levi's uses, but we infused stretch into it. And we also did more dark jeans, because you can't get dark when you buy vintage, because they have been worn for ten years. So we're adding that. They look great."