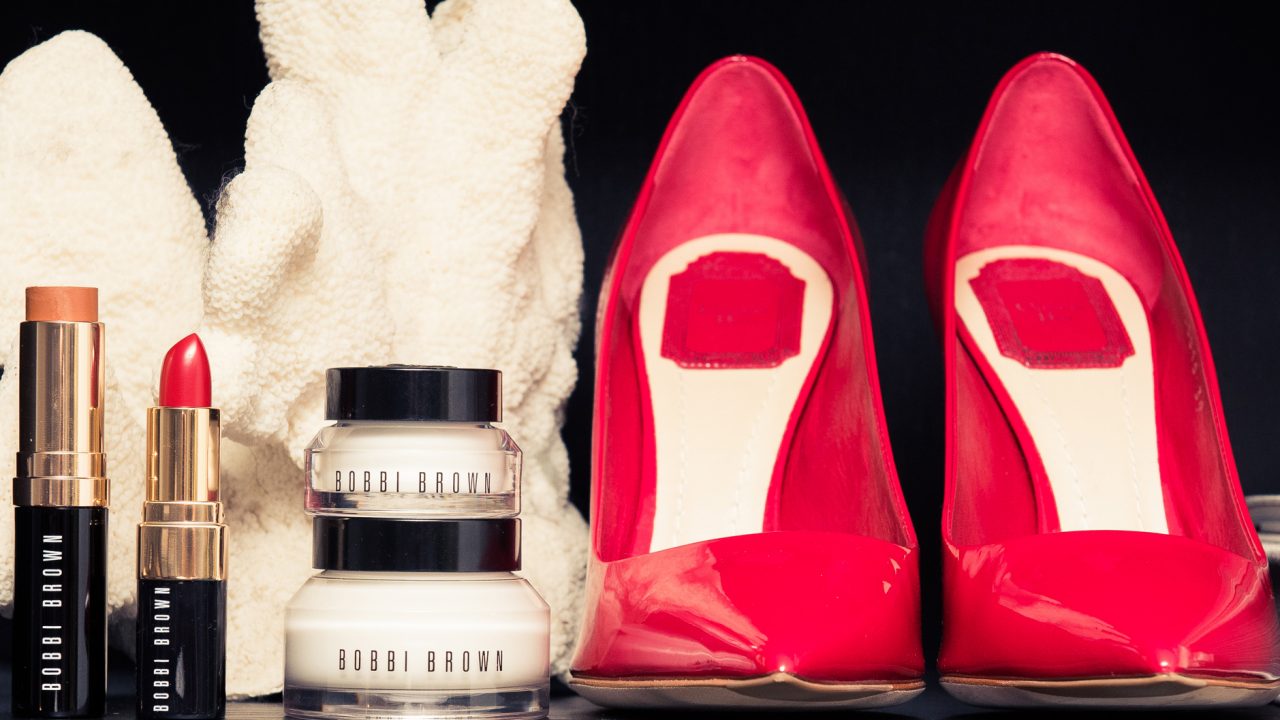 How Shiona Turini Created A Dream Fashion Career For Herself
In Collaboration with Bobbi Brown.
Trailblazer
noun / Trail·blaz·er / |'trālˌblāzər/|
a person who makes a new track through wild country, a pioneer; an innovator.
They (whoever "they" are) say that mornings are important, because they set the tone for the rest of your day. For that reason, we're obsessed with discovering the nitty-gritty of successful women's morning routines—do they start by hitting the gym? Hitting the snooze button? Meditation? A copy of The New York Times? What lipstick do they reach for when they need to feel like they can take on the world? In collaboration with Bobbi Brown, we're spotlighting a few of our favorite women (and a few very familiar faces) who've actually earned the trailblazer title, and taking a closer look at how they start their days.
Shiona Turini is a trailblazer. Like Complex's Emily Oberg and Sakara Life's Danielle DuBoise, rather than doing a job that fits into a cookie-cutter description, she created the exact role she wanted—with lots of long, near-burnout hours, but she got there. What does that mean for Turini in practice? Well, that she wears a lot of hats (a lot of very chic hats): consultant, stylist, contributing editor at The Cut, writer, tourism ambassador for her native Bermuda, etc., etc. From the beginning, when she landed her first fashion internship (with zero experience) by basically stalking the press department at Yves Saint Laurent—Tom Ford era Yves Saint Laurent, mind you—until they hired her (#dedication), to her posts at W magazine, Teen Vogue, CR Fashion Book, and Cosmopolitan, to her ventures freelance consulting for oh-so-casual brands like Dior and Salvatore Ferragamo, and most recently contributing to New York magazine's The Cut, and then lending her eye to styling, oh, Solange and Beyoncé, Turini has put in the work. Needless to say, she's more than solidified herself as an expert on all things fashion publishing and branding.
Of course, Turini is no stranger to us either... We've raided her Valentino-filled closet, and followed along (with just a tinge of travel envy) on her adventures in Bermuda and Amsterdam among a whole host of other exotic locales. So hanging out at her Murray Hill apartment was a bit like a fun afternoon with an old friend, where we quizzed her on advice for freelancers (leaving your apartment for coffee breaks is essential!), staying present and mindful (even after whirlwind fashion weeks and long-haul flights), why she doesn't believe in "fashion friends," and the products she uses to get out the door fast. Because when you wear as many hats as Turini, you have no choice but to be quick about it.
The CliffsNotes version of her crazy fashion career path:
"When I moved to New York City I'd never done a fashion internship, I didn't have any experience, I just showed up at the doorstep of Yves Saint Laurent and they were like, 'You cannot work for us.' I showed up every day for three days straight until they hired me as an intern. I started in the press department and I worked there for about a year until they finally had a PR assistant position open up and they hired me. I switched over into editorial when W called and asked if I would be interested. I had never really thought about it, but it seemed so interesting—I loved market appointments with the editors, I thought what they did was fascinating, I loved magazines, and I thought I'd have more creative control over projects and stories. I went to W as accessories editor and worked there for about three years. It was when Camilla Nickerson, Alex White, and Karl Templer were styling—three really inspiring people to work under. They all work differently, they all have different aesthetics, which really helped me find my own personal style and train my eye. From W, I went to Teen Vogue as the accessories director, and then CR Fashion Book for the first three issues—I was doing all of the fashion and beauty in the book and helping to build the website as well as create original content for the website.
"From CR I went to Cosmo, which was really interesting because CR was such a small place and very targeted, whereas Cosmo is the biggest magazine in the world. It was mass but very much about the reader and consumer—I used a different set of tools and lessons. From there I went out on my own."
"You really get out of life experiences what you're willing to put in. If you work hard, you'll be rewarded."
Her current role dissected:
"I hate to say I wear many hats, but I feel like I have such a diverse job that there isn't a title. Some days I'm styling, some days I'm creating content, other days I'm acting as a brand ambassador.
"When I first went freelance I was hoping to create content for publications and brands. Immediately I was thrown into this world and had to be super adaptable, resilient and fluid. It's special because I get to use so many aspects of my background on different projects. One of my first freelance projects was with Salvatore Ferragamo creating their first influencer street style campaign. I came up with the idea because when I wore Ferragamo people would always be like, 'That's Ferragamo?!' I thought there was something to be said about these editors and stylists and how they make something their own. We would do style clinics with the staff, where we show them how to look at Ferragamo in different ways than just the way its styled on the runway. I did all of the casting, photography, managing of the schedules, and the rollout strategy. It was using my peers for content creation, I think that was very cool. Since then I've done styling for different magazines and celebrities—I do a lot of work with Solange."
How she gets her freelance gigs:
"I'm not represented by anyone so work comes from my past relationships. I spent ten years building these relationships. I am not a believer in 'fashion friends'—the friends that I make and the people that I like [in the industry] are just my friends. I've been very genuine with my relationships because I only know how to be me, so the friends I made were open to giving me opportunities, creating projects with me and coming up with ideas. When I announced that I was freelance, immediately the Christian Louboutin girls wanted to have a lunch and do something. I'm very fortunate and blessed in that way, but I've been cultivating these relationships all this time, it's natural for me. Every day is different depending on the project. We just spent almost two weeks on the road for a project shooting the visuals for Solange's new album."
Staying in the moment and feeling grateful:
"It's all a wild and crazy adventure. One day I was really stressed out in Paris working on a Dior project to help them launch the first time they would ever sell shoes digitally. It was getting a bit stressful, juggling going to shows and working with The Cut and my friend said, 'You really have to stop, think about it and realize exactly what you're doing. You're helping one of your favorite brands, one of the most major brands, launch a digital campaign that they've never done before.' She really put it into perspective for me—of all of the people they could have selected in the world, they trusted me with this and it was wildly successful. Those moments come up a lot. When I did my first commercial with MasterCard and Brazil, we completely recreated Carnival for the Olympics. From that I worked on the 'Formation' music video, which was another surreal moment because it was really unexpected. I never thought I would do music videos. It had period references that required me to really dig deep, research, go to costume shops, and mix in some Alexander Wang with the theme. That was really fun for me, just another angle of storytelling."
Where she sources inspiration and confidence:
"I'm really motivated by the women in my life, especially from my family. I grew up in a family with parents who really instilled that if you want something you have to go out and get it. You're only going to do it for yourself. My mom had four jobs, I had to clean hotel rooms with my mom in high school because she told me if I wanted to go to college I was going to pay for it. I had a paper route in the morning, then school, after-school activities, a night job, babysitting, and I worked in a dentist office. You really get out of life experiences what you're willing to put in. If you work hard, you'll be rewarded."
Her work-from-home morning routine:
"I start every day by walking to my corner Starbucks and then I take a walk along the East River unless I'm exercising that day. My schedule is so unpredictable that I can't always rely on being able to get to a gym or go for a run. Because I'm from an island, to see the water in the morning is my version of meditation and centering myself. Then I do emails and work and have meetings in the afternoon because it gets me out of the house and sets a good purpose and flow to my day.
"Getting up and walking for coffee is a really important ritual when I'm working from home. I need something consistent that gets me out of the house because if not you wake up, go on your computer, and then you go to sleep and you're still on the computer. I truly was spending 22 hours a day working, so leaving the house was such an important [part of the day]."
The heroes of her makeup bag:
"I recently fell in love with the Bobbi Brown Highlighting Powder. I had to go to a professional to teach me how to use it, but I love it. I really like the Art Stick, too. I don't like a lot of color on me, I think it's a little bit distracting and this just gives the perfect tint to my lips. I love Bobbi Brown Skin Foundation Stick—it's an easy basic. I don't subscribe to that whole thing of making your makeup look more dramatic, and I know I got that from my dad. When I was young I'd put on my mom's lipstick and he would be like, 'No.' I'm not saying that I don't need makeup, because I do—a girl needs some concealer—but I need to look like myself. Sometimes when people do my makeup, it's too much. I like to feel and look natural."
Getting out the door:
"My clothes are quite complicated so I need my makeup to be super simple, easy to use, and get me out the door in fifteen minutes. I don't even carry a bag. Because all I really need is my credit card and phone."
The best life advice she's received:
"Different pieces of advice apply to different times in your life and in this time, I think it's about not getting overwhelmed. Enjoy and live in the moment—you get so jaded and dizzy in fashion, hearing other people complain about, like, a flight to a Dior show in a castle. I don't understand what you're complaining about—it's pretty fucking amazing I'm experiencing this and I don't take it for granted."
On going off on your own (and avoiding burnout):
"You can never wait for opportunities to come to you—be aggressive and open to considering roles or projects that you might never have considered, because it can take you in another direction. If you decide you hate it, fine, but you have to be willing to try it because it will open doors. But also be realistic about your capabilities—I almost suffered from burnout because I kept saying yes to everything. I had to decide that no amount of money in the world can stop me from feeling like I'm feeling right now."