Designers
The new bridesmaid dress source has none of the usual pain and all of the pleasure.
Leslie Kirchhoff
Emily Ramshaw
Let's be honest, nothing elicits the collective guilty moan more than finding out you're to be a bridesmaid—even if you've been called up by one of your ride-or-dies. For one thing, there's the expense (which, really, is no joking matter), and then there's the dress. The dress. Why (why) is it always such a disaster? New York–based friends Simona Popvassilev and Merrill Moskal had the same question, and after struggling to find bridesmaid dresses for a similarly fashion-inclined friend's wedding, they came up with the kind of genius solution you wish you'd thought of first: Name of Love. The company is a hybrid between a digital bridesmaid salon service (bridal parties can communicate and pick favorite dresses on the website as a group) and an ecommerce site (they sell 14 styles in eight colors and three fabrications). Frankly, it makes the whole finding-a-bridesmaid-dress process so painless and easy, you might actually—gasp—enjoy it. What's more, you'll end up with a dress you actually like (and will probably wear again, and again) for a fraction of the typical credit-card-debt-inducing price. We'll say it again: genius.
---
How Name of Love was born:
MM: "We had this idea because we were bridesmaids in a couple of weddings—specifically one of our best friend's that we went to fashion school with."
SP: "She wanted to make it a collaborative process and she has great taste, so we were like, this is going to be great and super easy."
MM: "Her vision of the wedding was very specific. And while she appreciates designer clothes like the rest of us, we don't appreciate designer prices and she didn't want to put that burden on us. There was just nothing out there that would make this a seamless process. Everything was either way too expensive or not quite the right design. Everyone is in a wedding, yet everyone has a horror story—it shouldn't be this hard!
"Our friend wanted specific colors, but she didn't care if we were in the same silhouette. Especially as fashion graduates, we are very conscious of how confident clothes make us feel. On one of your best friend's days there is so much effort. The day should be special and memorable and to put something on where you don't feel like yourself is a crime!"

SP: "One thing that was super important for this whole process was, we were trying to do the whole thing online. Some of us were in Toronto, others were in New York, one of us was in London, so collaborating needed to be something that we could do remotely. There had to be a solution where people could figure it out when they are all in different places. We wanted it to be a seamless process that happens in one place and not through a long email chain. We decided that the ideal platform would be one place where the bride can call the shots, but also make it a collaborative process. We encouraged her to choose a number of styles that she could add to her digital showroom and invite her friends to shop from—then they feel like they are part of the process. All of the transactions happen right there and the bride can keep an eye on everything. It's easy!"

MM: "She can even send reminders to tardy bridesmaids, like, 'Buy this dress now!'"
How they made their idea a reality:
MM: "It was a quick process coming up with the idea and starting to work on it—and then it was a year and a half before it actually launched. You can't just come up with an idea. You have to come up with a business plan."
SP: "We started sketching right away and deciding aesthetically, what we want to be. We wanted to be speaking to someone who is seeking something tailored and sleek. We started sketching and pulling together ideas. We began looking into options for production. We make all of our patterns in New York and design everything here.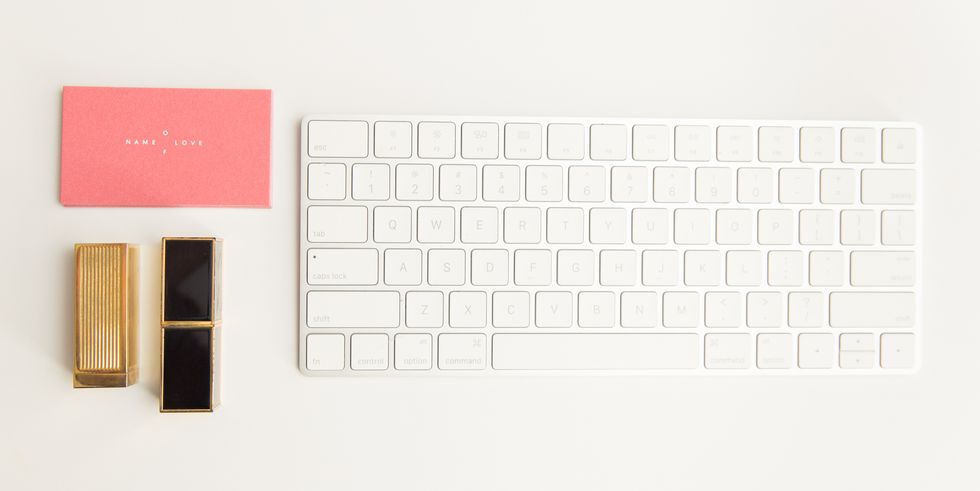 "It was important that it would speak to the girl on a lot of the levels, besides just the product, because there is a lot more to it than just buying the dress. It's the experience. We were thinking about the experience of getting the box and the packaging right from the beginning. You can't go to a bridal salon, but there is so much that you can do to create a really cool experience. We thought a lot about the website. It took a good year to get the experience to be what we wanted it to be and to get that feeling of shopping with your friends, but while you are sitting at home."

MM: "When we were designing, we were trying to marry the designer world and the bridal worlds. A couple of our dresses are named after a few of our friends and what we envision they would want—we draw inspiration from the people who would be in our wedding party."
Why it always had to be direct-to-consumer:
MM: "The fact that we are direct-to-consumer really helps with our margins [and keeps our prices down]. Some other brands are able to get to that point because of the fabric they use, but for us that is a huge portion of our margin.
"We are really going to listen to our consumer [via what they're buying on the site]. If everyone is buying long dresses then maybe we will add more styles. If no one is liking one of our styles, we might take it away. We want a refined menu of options. We don't want the bride to get to our site and feel overwhelmed. We have some competitors who have pages and pages and pages of options and you begin to feel like you don't know what you want anymore—it becomes overwhelming and confusing."
Yes, *that* color pink is very, very important—and the branding is spot-on:
MM: "As a person, I dream in pinks."
SP: "We wanted it to be really feminine, but not overly flowery or cheesy or too ornate or decorative. Which speaks to how we designed the collection too—there isn't a lot of embellishment or beading, it's a sleek look."
The Name of Love M.O.:
MM: "We are very conscious that bridesmaids are not the stars of the show. We don't want to take attention away from the bride, we just want to make you feel good about yourselves and have them feel comfortable in these classic dresses. That leaves a bride to have her moment…"
SP: "...And feel good that everyone is feeling good! Period."