What *Exactly* It Takes To Publish A Coffee Table Book
Straight from Coveteur's Co-Founders. Hint: it involves visiting Christian Louboutin at home and asking Rosie Huntington-Whiteley for a favor.
Series
On the off chance that you haven't heard, we're releasing our first book this month. And it's incredible. The Coveteur: Private Spaces Person Style covers forty-three of the best closets we've ever seen, including twenty we've never published on the site (ahem, Christian Louboutin, and Angela Missoni), and a foreword penned by Rosie Huntington-Whitley herself—so this tome is the only place to see them. Over the course of this month, and until the book officially drops on the 18th of October (do yourself a favor and pre-order it now), we'll be releasing tasty tidbits from the book, starting with this 'Deskside' style chat with Stephanie Mark and Jake Rosenberg, our co-founders. What exactly goes into publishing a coffee table book (and the site every day)? Here's your chance to find out.
---
What's in the book?
Steph: "The book is a compilation of people and tastemakers who best represent Coveteur, half of the content has already run on the site and the other half consists of exclusive profiles, which we're really excited about.. It's a really great, diverse group of people who we think are archetypical Coveteur subjects."
Why now is the right time:
Jake: "We've been approached to do a book from the first year more or less but we just kind of put it off until this year. It's our fifth year, we just moved to New York, we're in phase 2.0 of Coveteur and it was the perfect timing to do a coffee table book."
Steph: "Well the whole process started about two years ago. We work really closely with Trunk Archive and Leslie Simitch, from Trunk put us in touch with some really great agents like David Kuhn, from Kuhn Projects. And then we worked with David to ultimately end up having our book published with Abrams, but by the time everything was said and done it was probably a two year process from initial meetings to the book hitting the shelf."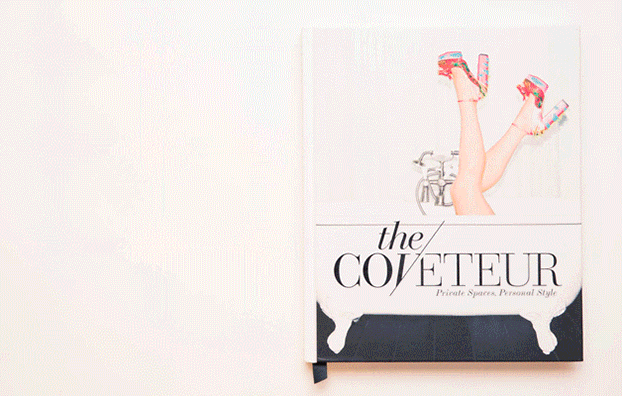 What it's like brokering a book deal:
Jake: "It was really interesting going through that whole process. We met with David, and our book agent for this was Nicole Tourtelot. First, you put together a pitch deck for the book, and then we went around New York pitching it. Every time we'd come to New York we'd be at a closet shoot, and then we'd have to run to a publisher and sit down with them. We met with every publisher in the city and it basically opened up a bidding war for us.
"The publishers tell you what your advance is, what they're offering and all of that. I really wanted to go with Abrams from the beginning. Abrams does my favorite art books, they would have given us the most creative control, and they felt the most on-brand for us, but it really came down to deciding between Abrams and [one other publisher]. Ultimately we decided to go with Abrams, and we've had a great working relationship with them in the past year."
The most important factor in choosing a publisher:
Jake: "Creative control [was most important for me]."
Steph: "Coveteur started as a website, but a large part of how the brand identity comes across is through our voice and our images. Working with someone who could understand that and respect that [through allowing us full creative control] was really important."
What the book represents for the next phase of Coveteur:
Jake: "Whenever I open this book it's such a happy celebration of what we have, where we are now, what we do, our brand—the whole message that we give every day. It's a really beautiful piece to have and to show and to celebrate."
Steph: "I spoke about this before but the Coveteur started off just as a website, and as the company grows we're really realizing that we're a brand and that the site is one extension, our social channels are one extension, our events are another, and I think that this book alludes to the fact that Coveteur is so much more than the website it started as."
How is shooting for the book different from shooting for the site?
Steph: "The book was 100 times harder than we ever thought. We were like, 'Well if we could go to L.A. and shoot five closets in two days [for the site], then surely we could shoot 25 closets for the book in, like, one month!' And it took a really long time to get the people that we wanted, and then the logistics and coordinating with everyone...it was really hard.
"The editorial team deserves a big shoutout because it was really a group effort. Jake and I are the co-founders of Coveteur and—we started the business—but the book really is a reflection of a massive amount of work by the entire team."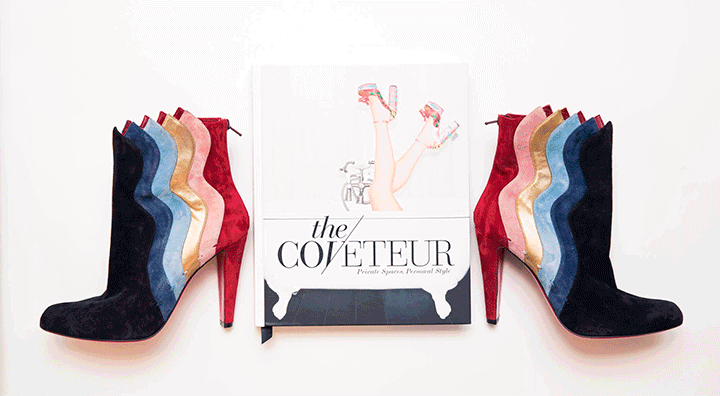 On how much work it *really* takes to pull it all off:
Jake: "There are twenty profiles from the site and twenty-three that are original, so the are forty-three people in total in the book. 270 pages, 703 images, and it was a process of pulling all of those images, and deciding on what should run in the book versus run on the site. Shooting a story for the book required a lot more editing which we didn't quite realize—or I didn't quite realize.
"This book has people from Moscow, Germany, Antwerp, L.A., London, Paris, the whole world in it. It's so cool, but we're such a small team. I shot a lot of the book, Renee [Rodenkirchen] shot a healthy amount of it too, all of our editors were all over the world working on it. It was more or less a five person team working on this book—and we all had to get it done while still producing content for the site. I'm so fucking proud of it, it's amazing.
"Having Emily Wardwell [our book designer] work on the book was really cool. They sent over a lot of designers to consider and I didn't like any of them. There are also budgets to consider—our book had to be under $35 dollars and this is a very robust book for $35. Emily worked on all of the Vogue Living books, she just did the Harper's models books—her portfolio is great and she's way out of our budget, but she wanted to do it because she liked our brand. I drove her kind of nuts but I'm so happy that she worked on it. She and David Cashion, our book editor, were amazing."
On getting Rosie Huntington-Whiteley:
Jake: "I was super proud that Rosie wrote the foreword for us. When we were deciding who should write the foreword it was a bit of a challenge, because there's so many great people in the book who represent our brand, and who have been so supportive. But Rosie—I call her a true 'Coveteur,' she's got style, she's beautiful, she's cool…I literally emailed her at 11:45 at night, and was like 'Hey, do you want to write the foreword?' and within 30 seconds she wrote back like, 'I'm so honored to do that.' So that was really cool.
Their favorite memories from making the book:
Jake: "My favorite part of the book is a portrait of Christian Louboutin just sitting at his kitchen table. I really liked the picture, we just sat there and talked. All of these shoots, when I look at them I could go back in my head and remember the conversation we had. It was in Paris and we were the second people to be able to go to Christian's home and shoot it. It was all just one-on-one so I sat with him at his kitchen table and we chatted about everything. The portrait sessions are always really cool for me, because there's no team, there's no nothing, it's intimate. It's just the way we do it."
Steph: "When people ask who our favorite feature is on the site it's really hard. Everyone is special for their own reason, and when it goes into a book it's like choosing your favorite kid. But I do think that specific afternoon that Jake talks about being in Christian's apartment felt really special. There was something about it being in Paris, and it was up a flight of stairs by Place Vendôme and he was really elegant, and quiet, and open—it just felt like we were really privileged to be there and to be able to take that experience and share it with so many people through the book—that feels really special."