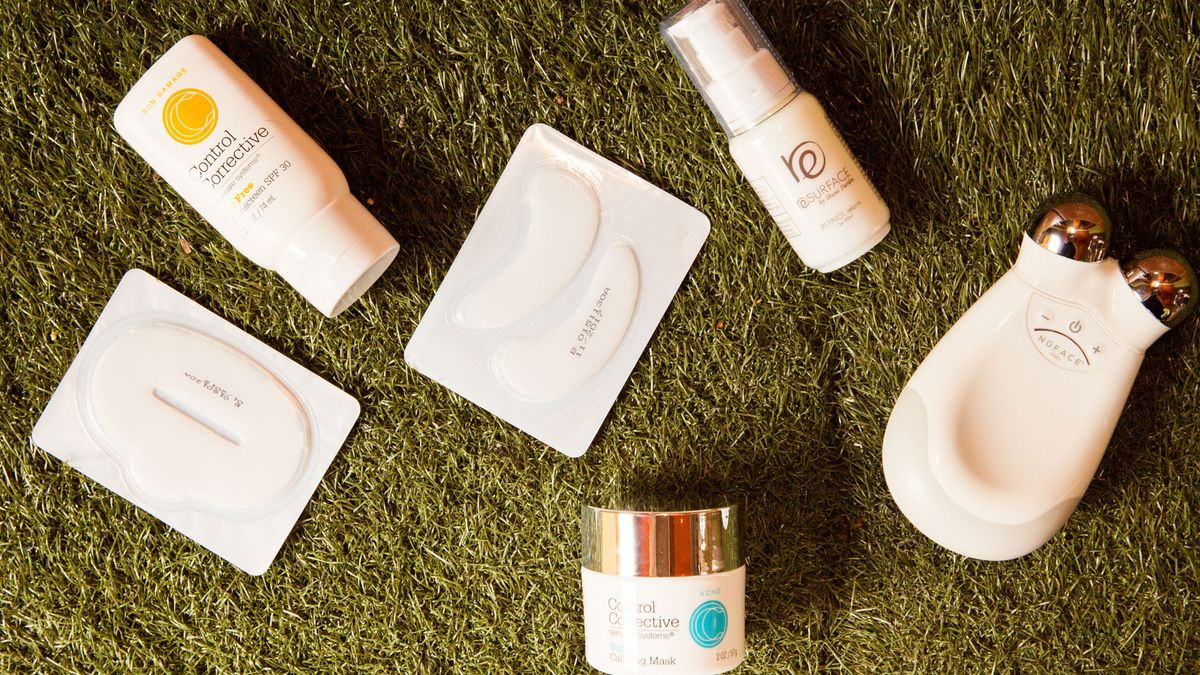 Skin
Bringing lasers, LED lights, and microcurrent machines from the spa to our bathrooms.
A happy consequence of working in our industry is that we are bombarded and continuously introduced to the latest and greatest in, well, everything. But especially from the world of beauty. Exhibit A and B and C. And while we're quick to try a new serum or lipstick (as in, right at our desks) our most recent round of testing required a bit more commitment and battery power, and promised us pretty comparable results to dermatologist conducted procedures. From skin perfecting at-home lasers and LED lights to hair removal devices and microcurrent handhelds, we tried the all the best DIY beauty gadgets in the comfort of our own bathrooms.
---
Tried: NuFace
Claims: Microcurrents lift, tone zap your face free of wrinkles.
How To Use It: Daily (morning or night, whatever you fancy). Cleanse your skin with an oil-free cleanser (this part is important, friends), dry off and apply the provided gel or any other oil-free skincare product. Glide the device over your cheeks, jawline and forehead in an upward motion for five minutes.
Verdict: So here's my big dark secret: I have commitment issues when it comes to beauty. I have a short attention span and oscillate between full on eight plus step regimes to, well, falling asleep with my makeup on from one day to the next. So, be forewarned that the results here are probably largely due to the fact that I wasn't consistent with my use. Like my fellow Cov friends, I'm still fairly young, so my intention here was more about prevention than restoration. Wrinkles aren't so much of a concern—my mom has none (!!)—but saging is and I really felt like the little hardly-noticeable zaps from the device helped massage in all the goodness of my skincare products—double win. Actual lift is left TBD on my end, but working my face with the rounded ends of the NuFace felt so good
Laurel Pantin
Editorial Director
Tried: Tria Age-Defying Laser
Claims: The allure of youth! AKA: glowiness and diminished fine lines.
How To Use It: Nightly, you can adjust the intensity of the laser, but after washing and drying your face, you pass over your face in sections.
Verdict: To be fair, I'm still relatively young, and I'm also obsessively vigilant about my face falling apart, so my skin is in pretty good condition, all things considered (*things* include late, late nights of tequila shots and junk food fairly regularly, and a love of a good old fashioned tan). However! I did notice my skin looking somewhat bouncier in the mornings after using it. I think this is one of those things that you have to use for a few months (or not botox the shit out of your face in the first place so you actually have some wrinkles) to see real results, but I'm definitely into it. On one of said Botox missions, I quizzed my derm about the legitimacy of an at-home laser treatment, and he was also into it, and assured me it was possible for it to return some of the sparkle of youth to this haggard mug.
Jodi Taylor
Assistant Editor
Tried: Quasar Baby Blue
Claims: Wave good-bye to all your blemishes.
How To Use It: Two to five times a week (depending on the sensitivity of your skin) in the morning or evening. Start with clean, dry skin, then place the Baby Blue over the area that you have acne and move the device, first in slow circular motions, and then up and down or back and forth over the area for four minutes. Once you've covered all areas, apply your favorite moisturizer.
Verdict: The claim is that your acne will get worse before it gets better (such is life), but thankfully, I didn't experience that *too* much. My skin is fairly sensitive and reacts to dairy and sugar like you wouldn't believe. Since these are two things that I have mild addictions to, I find myself with a new 'friend' on my face more often than I would like. I was told to use the Baby Blue for four weeks straight to see results, but after two I noticed a major difference. The majority of my blemishes were gone, and I can assure you it wasn't because I cut back on dairy and sugar.
Tried: Tria Hair Removal Laser 4X
Claims: Semi-permanent hair removal in the comfort of your own home.
How To Use: After testing your skin type to confirm that area will work you put the laser on the skin, wait for the confirmation beep, and then move it slightly to overlap the spot you just treated. You can retreat the area every two weeks and on as many body parts as you wish at a time.
Verdict: I was told getting laser hair removal on your armpits was a gateway drug and that statement could not be more true—I would get my whole body lasered if I could afford it. So when I came across the Tria Hair Removal Laser, I was cautiously optimistic that this device could be the solution to my problem. At $450, it's cheaper than going to a salon for treatments, and you can continue to use it again and again. After treating my bikini line for the past few months, I definitely notice a difference, and while the hair is not completely removed, it is going away. I would imagine after a few more months the hair will be almost entirely gone. I've read mixed reviews, but in my opinion the Tria is much less painful than salon services, especially if you use the SmoothStart Calming Gel; plus you can adjust the laser's strength if it is too painful. I wouldn't recommend using it on legs, it would take hours, but you better believe I will be getting as much out of this laser as possible.
Meagan Wilson
Editorial Manager
Tried: GloPro MicroStimulation Facial Tool
Claims: Firmer, smoother, younger skin.
How to use: I've been dying to try at-home microneedling, but was always hesitant due to the fact that you're, oh, ripping up your own face with hundreds of itty bitty fucking needles. When this landed on my desk, though, I considered it a serendipitous sign from some kind of skincare god and threw caution (maybe common sense, too) to the wind. I cautiously tried it for the first time a few months ago, and I'm here to tell you it's not even a fraction as intimidating as I'd thought. The GloPro is covered with stainless steel "microtips", and while they're intended to help stimulate collagen for a more youthful appearance, I had another idea in mind: plumping up old acne scars and tightening the appearance of pores. Guess what? Both are really happening! Every other night, I roll this guy all over my face in every direction imaginable, sanitize the needles afterwards by spritzing with alcohol (they handily include an empty spray bottle in the kit), and follow up the whole thing by applying a serum with clean, effective ingredients (like Drunk Elephant's TLC or Shani Darden's Retinol Reform). And every single morning after, like clockwork, I wake up with skin that looks… just… better. If you're thinking about taking the plunge, I highly advise you: do it.