8 Off The Beaten Track Restaurants & Bars in Paris
Maison Kitsuné's Gildas Loaëc shares his favorite spots.
Travel
The traveling tour that is fashion month has reached its last (and most chic) stop: Paris. In between shows, shoots, appointments and parties, there's only one thing we want to be doing, which we do every time we're in Paris: eat excellent food and drink excellent wine. While we'll almost certainly be hitting up all the fashion world favorites like Café de Flore and Caviar Kaspia, we asked Maison Kitsuné 's cofounder, Gildas Loaëc—who, with his monthly parties at Le Bain, knows a thing or two about where fun is to be had—to shine a light on some lesser known Parisian gems. What we have here is a list of Loaëc's favorite spots so that we can do the City of Lights like a local long after fashion week has wrapped.
---
Saturne
17 Rue Notre Dame des Victoires
"Chef Sven Chartier has a great aesthetic and is by far my favorite chef in Paris. His cuisine is very inventive; the food is not only modern and fun, but it also tastes great and is beautifully presented."
Café Kitsuné
51 Galerie de Montpensier
"My partner Masaya Kuroki , and I created Café Kitsuné, our coffee spot, to offer precisely what we love. Our coffee is simply the best in town! Café Kitsuné also enjoys an amazing central location. It's nestled in the gardens of the Palais Royal in the first arrondissement of Paris—very quiet, full of history."
Kunitoraya
5 Rue Villedo
"Kunitoraya is super close to Café Kitsuné. They have the best udon in Paris... as good as you'll find in Tokyo."
Rose Bakery
10 Boulevard de la Bastille
"Rose Bakery is now an institution in Paris. They were the first to bring organic veggies to Paris. I also love this place because it's in my neighborhood and is very close to my apartment."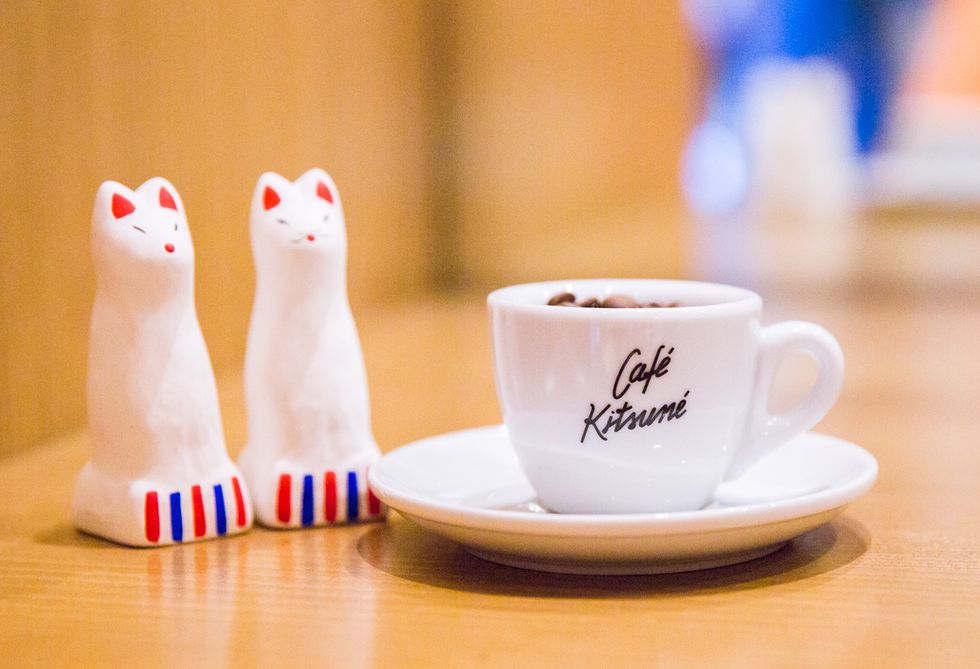 Castel Paris
15 Rue Princesse
"My friend André Saraiva's member's club in Paris also has a great restaurant that offers traditional French dishes made with the finest ingredients. It's a great spot to enjoy classic French cooking, which is why you'll see mostly older French people there!"
Vivant
43 Rue des Petites Écuries
"I love Vivant because it's very small and intimate and the chef, Pierre Touitou, is actually cooking in front of you, behind the counter. The food is served at the ideal temperature since it takes only seconds to get to you."
Bread and Roses
25 Rue Boissy d'Anglas
"You wouldn't suspect it because it looks very corporate, but it's by far the best breakfast spot in Paris and the portions are very generous."
Les Bains
7 Rue du Bourg l'Abbé
"I love Les Bains. You can join us there for our Kitsuné Afterwork , exciting monthly events happening in both New York and Paris."