Meet Your Newest Shopping Addiction
RIP our credit cards.
One On One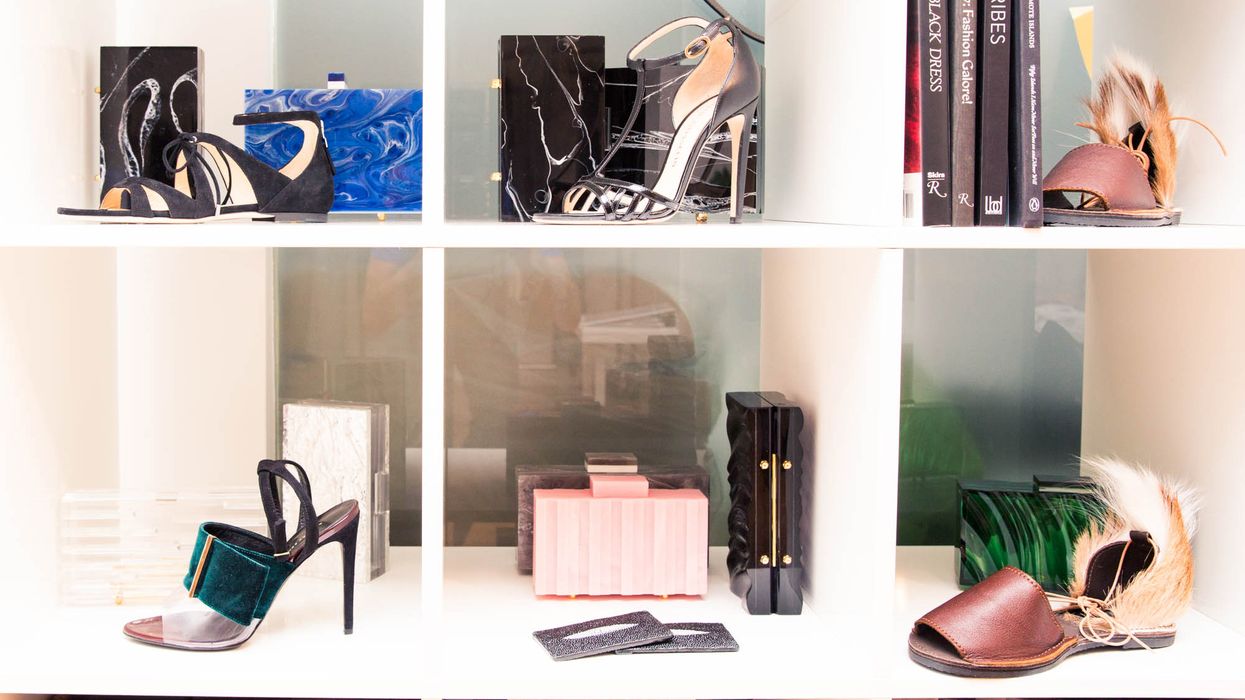 Thanks to Catherine Smith and her online shopping destination, Plan de Ville, we now know where the majority of our paycheck will be going each month. And we also know that we will experience zero buyer's remorse afterwards. Because in what can be an overcrowded e-commerce marketplace—with pretty much every item you could want at your fingertips—one often finds themselves with...well, regrets. But despite the more than saturated luxury landscape, PDV is what we've all been looking for. An online destination that features brand spanking new emerging designers—sometimes fresh out of Central Saint Martins or Parsons. It eliminates the dropping a lot of $$ on one accessory and then seeing two other woman rocking it at your best friend's wedding (true story, guys) situation.
Which is why, while we kind of want to blame Smith, previously of W magazine and Brides, for our latest shopping addiction, we also want to thank her for providing a platform for young, upstart designers to be featured, and, in turn, a place for us to shop and fall in love with them. Among her best finds, a leather jacket that's just as great, if not better than Acne's super popular version designed by a Balenciaga alum. Reason #54 why we love PDV, too, their on-site styling notes about why they love a label or designer are supplemented with some pretty spot-on forecasting. Like who they think will be the next Raf Simons or, 'if you like Proenza, you'll love this.' Which makes trusting and putting your hard earned #livingofframen dollars into these fresh-on-the-market brands a much easier decision to make.
---
On trusting her gut when launching Plan de Ville:
"In the beginning people were surprised to hear that I would find designers for Plan de Ville on Instagram, but it's a global market. I found L'AFSHAR, the collection of bags that I've been working with from the beginning, on Instagram and emailed her sales rep—actually, our first season order with her was sight unseen. I knew they'd explode as soon as the right people saw them in the right context. PDV has been very intuition driven and plenty of people would probably tell you to never place an order from a designer sight unseen but I have been lucky enough to have my intuition guide me in the right direction. From the beginning, people asked me if I was worried a designer wouldn't ship their order, and frankly it's the designers that are one or two seasons out of Central Saint Martins that fill their orders first."
Why it offers shoppers something unique (not trendy):
"There are so many places to buy a Dolce and Gabbana dress, I think when women are spending a certain amount of money, they really want to feel unique. They don't want to walk into a lunch somewhere and see another woman wearing the same dress because it just makes them feel lost in all of this luxury fashion. Especially with social media I know people more and more feel like they want to craft their own social identity through how they're dressing and it be can frustrating when you end up feeling like you're just part of a trend."
How she finds and showcases emerging designers:
"My favorite way to find designers is at trade shows—I put my sneakers on and walk around. I head straight to the 'emerging designers' section of the Tranoï trade show in Paris. I saw a rack that had really elegant, sharply cut pieces and the best leather jacket that I had seen in a very long time. This was during market in March so all my friends were wearing huge leather jackets in NYC that were lined with shearling, like the Acne ones. I felt like if there was another jacket that could speak to that need in women's lives, to feel cool but also warm against the cold winter, it would be Frater Paris. It was Hugo Fontaine's second season, he had eight samples on a rack. Frater Paris is producing a garment that's just as good (if not better) than what's out there, and he interned for Balenciaga and several other labels so he's seen exactly how to do the supply chain, the quality and where to produce it. His design is the best new leather jacket I've ever seen.
"I go to every appointment possible during fashion week. I'm attending London Fashion Week for the first time this season…my schedule has been limited up until now because I was finishing a masters at Parsons when I started the company, which was a little bit of a challenge. Now that that's done I can go to Europe for a more extended period of time and meet with the deans of the design programs at different fashion schools and take a very homegrown approach."
Why a lot of it is based off of trust:
"In the beginning of PDV it was all cold calling and email. I would either find designers on social or see someone wearing something and I couldn't place it. Now I'm lucky enough to have designers reach out, which is such an honor. For a designer coming in at a luxury price point, it's all about distribution strategy, so if they are going to sell to us, another store may not be interested or they may want to only be in four stores that season. So when anyone reaches out to me I don't take that for granted, it's a huge decision on their part."
Her fashion career from intern to stylist and now founder:
"My first job out of school was an internship at W for Stefano Tonchi, the editor-in-chief, which was amazing. I was there several days a week, working with his assistant. As a first magazine experience, you can't do much better than being able to see the way a new editor-in-chief (he had been there for about a year at the time), re-conceptualizes an entire magazine. After that I went to work for a designer as his assistant and then I came back to Condé Nast as a features editorial assistant at Brides. I was writing front of book stories about celebrity women talking about their wedding dresses and Cindy Crawford's experience with wearing Galliano off the rack or something unbelievable. I was there for about five months when Anne Fulenwider was the editor-in-chief. She became the EIC of Marie Claire and then the executive editor of Brides became the editor-in-chief and asked me to be her assistant. That suddenly became a new and exciting challenge, one that I felt prepared for because I had interned for Stefano and I got to, again, see an editor-in-chief re-conceptualize a magazine and be there to support her however I could.
"I left publishing to do my master's degree and I actually planned on being an editorial fashion stylist as I had been styling for Brides and assisting with market work, helping to bring pieces from the ready-to-wear space into the magazine and dressing women. As a young editor, I mainly had access to young designers. I started to build relationships with young designers early on and then realized that when the women I was dressing were walking around, they were getting tons of compliments but her response was, 'Oh thanks, I got it from my stylist who I think got it from the brand and I don't know if it's sold anywhere…" More often than not, they weren't sold anywhere or the emerging brand's e-commerce would sell out because they couldn't produce enough."
Why it's for people who want quality designs, not just a name:
"I noticed that A) women were responding really well to new styles and it was product driven desire, less so brands. People would say, 'I love that bag, I need to have that bag where can I get it?' Not, 'who is that bag?' It was separate from the idea of brands. I quickly realized I didn't like being a fashion stylist, I hated the idea of negotiating a rate for each job and I didn't want an agent because I wanted autonomy over my schedule. PDV became a way to scale the idea of dressing women in emerging designers' product. And since we stock the product, we can actually fulfill the desire that's out there."
Why she prides herself on winning over and featuring new labels:
"My biggest win at PDV was Ellery. They have been with us since our very first ready-to-wear season. I started the site with fine jewelry and bags in November of 2014. Jump to almost a year later in September 2015 when we expanded into ready-to-wear and footwear. I really wanted us to have our own anchor brand that would drive traffic to the site, set the aesthetic tone, and also tell women that they can trust us, shop with us, and know that the other brands are going to fit just as well, the fabrics are on par. In a space for emerging designers, if you have one anchor brand that is still very much emerging, you can set the tone for consumer trust. I never thought Ellery would be open to working with my brand new website, but I was lucky enough to have a very kind friend make the introduction.
"In the beginning of PDV it was about getting up the nerve to walk into market appointments. I didn't work at Vogue, I wasn't a major fashion editor and I was asking these designers to take a huge leap of faith and sell to my brand new e-commerce site. But the girls at Ellery are fantastic; I have a great relationship with them. From the beginning, they understood the concept and were very supportive. They are launching denim this fall and we are one of the only stores that are going to be working with them."
Her ballsy advice for newcomers:
"Don't be afraid to make the big ask because the answer is always no if you don't pose the question. People are excited to hear 'Hey, I've got this idea, I'd love to include you, let me know your thoughts.' That alone is something that you really need to remind yourself of. When you're starting a new business or positioning product in a different way. PDV works because this is a concept that rewriting the rules of retail. You can desire a product from a designer one season out just as much as you can desire a Céline dress or fabulous Balenciaga or Acne leather jacket. So, positioning things in a way that isn't done elsewhere requires rewriting all the rules. Just give yourself the permission to push your own boundaries."
What's next for PDV (besides, everything!):
"I would love to expand PDV further into footwear. But the challenge is that starting a footwear label is extremely difficult. Chloe Gosselin has done it very, very well. It's difficult to get off the ground and meet the minimum set of requirements by the best factories in the world. I would love to have a hand in helping footwear designers get their ideas off the ground and connect them with factories that understand the value of working with a designer in the beginning of their career and then supporting and growing with them as they expand."