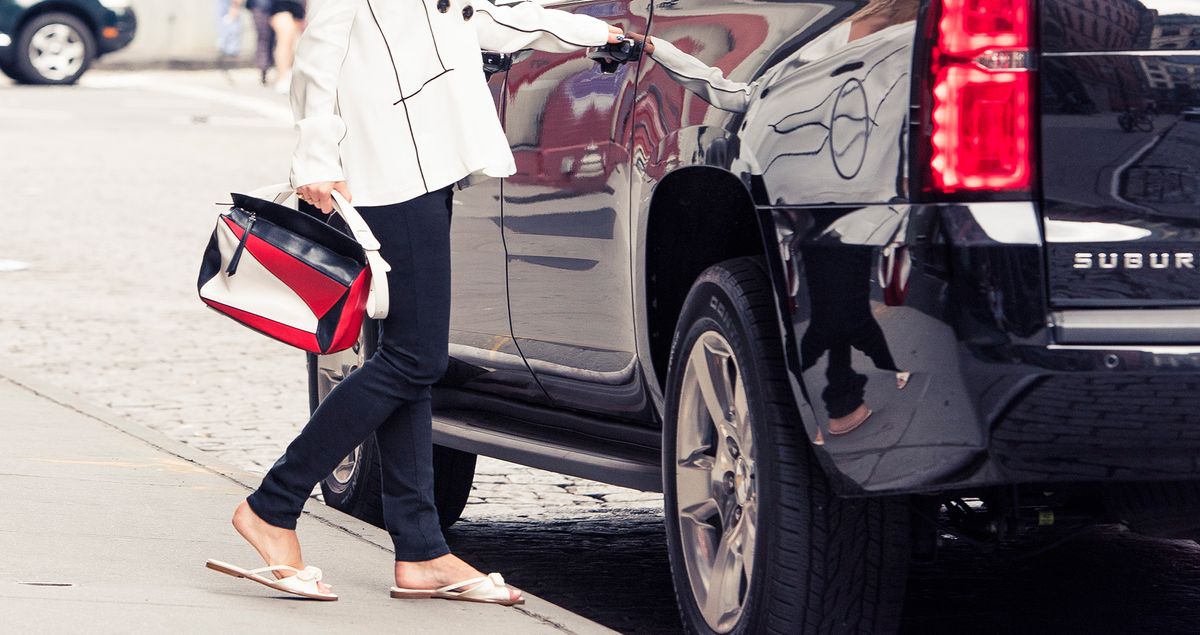 Trends
Consider yourself one step closer to being a Copenhagen cool girl. In collaboration with Levi's®.
By now, we all consider a good pair of jeans to be a true classic. And yet—lest we forget—it wasn't even all that long ago that the ~fashion crowd~ turned their noses up (just a little) at that very sentiment. Fast forward just a few years later, and the piece has been restored to all its rightful glory as the cornerstone of the style of one of the best dressed gals on the whole street style circuit: Pernille Teisbaek.
Teisbaek is one of our favorites every season, largely because she manages to strike all the right notes—take the flowy off-the-shoulder blouse she expertly mixed with a pair of timeless skinny Levi's (their 711s, to be exact), a pair of ultra-ladylike The Row sandals, and a geometric Loewe bag.
While Pernille got ready to dive into her first day at fashion week (she'd arrived at the Soho Grand just 12 hours prior to us coming over…), she filled us in on the shows she was most looking forward to, while we in turn plied her with suggestions for where to go to dinner (just about every night of the week, mind you). As it turns out, when we pressed Teisbaek for one of the most crucial details of her itinerary—what she's wearing—denim is just about the only consistent mainstay. We've seen her mixing elegant Ellery dresses with structured Loewe bags, oversized Vetements sweatshirts with little Carven skirts, and yet almost no look of hers is complete without a touch of denim; whether that's a clean, white, fitted jacket (we were tempted to nab the white Levi's one right out of her closet) or the light wash skinnies she paired with white Céline pumps. We had time for a quick treat (we repeat: she'd landed from Denmark 12 hours prior) at The Smile before she was off her first appointment of the day, during which we did our journalistic best to ask Teisbaek all the big questions—like how she looks so cool all the time. It was no easy task, but we were up to the challenge.
---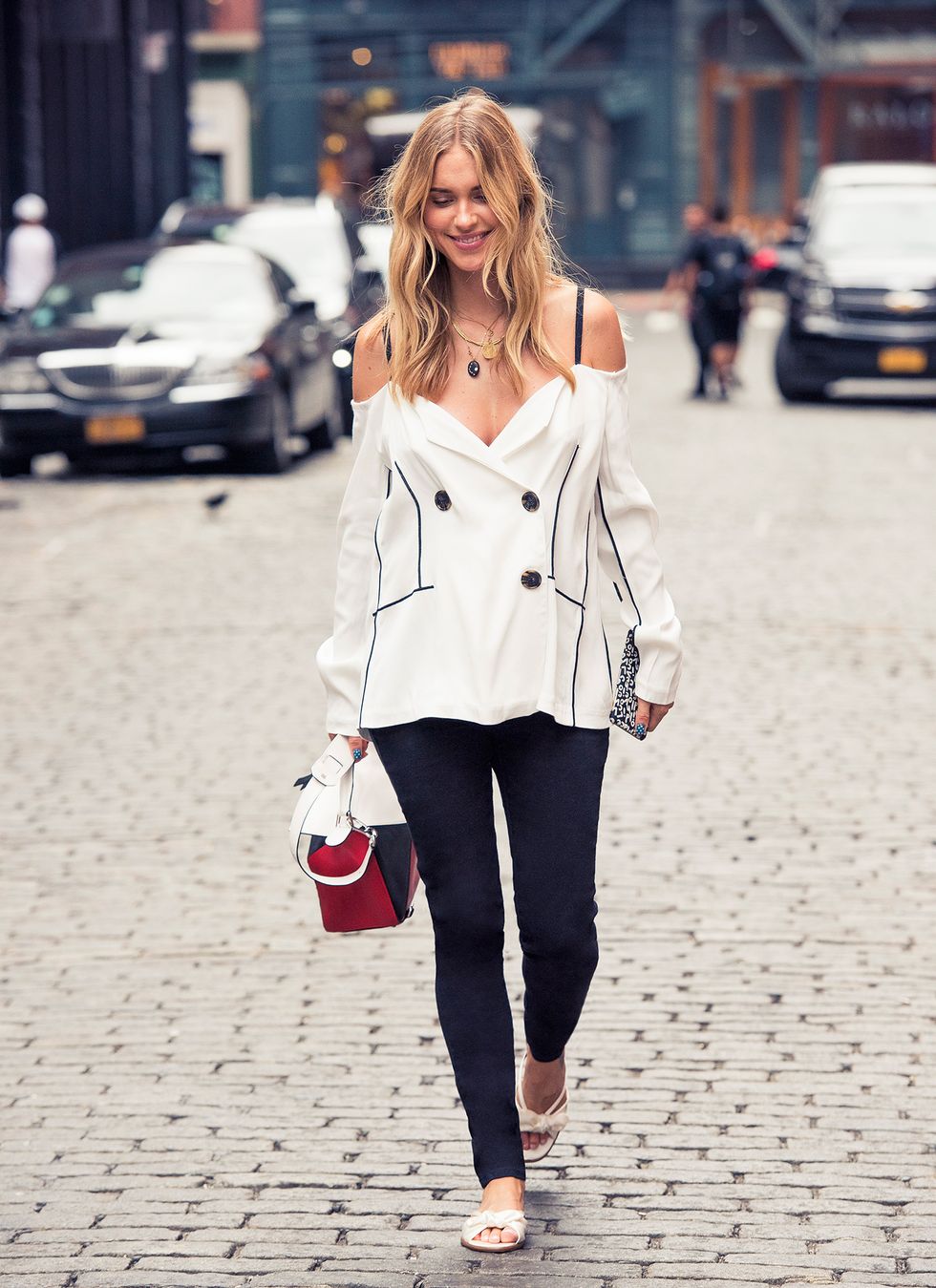 "My favorite jeans are actually the vintage Levi's I was wearing on the first date with my fiancé."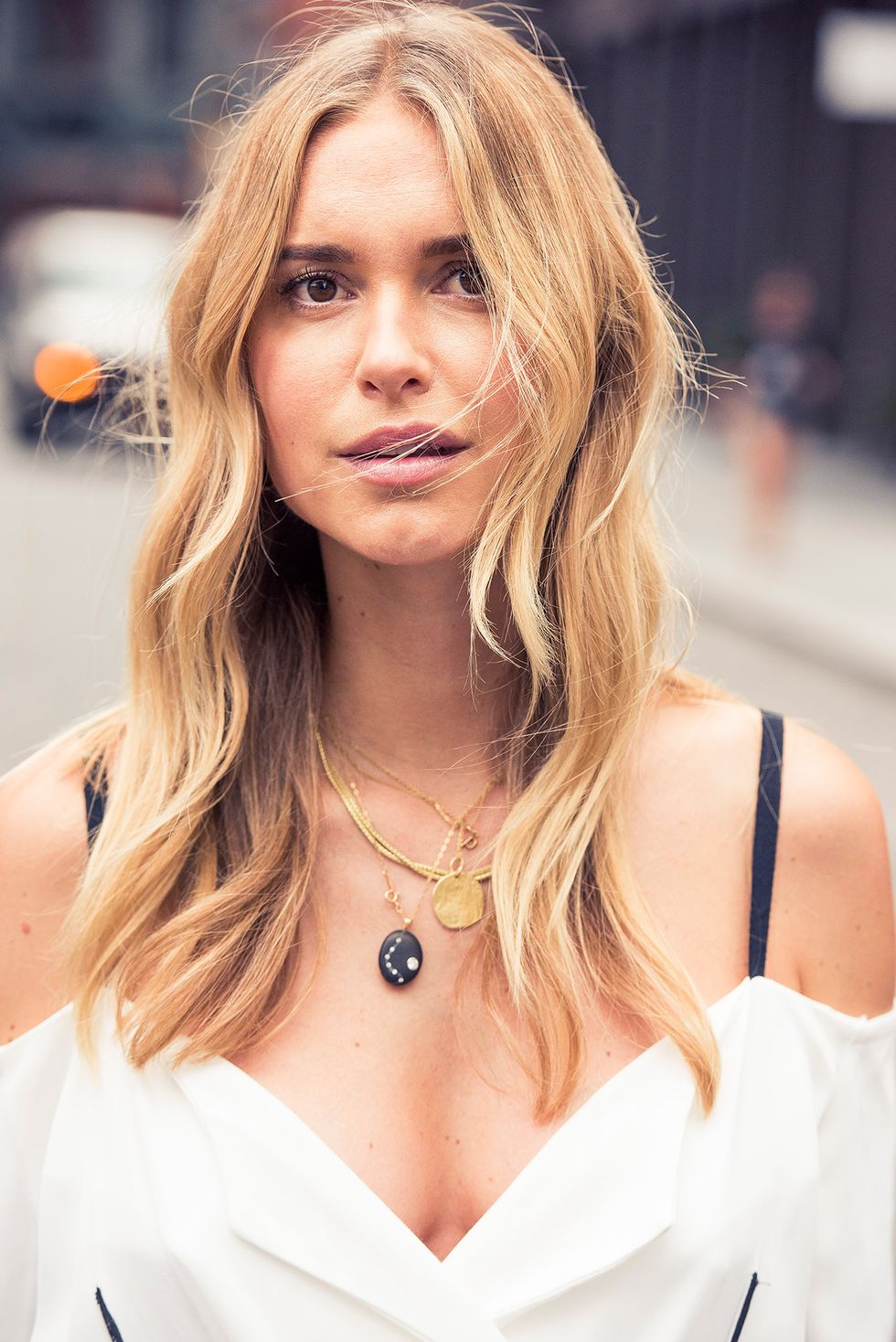 Her approach to getting dressed everyday:
"I think it's always important to think about how to mix it up, so it's a balance between wearing an oversized t-shirt with jeans, but then pairing it with some glittery shoes. That contrast, for me, makes it interesting."
What her morning routine looks like:
"Normally the first thing I do in the morning is meditate, and then I do a workout. During fashion week, I start my day with a very good breakfast, as it's so difficult to get food during the day. Having a good breakfast fuels you, and in New York, all the shows start pretty early. You'll start at around 9 A.M., and then you just go from show to show."
What you'll find in her bag during fashion week:
"If you looked in my bag, you would probably find coconut water or some kind of hydration. A snack bar that you can grab on the run. My cell phone, which is essential, and a pair of sunnies."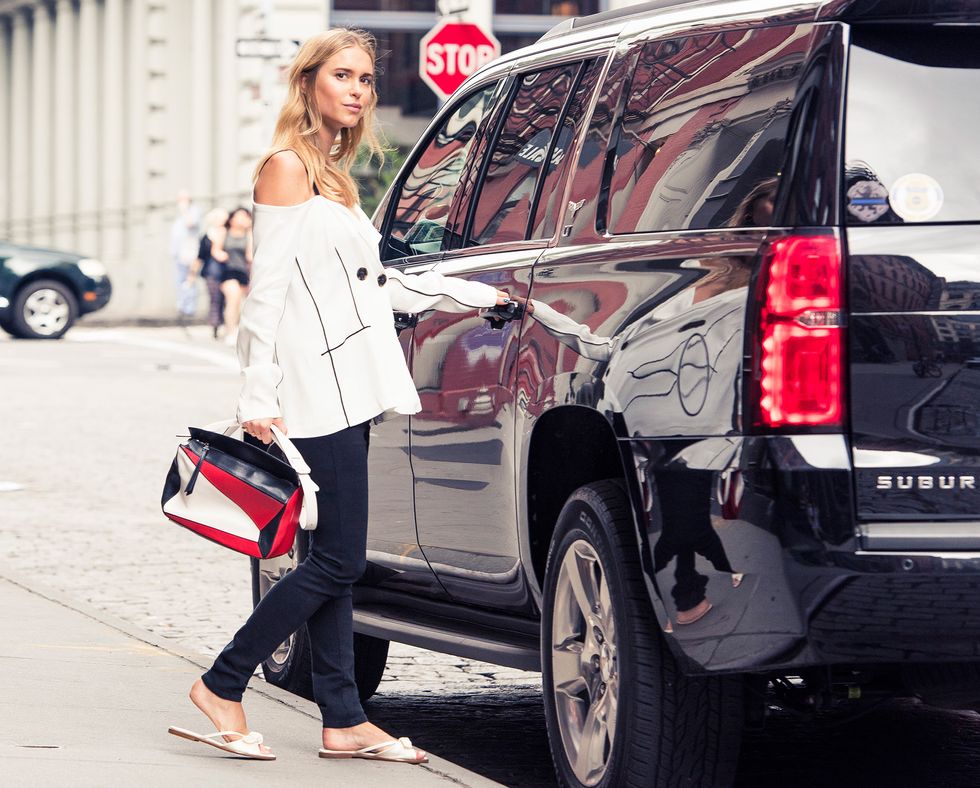 Her favorite pair of jeans:
"I have a pair of Levis that I truly love. They're super vintage—they're so worn out that they're almost falling apart, so I kinda constantly try to sew them together so they won't fall apart. I always travel with them because they're so comfortable and soft."
Her go-to beauty products:
"Beauty-wise, when it's so sunny, it's important to wear sun protection. I have a really good organic one from Rudolph Care which is a Danish brand. It's 50 SPF and super moisturizing, so very good on a day like this."
What she was wearing when she met her fiancé (!):
"My favorite vintage Levi's are actually the jeans I was wearing on the first date with my fiancé."
"I love layering. Using denim on denim is something that I really like. And not only using one tone, but mixing different shades of blues with each other. It gives some depth to the look and it's interesting."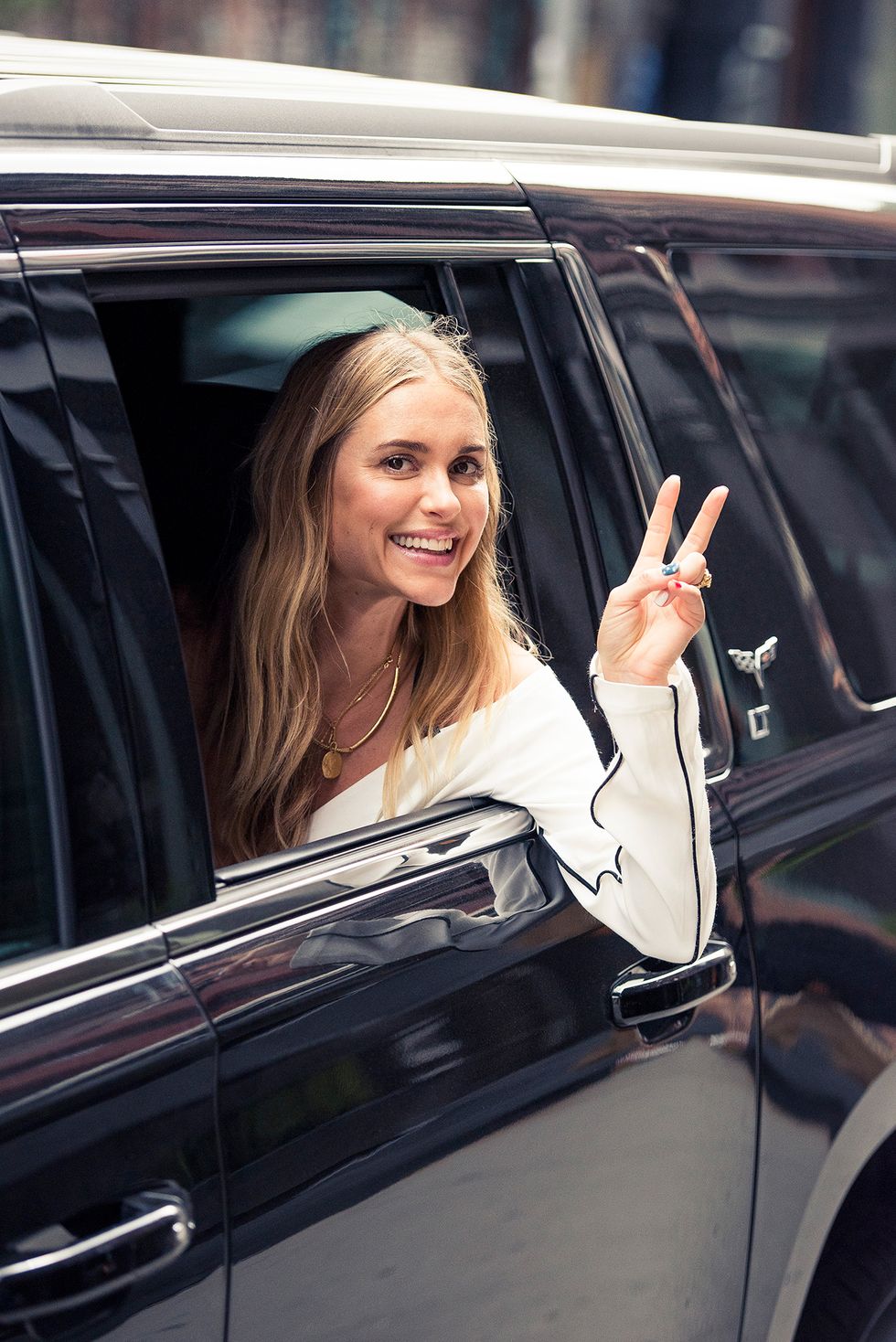 Her favorite hideout during New York Fashion week:
"A friend of mine that lives at Soho Grand told me about a secret spot for a Thai massage, and I always go and visit them once during fashion week here because they are so good. After a long flight you can really feel the need to stretch out and unwind."
The apps you'll find on her phone:
"My favorite app is of course Instagram! And WhatsApp, and a crucial one is Uber."
Why she doesn't have a style icon:
"I actually don't have a specific style icon. I'm a true adapter of the online street style category, so Instagram and whatever is online is where I find my inspiration for whatever to wear. It's not like a complete outfit, it's more like bits and pieces that I find inspiring, or colors or combinations."
Why she loves a Canadian tuxedo:
"I love layering. Using denim on denim is something that I really like. And not only using one tone, but mixing different shades of blues with each other. It gives some depth to the look and it's interesting."
The one pair of jeans every woman needs in her closet:
"Every woman should have a pair of skinny jeans, because I think it's so sexy when you have something that's loose, and then you combine it with a pair of heels, and jeans that are a bit more tight so you don't look too sloppy. It has this comfy feel that is a great contrast—the sexy, the loose, the classic denim. It's perfect!"
Her tips for shopping for denim:
"You can go to vintage places for jeans, and you can get that worn-in look. The best jeans you have are the ones that you've worn forever, because they take shape after your body. I actually think you have to be patient and keep them for years; try to stay focused on the fit that actually fits you, and then wear them in."