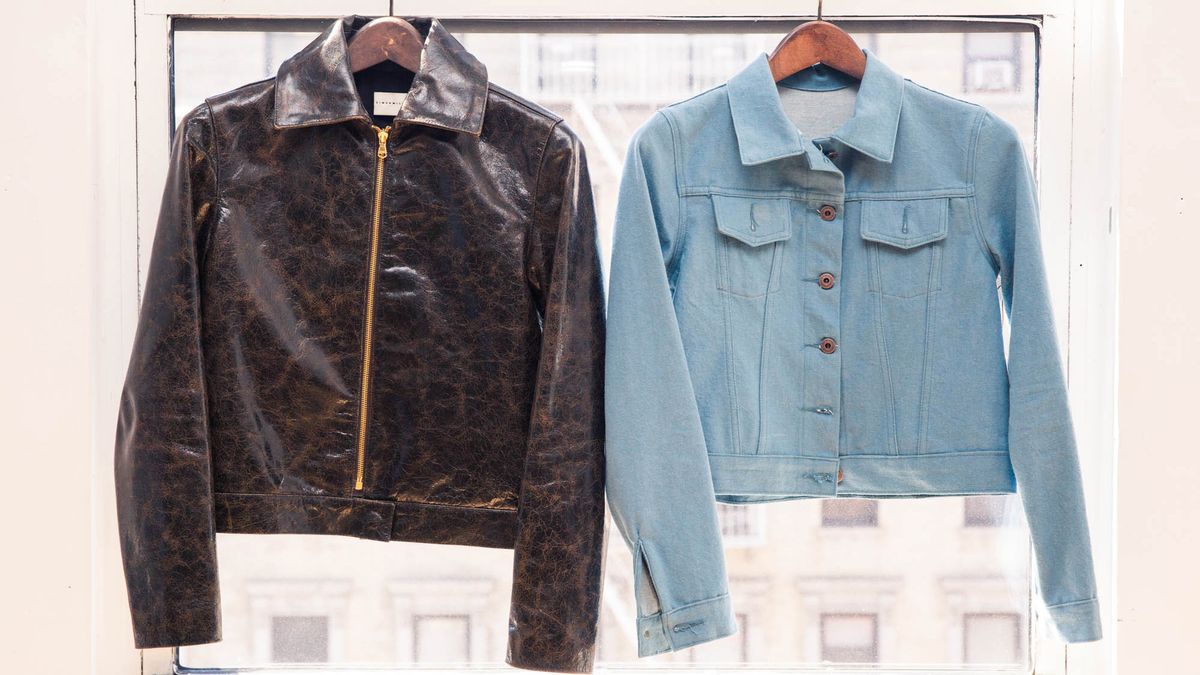 Trends
How Simon Miller gave your basic pair of jeans new life.
Alec Kugler
For a lot of people, jeans are just, well, jeans. Skinny, flared, cropped, straight-leg, boot-cut, high-rise, low-rise, button-fly—they almost always have five pockets; they're some version of stretchy and soft; they're washed in blue, or black, or grey. There's consistency and, I think, it's part of the reason we love jeans and wear them over and over again. They're the definition of classic clothing.
All that thinking—about jeans just being jeans—went out the window when we walked into Simon Miller's Lower Manhattan showroom. Fresh from their spring 2017 presentation, creative directors Chelsea Hansford and Daniel Corrigan were eager to show us their collection. And while Simon Miller started as a denim brand—and are known for their cult-y pairs—even their jeans are hardly jeans in the traditional sense. The brand is ready-to-wear, through and through,and they treat their Japanese denim just like they'd treat any other fabric used in the collection, from perforated leather to knitwear. Then, of course, there's the bags. Launched last year, they've completely taken off—making the miniature Bonsai style the ultimate non-it bag that all the cool girls need to own. In the meantime, Hansford (based in New York) and Corrigan (based in Los Angeles) have managed to build a brand based off the ethos of denim (laid back, close to nature, effortless), that's still intelligent and innovative when it comes to design.
---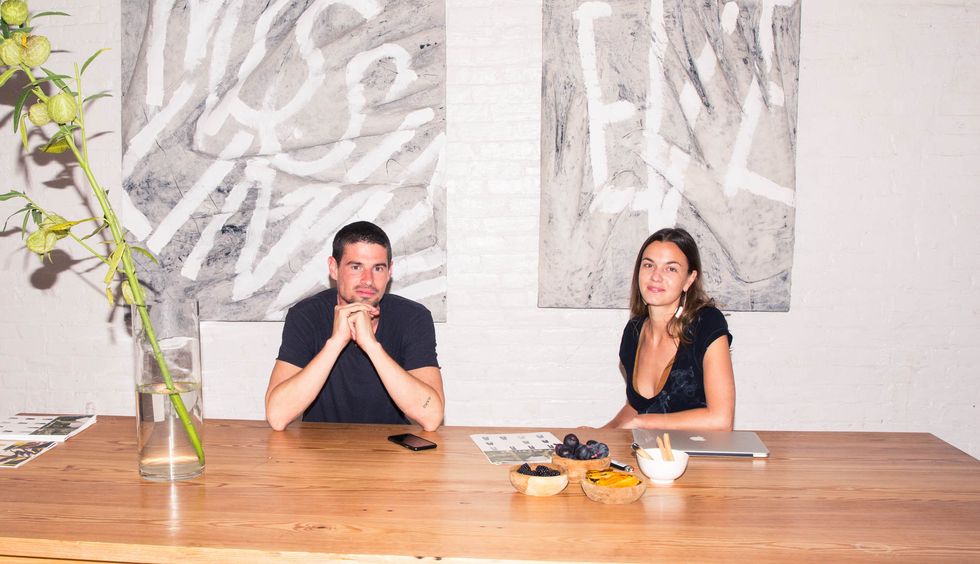 The Simon Miller lifestyle:
DC: "Part of growing and expanding into all these different departments [ready to wear, accessories] is really growing the lifestyle component of the brand. We don't have our own retail store right now. For us, the showroom space and any environment that we create as a brand is so important because it really is about the lifestyle and the life that me and Chelsea live. The world that we live in and design is so important to us as a company."
CH: "Nature is a big component of our lifestyle, and that balance between being in nature and having clothes that are comfortable and relaxed with a level of sophistication, edginess and identity."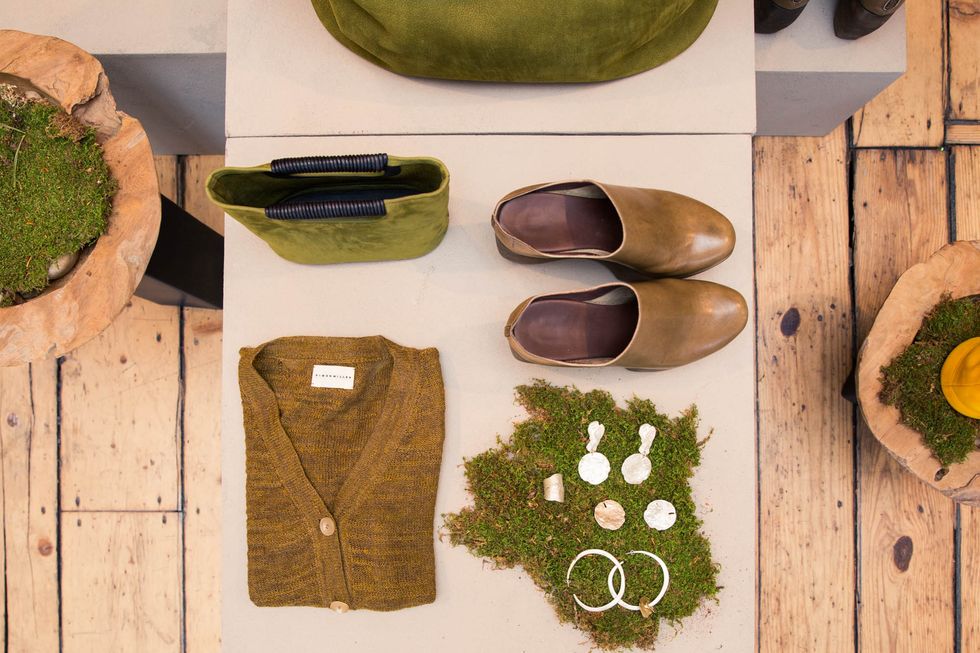 DC: "Especially in a day where there is so much fashion and inexpensive clothing, it's hard not to just buy clothing for the sake of buying clothing. For us, there is a trendiness component, being in the moment and relevant. But our clothes are also things that you can have for a very, very long time, and they'll last. We take a lot of pride in what we create. I have five pairs of Simon Miller jeans, and it's all this old stuff I've had for ages. I've had this t-shirt, for example, for five years and it's my favorite t-shirt."
The little bag that could:
DC: "Chelsea's husband develops all of our bags. He has an amazing workshop in their house, here in New York. It really is a family business, the three of us plugging away."
CH: "We knew we wanted to start with simple bags. We don't like anything with too much hardware, we don't like anything that gets too complicated. Simplicity is important for us, so is the quality of the leather. We have two leather suppliers that we use in France and they're very small mills—they supply to all the top brands, like Hermès and Louis Vuitton—and they use mineral tanned natural leather. It's true to our identity and it's lasting quality. We really really wanted to be in the contemporary bag market, because we've seen so much excess and there's so many case studies on this marketplace and how much potential there is—we wanted to make sure our price point was there. We had this formula: a simple bag, great quality leather, and great price point. So then we started thinking: we know we want to a bucket, and where do we go from there? We started exploring circular objects and we found this random circular box we fell in love with proportion-wise. And then we started exploring, making little silver handles."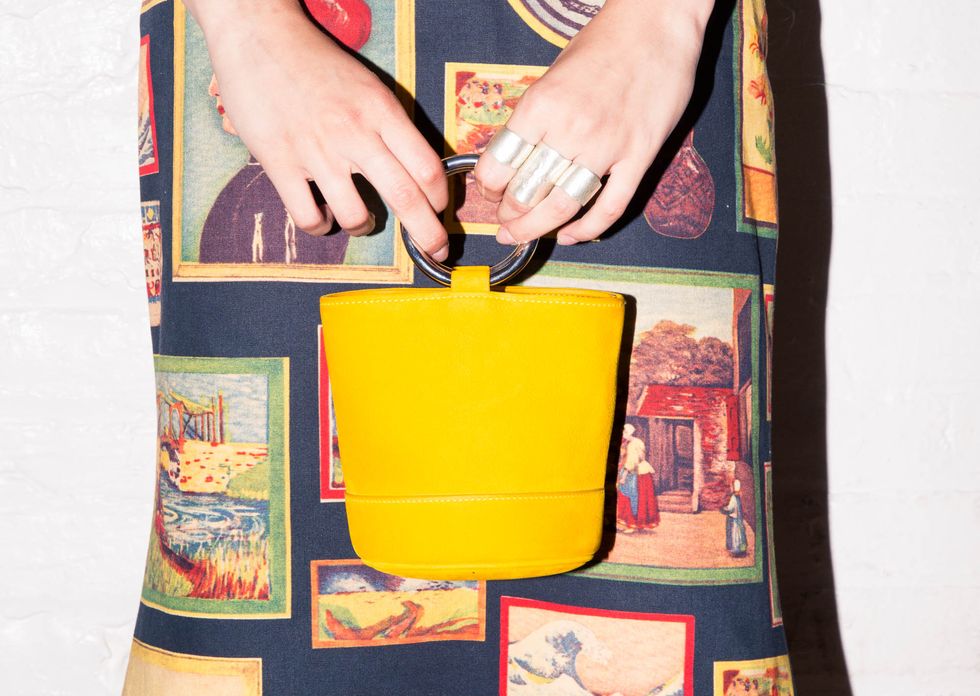 DC: "It's what the brand is all about: beautiful material, made really well, and not very fussy.
"When we launched the Bonsai bag—it hasn't even been a year—Chelsea was actually in Los Angeles and we sent out the email announcing them. It was the first time we'd done accessories and it was, like, eight in the morning. As soon as we sent the email, 15 of them sold. We were like, 'what is going on here?'"
CH: "At that point, we knew we had something."
DC: "Even now, it's become quite popular and it's done really well for us. We still want it to be special. We are still a little protective of it, because we don't want it to be overly distributed and out there everywhere. But it's been copied so much, it's out there anyway."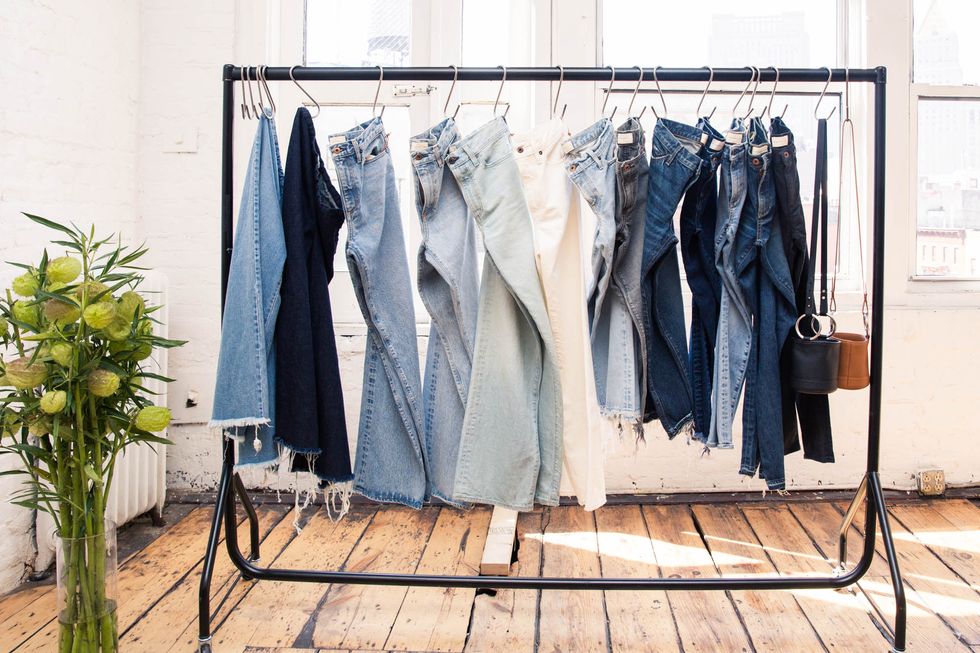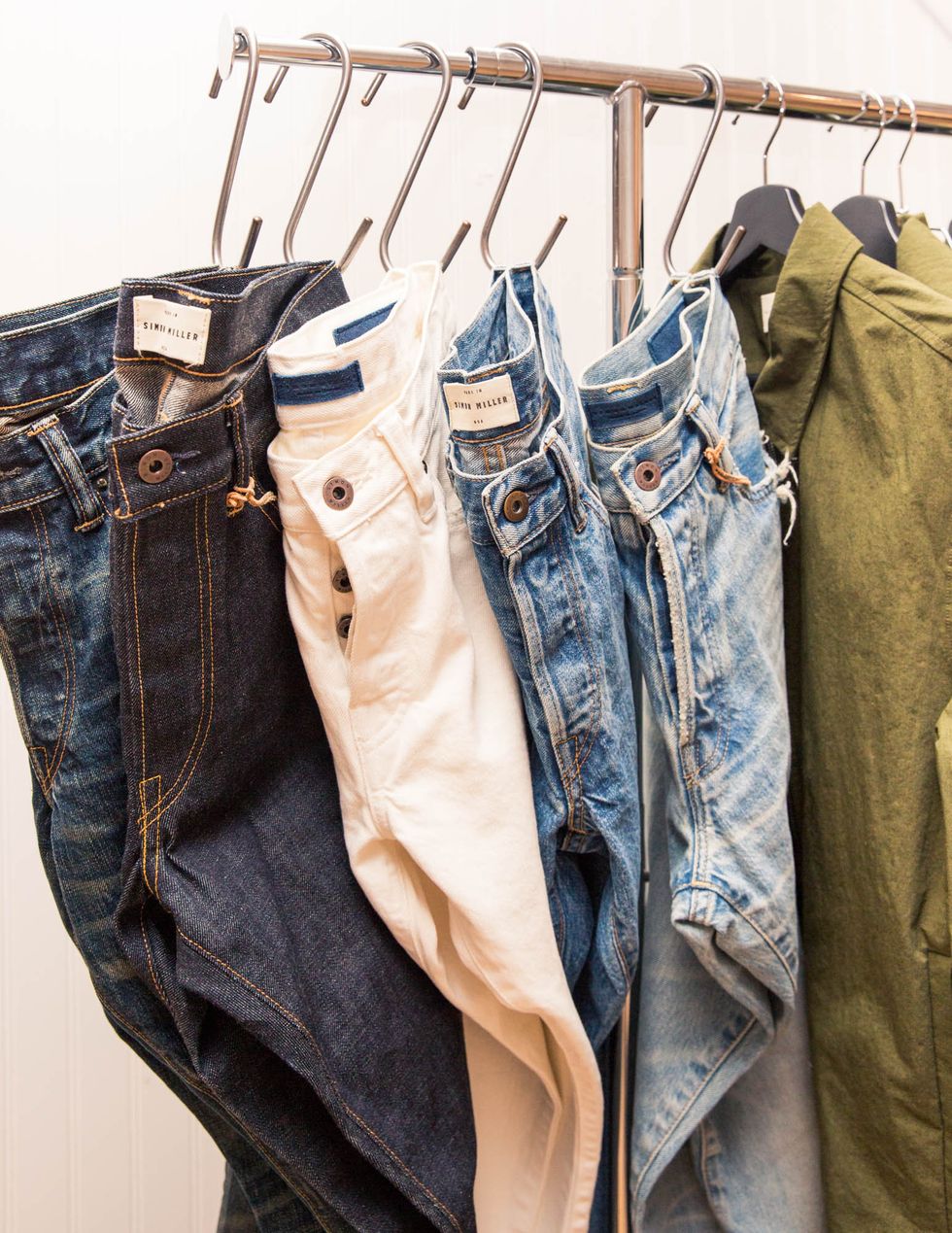 The thing about Simon Miller denim:
DC: "I think the biggest thing that sets us apart is that we don't really do contemporary fits. We look at denim as ready-to-wear more than actual denim. We do heavier weight denim, it's all 100% cotton, Japanese fabric. Our fits are not what would be considered commercial."
CH: "We start the process asking, 'what's new? What's ahead? What have we not seen? How can we incorporate that into jeans? What's this silhouette that we want to see and how does that tie back to our shoes?' It's all a big look. We like big platforms because we have jeans that are wide leg and long and that looks good together. We start with that. Once we get there, Dan does his magic in the washhouse and makes them look amazingly authentic. They look like true vintage jeans and he makes sure its not overly patched. That's really important: that it's real, substantial and doesn't look fake. We like a '90s mid-wash right now. For us, denim is part of the ready-to-wear: you can wear it to work, you can wear it out, you can wear it on the weekends."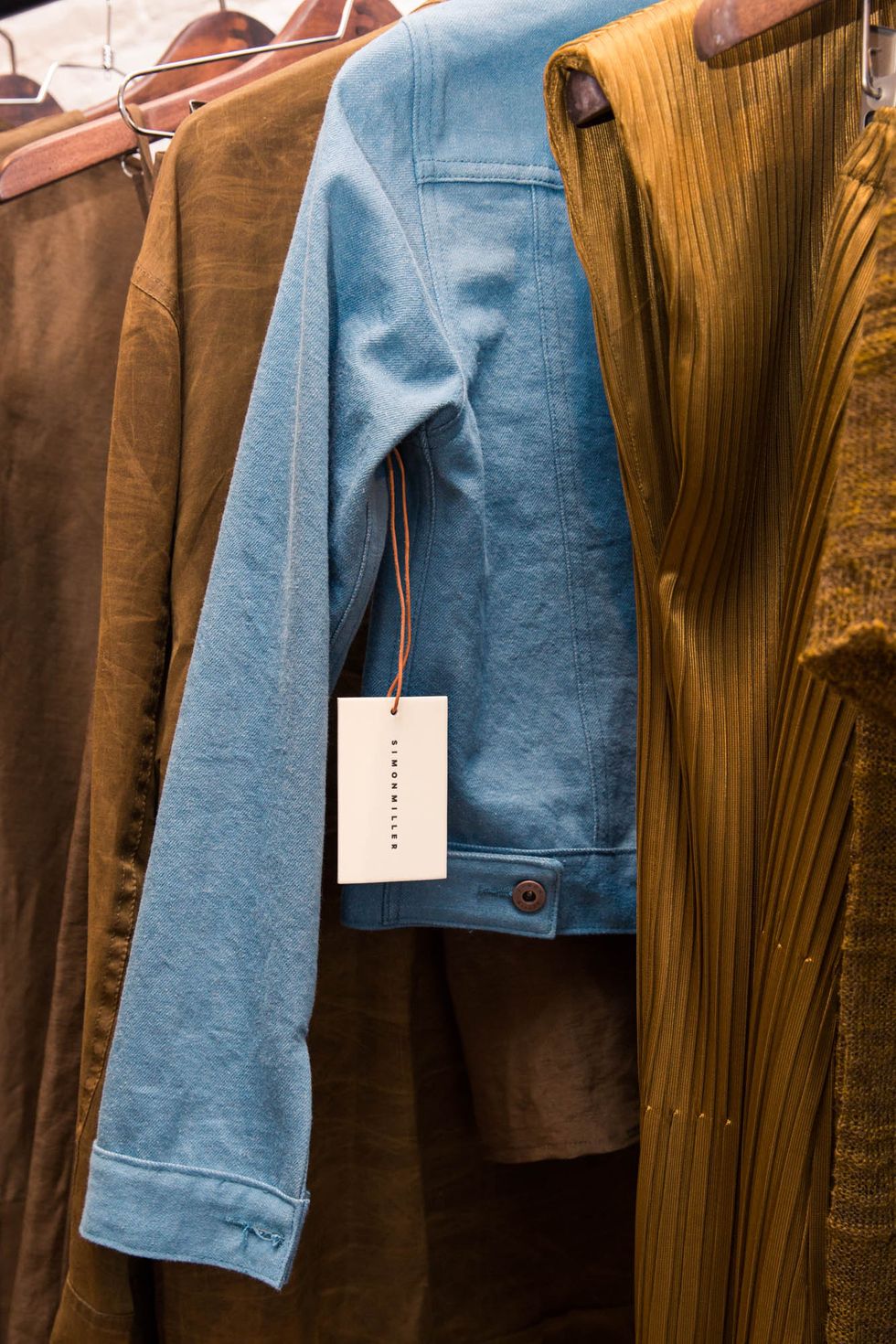 How to grow a brand the Simon Miller way:
CH: "Be strong! Be very strong."
DC: "Focus on something. We started with denim. Focus on an idea first and then let it grow organically. We've grown the company organically and now it's getting bigger a lot faster. And yeah, be strong [laughs]!  It's tough, just like any company—manufacturing is really hard."
CH: "Focus on what you believe in and don't listen to a lot of opinions when it comes to the design process—having your own identity is extremely important. There are so many decisions to make everyday, it's important you hone in on what you believe in from a taste level and don't compromise that. Just follow your heart—that is really important as you expand. And take risks. Make sure you're doing something you like. Because at the end of the day if you don't like it, it doesn't make sense."