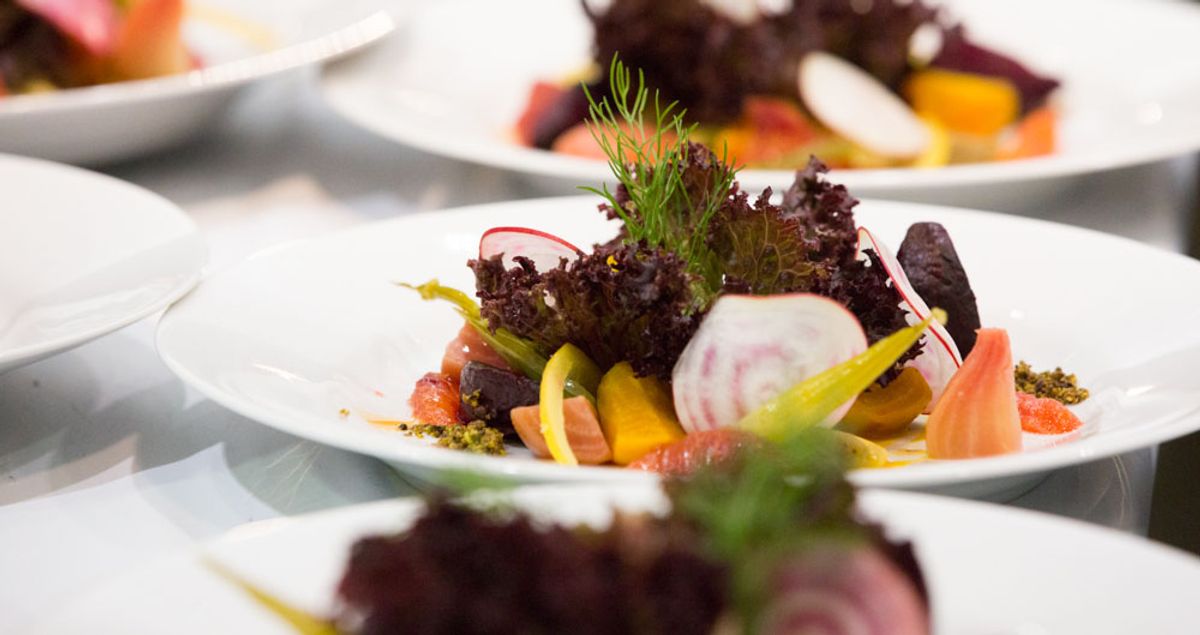 Entertaining
A.K.A. The ish you really want to know.
Adam Torgerson
The last word you would ever use to describe award shows like last night's Emmys is "subtle". It's all sparkle, Gucci, Zac Posen, Schiaparelli, over the top performances, legendary and poetic speeches....you get the drift. So why would we expect the most important part (in our opinion, the post-show dinner), to be anything less? You wouldn't. Here's the thing: right after every golden statue is handed out, 4,100 of Hollywood's best file into the ballroom to sit down for a five star, 3-course meal crafted by Chef Gregg Wiele of Patina Restaurant Group and his team of 18 executive chefs and 250 sous chefs. Wiele is going on his 17th (!) year heading up the kitchen and told us everything (down to the crazy number of beets and poundage of chocolate) that goes into making thousands of dishes for the very, very elite.
---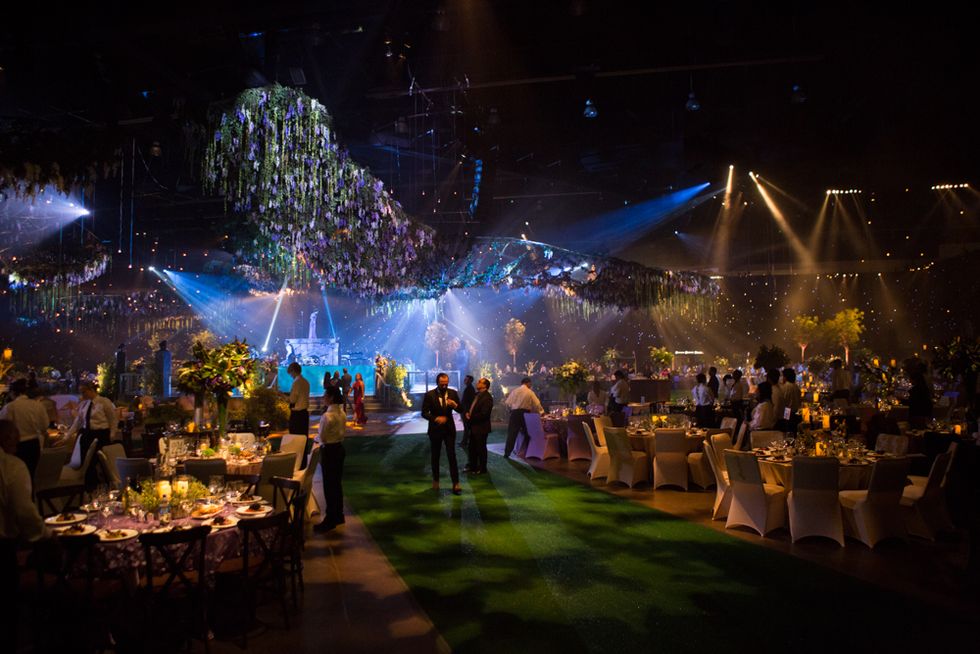 "We knew that the theme was going to be Nature's Elegance, so the dining room was going to be very floral driven, have a lot of vegetation. We wanted to create a menu that was very much farm-to-table." - Executive Chef Gregg Wiele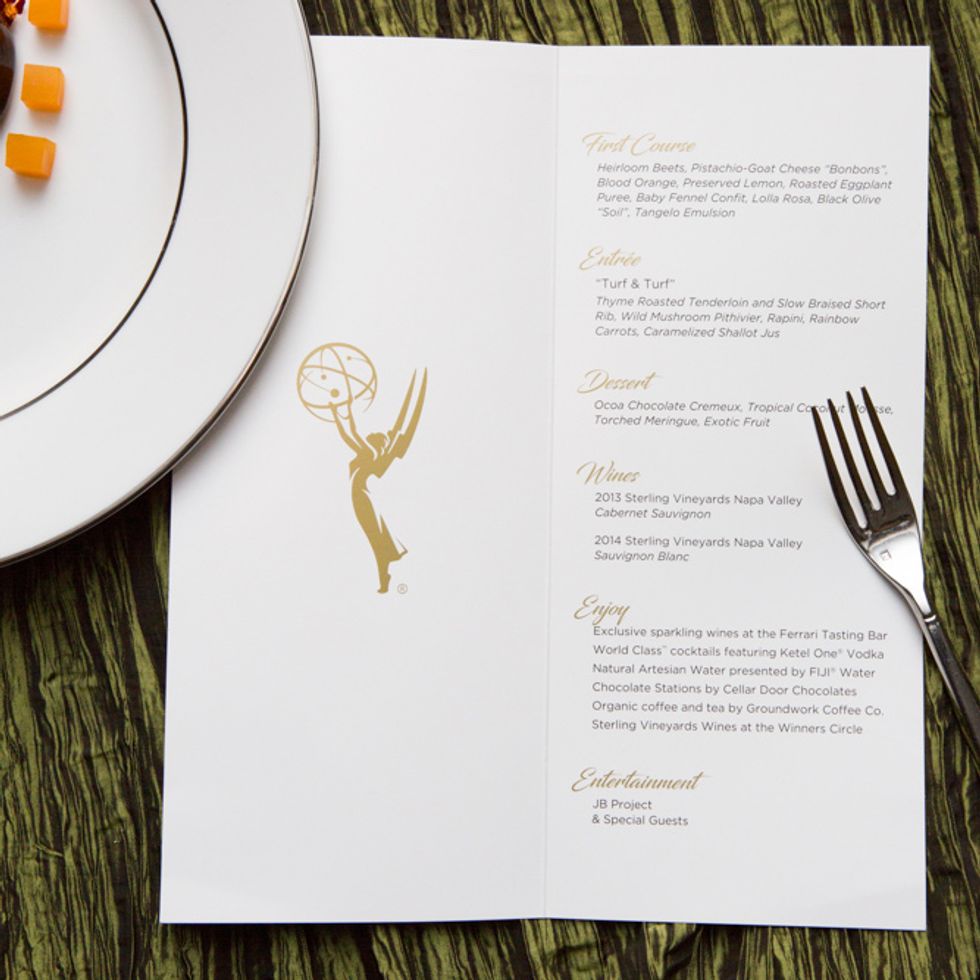 First Course
Heirloom Beet Salad, Pistachio-Crusted Goat Cheese Bonbons, Blood Orange, Preserved Lemon, Roasted Eggplant Puree, Baby Fennel Confit, Lolla Rosa, Black Olive 'Soil', Tangelo Emulsion.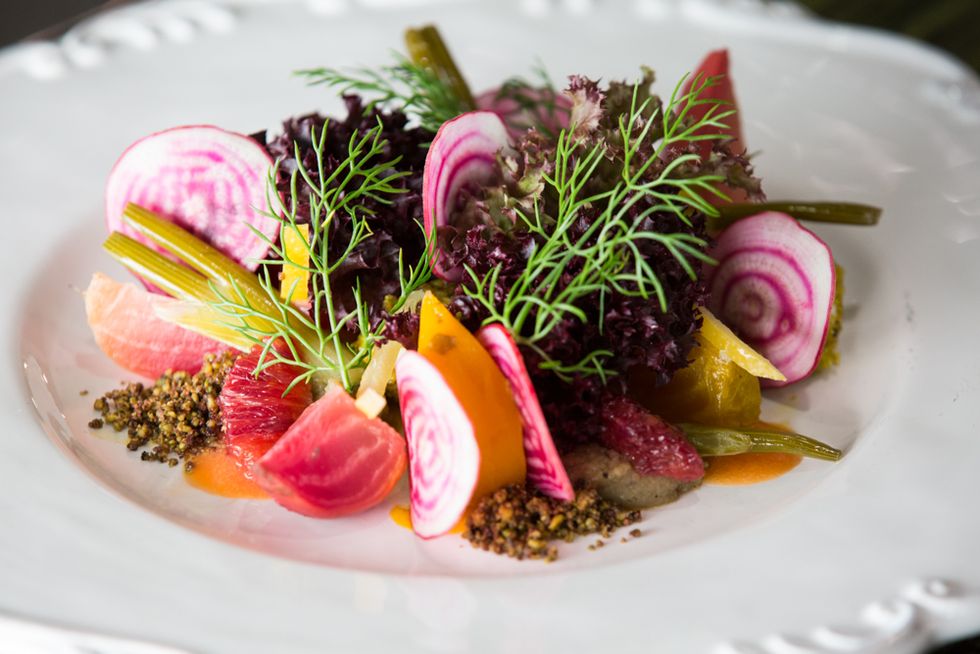 "The beets were grown specifically for us and for this salad at Babé Farms. There are three different types: baby red beets, baby gold beets, and chioggia beets. So these beets are really the showpiece of the salad. The Lolla Rossa, which is a beautiful curly purple lettuce was also grown specifically for us. Joachim Splichal and I were at the farm while they were planting the seeds and we went up a couple of other times to check up on how it was coming along."
"[Farming direct product] takes a lot of coordination and a lot of time. We started the planning process and crafting the menu way back in January. We went up in April and May for the planting of the seeds, and they are harvesting the stuff right before the event."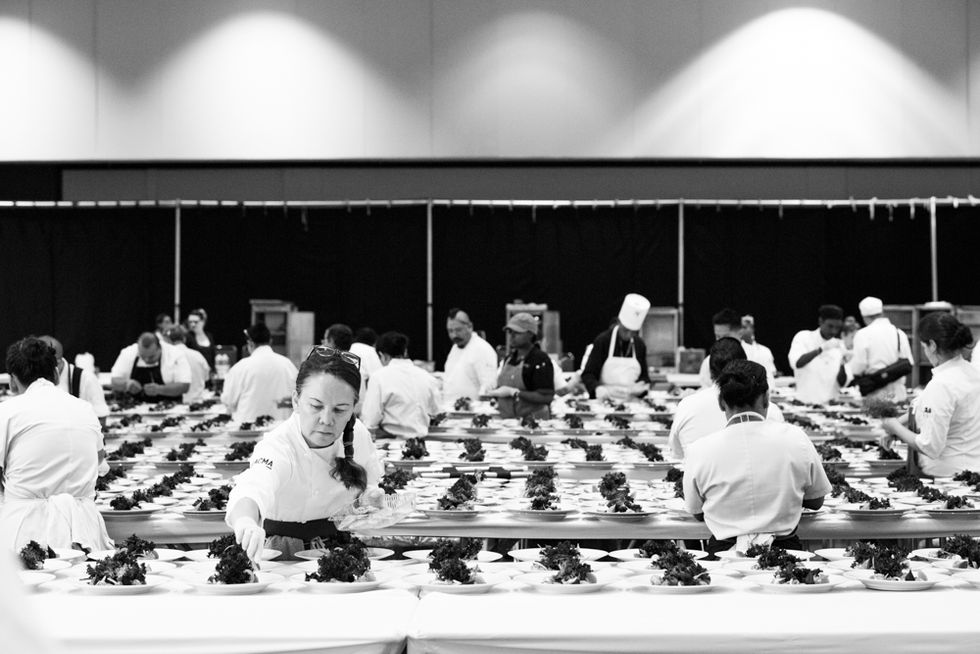 Entree
Thyme Roasted Tenderloin & low Braised Short Rib, Wild Mushroom Pithivier, Rainbow Carrots, Rapini, Caramelized Shallot Jus.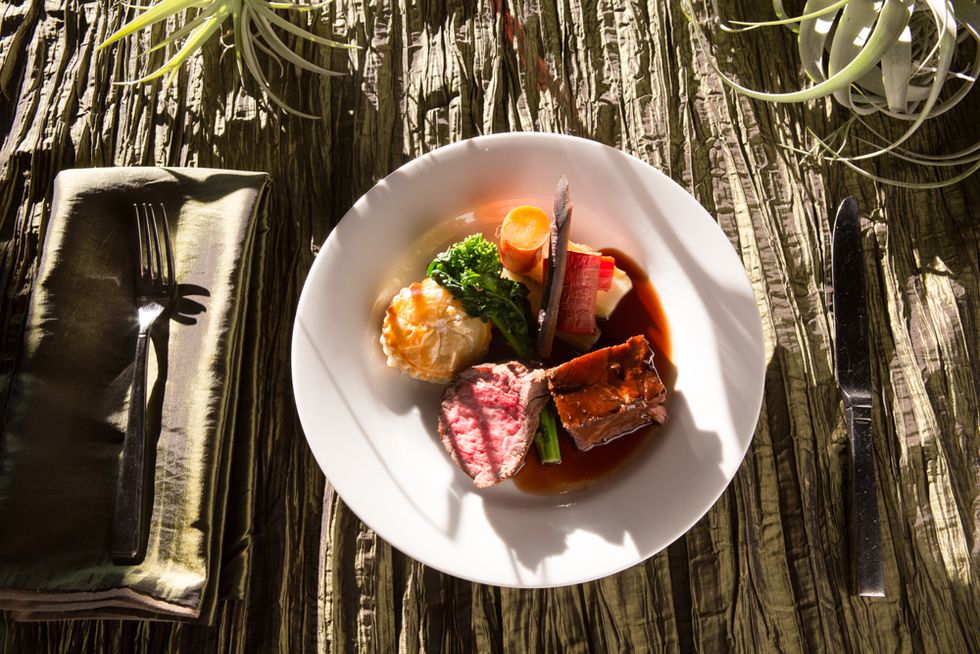 Dessert
Ocoa Chocolate Cremeaux, Tropical Coconut Mousse, Torched Meringue, Exotic Fruit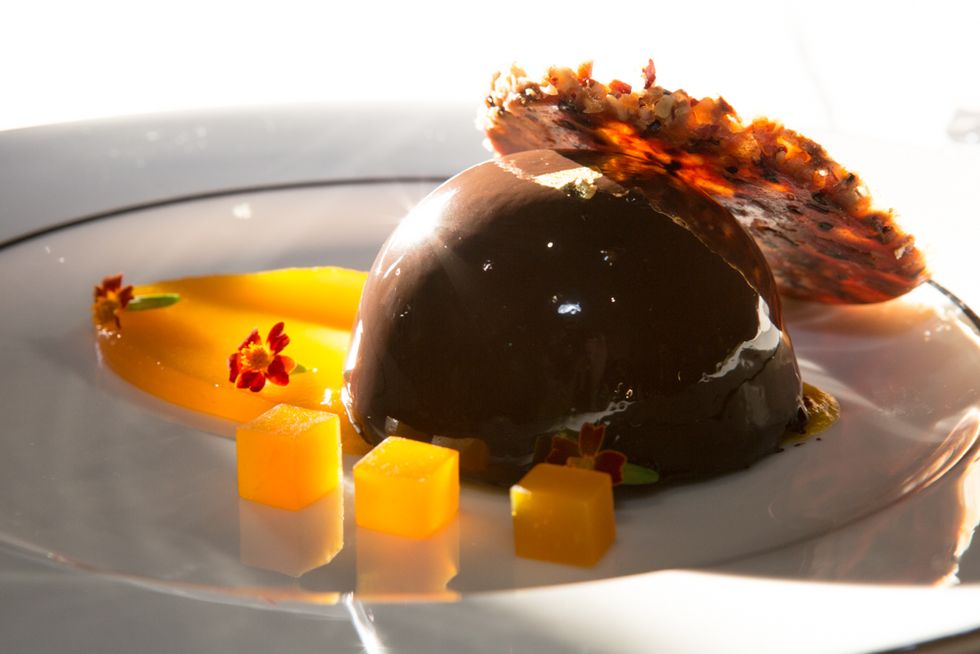 "There are a lot of nerves [the night of the event]. But most of the planning and the work has been done. We'll be feeding 4,100 people, they will come out of the Emmys show and walk into the convention center. We will serve all these 4,100 people at once. In our style of service is, cook, plate and serve as close to all of it as possible. We literally have 650 servers, 250 chefs to make this happen. We will take a whole wing of the convention center and there is just an ocean of folding tables."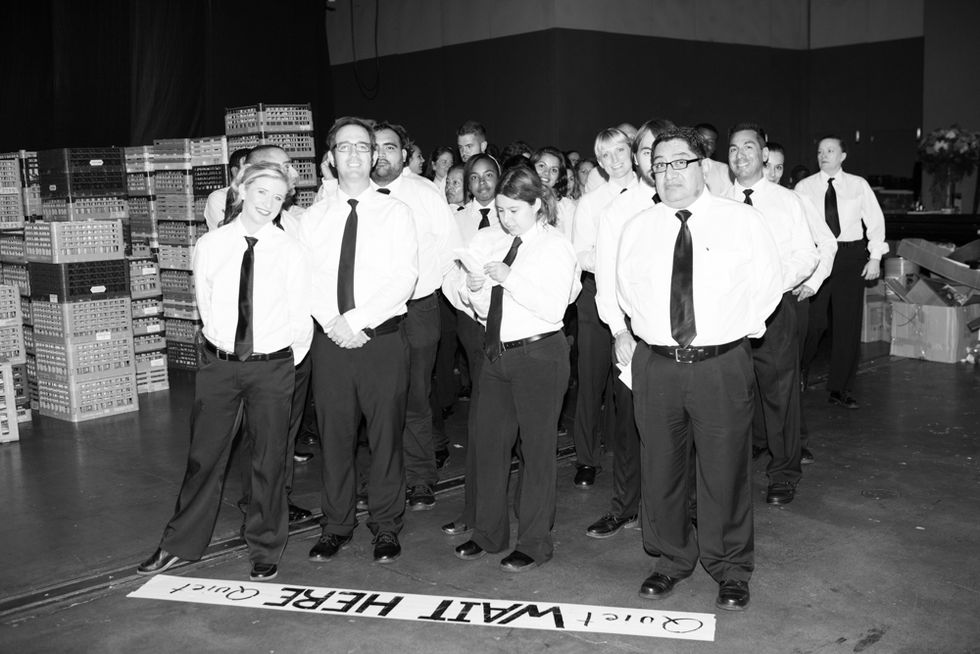 The Numbers
1,2000 pieces of china
400 champagne flutes
11,4000 wine glasses
2,500 lbs of protein
13,000 beets
1,000< rapini florets
1,500 lbs of rainbow carrots
4,000 baby fennel bulbs
1,000 blood oranges
70 lbs of mangos
125 lbs of preserved lemons
100 lbs of chocolate