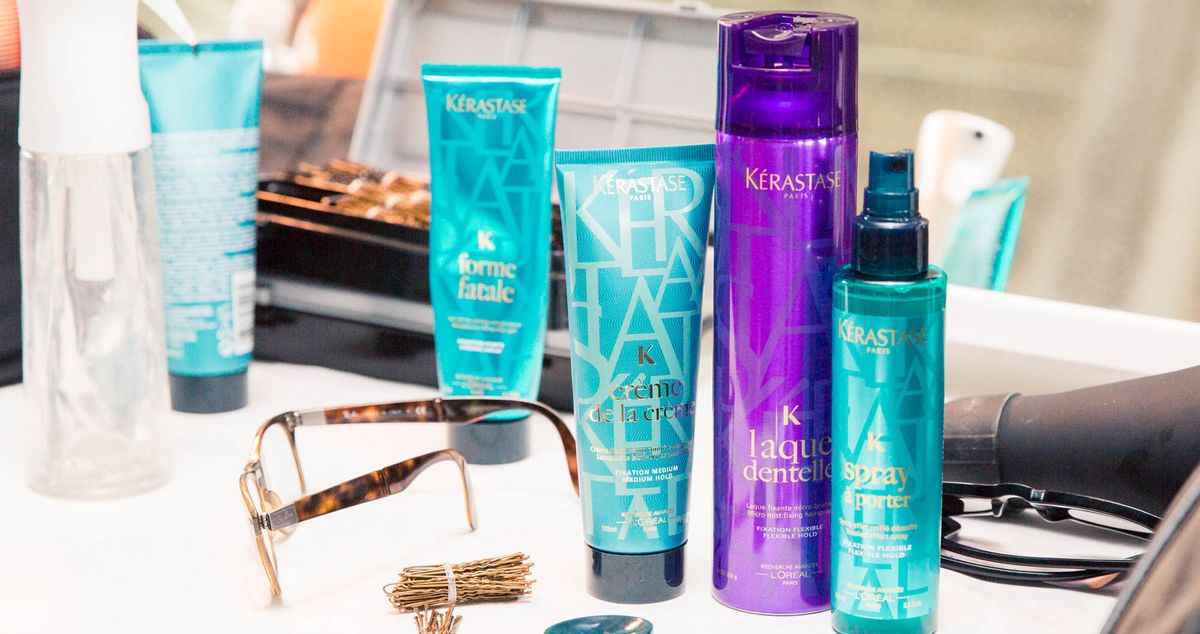 Fashion Week
Odile Gilbert is Karl Lagerfeld and the Olsen's hairstylist of choice. Here's what her fashion week looks like.
Alec Kugler
From season-to-season, she's reliably backstage at The Row, Rodarte, Altuzarra, and Zac Posen, to name a few; she's created looks lensed by Richard Avedon, Helmut Newton, Herb Ritts, Irving Penn, Peter Lindbergh (and the list goes on. And on. And on.); she's behind the hair of many a CHANEL (Karl penned the foreword to her book), Dior Homme, Balenciaga and Calvin Klein campaign (including this season's starring Grace Coddington, Kate Moss, Young Thug, Frank Ocean et al. edition). Odile Gilbert's CV reads like a list of the most influential people in fashion, both past and present, partly because she *is* one. She elevates hair to an actual art form. Hair is usually just one element of a look, but with Gilbert, who is Kérastase Paris Consulting Hairstylist, it's the main event (let's put it this way: Sofia Coppola handpicked her to bring her super-elaborate hair piece A-game to the set of Marie-Antoinette).
With an imposing resume like Gilbert's, you can probably guess exactly how surreal-slash-amazing it was when she sing-songed à la Rihanna and Drake in response to what her day-to-day looks like during fashion week, all in her charming French accent. Equally infatuation-inducing? Her answers to everything from our questions about what New York and Paris fashion week looks like from her, the Kérastase products she can't live without, and the meal she looks forward to most twice a year (hint: hamburgers).
---
How she prepares in the weeks leading up to the fashion month marathon:
"A lot of beauty sleep, and very good food. And then I'm in action! You have to eat well, be healthy, and sleep a lot because of jet lag. From Paris, the first night in you [can never sleep well]."
How it all starts coming together:
"I get on the plane in the morning and I go straight to my apartment. I wash, and go straight to the first meeting. [I'll meet with the designers] four, five days before the show. They show me the collection, tell me about the story, the inspiration, and from there, we start to talk about hair and makeup. Then we usually have two models, and we start to research and talk about what look we think would be the best. Once we have the hair and the makeup, we try it on with the clothes and make the model walk, to see if it looks right. It takes around three, four hours, three or four days before the show. It depends on the designer, sometimes I'll go two times—then I have time to think about it. It depends on a lot of things—how many models, if they need something complicated, something simple. I'm going to do a hair test tomorrow for a show in Paris, which is in a month—it depends. Nobody works in the same way."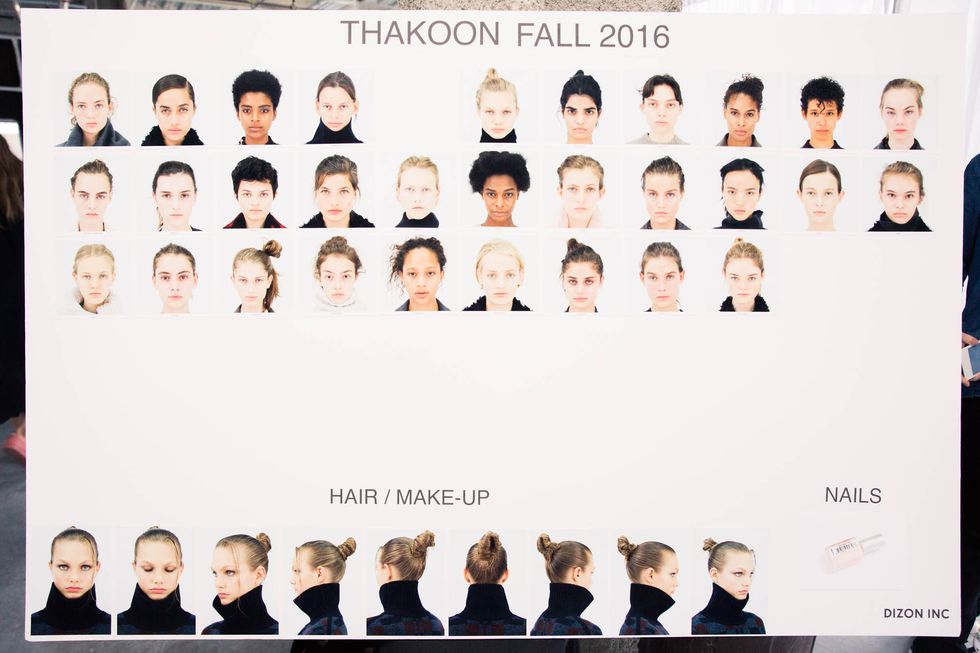 Why she can't travel light:
"I have a lot of materials, and products [that I carry around to the shows]—we go from the plane, to the car, to a meeting, the driver takes us to another meeting… we go all around the city, non-stop."
How she breaks up the craziness of fashion month:
"I do New York and Paris, because in between I have shoots and projects. It's quite difficult. It's not like for models where you can go everywhere.For me, two countries is enough."
How she creates a home-away-from-home during NYFW:
"I stay in a beautiful apartment [during fashion week] because I need space in case I need to prep some hair. For shoots, I'll stay in a hotel, but for the shows, I rent a place from one of my friends who has an amazing loft. I stay there with my assistant, because we're in and out. It's quite nice to feel part of the city, rather than being in a hotel."
What a not-so-average-day during Fashion Week looks like:
"It depends because nobody has the same hours. Because of the jet lag, you wake up quite early anyway. For The Row, it's quite early—I think we start at five in the morning, for the show at 9:30AM. But it's nice, because we have breakfast, all the models come, it's a beautiful show. It also depends because I could have two shows in a day and a fitting, and then you finish late; but other days it's a bit more relaxing."
What it's really like backstage for her:
"I think it's 15 to 20 minutes [that I have with each model backstage], but of course I have big teams of people backstage, so usually I do a demonstration and then they can start to work. And all the assistants can begin working towards what the final look has to be.
"From my side of the shows in New York, I do a lot of interviews backstage. Between checking the models, doing the hair,  and all the journalists—they need information, and it's very important for them to know why I'm doing what I'm doing, the product, so I try to speak to them all together. If I do them one-by-one, I won't have a voice anymore [laughs], so I try to do five or six together. They're really nice, and year after year, you start to know them, because it's always the same people. It's quite fun! Everyone has different questions. Beauty's very important, and I think you do more interviews in America than the other countries."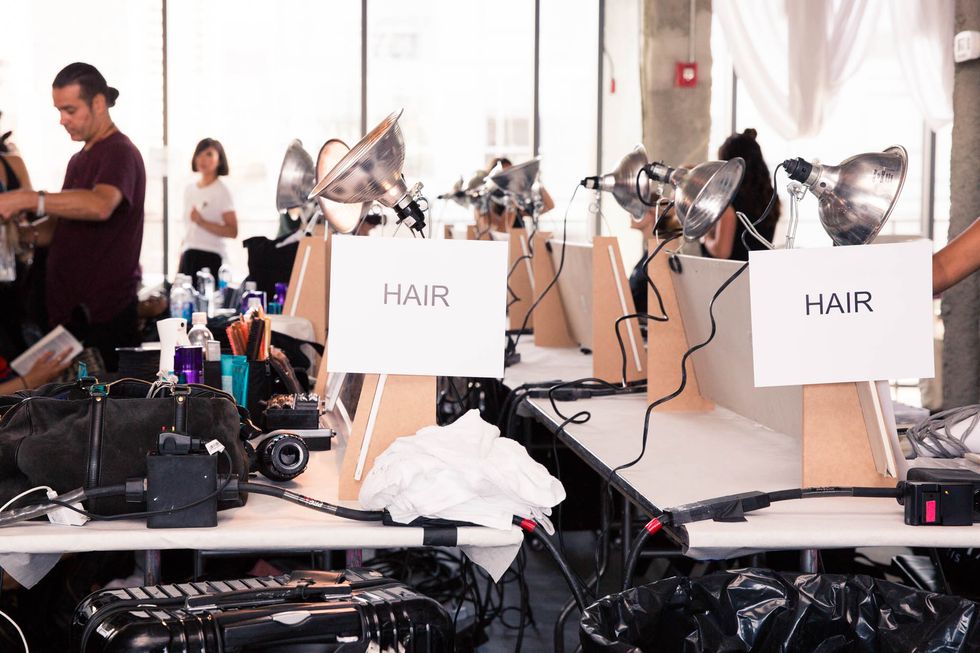 How she pulls off elaborate hairstyles backstage with zero time:
"The nice thing about working with Kérastase is that they have every product you can imagine. If you have a show at the end of the day, sometimes the models will have had a show before, so what's nice is that they bring shampoo, conditioner, and a masque. We can wash the model's hair if she has too much product in it, so we can keep them fresh and beautiful. Last year at Altuzarra, we had to wash hair in the sinks with bottled water. You need to get organized because by the time you start the hair, it has to be fast. It's crazy."
How she fuels up, food-wise:
"I love Japanese restaurants! I love good food, so I try to pick nice places. When [the shows] are finished, my assistant and I celebrate. We go to Balthazar, have a hamburger, and take all of the desserts. You work, you work, you work, and then you have a hamburger."
Why the spring/summer shows are her favorite:
"I love September because everybody comes back from holiday, everybody's in a good mood, all the models are so happy to work, everybody's so happy to see each other. In February, there could be a big storm, or snow, or something. I had one or two winters where we were like, 'are we going to be able to go to work?' You're always scared of being stuck. And in New York, you see all the new models."
Her fashion week essentials (& how she stays sane):
"For breakfast, I usually have coffee, because I'm French, with an English muffin, toasted. If I do a big breakfast, I don't want to work. During the day, it's very important to drink a lot of water, because we're working. The most important thing is always the driver, because we have about three or four big bags, with extensions, hair product… everything. The days go by so fast, it's a bit crazy, but it's fun."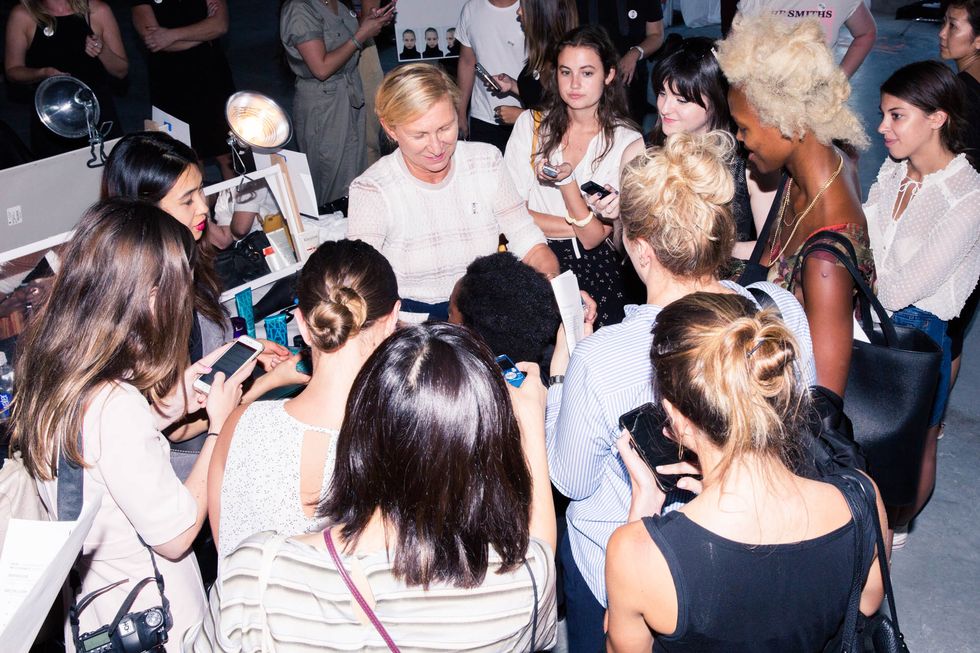 How Instagram changed backstage beauty:
"The younger generation, they love hairstyles. You know, everyone has to deal with their own hair every day. If you're going out, if you're doing this, you're doing that—what should I use as a product? What tools should I use? People love little tricks. People are very interested in how to do the hair themselves. Of course, for some hair, you need to go to a hair salon. But you can always try!"
How she unwinds after it all (or not):
"[Taking a break after fashion month] is impossible. When the shows are finished, you're running to the airport, you go back to Paris, I have all the meetings for the fashion shows there, and shoots. I go on the plane, sleep, go home, take a shower, and then I go back to work. My holiday is really August and December. But in between, forget it. This is fashion, you don't stop. Sometimes you work the weekend, so when you can take a break, you take it. My favorite is massage and a pedicure, that's my treat. In Paris I have Thai and Tibetan massage, and in New York, I go for a pedicure and manicure. I always ask people, 'do you know a good massage person?' I take care of everybody, and then I take care of myself."