Fashion Week
How Beaufille Preps For Fashion Week
These two sisters are a force to be reckoned with.
Daniel Kim
As you guys may or may not know, we're from Toronto, we're proud of it, and just like the boy himself is; we're all for supporting local talent. Which is exactly why when it came time to talk fashion week prep,  the two extremely talented sisters behind Toronto-based fashion label, Beaufille were at the top of our lists (...and because we think they're insanely cool and want to be their friends, obviously).
In case you've been living under a rock, we'll bring you up to speed on this duo. Parris and Chloé Gordon create impossibly chic womenswear and jewelry that has *just* the right touch of masculinity to it (their brand name translates into 'handsome girl'), and we're, well, obsessed. It's no wonder that MADE brought them on, and that they've quickly become (last season was their first showing in NY, if you can believe it) a must-see presentation at fashion week.
So what exactly does it take to prepare for the insanity that is fashion week? A whole lot of determination and risk-taking, by the sounds of it. File these ladies under 'designers to keep an eye on' because we have no doubt that they're about to make it big. Real big.
---
On when they get the ball rolling:
Chloé: "We started designing the new collection in April—started gathering inspiration. So from April, up until end of July we were designing and creating, alongside production, which was our biggest this season. It was definitely the busiest we've ever been, but we shot our collection in August."
What it's like to be a new brand at fashion week:
Parris: "Since we're a new brand, we always have to shoot our collection early in order to reach out to buyers earlier, so we're not stressed out in terms of finishing the collection at this point. It's more about getting the presentation together, casting models, figuring out our set design and all the logistics.
Chloé: "The craziest thing right now is the model castings. We're doing it from Toronto and we can't see everyone, so we're fighting to confirm models, but also a lot of the agencies don't know us—it's a bit of a battle to get the proper models that we see fit for our presentation."
The biggest challenge they are currently facing:
Parris: "As a new brand putting on a presentation—the money aspect is really challenging. We're always trying to do it on a shoestring budget. Last season we brought in furniture which was really great, but this season we're trying to bring in some of our own designs into the space. We're looking at doing vinyl on the floors this season. We wanted to create an environment based on our inspiration. We're still in the process of working that out and sourcing."
The most important thing for presentations:
Chloé: "Good PR is really huge—especially in a presentation setting. And just having someone in charge of everything, keeping all the order. But for the most part, we didn't have any nightmare-ish situations [last season] or huge lessons to be learned other than trusting in what we had done keeping things minimal. Being edited I think is the hardest thing and learning when to stop and just let things be—so that is a constant learning lesson."
On how they stand out amongst the noise:
Parris: "I think we just stick to like what feels right. In early collections—even out of school—we were designing or thinking about what the market or people might want and then two years ago we said, 'fuck it,' and did exactly what we felt like. I think staying true to ourselves and what feels right in our gut and the brand is what makes it different. We're not thinking about what other people are doing or that we should a certain shoe just because it's in. Being removed from New York or London or Paris, and being in Toronto helps us focus on that and not worry about other things."
Their presentation goal:
Chloé: "We're not designers that want to be loud or in people's faces. Our whole aim is subtlety. [For fashion week we're thinking about] how the models are laid out and how they're posing because we want to create vignettes and have people get a shot that we curated in a sense. We want to make clothes that people wear and feel amazing [in]. So the presentation and our imagery has to allude to that as well."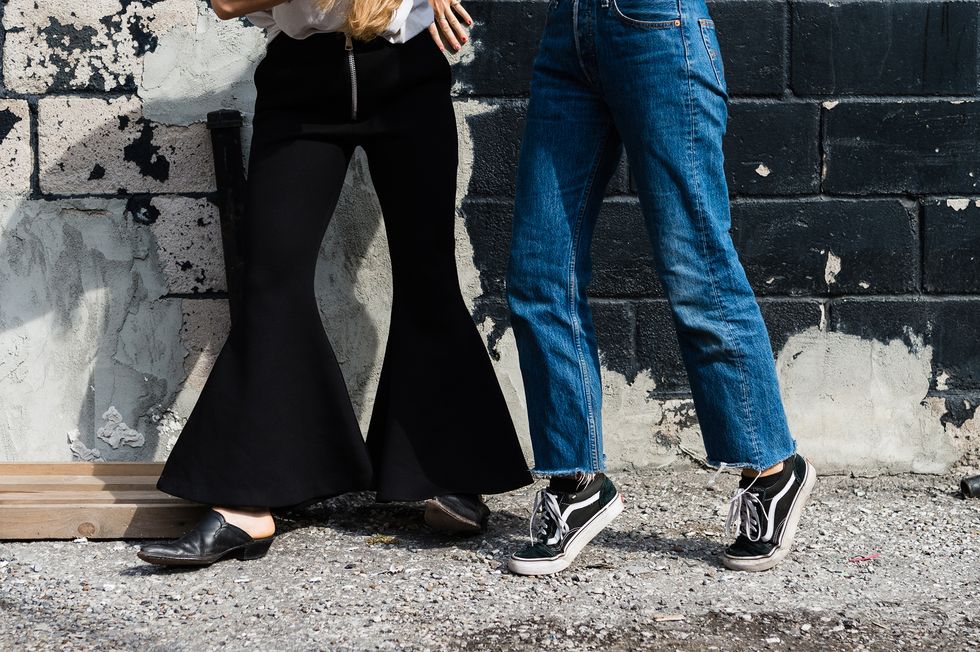 Presentations versus runway shows:
Chloé: "Partnering with MADE we've been given so many options, and the presentation option really is the most fitting all around for us. Editors have started asking us when we will start doing runway because they're not into standing around for an hour, but as a new brand you give people an hour window to see you. I think it's better in the beginning."
On using IG to scout models:
Chloé: "[We scout models] on Instagram for sure [or] through friends, then agencies. It's a total mixture. Last season we cast five non-model girls, which was great, then we cast some real models, and we found the non-models to be way better to work with in a sense just because they were so stoked and they don't get to do this every day."
Parris: "They're more grateful for the experience."
Their relationship with MADE:
Parris: "Our friend who works here in Toronto had a contact with MADE that he was in touch with and had shown our brand to for a few seasons and she was interested. She was like, 'keep showing me, keep an eye out,' and then with the successes we had from Spring '16—beefing up some niche boutiques and [having] Lady Gaga and Selena Gomez wear it—they were really pleased to see the direction and thought that we'd be ready for presentation next season so we were an option for the roster for Fall. They then confirmed it like a month or two months before."
The benefits of partnering with MADE as an emerging brand:
Parris: "It's a great support system and great infrastructure. The venue, production [and the] people doing lighting and organizing. It's a great company for emerging designers to work with because you wouldn't know what you were doing and you wouldn't cover all the bases unless you had a crazy team and budget."
What the last 24 hours before the presentation look like:
Parris: "The day of the show we try and make it feel like any other normal day. Wake up, exercise, eat breakfast, go to work. Maybe the day's a bit earlier and we will meet a lot earlier [but] I think the more you don't make it seem like a big thing and you just treat it like any other day with more on your plate—everyone is like you guys are so calm, you guys are so chill—it just makes it a lot more manageable."
Chloé: "The day before we're sort of just casting models. We typically have buying meetings when we're in New York every day besides the show days, so we'll have a couple of meetings the day before where we'll be confirming models making sure all the shoes are in order, styling jewelry with every look, just making sure everything's organized."
Parris: "Last season we were getting models pulled for us the day of our show. We were still casting, fitting, and finding girls like an hour before the show. I know that's probably going to happen again. Getting shoes is another stress for us right now. Getting a shoe sponsor, finding eighteen pairs of shoes is a challenge."
Their advice for aspiring designers:
Parris: "Trust your gut. People often look to extraneous things or think about things they need to do, like please the industry, and I think everything you need you already have inside of you. If you just realize that, and trust that you'll be different than everyone else. You'll be authentic and you'll feel better. You have to really want it. I think the most important thing is if this is what you actually want to do be prepared to live a different life than other people. Be able to sacrifice everything. I think the only way of failing is if you give up."
Chloé: "When we started this, I didn't really understand the business side, and how long these things take, how many doors you need to knock on, or how many people you need to impress to just get featured in a tiny square on a website or in a magazine. This industry is so difficult. There's been many points where Parris and I are been like, 'can we do this?', but you just have to be extremely persistent and determined. Have a healthy dose of passion because there really is so much involved in running your own brand from the ground up—not only designing but just taking care of the business side as well. Running a company and being able to deliver your orders on time—it's so much bigger of a beast than I ever understood coming out of art school.
"Getting some experience in the industry is really, really helpful. Whether it's interning or designing for someone else. For me, I worked in a manufacturer's right when I got out of school so I saw that whole side of it and that was extremely eye opening. I think it should be really determined and extremely passionate because like, we've basically been at this for almost eight years, seven days a week, putting everything we have into it."