Fashion Week
How Sarah Rutson Pulls Off 18-Hour Days All Fashion Week Long
For Net-A-Porter's Vice President of Global Buying, fashion week is big business.
Justin Campbell
Fashion week (month) turns a lot of the industry into superhumans out of necessity, but we've yet to meet someone who cranks it up as much as Sarah Rutson, Net-A-Porter's Vice President of Global Buying. When we asked what her hours looked like throughout the 42-odd days that is the fashion month cycle (no weekends, either!) the day before New York Fashion Week officially starts, she told us 18 without batting an eyelash. That's right: 18 hours a day for 42 (and then some) days of attending shows, visiting showrooms, planning and buying all the clothes you'll see on Net-A-Porter in six months time. On the one hand, there's the fact that she's the face of one of the industry's most influential retailers, and, as she notes, needs to have the same amount of energy that she does on the first day on the forty-first day ("because everyone is seeing me for the first time"). On the other hand, she's responsible for big (really, really big) business and has to be making major decisions on the fly. Here's how she does it.
---
The fundamentals of fashion week:
"In simple terms, I'm gearing up for a really long-haul—a long-distance marathon. To be honest, you really have to go into it mentally and physically fit. We are out solidly for 42, 43 days, and every one of those days you are working, or you are at an airport to get on a plane. You've got to be physically fit and mentally strong to be able to do it and be able to live out of suitcases and hotels, and understand that you aren't going to be eating at regular times, if at all. And that fundamentally, this is a very big business, we are running a huge portfolio. There is the expectation within that that everyone who sees you is seeing you for the first time, so you have to be as energetic on day one as you are on day 40, and try to give people your time."
How she balances her time:
"I have a large team and during New York Fashion Week I will have, at any given time, between eight and ten people here over various departments. I have 14 departments I'm in charge of. Everybody wants to see me and that's not humanly possible. There are brands that represent very big commerce that obviously deserve a business meeting, and then there are the things that I need to go and see that are about the discoveries. Net-A-Porter is about discovering the new and I've got to try and balance it, along with then trying to balance some people's disappointments that maybe I can't see them."
How she physically does it:
"I suppose I'm really blessed with stamina. September is quite nice because the weather is nice, so it isn't as brutal as February. Before fashion week I tend to eat very fresh ingredients and make things myself so it's not filled with rubbish. I try, when I'm in New York, to do a Soulcycle class in the morning. And then fundamentally, it's actually looking at the schedule and—this sounds stupid—but, okay what kind of food do I need in the back of the car because I'm not going eat and I can't not eat. It's going to the deli and making sure I've got enough stuff in the back of the car. The first stop is Liquiteria. I always have a good breakfast in the morning, I always like eggs.
"I would love an egg sandwich or a tuna sandwich in the back of the car, but that isn't going to be popular when it's been in the car for four hours. So it'll be something like ham and cheese and potato chips and fruit, apples, bananas, almonds. You don't want Sarah Rutson hungry… And we walk around with English Breakfast tea bags and so when we go to showrooms we have tea."
How she finds new talent:
"Net-A-Porter was known for being very lady-like and glossy, and I wanted to make sure the balance was met by having a good cross section of edgy brands, whether it was guys like Junya Watanabe, which we covered really well, making discoveries like Jacquemus, which was one of the first new brands that I brought in. It's just constantly making sure that my customer is making a discovery and that the customers that have known us for one thing are seeing that we've got different ways to dress as well.
"[We find new designers because] I have a great fashion director; I have great buyers. I suppose also by nature my personality is that my antennas are always up and I'm someone that is always looking. I travel a great deal and I'm the person who stops someone in the middle of the street to find out what they're wearing. I don't think you really make discoveries in stores; you make discoveries on the street."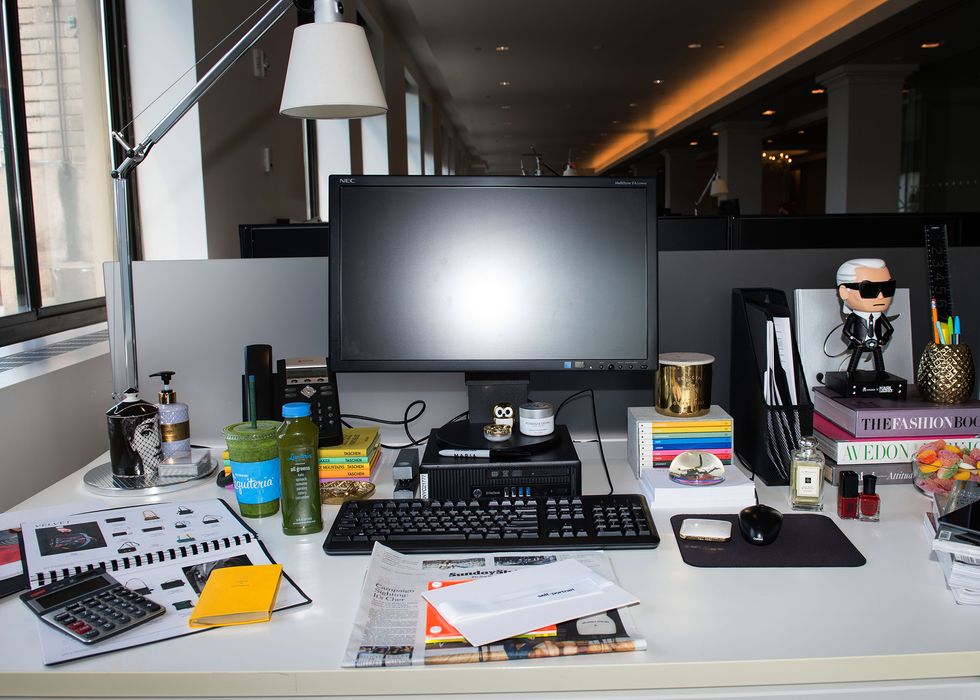 The art of strategy versus discovery:
"When I get back [after this season] in October I'll begin planning for Autumn/Winter '17/'18. This is the time when we start plotting out what we are going to buy, what we feel we are missing, where we feel there is room for growth with the brands that we have. We are very strategic. And we also keep a little bit of what we call crazy money up our sleeves for the things you weren't expecting to see—so you aren't like, oh well I don't have the money… you've got it. We are Whatsapping each other all the time, and if there's something great, I want to see it too. We are in a really exciting business.
"Sometimes, when it's show after show after show, or we're seeing lots of shows that aren't great, or we feel that things are getting off to a slow start, it's really important that you hang onto some positivity and remember this is why I do this. It's those 'oh my god' moments and then we share it with everyone. It goes on the group WhatsApp. I'm absolutely fanatical about making sure my whole team is together: we have team dinners, we all get together, we are going through our iPhone like, 'look at this look at this!' 'Omg! How much is it?' We share, share, share and get each other excited."
How she predicts trends:
"We have to know the zeitgeist beforehand, know what is going to happen before it happens, and then obviously, when we are going out for pre-collections for instance, you see things permeating and bubbling through. We know certain trends that are going to follow on for another season, or we say, you know, we are so done with off the shoulder, we've killed it to death now, enough already! We're going to evolve it to one shoulder or backless.
"This season there has been so much flux in the world in terms of what's going on in America and a feeling of nervousness with the Brexit in Europe, what happens is actually the consumer starts getting very expressive with what they want, looking for very special pieces. If there is ever a time when the market wobbles, a consumer buys more exciting pieces because they want to make it count. I have lived through so many economic downturns throughout the world for the last thirty years and that has been a consistent pattern. If you are going to spend a dime, you are going to make sure you feel it."
A big part of her job is supporting new brands:
"Fundamentally, it's them looking at ways that we can introduce them to people. We will introduce them to specific factories that can help them out. Or often I'm introducing to investors. I'm talking with these guys about what is next and what do you need to get there, who are the sort of people you want to work with. Then you start connecting the dots. I know a lot of people at different levels who can get them to the place that they want to be and also be happy. The end goal is to make sure they are around for a long time, that they haven't lost their name or their brand. That is the point of making sure that you connect them with the right people so that they are going to be simpatico."
On ignoring the cult of personality:
"Over the years I've become known on the circuit—it's part of what fashion is about now, isn't it? But fundamentally I don't think about that so much. Everyone has a job to do. You've got to be respectful and when people want a picture, let them have it! You never want to come across as snotty or rude. We are in a very serious job and it is a very serious business, but don't believe the hype, don't get wrapped up in a sense of celebrity. I got into this job as a shop girl, I didn't get into fashion to become known. All of this running around at fashion shows, and wearing pretty clothes—blah blah blah—we are running a very serious business and maybe our job is to do it in a way that is elegant and stylish and effortless, but we should know how to do that anyway. I just don't want people to think we are not approachable. It is quite nice when you are standing in a queue somewhere and someone goes oh, 'are you Sarah?' And I'm like 'yeah!' I'm buying a deli sandwich like everyone else."
How fashion week has changed in the last 30 years she's been doing the circuit:
"It's changed massively. For one, it's longer. We are buying all the time. Before we would go out twice a year and then a few quick trips. Now we are buying year round. And the shows are a circus now. And I don't mean that in a derogatory sense—they have become so huge, it's become a show, and it was never like that before."
Why the showroom matters more than the show when it comes to doing her job:
"For me it's always always been about the showroom—it's not about the show per se. Because there are so many shows from morning to night, everyone runs late, you are running around town, it's a massive time suck. I've sat in amazing shows and gotten into the showroom and thought, what on earth am I going to buy. And I've gone to terrible shows that were badly styled and gone into the showroom and been like, this is incredible! It's a hard one because you don't want to say the shows don't matter: you sometimes are so moved and it's so beautiful. I've been at shows, especially Alexander McQueen, that moved me to tears. And that is why we do it. For beauty, for creativity, for that expression."
Why buying for Net-A-Porter is different than buying for anyone else:
"We are buying for three separate distributions: we buy for the global women. Most people buy centrally and then everything gets sent out from one central warehouse. We have specifics for what works and what doesn't work for every market. It is quite a long process and you have to be very, very considered. Since our business is vast you are looking for opportunities and risks."
When it's all over, it's really just begun:
"When fashion week is wrapped, we get back to the office and we basically pull everything together and make a presentation to the business: this is where we spent the money and how. This is what we are passionate about, this is what we are getting behind. It's a very clear road map of 'here is the business.' And then everyone goes away and does what they have to do to get those messages out. It is a huge amount of work that has to be done pretty quickly and all that information is monetary—it's not just a mood board. It's to drive business. This is what we stand behind and why."
On going by gut instinct:
"My second season at Net-A-Porter when Alejandro [Michele] took over Gucci, I went to everyone and told them, we are backing Gucci and we are backing it big. This is going to have to work! And that was before anyone was talking about it—we were the first people to get on board. That's what my job has to be: calling it. It can be that we are spending way more or that we're pulling back because it is a disaster and we have to spend that money elsewhere.
"When I came on board I was such a Vetements girl. I went into the show and really pushed the buying, and four weeks later the announcement was made about Balenciaga. That is going to be the best halo effect. I knew that was really going to help us, which of course it did."
The practicalities of dressing for fashion week:
"I don't actually think about it other than Googling the weather. To pack I'll pick out a few dresses and what works with flat or high shoes depending on what I'm going to feel like. Honestly, I don't overthink my looks. I travel with one [suitcase]. In the old days I used to travel for five weeks with two cases. In winter it's very hard when everything is big and thick, but I dress from my feet up. I love shoes."
What you need to know before getting into fashion buying:
"Expect to work really, really hard, expect to do very long hours all the time. You have to love this. You have to really feel energized. Because it's exhausting and the only way you can keep doing it is that passion fix. It's hard work! I've done it for over thirty years and it only gets harder. I wouldn't do it and none of my team would if the love wasn't there."