Makeup
Trust, the family behind Chantecaille has it down pat.
Renée Rodenkirchen
Alicia Cesaro
A family-run beauty brand that's founded by the matriarch and run in sync with her two daughters is our kind of beauty brand. While we aren't strangers to the Chantecaille family (ICYMI, we sat down with founder, Sylvie Chantecaille, in their Soho office) we were new to their sprawling East Hampton home where the whole crew resides come summertime. And it isn't just the family heritage that differentiates Chantecaille products from the rest, it's that their products are created from a mix of natural extracts (think roses and florals) *and* top notch science (think stem cells that make for actual results) so we weren't at all surprised when we arrived at the Chantecaille home to find family members and flowers overflowing from the house onto the grounds—complete with a beautiful rose garden (because, of course). Inside, mementos and reminders that influenced their product line populate every nook and corner: fashion coffee table books, photos of Sylvie in her preferred habitat—in Kenya with a jeep and wild animals by her side, and souvenirs from her travels like beaded necklaces gifted from local Kenyan women. In a nutshell, their home embodies the Chantecaille way of life.
After getting acquainted with their newest products (our personal favorite, the Protect the Lions Eye Palette, inspired by the family's travels to Africa, is heavy on the kinds of jewel tones we'll be wearing come fall), we sat down to chat once again, this time with the whole mother-daughter trio—Sylvie and her two daughters, Alex and Olivia—involved. As expected we touched on all all things beauty and travel. But don't worry, we had them teach us their skincare secrets along the way, too.
---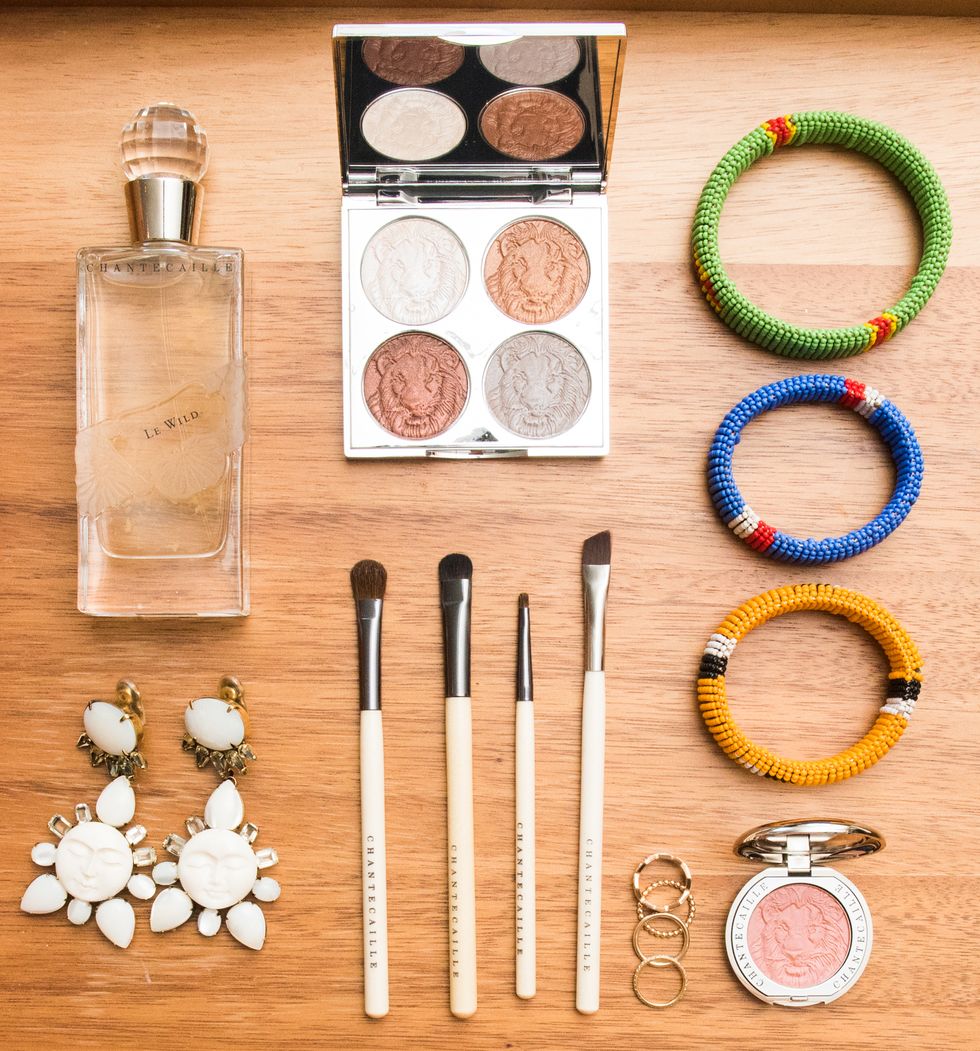 Their step-by-step skincare routines:
"I use Pure Rosewater spray in the morning and then Rice and Geranium Foaming Cleanser in the shower to clean and lightly exfoliate my skin. After, I use the lightweight Rose de Mai cream and Blanc Gardenia Brightening Essence. I went to Greece last week and I got way too much color so I'm trying to bring that down, this essence targets dark spots that occur from stress but also UV induced. Then, I use the Ultra Sun Protection Sunscreen as a primer, a really light swipe of Just Skin which is our tinted moisturizer, and apply the Liquid Lumiere with a tap of my fingers. At night, I use the Biodynamic Lifting Cream, a heavier moisturizer which gives an almost Botox-like effect. It goes into deeper, wrinkled areas like around the forehead and eyes." — Alex Chantecaille
"In the morning I wash off whatever sleep-in mask I had on with the Foaming Cleanser. Then I spray rosewater before and after, because it wakes my skin up. I don't have a lot of time because I'm playing with my daughter and trying to get out of the house, so I pump the Bio Lifting Fluid Plus, which is an oil-free, lighter version of our amazing Super Anti-Aging Cream onto my hands (for summer, you get all the benefits, anti-wrinkle, collagen building and lifting, but in an oil-free version) I mix that with Vital Essence Serum, which is really hydrating, but not greasy at all. Then I put gold eye cream under my eyes—it smooths everything out creating an even canvas under my eye area for makeup. Then I spray rosewater throughout the day, it helps recharge my skin and makeup (it's also really cooling for the summer, I like to keep it in the fridge which makes it feel super fresh)." — Olivia Chantecaille
"At night I take everything off with our Cleansing Milk. If I'm wearing sunscreen during the day, I'm a big believer in taking it off because it clogs your pores. I love using our Bamboo Scrub, it gets in there and takes all the dead skin cells off. Then I use the Brightening Emulsion, I was seeing little sun spots that everyone always tells you to laser off but now they're completely fading, even during the summer, and this helps to prevent any future spots. I don't have time to sit there with a mask on so I wear our masks—like the Jasmine and Lily or Detox Clay—as a cream at night so it works while I sleep." —Olivia
"At night I use the Jasmine and Lily Mask or our Bio Lifting Mask, and in the morning I don't scrub my face because I have dry skin so I just wash with water. Then, it's rosewater, rosewater, rosewater followed by the Bio Lifting Serum or Brightening Serum. I've had too much sun over the years, and it really helps to take the spots away. Then I use Harmonizing Cream in the summer. When I was in Greece on vacation, I was just using Vital Essence for moisture and sunscreen." — Sylvie Chantecaille
And go-to makeup looks decoded:
"I'm pretty natural—instead of foundation I use Tinted Moisturizer or Future Skin, which is great for that perfect dewy finish. I can't imagine wearing something that looks good and doesn't feel good. The lightweight attribute of the Future Skin makes it feel like you're not even wearing anything. I also love the Cheek Creme, a cream based blush with a little powder. I save eye makeup for evening, I swipe Starfish, a gold shade, across my eyelid with mascara. Every once in awhile, I'll try the coral or the new bright red lipstick, but if I'm fishing through my bag, I'm happier to find a tea rose or a rosy brown just because it's more suited to my skin tone." — Alex
"Today I'm wearing our new fall African Violet lipstick with the Protect the Lions Eye Palette. I wear the cooler tones and my sister will wear the warmer tones, so it's super versatile for everyone. For daytime, I just brush on Future Skin in the t-zone because it's super lightweight and oil-free. It's perfect for summer because it feels like you're not wearing anything, and it's great for a treatment too because of the aloe vera and green tea. Then I use cream cheek gel in Happy—an amazing color that morphs with your own skintone and makes cheeks a little bit brighter. If it's a really humid day, I'll top it off with some HD Powder. I try to keep it really plain when I'm working because as soon as I get to the office, I start playing with different colors. I usually arrive to work looking like a completely different person than when I go home." — Olivia
"I have turquoise eyes so sometimes I'll just wear just a green pencil and mascara. With the Protect the Lions Eye Palette, I like mixing all the colors and I love the new cheek color. In the summer, I'll usually wear our bronzer, The Radiance—it's so pretty. It's a wet gel that I apply with a fat brush. It's the most interesting thing, you get a glow and no marks. You can do that with foundation also. I love to wear a bit of highlight here  like Brilliance Liquid Luminiere. For lipstick it's whatever I find in my bag, my personal favorite is Ceylon. I have a big mouth that needs a little definition. Mascara is the most important thing for me though, Longest Lash Mascara is my 'wake up, baby' look. I don't need anything else." — Sylvie
If they could take one thing from their makeup bags:
"The Lip Potion Balm is my desert island product. I can't live without it, it's an amazing lip balm that never dries out your lips. Balms are addictive because most dry out your lips. This is the opposite, it's so soothing. It's the thing I'll show clients at stores and counters. Everyone is always like, 'No, I'm good. I have 13 lip balms in my bag already.' But, then they put it on and it's so good. I keep it by my bedside table and if I can't find it, it's like a 20 minute search before going back to bed." — Alex
"I love the Jasmine Lily Healing Mask, I can do anything with that.  Take my makeup off, wear it as a face mask, a day cream, a night cream. If I happened to peek out from underneath my palm tree on a desert island and get sunburnt, I can wear it as a calming and healing mask. You can rub it on your face, hands, anywhere. I would bring a super-sized jug of that." — Olivia
"I can't choose my favorite product! It's like asking me who my favorite child is. That's impossible. I love them all." — Sylvie
What beauty means to them:
"Beauty is about finding things that help you look like you, but better and more confident—not having to conform to some aesthetic that's in the media. Brows were a big thing two years ago, but not everyone has to have furry brows. Not everyone has to try to make every feature look perfect. You shouldn't have to hide your freckles. We were on a shoot the other day and the model had a lot of freckles she wanted to cover with foundation but we told her that she should really let it shine through because they're so beautiful. When you're young and pouring over magazines, everyone thinks you have to look like Cindy Crawford or Christy Turlington but you realize that as long as you look like you or just a little better and things are calm and balanced, you'll feel great. Confidence, comfort, and a sense of self is the most beautiful thing." — Alex
Their favorite treat yourself products:
"All our masks are incredible, they have a very natural, luxurious texture, that removes everything on your face. The Jasmine and Lily Mask takes redness away and makes the skin beautiful; the Brightening Mask takes the wrinkles out; the Mud and Detox Masks take everything off. Like My Big Fat Greek Wedding with the Windex, that's us with the Detox Mask. It fixes everything." — Sylvie
"People who have had serious problems from radiation with cancer, have used our Gold Cream to save their skin. It eliminates impurities, but it also detoxifies the system and heals the skin. Pineapple and Swiss plant extract helps with the lactic acid that builds up in the system. It heals, it calms, soothes." — Alex
Why Chantecaille is different:
"We create the healthiest products by combining our knowledge of product and making them really healthy for you. We want women to be reassured that our products completely support their health, there's no toxicity, which is a huge departure from the industry standard. We also work with flowers, which was unusual, we were the first people to work with stem cells from plants." — Sylvie
"We've seen the women all around the world who use our products. Ultimately, our makeup ends up creating a very pretty face that has a French sensibility of being very touchable to it. There is no matte finish, it's very modern and always super chic. And their skin is really great." — Alex
"Our makeup actually makes you look younger instead of older. Even our Lip Chic Lip Color, makes me feel ten years younger right away. I feel like myself, but like I just had a ten day vacation at a spa." — Olivia
How they hope their new fragrance transports you from the everyday:
"Fragrance is so fun, it's a real journey that takes a lot of people with you because you need to translate the notes. Our new scent Le Wild is very close to my heart because I fell in love with Africa, particularly Kenya, and I wanted to pass on the sense of the wild to others. To me, the luxury of the true freedom of nature and being in the wild is is the most amazing experience, it changes you.
"Being in the wild gives you the joy of being. I've never been scared of a wild animal, their life is fascinating to watch. How they play together, how the mothers work with the babies. It's an amazing experience, I could stay in my Jeep and watch it forever. I'm hoping to share that feeling with Le Wild Fragrance. To give people that sense of joy and centeredness, to transport them." — Sylvie
"The fragrance is like snapping a branch and experiencing that fresh crispness. We wanted to bottle the excitement and allure of the Brazilian gardenia. Le Wild is a uniquely modern floral experience. It's very green with wild gardenia—but it's not like any gardenia you've ever smelled. It's the full canopy of the jungle. The green with the beautiful bouquet of white flowers and then musk." — Alex
Fragrance application tips:
"I like to spray it on the wrists." — Alex
"The hair is a good spot to spray because it lasts longer. I have a lot of hair so it creates a veil that stays all day." — Olivia
On creating the Lion Collection and why philanthropy is so important to the brand:
"The inspiration comes from when I was in Africa last summer driving through the desert—it was so dry, it hadn't rained in six months. There were these wonderful colors of the red earth and shimmering sand as we drove by the African landscape in the Jeep and of the beautiful coats of the lion cubs. I was just taking pictures that inspired all the shades in the palette: washes of creamy beiges and velvety grays, flecks of shimmering copper anchored by majestic burgundies set the eyes a glow.
The time I spent in Africa with Stephanie Dolrenry [co-founder at the Lion Guardians] (a program dedicating to stopping the eradication of the lion population) was the inspiration behind the Protect the Lions Eye Palette. A portion of the proceeds from the palette is donated to the Lion Guardians, which is an extraordinary organization working with the local people towards the conservation of animals. Originally young men in the tribes had to kill a lion to prove their manhood, now it's forbidden in Kenya. Our brand works to support this and protect the lions. We've created so many palettes and each supports a different cause either related to sustainability, the environment or endangered species.
"It makes it so much fun for us when developing products. After a while, another eyeshadow is just another eyeshadow. It can get boring, but this brings a whole new element to our work and our conversation. This is the 18th palette paired with a cause that we've done. We get to travel and meet amazing people, which is so fun and rewarding." — Sylvie
"We've borrowed so much from nature, we use so many plants for our products that we always want to give back and we realized that we could create these seasonal palettes and give back in an inspiring and beautiful way. It's not just another red lipstick, it's something to talk about with your girlfriends, it has meaning, you're doing good. An eye palette can become a conversation that we hope to spread throughout our customers." — Olivia
"We want to be the voice for change for animals that don't have one. Sometimes, people will raise an eyebrow because they think we're not supporting human-based causes, but actually, it is human-based because humans are connected to animals and the environment." — Alex