Food
The Caribbean/Southern Food Mash-Up Of Our Dreams
Jerk chicken and waffles, and a fried bake sandwich? Oh, hell yes.
Alec Kugler
When we met John and Fallon Seymour at their new restaurant Pearl's, we knew we wouldn't escape without getting a recipe out of them. What we didn't expect, was to get two recipes that blend the Caribbean flavors of Pearl's with the fried chicken and waffles they serve down the road at Sweet Chick (which they also own...).
"We did jerk chicken and waffles," said Fallon. "And then we also did the Bake, which is a type of sandwich, but we put Sweet Chick's sweet tea fried chicken inside with all the sauces you get at Pearl's. Jerk chicken on waffles sounds strange, but it actually goes really, really well together!"
---
Jerk Chicken & Waffles with Pineapple Salsa
INGREDIENTS:
2 Large Onions
1 Bunch of Fresh Thyme
5 Cloves of Garlic
2 tbs Fresh Allspice Powder
1 Cup of Worcestershire Sauce
1 Cup of Water
3 Scotch Bonnet Peppers
1 Whole Chicken
INSTRUCTIONS:
First, blend all ingredients, except the chicken, in a blender.
Cut the chicken into quarters, rub the blended sauce on it, and let it marinate overnight.
Bake the chicken in the oven for thirty minutes, then finish it on the grill on medium heat.
INGREDIENTS:
10oz Flour
1 tbs + 1 1/2 tsp Baking Powder
½ tsb Salt
4 Egg Yolks
2 Cups of Milk
5 oz Melted Butter
4 Egg Whites
3 tbs Sugar
INSTRUCTIONS:
Combine the flour, salt, and baking powder into a mixing bowl.
Add egg yolks, milk, and melted butter and whisk until everything is combined.
In a separate bowl, whip the egg whites until they form soft peaks, and add the sugar.
Gently fold the egg whites into the waffle batter.
Pre-heat your waffle iron, and spray with a non-stick cooking spray.
Pour individual servings of batter onto the hot waffle iron, and cook until golden brown.
Pineapple Salsa:
INGREDIENTS:
1 Pineapple
1 Bunch of Shado Beni
1 Small Onion
Juice of Half a Lime
Salt and Tepper to taste
INSTRUCTIONS:
Cube the pineapple, chop the shado beni, and cut the onion into small pieces.
Mix all the ingredients together, and use to top your jerk chicken and waffles.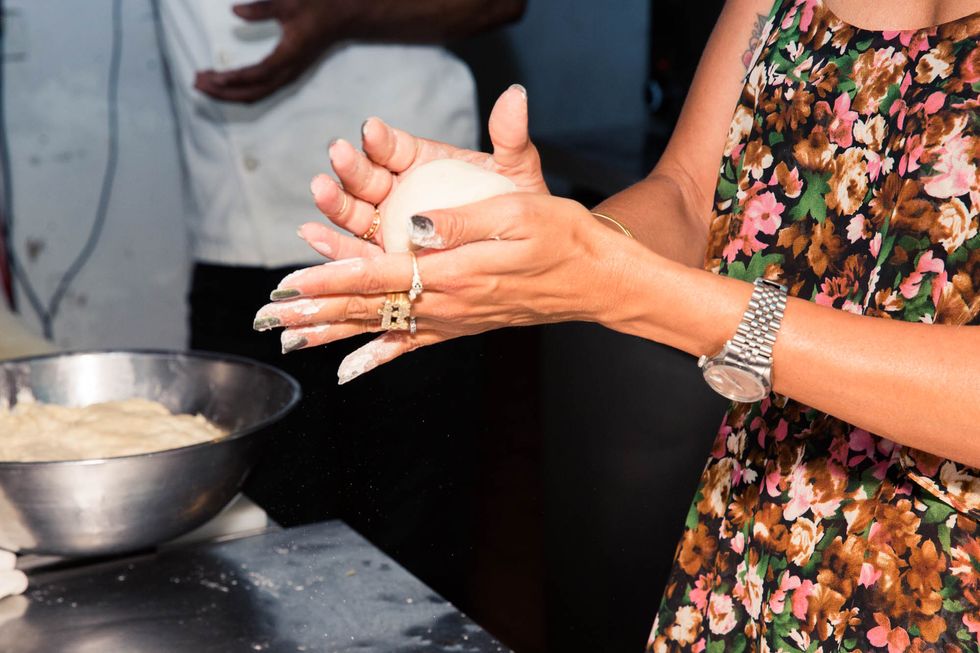 INGREDIENTS:
1lb Flour
¼ tsp Butter
1tbs Baking Powder
½ tsp Yeast
1/4 Cup of Water
INSTRUCTIONS:
Mix all the dry ingredients and butter, and then slowly add water.
Knead the mixture to a bread consistency.
Let it rest at room temperature for ½ hour.
Break the loaf apart into 6in balls.
Next, roll them out with a rolling pin until they're about 1/4in thick.
Fry them at 350 degrees until they're light brown and start to puff up, then let them dry on a drying rack.
Sweet Chick's Sweet Tea-Brined Fried Chicken:
INGREDIENTS:
½ Cup of Sweet Tea
1 tbs Dried Oregano
1 tbs Garlic Powder
2 tbs Dried Thyme, divided
7 tbs Kosher Salt, divided
2 tbs + 1 ½ tsp Ground Black Pepper, divided
1 whole chicken cut up or 10 separate pieces (drumsticks, wings & breasts)
2 Cups of Buttermilk
4 Cups of Flour
¼ Cups of Cornstarch
1bs Paprika
4 Cups of Vegetable Oil
INSTRUCTIONS:
Combine 8 cups of water, sweet tea, oregano, garlic powder, 1 tbs thyme, 6 tbsp salt, and 2 tbsp black pepper in a large pot to create a brine. Mix well, and add the chicken pieces, and cover and refrigerate for two hours—or, try brining overnight.
Remove chicken from the brine, and pat dry with paper towels.
Pour the buttermilk in a large bowl, and in a second large bowl combine the flour, cornstarch, paprika, 1tbs thyme, 1tbs kosher salt, and 1 ½ tsp black pepper.
Dredge each piece of chicken in the flour mixture to completely coat them, then shake well to remove the excess. Then, dip the chicken completely in the buttermilk and dredge through the flour mixture again.
Add the vegetable oil to a 12" cast iron or heavy-bottomed skillet, and heat to 300°. Carefully place half the chicken pieces into the pan. Cook the chicken in oil for 15 to 20 minutes, flipping once, until the chicken is golden-brown and crispy, and the internal temperature reaches 165°.
Once cooked, let the cooked chicken drain on paper towels, or on a wire rack set over a baking sheet.
Return the oil to 300° and repeat with the remaining pieces.
INGREDIENTS:
1 Green Mango (it should not be ripe)
4 Leaves Shado Beni
1 tsp Lime Juice
1/2 tsp Salt
1/2 tsp Black Pepper
INSTRUCTIONS:
Julienne the mangos, chop up the shado beni, add the salt, lime, and black pepper.
Mix everything together.
Place fried chicken into the bake, and top with mango slaw.