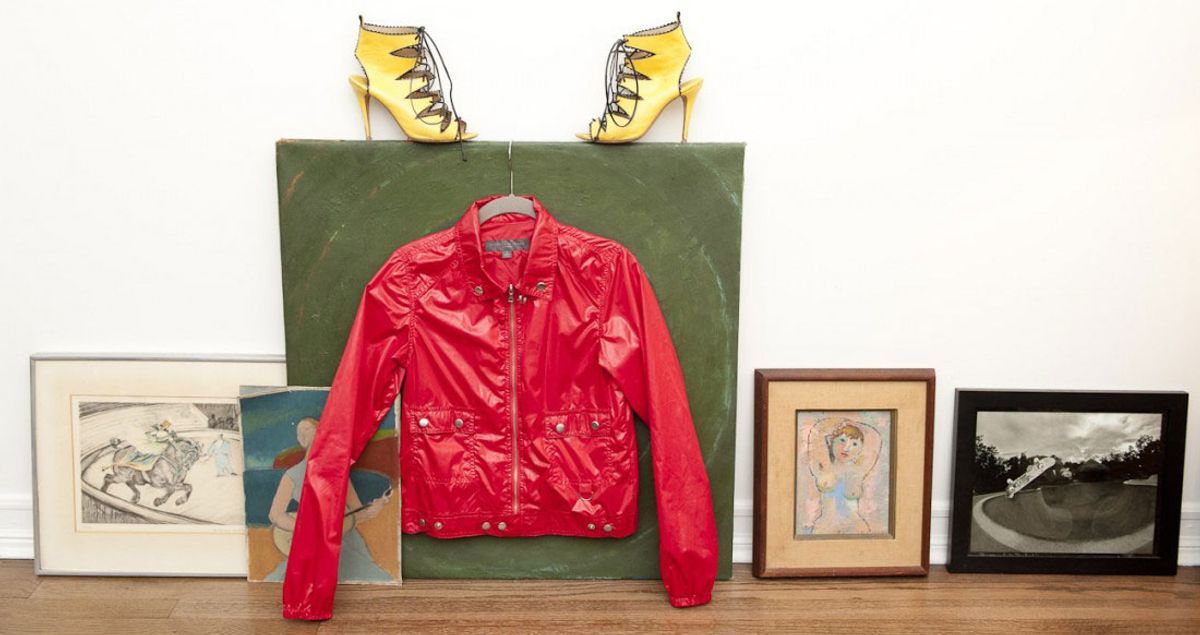 Career
From Someone Who *Really* Knows
As part of our eternal quest to bring *interesting and inspiring* stories to you, and part of a selfish quest to better ourselves in the process, we're bringing some of our smartest, coolest, most impressive friends into the fold to share their wisdom with all of us! Lucky us!
And we're starting with Sharon Ainsberg, who you just met in a very fun video with our co-founder Stephanie Mark. Sharon is the beyond brilliant co-founder of Sho + Co, a boutique NYC agency that focuses on celebrity and influencer initiatives—but she also has years of experience in music and fashion. Pretty much you name it, she's done it. She's also one of the most thoughtful, insightful, and just fucking smart people we've ever met. If you haven't watched her video yet, do it now, and get a sense for just how great and stylish she is here and here.
Anyway, we're beyond thrilled to have her contributing to The Coveteur, offering up career advice, life guidance, fashion picks, and the occasional pep talk. Consider this Volume I.
---
As a business owner in this high drama election year (that rivals any other I've seen in my lifetime), I've been thinking incessantly about the concept of leadership: What makes a great leader, a great boss, a great mentor, a great inspirer of thought and action? I have a belief system in place regarding leadership that I've relied on throughout my personal and professional journey.
My mission as a business owner and boss is to try to have a solid value system; and frankly I have found myself abiding by a few simple go-to's in business and in life. Keep in mind you're hearing this from a self-professed loudmouth—high-volume, high-energy, high-anxiety, opinionated, emotional, passionate, likes being right, directional, I mean…where do I even stop? I'm not perfect. But guess what? I know it, and being a good boss is not about being perfect. Let me shut up (see: loudmouth) and get to the point. Here are just a few of my own personal guidelines I've adopted over the years:
1. The fish stinks from the head or the rose blooms from the bud. Only you decide which.
 
In other words, "lead by example." Respect is something that's earned. Show it to others and it will come back to you in spades. Have a work ethic and those around you might just feel utterly inspired to do exactly as they see. Otherwise, you can expect a lot of turnover, a lot of laziness, a lot of non-productivity, and a lot of failed relationships to boot.
2. Know what you know and know what you don't know.
 
You can't possibly know everything all the time, so get over it. Surround yourself with people you can keep learning from every single day. Part of being a good leader in business is understanding your own strengths and weaknesses and being vulnerable enough to turn to others for guidance when you need it. That's the point of teamwork. "Strength in numbers" is said the world over for a reason. Even if you are a one-man show in your business, surround yourself with trusted advisors.
3. Have a strong handshake (but not too hard).
 
I'm not even kidding about this one. People will remember this about you. It shows strength, warmth and a sense of purpose. Use both hands if it feels appropriate (one for the shake, one to cup your other hand around the back of theirs). There's a way to do this so that it's not creepy but perfectly engaging. Practice it on a friend. Seriously!
4. Look people in the eye. Remember names.
 
I'm talking *right* in the eyes when you meet them—and repeat their name back to them in order to make a mental record: "It's such a pleasure to meet you, Tom." Anytime I forget to do this, I forget the name of the person I just met. It's completely pathetic and I feel like a loser every time I forget to do it, because the method is practically fail-proof.
5. Be loyal.
 
I cannot impress enough how strongly I believe in loyalty. I think some of the most revered business leaders are the ones who have managed to maintain long and loyal relationships. When you have found your soulmates in business, be true to them. Always give credit where credit is due. That's not to say that people don't part ways, but you'll be more likely to do so together and amicably when the time comes, rather than choose the ugly alternative. Dishonest people usually meet with their karmic demise sooner or later.
And now, just for kicks, here's everything I want right now. I'm feeling all things textural. Touch-and-see pieces for my home, to have, to hold, to wear, everywhere!
1. Gotland Skins Sheepskin Throw: Thanks to a tip from a dear pal (designer Ryan Lawson), I discovered these glorious sheepskins in a magical-to-the-touch, curly grey. A refreshing departure from the ever-abundant white longhairs.
2. Jamin Puech Bag: I own three; they'll never go out of style and I'll never give them away—rich in color, mixed fabrications, appliqués and beading, they bring out the badass bohemian in me.
3. Serena + Lily Hand-dyed Linen Napkins and Placemats: The weight, feel and size are magnificent—instead of my usual go-to indigo, I opted for the color Grapefruit; a washed out salmony-coral color.
4. Anything by Mid-Century Metalwork Artist C. Jeré: I go crazy for his wall sculptures and I purchased one from his "Raindrops" series from an expert seller on eBay, the marketplace where I basically live and breathe my every obsession.
5. Atea Oceanie Leather Slip Dress: Atea's must-have classic goes next-level in black, supple leather. Hot, but in a like, "too cool for school" kind of way that I fully support.