Get Your Shit Together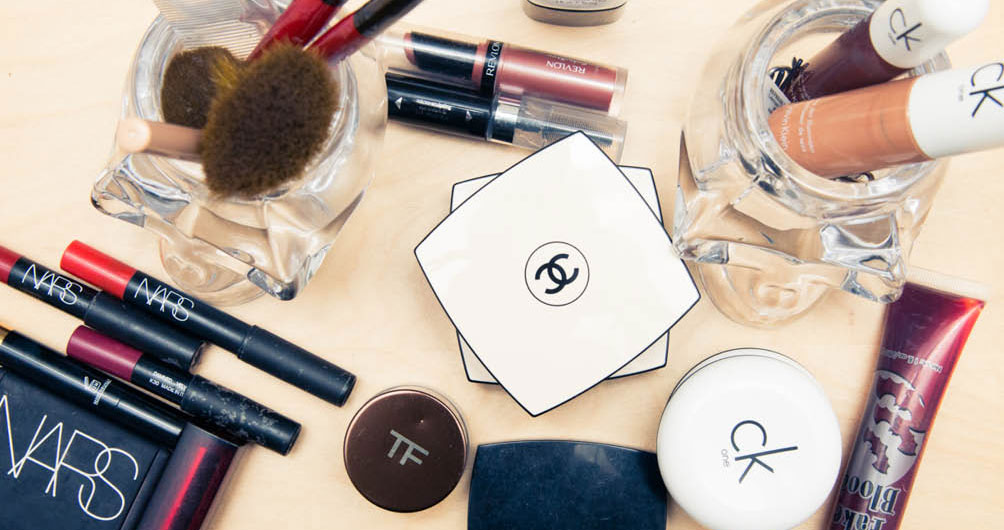 Stash These Beauty Products at Your Desk
Never panic before after-work margaritas or a last-minute Bumble date ever again.
The art of the office beauty-desk stash is something that comes only through much trial and error. For one thing, it's highly personal—while one person might prefer to add a little lip balm and go, another might need to all but completely reapply their makeup before stepping away from their desk for the day. You'll also (unfortunately) realize what you need to refresh in a pinch—like when the clock strikes 6:30, you're running late to meet your friends, and you realize you're in desperate need of a little blush or a fresh coat of mascara. Here, a few of the items that have become our post-work mainstays and earned their rightful place on our communal desks. Learn from our mistakes, guys!
Meagan Wilson
Editorial & Social Media Manager
For me, the speedy post-work face refresh comes down to a few crucial items. First, something to brighten, conceal, and even out skin—I like Yves Saint Laurent's OG Touche Eclat, which is perfect for touching up any red spots and under the eyes without looking cakey. Nars Tinted Moisturizer is great when I need…help…basically all over my face, which is often. It kind of evens things out and makes me feel about a hundred times less blotchy. My favorite Stila eyeliner really does stay all day, so I can skip freshening that up as a means of looking more awake; instead, I run Too Faced's new Brow Quickie through my eyebrows and instantly feel a little more pulled together. Finally, I'll reassess and add final touches with & Other Stories' Sequin Ray Luminizing Quad, which has quickly become one of my favorite beauty products ever. It has two highlighting strobe-y sections that I use on the tops of my cheekbones, down the bridge of my nose, and in the corner of my eyes, a pretty bronze one I use to subtly contour (cream contour—so intimidating, yet so much more natural than powder. Try it!), and a blush-y one I use to look less zombie-like and more alive. Finish the entire thing off with a few spritzes of any of the million face mists cluttering my desk, and voilà! I'm a real person again.
I mainly stash products in a secondary makeup bag in my desk for when I'm too lazy to put on makeup in the morning and I have an event that evening or, more often than not, am persuaded by coworkers to grab post-work margaritas (that then turn into karaoke and a whole night out, but that's another story). The key is being able to zhuzh up my whole face in five minutes flat. That means spraying Glosser's Face Mist all over to refresh, then going in with the Clé de Peau concealer wherever it's needed (mainly under-eye circles and any spots). If I do have mascara on from the morning, I'll add a little winged liner to look more awake than I am after staring at a computer screen all day, but usually it's just a few swipes of my all-time-favorite lip tint from Tarte in Enchanted for a berry-stained color that doesn't look "done" at all.
Jodi Taylor
Assistant Editor
It's not an option for me to not have a stash of beauty products at my desk. There've been one too many times that I've had to attend a last-minute dinner or party post-work and I've been without my go-to products—showing up at an evening get-together where everyone is fresh-faced is not fun. My favorite product to use for a quick freshen up is Boscia Charcoal Blotting Linens. Whether I'm heading to an important meeting or for post-work mojitos (summer isn't over yet!), it takes all of 30 seconds to rid myself of excess oil thanks to these guys. Mario Badescu Facial Spray is a no-brainer—it works to wake me up throughout the day and helps keep my skin moisturized in a sometimes-too-dry office. As for the M.A.C Matte Bronzer, who doesn't love a little added color to help you look alive? Last (but not least), I am fully addicted to my cocoa butter Vaseline Lip Therapy. I probably use it about once an hour, if not more, sometimes just for the heavenly smell.
Emily Ramshaw
Senior Editor
I have beauty products in my desk drawer for one of two reasons. 1) My addiction to moisturizing, which makes me constantly apply lip balm and hand cream throughout the day. 2) In case of emergency—which is where the dry shampoo, concealer and mascara come in. And by "in case of emergency," I mean when I need to see someone other than my colleagues and I don't want to scare them.
Noah Lehava
Senior Editor
At any given time, I have at least 10 beauty products strewn across my desk. It's partly due to the fact that trying out beauty products is part of my job, and partly because I can't resist a good texturizing spray. But at the end of the day (and at the end of my weekly desk purge), there are a few products that stay in their place. There's a rose-water mist for when I need a midday refresh—the smell is so delicious I often get caught up and spray it every 15 minutes—and makeup-remover wands that are cute and convenient for when my eyeliner smudges. When it comes to texturizing spray, there is nothing better than Oribe IMO, and I use it whenever I need a bit more volume. And, finally, Dior Luminizer and Clé de Peau concealers are mainstays in my handbag at all times!