Career
EJDER's owner and creative director talks his concept store, the importance of collaborations, and next steps for the brand.
Renée Rodenkirchen
There are certain people we meet that exude equal parts cool and genius. That's exactly what we felt when we met Simon Suphandagli, founder of London-based multi-brand collective, EJDER. We were lucky enough to catch him when he was in Toronto for his second collaboration and pop up with Yorkville's high-end menswear boutique, CNTRBND, founded by Christopher Casuga, all conveniently enough during Toronto's biggest weekend of the summer with OVO and Caribana—we're going to go ahead and assume that it all wasn't a coincidence.
As we sat down with the Wolverhampton-born creative, it became clear just how passionate he is about his business (as if visiting EJDER's site, brimming with luxury streetwear pieces from the likes of 424, 3.Paradis, and MISBHV didn't tell us that already) and their many collaborations. It also became clear that EJDER is going to have a long and very successful run. In other words, if you don't know EJDER yet, it's about time you get acquainted.
---
When he knew he wanted to work in fashion:
"I'd say about three years ago, I left my previous job, packed up my bags and went traveling for a year. It was during that journey that I came back and was like, 'yeah this is what I want to do.' [Before I was doing] youth work—working with kids with problems, stuff like that."
The beginning of it all:
"EJDER is very organic, we're the essence of a true independent [brand]. We don't come from bigger money, corporate or big investment. Everything's literally been from a pebble to a brick. When I first started, I knew a guy with a brand, I had a following online and I was like, listen let's piece together what I saw in Thailand when I was traveling with all these new designers—let me sell your clothes, you give me 10%. [That's] literally how EJDER started. I saved that money, then I got another brand and got 20%, then I had enough, and eventually I bought a brand in wholesale. [I've] literally have just gone from that."
How he chooses which brands to carry:
"It's not easy, to be honest. There's a number of factors from the brand's online presence, to their marketing presence, the aesthetic of the brand, their history, their aspirations and the people behind the brand are important as well. We have strong personal relations with the brands we work with, so that's really key."
On his relationship with CNTRBND:
"We met Chris at Paris fashion week through mutual friends, Rico [Emeric] and Ray [Raymond] of 3.Paradis. I was friends with them, they were friends with him and we all met each other there so that was it really. We just kind of started talking and spent a lot of time together. We banged ideas around, and we said let's do a pop-up, and within a couple of months we were here, doing it."
What made him decide to open his concept store, 24 Hour EJDER Club:
"Basically, we'd been online for three years building a global community, very much challenging the ethos of 'where's your store?' As soon as you say 'we haven't got one' they slam the door in your face. Five to ten years ago, I understood that was how things were, but now, things are changing. The internet changed everything.
"While what we did is very positive, and I believe in it and stand by it, it's also about keeping an open mind. I can see the benefits of having a store. When you're trying to work with new brands and new designers like we are, the customer wants to be able to come in and try that on. If I'm just selling all existing worldwide brands that are fifty years old, everyone knows what they're getting, so it's easy. You want a Givenchy tee, you just buy it because you know what you're getting, but when you're trying to introduce something new to somebody, I could see that was a gap in our model. Having the physical space now on a permanent basis, from a consumer perspective, you can share the vision and educate the consumer.
"That was one reason. The other one was I just wanted a physical space where we can develop this community. That's something that's very dear to my heart. Coming from a youth work background, it's all about community. You know, we work with new designers, giving young people opportunities and very much engaging in the culture that surrounds fashion. Having that space allows us to do that a lot better."
On the possibility of a future EDJER kidswear line:
"II had the idea over two years ago about seeing this opportunity for growth within the kids' market in relation to the kind of style that we're associated with. There's nothing out there like that, really. I've got my own son and at every point of the journey I've been like, 'all apparel is the same, we need to do this' because you can't find it anywhere." 
On having an open mind towards womenswear:
"[It's] really interesting, the amount of women that are coming into the store [who] are like, 'do you sell womenswear?' We don't. To me—I guess it's a bit biased because I'm not a woman—but a girl could wear 90% of the clothes that we sell, it's [just] down to personal style and choice. If you're talking specifically womenswear, I mean, listen, no rules. EJDER's about no rules and always pushing boundaries. Right now, it's not something that I'm actively seeking but who knows what the future may bring."
Up and coming designers to watch:
"Emeric Tchatchoua and Raymond Cheung from 3.Paradis. They're good friends of mine, I've watched their journey. We kind of started at the same time and I understand their vision and having seen it executed, I believe they're destined for great things."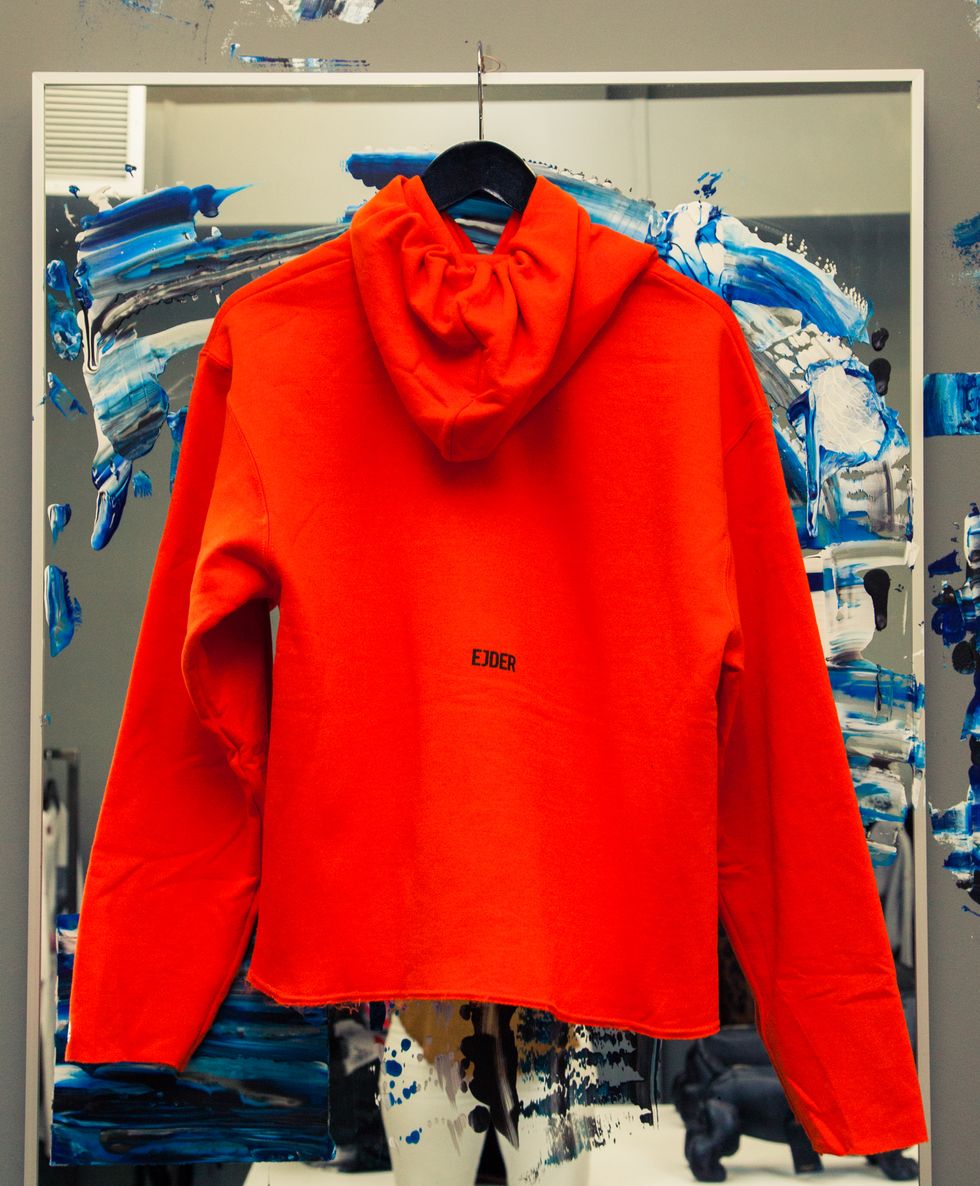 The last thing he purchased:
"These sneakers [I'm wearing]. Margiela."
On his personal style:
"Right now I've just been repping EJDER stuff. That's keeping it real, that's it. I come from streetwear [and] we're in the process of bringing in more runway brands and more high fashion. [Streetwear] has been me though, my style has been no style. Almost like my hero Bruce Lee, 'my style is no style.' One day you'll see me [in] just sneakers with shorts and a t-shirt, the next day I could be wearing some harem pants with an asymmetrical jacket. No rules. I think that's the problem with a lot of people—they box themselves in and get judged on that and it's just, don't judge me because you see me today like this and [the next day] I'll be dressed in something else. I'm still the same person."