WWWRN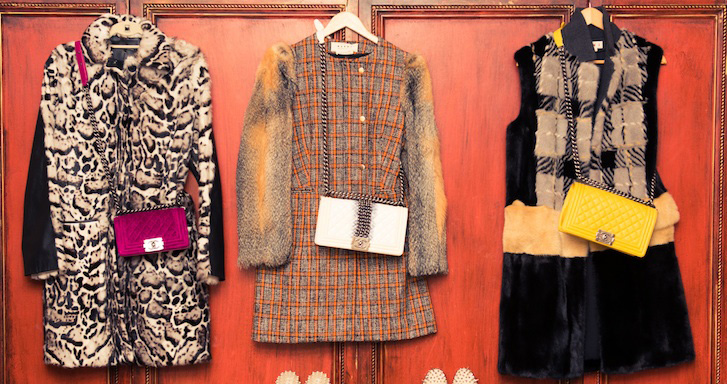 The Best of New Arrivals
We're not saying we're ready for fall but...
Like we said, we're not even a little bit ready for summer to be over. But we're also realistic—we know that we can't live in breezy dresses and pom-pom sandals 4eva (we wishhhhh though) and that fall will be here before we know it (cue a million sad emoji faces). In the meantime, though, we are a tiny bit excited for all the new arrivals refreshing our favorite online fashun destinations. Things that are completely ridiculous to even think about wearing in the soupy hot weather that is New York City at the moment but that we'll be glad are stocked in our closets come October. Like...leather boots! Wool jackets! Cashmere onesies! And fuzzy sweaters! 
1. Ganni Shirt: I have a million silk button-downs already, but our account director Alex pretty much peer pressured me into buying this by saying something about never owning too many stripes.
2. Lulu Frost Earrings: These Zodiac Aries + Fire studs, with white sapphires that look like diamonds (my birthstone), were pretty much made for me, which means I need them in my life.
3. Gucci Bag: My infatuation with every. single. mini bag out right now is uncontrollable.
4. Chloé Sweater: Basically the sartorial equivalent of wrapping up in a blanket and binging on Netflix.
5. Valentino Shoes: Yeah, I'm not ready to give up my summer water and sandals situation, but when the time comes for IRL shoes, these will be it.
Jodi Taylor
Assistant Editor
1. Maison Margiela Double-Breasted Wool & Cashmere Coat: I know, I know, it's still August and wool-coat weather is far-ish away. But one has to be prepared! I've learned the hard way that all the best coats sell quick and I'm not about to let this one slip through my fingers.
2. Isabel Marant Delano Day Leather Shoulder Bag: I've been shopping for the perfect day bag for waaay too long now. Thankfully, it was love at first sight with this one. It's the perfect size, obviously the perfect 'color,' and the strap is adjustable. Dream. Thank you, Isabel.
3. Topshop Tall Super Rip Jamie Jeans: To me, the end of summer still signals "back-to-school" shopping. Aka I pretty much use this time of year as an excuse to freshen up my closet. A pre-fall shopping haul should always include denim as far as I'm concerned, and I practically live in Jamie jeans from Topshop (you're welcome for putting you on to them), so these are perfect.
4. Robert Clergerie Black Croc Leather Alice Mules: Um, hello, perfect fall shoe. My mouth dropped open when I first saw these. I'm all for transitional shoes, and the fact that these are lined with faux fur makes them that much more suitable for the coming season. Add to my shopping bag now.
5. Adidas by Stella McCartney Jacquard One-Piece Yoga Suit: Laugh all you want, but I've been wanting a one-piece yoga suit for some time now. They just look so damn comfortable. I can already see myself wearing it and lounging on the couch with a glass of red—I mean, doing downward dog and child's pose.
Meagan Wilson
Editorial & Social Media Manager
1. Saint Laurent Sneakers: My measure of whether a new arrival is worth obsessing over is whether I audibly gasp when I see it. These made the cut, understandably. (Sparkles! Pink! Palm trees!)
2. Jacquemus Dress: For me, Jacquemus is one of those labels that I'm fairly certain I could wear head-to-toe on a near-daily basis forever and be pretty content. (Is that a "no shit" assertion?) Exhibit A: this cotton minidress. I could wear slight variations on this daily and be happy as a clam.
3. Gucci Bag: R.I.P. me.
4. Sandy Liang Biker Jacket: I'm a sucker for a good biker jacket, and Sandy Liang's are my number one. Plus, this one is effing gold.
5. Vetements boots: I'm wary AF of fash-un's sudden infatuation with streetwear, but I can't resist these. They're so good!
Noah Lehava
Senior Editor
1. Aquazzura Pom-Pom Pump: Is it possible for a shoe to be too cute? These are so damn cute!
2. Versace Oversized Fur Coat: Here's my logic: I'll set this goal in August, faarrrrr in advance of when it's acceptable to wear a knee-length rainbow-colored fur coat in public, put the good vibes out into the universe, and hope that come winter this will be mine. All mine.
3. Suno Pleated Skirt: If I'm going to be shopping in the summer for fall (that is the lay of the land here), I look for "transition" pieces. A metallic pleated skirt fits that bill—pair with a sleeveless silk blouse when it's 80 degrees, chunky knit sweater when the leaves turn.
4. Jacquemus Coat: This was made for bi-polar weather! Wish I would have thought of that.
5. Peter Pilotto Dress: Hol-y shit this is amazing!
Laurel Pantin
Editorial Director
1. Milk Makeup Holographic Stick: I've had a mental image of Drew Barrymore in Ever After post-makeover since forever. It's one of the beauty looks that kind of bowled me over and, not to be dramatic, changed my idea of beauty. But really. This Holographic Stick gives me that same feeling (with a dash of the first time I saw a dELiA*s catalogue)—aka, I would do unspeakably horrible things to make it mine.
2. Preen Line Dress: Full disclosure: I just bought this.
3. Topshop Mini Skirt: This is the kind of thing I *should* be buying, and would probably wear to death, but historically I've only ever bought things that were a) covered in crazy prints, b) rolled in glitter, or c) see-through. This is the first step in the right direction.
4. Allude Wool and Cashmere Jumpsuit: It's a cashmere jumpsuit, you guys. A cashmere jumpsuit.
5. Reebok Classics Sneakers: Part of my new fall identity is that everything I wear (almost everything) will have a fun pattern. I love these because they're loud and bold and will only look better with equally loud and bold bottoms!
Part of the series:
WWWRN