WWWRN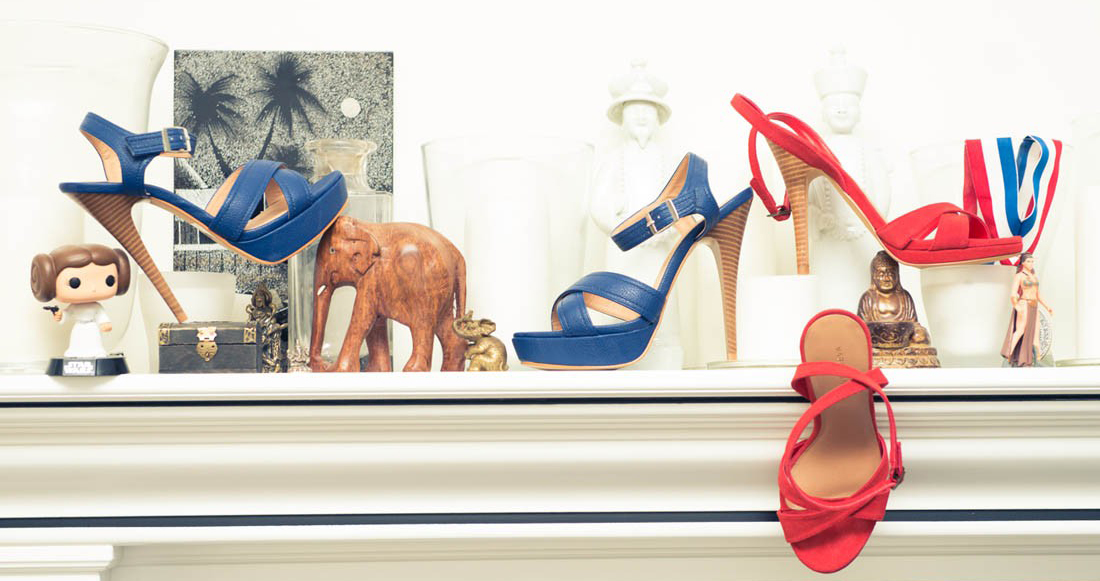 What to Wear to Watch The Olympics
Wherein we go into full-on sports mode (in a very fashion-y way).
It's the Olympics! It's the Olympics! It's the Olympics! Not to fulfill every single fashion girl stereotype, but organized sports aren't usually our jam, but the Olympics galvanize us into actually caring—a revelation! Here, the patriotic outfits we'll be wearing for the next two-odd weeks to rep our countries (Canada vs. USA Coveteur office competition begins today), whether we're watching from our couch, a bar stool, or the stands in Rio. Go [insert country of origin], go!
Emily Ramshaw
Senior Editor
1. Hudson's Bay T-shirt: Seeing as I'm actually going to the Olympics to cheer on an actual competitor (my brother!) I figure I should get over my fashion gripes and support in official Canadian Olympic clothing, which includes this t-shirt. It isn't the worst thing ever and at the very least, I think it's pretty clear what team I'm rooting for. 
2. Peace Collective sweatshirt: Just in case you, or any of my fellow spectators in Rio were wondering, this is how Canadian I am. 
3. Levi's jeans: Probably the most versatile jeans ever and they still make my butt look good. I'll be wearing these every single day that I'm in Rio. 
1. Solid and Striped Bathing Suit: Solid and Striped's International collection is an obvious choice for any and all Olympics viewing activities. I'll be representing team U-S-A to the beach, pool and any sports bars necessary.
2. YSTR Jumpsuit: What's more American than denim? A denim-looking jumpsuit that was made and manufactured in America (Los Angeles, California to be exact). I love that this one is loose and easy to just throw on without thinking twice—if I was in Rio, this would be my go-to.
3. Proenza Schouler Bag: A mini essential-only bag is obviously necessary, whether running around Rio or not. And yes, I know America is going to take the gold, but the silver color just feels so patriotic. 
Noah Lehava
Senior Editor
1. Rialto Jean Project Jeans: During the Olympics I suffer a full blown identity crisis: my parents are from TWO different countries, and, well, I'm Canadian. I guess that increases my odds of cheering for a winning team or something? It also means I need a myriad of patriotic accessories to rep all at once (or swap out easily). Denim is inherently Canadian, yet nondescript at the same time—a pretty perfect option RN. Plus, these jeans are my loose interpretation of repping my parents' national flag colors. 
2. Mountie T-Shirt: This is so damn Canadian and I love it! 
3. Malbec: A big glass of Malbec is the most patriotic thing I could do while cheering on Argentina.
Jodi Taylor
Assistant Editor
1. Topshop MOTO Super Rip Dungaree: Fact: Canadians love denim, and overalls. So why not rock the two of them together when I'm cheering on my country during the Olympics? If the weather was anything but the hot, sweaty mess it currently is I would be going for a full-blown Canadian tuxedo, but these make the perfect substitution so I don't have to sweat my ass off while jumping up and down cheering. 
2. Team Canada Olympic Games Pins: How cute are these? I'm a huge fan of all the DIY pin and patchwork denim jackets that have been filling my Instagram feed as of late. Plus, if I were heading to Rio I would want it to be known just exactly who I am cheering for.
3. DSquared2 Crisscross Back Bra: I feel as though it's only right that I rock some red to show extra love to my country and in my opinion this Dsquared bra pairs perfectly with my denim overalls. It's ideal for the warm weather, which is great because I plan on doing the majority of Olympic watching from a local patio, tequila soda in hand.
Laurel Pantin
Editorial Director
1. Budweiser T-Shirt: USA! USA! USA! For those who know me (and my inner-lip tattoo) I'm a big fan of the US of A, and what better way to rep my country than with an old-school Budweiser tee? 
2. Altuzarra Dress: Realistically, I'm watching the Olympics while horizontal on the couch, balancing a plate of pancakes on my belly. But in the fantasy version of my life, I'm wearing this, while watching on a new-fangled virtual reality setup. 
3. Jeremy Scott x Linda Farrow Sunglasses: Listen, nobody has ever accused me of being subtle, so if I'm going there, then I'm really going there. These sunglasses take me there. 
Part of the series:
WWWRN