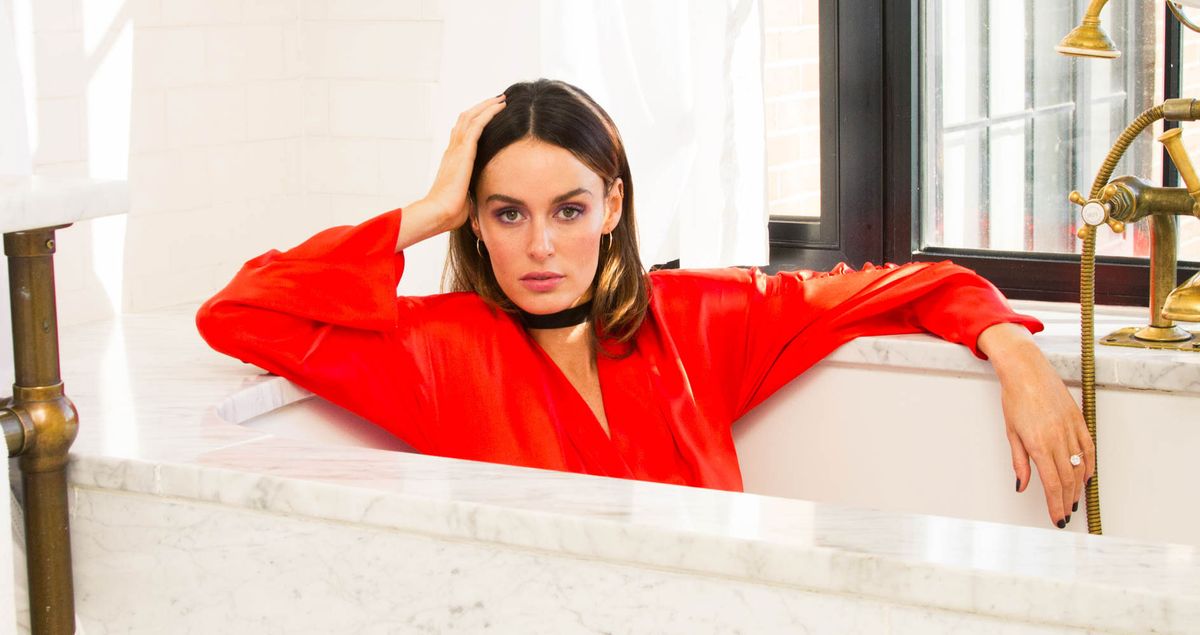 Models
Being the third wheel with Nicole Trunfio.
Alec Kugler
Alicia Cesaro
We appreciate the time and dedication it takes to get ready for a night out with your S.O. (they are your special person, so we get wanting to look and feel your best.)—whether said night out happens to be the screening of Equity or just a dinner out with your husband, who just so happens to be the insanely talented and equally sartorially-blessed human, Gary Clark Jr. But when you're an Australian supermodel like Nicole Trunfio, this is pretty much a standard Thursday evening.
Trunfio was kind enough to let us spy on her at The Bowery, where she was staying and getting ready for the Equity premiere and lounged in a white robe sipping green juice. Her glam team smudged violet shadow onto her lids—bold, she knows—while she told us how her perfect date night consists of live music and good food. Same.
As she brushed out her newly grown out brows, touched up with the barest nude lipstick, and slipped on her Blumarine slit-to-there gown, it was on to hair (always the last step for Trunfio, but more on that below): blown out and silky. A quick photo opp in the tub (because we are The Coveteur after all) and she was rushing out the door.
---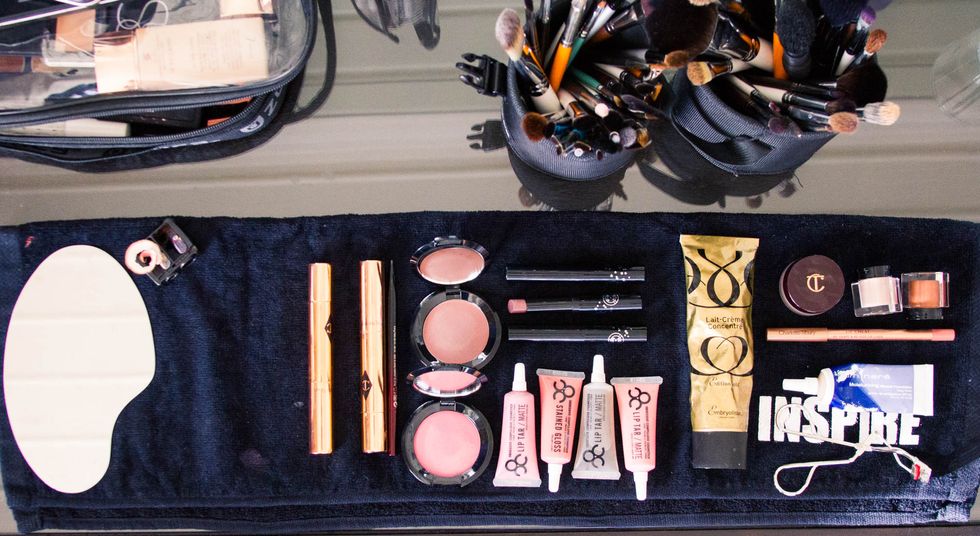 The morning of:
"[The first thing I do in the morning is] roll over and look at my phone, and usually something grabs my attention so that's kind of what wakes me up in the morning. Or my baby crying— that's usually my alarm clock."
How she preps throughout the day:
"I make sure to drink enough water throughout the day so my skin is really hydrated. Water is really great for everything. I make sure I eat because it's really easy to forget to eat when you're busy. Yesterday I had a burger, which was amazing. Then I just make sure to stay really grounded and centered all day."
When it begins:
"I usually start getting ready three hours before, because it takes about an hour to get anywhere or to pick someone up—it gives you a bit of space. Most of the time, I don't really know what I'm going to wear, so it takes me a while to figure that out. I like to start with hair and makeup, and then try on some things and see how I'm feeling. I usually change my hair at the last minute because I think that's the thing that ties everything together."
Leaving hair for last:
"I usually have an idea of how I want my makeup to look, but my hair is always based on how I'm feeling. Hair is so malleable and you can really play with it. It defines a look, so I like to keep my hair really simple until I know what the makeup looks like with the outfit, and then I'll style it from there."
The chillout moment:
"I love to have a fresh green juice or water just as I start getting ready. I put a robe on and I put my feet up because it's usually the first time I've stopped all day. I turn on the news—I love talking with the team that I'm working with and discussing world issues, politics, or reality TV [laughs]."
Changing her signature look:
"I used to absolutely have a go-to beauty look. I used to love a winged eyeliner—I never left the house without it. But recently I was on tour with my husband, and we're on a tour bus for a month and a half and I didn't really look in the mirror. I grew my eyebrows out completely natural—I don't tweeze them at all anymore, so last night I was trying to let them have the stage. I didn't wear eyeliner and I did a purple eyeshadow, which I've never done before but I thought was really, really cool. Now that I have my full natural eyebrow, I don't feel the need to wear as much makeup."
Her date night beauty routine looks something like this:
"I try and put a mask on—I use Glossier Mega Greens or the Moisturizing Moon Mask. I love essential oils, so I have every single essential oil you can get. I make a blend; every week I'll make up a new blend, and I'll put that on my face and all over my skin. Geranium is really good for your skin, so I make sure that I have that in it and some frankincense. I put that on and then I usually put peptides on my skin or something with hyaluronic acid in it to really hydrate my skin. Sometimes I'll put an SK-II mask if I'm feeling really fancy. I have this new mineral foundation, which is amazing; it's called Illuminate and it looks like your skin. I'll put on some mascara, maybe some eyeshadow—either a brown or pink. Then I'll contour with the Tom Ford quadrant. Then I just do a light powder and I'm ready to go."
The perfect date night:
"I really like going to dinner with my man. Starting the night off with a dinner and then I love going out to a bar that has a good vibe. We've been going to The Nice Guy in LA, that's currently my favourite spot, it's really cool. People play live music in there and it's a really diverse crowd—there are a lot of different kinds of people in one small space. They also have really good food, but we usually eat at Madeo or Sushi Park."
The last thing she does before walking out the door:
"I pack my bag, make sure I have everything—my phone and house keys—and that's pretty much it."