The Books You Need to Read Now
Fact: Reading makes summer feel longer.
Series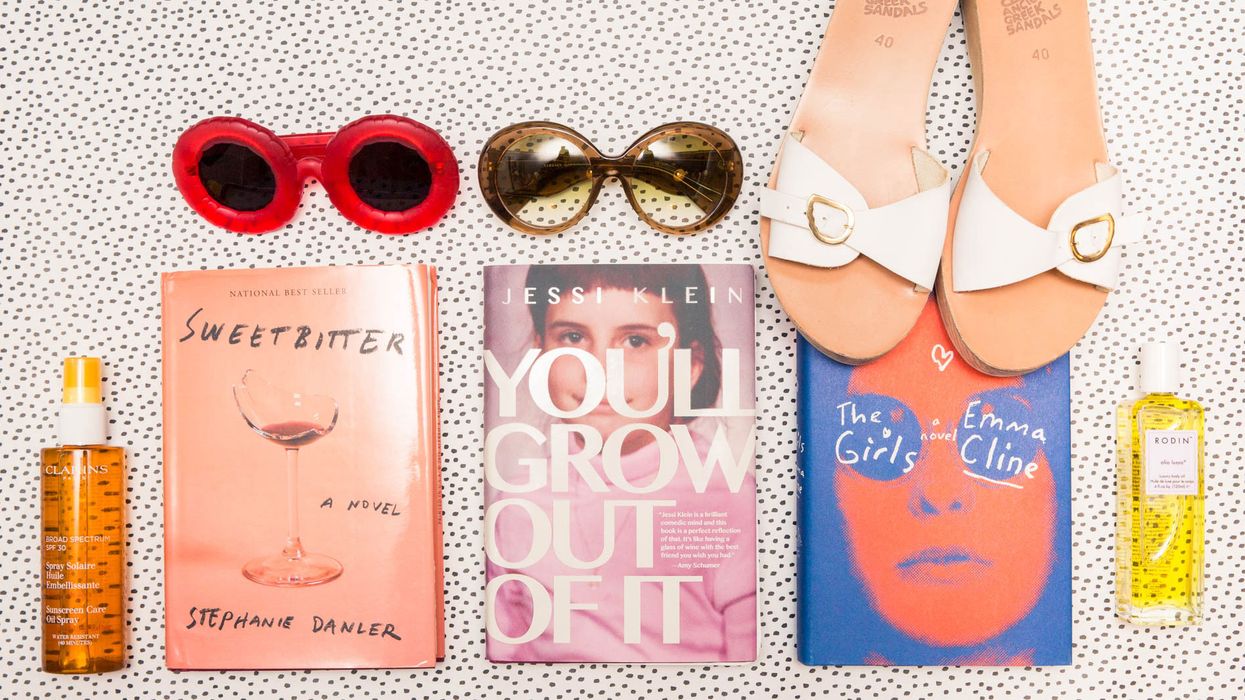 Midsummer anxiety is real. You know that feeling that starts happening now that it's AUGUST; you can feel the season slip away and how your summer to-do list remains un-checked offIt happens with every minute you spend on your laptop at work or wasting away hours on a Netflix binge because it's just too hot out. But then there are the books—all the books on our summer reading list—just waiting to be read, begging us to turn off the Netflix. And lucky for us reading goes hand-in-hand with enjoyable things that feel like we're really *doing summer right* like: laying at the beach all.day. long, going to park just to sit under a tree, visiting that neighborhood restaurant for a solo glass of wine, or nursing a $7 latte at the coffee shop—these are the kind of things that you do while reading. And so, in the second installment of The Coveteur Book Club, we have even more reccos to add to your list. Just pick one of the above locales and get reading.
P.S. Send us your book recommendations on Snap, Instagram or Twitter, #CoveteurBookClub
You'll Grow Out of It by Jessi Klein
"Comedian Jessi Klein's candid storytelling of her life from tomboy to current married life, told in her hilarious tone, is what I've been reading every single morning on my commute to work and every night before bed. It's the kind of feel-good book that makes you laugh and that's exactly what I need on Wednesday mornings. Amy Schumer described the book as 'like having a glass of wine with the best friend you wish you had,' which is actually the most spot on description." 
— Alicia Cesaro
One of Us: The Story of Anders Breivik and the Massacre in Norward by Åsne Seierstad
"This is not a beach read. I repeat: this is not a beach read. One of Us is a harrowing piece of nonfiction that reads like a novel about the bombing and massacre by Anders Breivik of more than 70 children at a summer camp in Norway that was carried out by one man in 2011, and his trial that followed. It is fascinating in a completely horrific way. Even more frightening: since Breivik was motativated by irrational and radicalized anti-Muslim sentiment, it feels scarily relevant." — Emily Ramshaw
"This summer, I've been really into re-reading old favorite books. I'm a big fan of Jonathan Franzen's writing (his politics and personal beliefs, not so much), and I forgot how much I love this book. All of his novels are depressing in a delightful 'wallow-in-your-misery' way, but in the end, they're surprisingly uplifting. I loved re-visiting this book—you don't necessarily fall in love with his characters, but you definitely end up feeling like you know them." — Laurel Pantin
The Life-Changing Magic of Not Giving a F*ck: How to Stop Spending Time You Don't Have with People You Don't Like Doing Things You Don't Want to Do by Sarah Knight
"The title of this book alone gives you a pretty good idea of what the hell is going on in my head ATM. As I get older, I'm realizing just how crucial it is to look out for number one and to fill your time only with people (and things) that make you smile so big your cheeks hurt. Warning: it ain't easy. So if you're trying to figure out where the hell to start, I suggest reading this gem of a book. You won't be mad you did, I promise."
— Jodi Taylor
Barkskins: A Novel by Annie Proulx
"I'm headed on vacation next week and to prepare I am downloading books on books on books. I just finished reading one of last month's Cov Book Club recommendations, A Little Life, which was incredibly sad. I immediately had to follow with a much lighter beach romance novel to balance out the sadness. Barkskins by Annie Proulx (the same author as Brokeback Mountain) has all the elements for a perfect summer read: based in France, historical, and thriller—which is weird because that is exactly like the book I picked last month. Completely unintentional, but clearly I have a type!"
— Andee Olson
Lullabies for Little Criminals by Heather O'Niell
"I have a little confession: I don't read as often or as much as I would hope to. But a friend who knows me very, very well, recommended this read. I gravitate towards crime dramas in movies and Netflix, so by the title alone it's right up my alley. According to her (and I'll just have to wait to find out for myself as I get further into this book), it's 'heavy on drugs, sex, and the seedy side of adulthood.' Just my thing." — Noah Lehava