Fashion
How Leona Lewis Prepped for Her Broadway Debut
Hint: steam rooms, green juice and lots of makeup practice.
Sometimes it's a Monday and you've spilled coffee all over your white shirt, it's raining, and you forgot about your friend's birthday party that evening. But then sometimes life throws you a curveball and you audition for a role on Broadway, which you then land, and find yourself moving across the Atlantic from London to New York in a matter of days to act out all your dreams as Grizabella in Cats on Broadway. That is of course, if you're Leona Lewis.
We're guessing the British singer and songwriter—most well known for creating everyone's go-to breakup song and Coveteur karaoke favorite, 'Bleeding Love'—has (at some point) found herself in the former of those two situations, but it was the latter that led her to where she is now, specifically, her dressing room in New York's Neil Simon Theatre, behind the stage that will host the Cat's revival. Ahead of her big-effing-deal Broadway debut, we sat down with Lewis in that very room (among her dramatic Grizabella costume) to chat about what it's been like training for her character, how she keeps her voice, body, and mind in check despite a full-on (to say the least) schedule—and, the process of applying her own costume makeup. Let's just say Lewis will be able to put her makeup skills to good use for future Halloweens.
---
Finding her way to Broadway as Grizabella in Cats:
"I saw Cats when it was originally in the West End when I was little and I just remember loving it. It's so cool that I'm getting to play a part. I was at home and I got a call from Andrew Lloyd Webber and he asked me if I wanted to audition for the role [of Grizabella]. It was so crazy because if I got the role, I would have to move to New York in about a week. It's so crazy how your life can change in an instant.
"I always thought I'd love to do a stint on Broadway just to experience it. It's very hard work, very intense, and it fine tunes all of your performance and focus skills. I just came off a tour and I had a little bit of time off and I was just going to chill and relax but then this came in. It was perfect timing because I actually have time off to be able to do it.
"[New York] is very similar to London. It's bigger and there are more people, but it's still got the same energy about it, which is what I'm used to. I was in L.A. for a little while where there's a bit more of a beachy pace of life. So to come back here feels great.
The differences between singing and acting (on Broadway!):
"When I'm recording I take it a bit at my own pace, recording is such a difference process from acting. Preparing for the role in Cats is similar to being on tour where you're doing a certain amount of songs on a certain amount of nights. We have 12-hour rehearsal days, and we will have a rehearsal and then the show. The focus and the technical part of this role is very intense, it's so different because on tour I'm singing my own songs and now I'm singing something that's part of a story. I'm telling a story and I always have to be in this role.
"With Cats, you're telling a story and playing a character so it involves a lot of acting. When I'm on tour it's just me. So I've taken on a whole new role, which is kind of fun because I get to be Grizabella, I'm not me. I'll do things differently on stage, I'll move differently. We change between the human and the cat a lot as well. We have some very intensive feline movements. The score by Andrew Lloyd Webber is so incredible, the song I'm singing, 'Memories', is just the most beautiful kind of storytelling. The orchestra is amazing so I get a lot of the inspiration from the lyrics, melody and the orchestration of the song when I'm doing this. But when I'm doing my own music, it just comes from life, experiences, relationships and what's going on the world."
Doing her own makeup and transforming into Grizabella:
"One thing that all the actors have to do is our own cat makeup, we have to transform ourselves into the cat. We've been coached on how to do it all, so now before every show we transform into the cat and that helps us get into character. The first time applying makeup it was so weird, it looked crazy, but now I feel like I've got it down. On tour I'll do my own makeup as well sometimes so I found it really fun because it's obviously really dramatic. My character has a scar, too, so I've learned how to do 3D scar makeup on my head. I am going to be the best at Halloween makeup. I got in my costume before the makeup but the first time I put everything on, the costume, the wig, I felt like somebody else, which helps me to really take on the character."
On staying well and keeping her voice up to par:
"Preparing for the role has definitely been the most intense thing. When we had our first day off in a long time I went and had a heating massage to take away the stress—I had all these hot compresses on me. I get physiotherapy on my voice as well by a guy who massages behind your voice box, in your mouth and he squeezes your tongue—it's so crazy. It feels a bit painful and then the next day you feel great. I steam a lot—I sit in there until I almost pass out. I also take every type of vitamin possible, lots of echinacea, natural herbs and green juices.

"I have a gym at my apartment where I do a bit of cardio. Even though I'm not specifically dancing in Cats, I still have to crawl around the set. I do SoulCycle and strength training as well. My eating has changed quite a bit since I've the show. I can't eat standard meals anymore, I have to eat a lot throughout the day but really, really small portions because I feel it when I'm singing on stage (and my costume has a corset!)."


Her favorite vegan spots for in between rehearsals:
"I've found some really good vegan places in New York City, I think I've been to every single one apart from Dirt Candy, because they are always packed. My favorite so far is Blossom, they have a really good tofu scramble situation. And there is Blossom Du Jour, which is the 'fast food' version. And Pea's Food Café is amazing, I really, really love it there too. I get all of my juices from Westerly and they've got really great soups. Candle 79 is great, too. There's so much around here, much more than in London."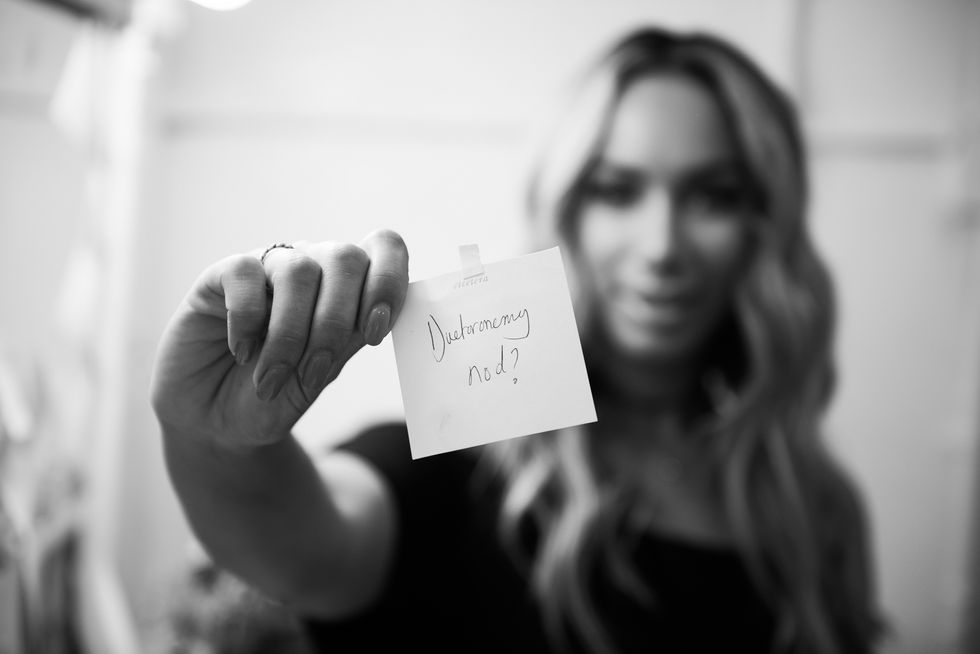 Finding her own version of meditation:
"Meditation helps and I'm not just talking about sitting there 'om'ing' with your legs crossed. Even when I'm onstage I can go into a meditative state where I'm just focusing on what I'm doing now, not the hundred-million things that I have to do after. Meditation for me is about cleansing the mind, because we all have so much going on, a thousand things that we try to juggle, it's good to just quiet the mind and I feel like that's really important for my focus.

"I never used to meditate, I didn't know how. But I started a few years ago with five minutes a day where I just sit down and put a candle on. I like to do open-eyed meditation, because sometimes when I close my eyes my mind starts to wander, so I'll focus on the candle flame and switch off all of the voices for five minutes. After a while you really get into it and you're almost training your mind to do it and then it can get longer and longer. And you can even meditate on a walk, for example. I also love Marianne Williamson, she just moved to New York, I go to her lectures at church. She is really, really great, spiritual but very real. She talks about real issues, real life. I love her books and her lectures."