WWWRN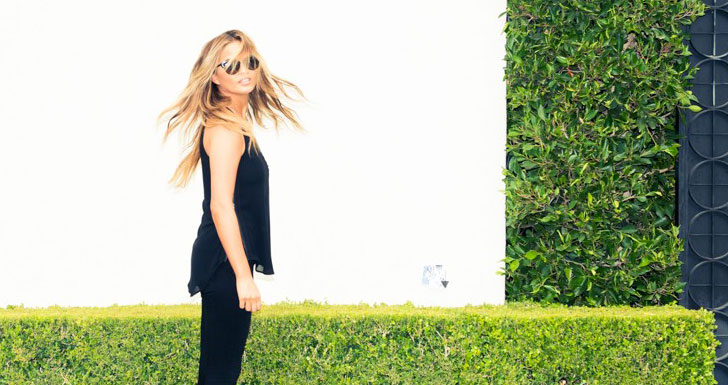 How to Get Summer Hair
There's more than salt and sun involved.
Ok, fine. Our hair summer style of choice may be either soaking wet post-swim or slicked back into a low bun, but that doesn't mean we don't rely on a heavy hitting, multitasking arsenal of products to help us get there—and to not end up with brittle hay for hair by the time September rolls around. Whether that means keeping things moisturized and tamed (the curly haired among us), protecting strands from UV rays and chlorine (all of us, TBH) or trying to force a bit of beachy wave into our otherwise poker straight locks with the help of salt spray. And so we asked our editors—and their varying hair types—to take you through their routines and exactly what products they use daily, even if it's only hair elastics and some oil. This is a no judgement zone, right?
1. Ouai Hair Oil: My hair is perpetually dry and damaged-looking despite the fact that I never use hot tools and pay as much attention to it as you would a newly adopted puppy. So, my hair routine in the summer consists of shampoo and conditioner (once a week) and then a fistful of Ouai's Hair Oil slathered throughout and twisted into a bun.
2. Tangle Teezer: Literally the most self-explanatory product ever but this is a must, must have for me. I can't imagine dealing with after swim tangles without this. 
3. J.Crew Hat: On the advice of my hairdresser, I've been protecting my hair from UV rays as diligently as my face. Because apparently brunette highlights can become oxidized causing—dun dun, brassiness (which is never, ever good). After swimming I always spray It's A Ten Miracle Leave-In throughout (bc it's actually a miracle and does seventeen things at once, duh) and then tuck it all under a big hat.
Laurel Pantin
Editorial Director
1. Aerin Comb: One of the great thrills of my life is that the chicest hairstyle in the world, also happens to be the easiest: a sleek, middle-parted, low bun. I get straight out of the shower, and comb my gnarly wet hair into a bun, and it looks great. I like it sleek, and bump-free, so an actual comb, not a finger comb, is crucial. A fancy gold one is optional, but obviously preferred. 
2. Goody Clear Elastics: I prefer my hair elastics not to show at all, so I love these from Goody. I also love that they're too small to fit around my wrist, so I never make that sartorial faux pas. 
3. L'Oréal EverCurl Cleansing Balm: I love this product. It's meant to make my curly hair curlier, but I think really it just helps it strike the perfect balance of clean and moisturized. 
Meagan Wilson
Editorial & Social Media Manager
1. Ouai Wave Spray: I love that this stuff gives beachy texture without drying out hair the way other wave sprays do. It brings out natural waves in wet hair, and revives them in dry hair. And the smell! Guys, the smell. It sits on my desk and I've made it a habit to periodically spray this on throughout the day. Or I'll twist my hair into a bun, spritz this on, and after a little while, let my hair back down. Waves!
2. Drybar Detox Dry Shampoo: Also taking up real estate on my desk? Drybar's amazing dry shampoo. Again, this is a huge olfactory thing—it has the most incredible fresh-laundry-with a-hint-of-floral scent. Its actual de-greasifying powers are pretty great too: it absorbs every last bit of oil, without being too powdery or obvious.
3. Captain Blankenship Mermaid Hair Oil: What, like I could resist that name? Who doesn't want mermaid hair? It's not just a pretty face—er, bottle—though: I love that this adds shine and makes hair look healthy without weighing it down or making it look too slick. I've been cursed with that really great mix of oily roots and severely dry ends (due to a lifetime of abusing my hair), and with the 1-2 combo of this and the DryBar dry shampoo, things are balanced out nicely.
Noah Lehava
Senior Editor
1. Kevin Murphy Cleansing Shampoo: I don't have many qualms with my hair, other than the fact that it can't handle much product. I love an intense cleansing shampoo that rinses out all the gunk that gets soaked up by my hair in the summer. This one is so fresh and leaves my hair squeaky.
2. Captain Blankenship Golden Waves Sea Salt Spray: I was so intimidated by this bottle of gold liquid at first, but the superfine particles of shimmer and salt gave the beachiest golden texture to my naturally kinda-wavy hair. It's not so much glitter as it is a shine enhancer—it makes me feel like a mermaid!
3. Philip P Volume Spray: Like I said, my hair hates products and because it's fine (although I have a lot of it) it gets greasy and flat fast. To elevate, I spritz this onto my roots, lifting and getting as close to my scalp as possible. Then I loosen it all with my fingers for a more natural texture. It's really gives me an extra day without shampoo. 
Emily Ramshaw
Senior Editor
1. Ouai Dry Shampoo: In the summer, the grease factor seems to increase exponentially—there are especially sweaty days when I even need to use dry shampoo as soon as I arrive at the office in the morning. Which is why I keep Ouai's version in my desk drawer.
2. Bumble & bumble Surf Foam Spray Blow Dry: The dream is to have beach waves all the time, but my hair is pin straight and fine and never holds any style (many a stylist has tried to no avail). This spray gets me the closest to any amount of gritty body—and I spray it in my hair when it's already dry to maximize effect.
3. Christophe Robin Instant Volumizing Mist with Rosewater: This is the stuff I spray on my hair everyday when it's still wet from the shower. It gives my hair a good boost without making it feel product-y; plus, it makes my hair smell great!
Jodi Taylor
Assistant Editor
1. Invisibobble Power The Strong Grip Hair Ring: I have a lot of hair, and it's thick. Like, really thick. Meaning that throwing my hair up into a ponytail can't just happen once a day, it needs to be done multiple times due to the weight of my hair. All of this changed when I discovered these hair rings. No slipping and no breakage sounds like music to my ears. 
2. Bumble & bumble Hairdresser's Invisible Oil Primer: I owe my best friend a shout out for introducing me to this product—it has been my savior this summer. I apply it to my dry hair, no matter if I'm wearing it up or down, and it controls frizz, gives me unbelievable shine and, are you ready for this? Provides my hair with UV protection. In other words: run to Sephora right now. 
3. Drybar Le Sherif Firm Hold Hairspray: Due to said weight of my hair, 99% of the time it's completely straight. Every now and then I want a little wave in my hair though (it is summer after all) which requires some serious product. I came across this DryBar hairspray at the beginning of summer and on top of it being the best smelling hairspray ever it's actually strong enough to hold the waves in my hair. 
Part of the series:
WWWRN