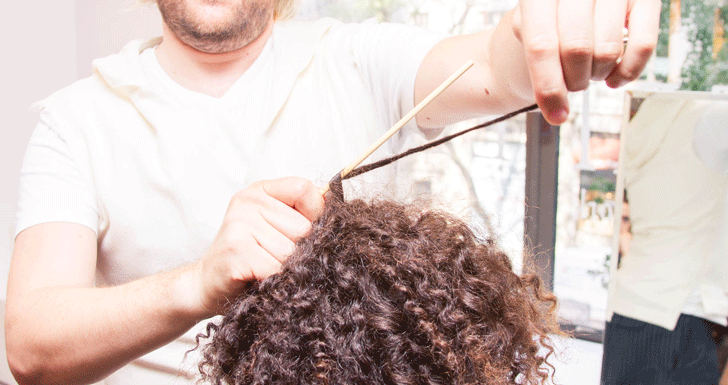 An Easy, Fancy Summer Style for Curly Hair
It involves a wooden chopstick and looks best on dirty hair.
Women with curly hair face a unique set of challenges come summer. Not only do we have to deal with humidity and frizz, but curly hair is hot, it's heavy—it sits on your back like a blanket. For most of us, it does not float flirtatiously in the wind; rather, it turns into a nest of steamy snarls and tangles. Add to that the fact that most of us turn into living saunas in the summer—what with body heat and evaporating sweat (I feel sticky even writing this)—and you can imagine that trying to maintain smooth curls this time of year is a pointless exercise. So, we say: embrace the frizz! Get that shit off your neck—just get it outta there. If you have curly, wavy, or natural hair, Keratin isn't the only answer come July.
We tapped one of our favorite people in the hair world, Tommy Buckett (excellent name, no?) of Serge Normant at John Freida salon, to show us, with the help of model Kiara Barnes, his favorite low-maintenance summer style for curly-haired girls that—surprise!—does not involve washing, diffusing, blow-drying straight, or spending hours trying to figure out exactly how to operate a high-tech tool. "This is a perfect look to do on your second or third day after washing. It's hot, it's sticky, you just want it out of the way, but you want it to actually look 'done' and kinda glammed up in some way."
And as for prepping your curls in the first place, Buckett recommends grabbing your rattiest old T-shirt. "After you put in a leave-in conditioner or curl cream, use a nice wide-tooth comb to comb it through, then use an old T-shirt to scrunch up your hair and get the water out. It doesn't rough up your hair cuticle as much as a towel, so it really keeps your curls intact."
"Start out by putting a little bit of heat protectant on your hair—I like the Flat-Iron Express from Garnier. Then pull your hair up into a high ponytail—like, right on the top of your head. I love using the long elastics that you can tie and tighten, or you can use a bungee elastic to create that really nice, tight hold."
"Then, pull your curls out of your ponytail with your fingers. Grab a tiny wooden chopstick and wrap little corkscrew pieces of hair around the chopstick. Take the flatiron and run it down the chopstick, over your hair, to get really tight curls."
"You want to pull each curl out, though, and separate it a little so that it gets fluffier, airier, and has a little more texture. I did that the whole way around but just on her ends. Don't knock yourself out with this—you just want to polish up a few pieces so the texture looks a little done."
"Then spray in a little Texture Tease from Garnier to get that big, dry texture. Just spray it in the base of the ponytail, though, where it's drier, so you can get it fuller and big. Then I used a little bit of the Susanne Kaufman spray conditioner for volume—it adds great shine and kind of pieces everything up."
"Next, I used these rose-gold bobby pins, and I haphazardly crisscrossed them to create this rose-gold crown that sparkles. The pins make the style look a little more dressed up than it actually is."
"In the summer, on the second or third day, your hair can get a little oily. So I'm obsessed with the new Byredo hair perfumes—I used the Flowerhead because it's really summery and super feminine."