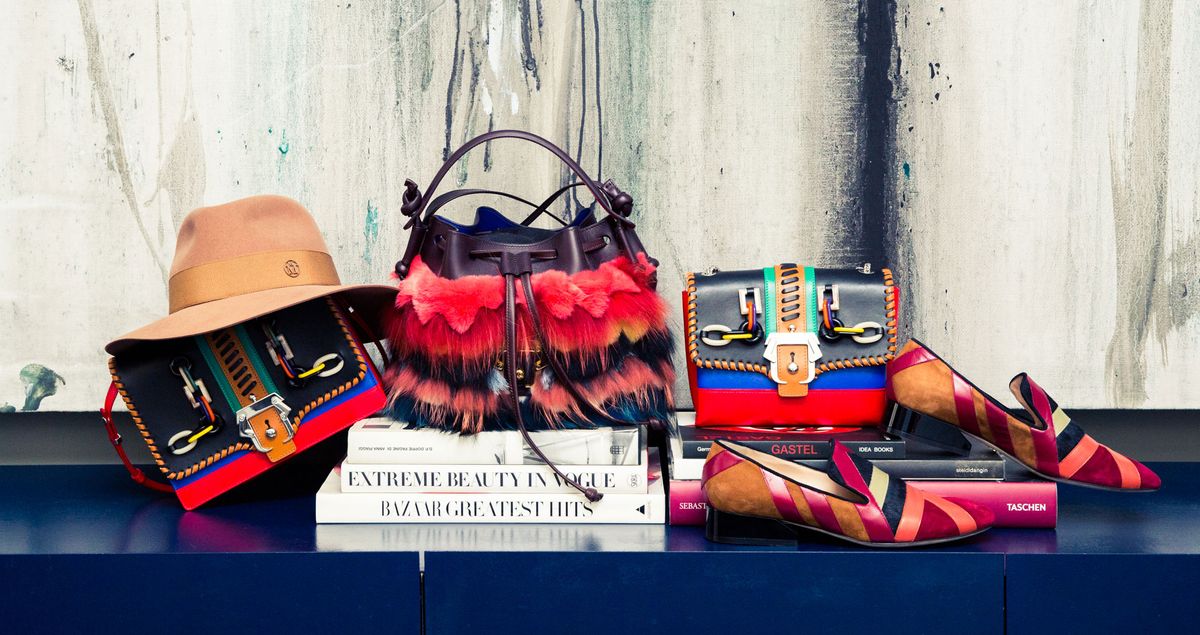 Career
How Paula Cademartori Became Street Style's Favorite Accessories Designer
On sneaking her way into fashion, starting her own company in her 20s, & doing everything it takes.
Renée Rodenkirchen
We'll be honest: before our visit to PC HQ, we didn't know a whole lot about Paula Cademartori's meteoric rise. Sure, we could spot anything by her from a mile away, but her career trajectory? Not so much. As fate would have it, during our most recent visit to Milan her new apartment was still in the process of coming together. So with closet being off the books (for now… after seeing all of this, you better believe we'll be getting in there soon), we made a date to catch up with Cademartori at her offices. What we didn't anticipate was that we would come away from the whole thing with an entirely different perspective on her work and even bigger appreciation for the fact that she's doing it all on her own. We got a sneak peek at pieces from her fall collection, and played with her insanely adorable dog Apollo—then she sent us out the door with a recommendation for Pasticceria Marchesi (a Prada-owned cafe) for lunch.
---
When she first knew she wanted to be a designer:
"When I was seven years old I used to design shoes. I used to look at my grandmother's feet—she would always have red nail polish on her toes—and I would design shoes with the nail polish. I loved designing; I didn't want to play with a lot of the toys I had—I would get boxes of shoes and would start decorating the insides."
Where her design aesthetic comes from:
"I love being Brazilian—I love that I was born there. We take things differently, like colors and humor. It's just… happy! It's a good mix, because I think about my influences in colors, tastes, things you can mix together and it's something that you can really play with a lot in Brazil. In Italy, you have this rigorous, perfect craftsmanship: very structured lines, all this knowledge that has passed down through generations of families. The mix of innovation and being young and trying things you never try with traditional methods, you can do new things."
How she snuck her way into fashion (despite what her family had to say):
"I studied industrial design in Brazil. I couldn't do fashion, because my family didn't want me to. The closest thing I could do would be industrial design, so I started my career designing jewelry. I moved to Italy for a Master's Degree in fashion and accessories. Then I did my first handbag line for a course as a project with a company, and they brought the handbag into production before I even grabbed it for my project! I went to work for them for a year, and I didn't come back to Brazil. I stayed here and then moved to Versace. I told my mom and dad, 'I'm staying, ciao!' [laughs]"
What she learned from working at Versace:
"I loved it. It was the most exciting experience of my life. I was part of the runway team and it was a dream. We'd arrive in this room with the seamstresses—I really used to get emotional every time. Seeing how things work, you learn how important timing and production are, how important deadlines are. Everybody thinks that fashion is like, 'yeah, yeah, working in fashion, la la la', but it's very tough! It was important to understand how a multinational company works. I loved my experience."
Her first big break (& how she worked her ass off to get it):
"Everything started with the opportunity to do a competition called Vogue Talents. Instituto Marangoni asked me to participate as a school member because I had really high grades. When I got the invitation for Vogue Talents, my boss [at Versace] wouldn't allow me to participate. I asked to quit, and then I said I was going to do it myself. My parents were like, 'Please don't!' but I still did it. The factory I found was the only one able to do one prototype. I had to design 35 shoes and prototypes to present. I couldn't present the handbags, so I did a shoe collection. Until then, I was always working with handbags. I called my parents and I told them, 'Hey, I love Versace, [but I'm leaving], and my dad was going nuts. He was like, 'How could you!?' Then they realized that I really wanted to do with this. I told them I was going to start my own business, and they told me they'd help me for the next six months and then after that it was my own problem. Everything started after that."
How she dove into the nitty-gritty of running your own design label (including pretending to be her assistant):
"I went to Bocconi [University, in Milan] for a Masters for Fashion Management to [learn] the business side. I really wanted to run my own business, but I'm a creative—I needed to understand how things work. I started my own line with handbags because I couldn't afford a shoe line to start. Producing shoes takes a lot of money, because of the structure, the range of sizes, everything. So I stuck with handbags.
"It was fun, because I put everything in my car, went to Paris, did a premiere class, and then was calling journalists saying, 'Hey I'm Roberta, Paula's assistant, can I show you the lookbook?' Same for the buyers. That's how things happened."
The challenges of starting your own company in your 20s:
"I started my company when I was 26. Now I'm turning 33. The challenges are every day. In the beginning, the most difficult thing was thinking, 'Oh my god, what if no one is going to believe that something is going to happen?' I would cry and tell myself I could do it. I really believed in this project.
"The big, big challenge now that things are more established is to continue to grow in a healthy way as a company. Here in Italy, it's very intense and difficult because as a young brand, you have to [elbow people out of the way] to have your own space. You have historic maisons to compete with. I create a product that is very highly manufactured and luxurious, but I don't have the power of a multinational brand. It's very competitive, even on the shop floor. But I'm very happy."
When she knew she'd 'made it':
"I was wearing one of the handbags, and these people came up to me like, 'That's Paula Cademartori, where can I find it?!' I was so shocked, I told them you can find it here, here, and here. I didn't introduce myself, but I couldn't believe she knew my name and knew the handbag. When I see people even today walking around with one of my bags, I still can't believe it."
How the world of digital has shaped her business & design process:
"I'm a super fan of digital and social media. If I have time, I'd love to know how to do animation. I think now, with social media, I can tell people what I'm doing and what is going on. I love this sharing thing—it's the new way to communicate. Digital is the most important thing. I love magazines, but digital is faster, so you are allowed to have information and communicate faster.
"Street style really helped a lot. I'm lucky because I have a product with an identity and it's recognizable. Someone took a picture and everything happened that way. Luck helps you, but working hard and being persistent with your own idea, ideals, and principles is really important. For me, a handbag a [special] object. I don't treat a handbag as a handbag, I studied industrial design, so for me, I design objects to collect. You can wear it, but you can also put it on your shelf, you can pass it on to your daughter, have fun with it, live with it. That's important for me."
The best advice she's ever received:
"My dad always told me that if you want to do something, never give up. He told me to believe in what I was doing, and do my best. If you're not doing 100%, you're not doing enough. To make things work, you have to say, 'Okay, I'm going to give my whole self to this.' That's the most important advice. He also told me once that when times are hard, and there is no way to go, no light at the end of the tunnel, just stop and think. Be calm.
"I don't have years of experience, but you do make a lot of mistakes and you learn. You have to find a way to come out of 'the hole.' It was something I couldn't do in the beginning, but now with age, it's easier. Things exploded three years ago, and you need to manage people, manage shops, customer service, administration, press and designing, merchandising, product development… it goes on and on! It's very intense and sometimes it's hard to stay calm."
Her advice to aspiring designers:
"If I had to give some advice, it would be to really believe in your own dream. If you really believe and are consistent and humble—because no one knows everything, you need to be humble—that's how you learn, step-by-step. Good ideas without a touch of persistence, a touch of humility and a touch of focus will never happen. They'll just be great ideas."