Fashion
They're such good pals they came up with a cool accessories collection to prove it.
Weston Wells
I'm not really sure how to put this, so I'm just going to say it: being in the same room with Mike D. of Beastie Boys turned me into a bit of freak. Gone was the professional polish, or the ability to ask him reasonable questions. Gone was the "been there seen that" edge of a well-seasoned writer. To be honest, this writer lost it a little bit around him.
It all went down when we were invited to a party with Mike D. and Clare Vivier of Clare V. (whose line of "classic, French-inspired" accessories is chic AF) at her Cobble Hill, Brooklyn store to celebrate their recent collaboration (which is in stores now!). We took this as an invitation to lose our cool entirely, and ask him a weird question (or two). Here's what happened:
Imagine this entire interview happening with me awkwardly giggling and scratching my face.
---
How they met (& how their collaboration came to be):
Mike: "I met Clare, initially because the architect who helped with her Elizabeth Street store, is an old, old friend of mine, who also helped me with my house. She connected us, and she invited me to the opening of Clare's New York store and I met her there.
"A little bit after that, I was a guest editor at Monster Children magazine. They usually do some special products with each issue. Usually, they're something that's a little bit easier to do, like a baseball hat or tee-shirt. But then, because I am hopelessly unrealistic, I thought of Clare and was like, 'Oh, let's do something you could actually use, like a wallet.' So we did a card wallet—and that just came out of the fact that I couldn't find the card wallet that I'd wanted. My credit cards and Metro cards were in a rubber band. And I was like, 'I'm just trying to keep it classy, people, there's got to be a better way than the rubber band.' That was our first thing. And then at the same time, we talked about some other things and eventually Clare said that she really wanted to start getting into some men's things. We had already started on some ideas so I figured why not follow through on that."
Clare V.: "We were very limited on the scope of the first project. When we got together and were thinking of all these ideas, we were like, 'we should do something sometime.' We let it rest after the Monster Children thing came out. A year went by and then we picked it up again. It was perfect timing for both of us."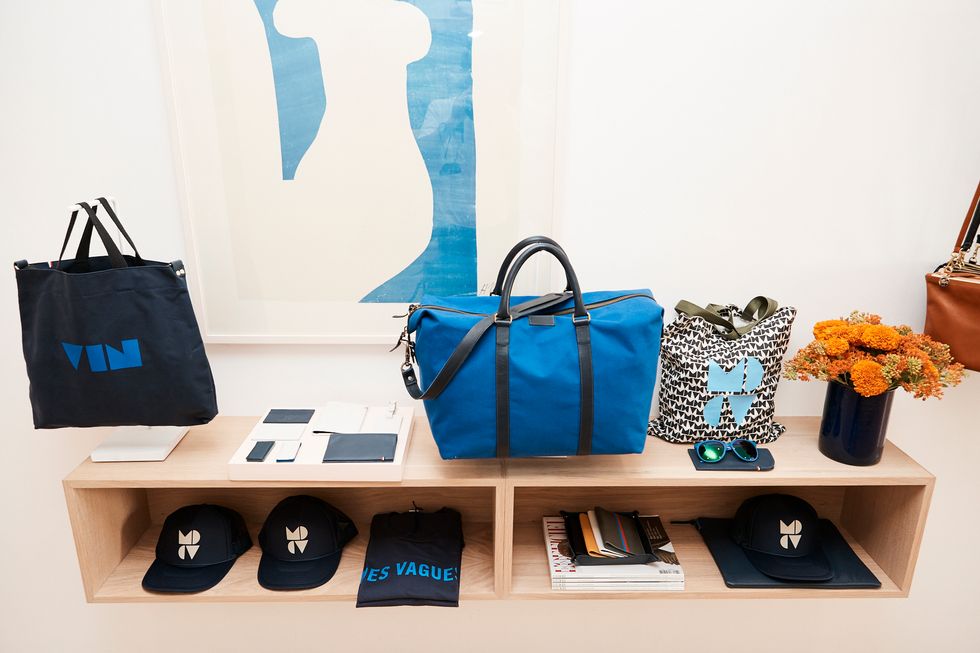 The best part of collaborating:
CV: "Mike is extremely fun to work with. The whole project has been a pleasure. It's so cool working with someone who is a musician. He's so far outside of my industry, but still in such a creative industry. You get a whole new perspective on things. I went to his recording studio and we went to his house to shoot the video that we did, and it's just becoming more a part of his world and getting outside the fashion world which has been a great experience."
How the collaboration is a reflection of them:
MD: "First, they probably reflect my lifestyle. It's not just my lifestyle, but I think it's because of how the world works now. I know that sounds privileged, but at least amongst a lot of my friends, we're traveling all the time. It's just the reality of the world now. We're not isolated, we don't stay in one area. We're traveling whether it be for the weekend, overnight, for Europe for the week, or whatnot. We're all constantly migrating and moving in different patterns. So I think a lot of the collection has to do with travel necessities. Style wise, the blue we picked is just a blue that I'm somewhat obsessed with, and I react emotionally to. Really the whole palette, the greens and everything, stylewise are things that I think are interesting, that make me feel a certain way, and that are, hopefully, classic at the same time."
What they look for in friends (because we want in on that):
MD: "I just came back from this trip, [with Clare to Paris] [Ed note: more on that later!]. And when I was in Paris for the launch, I was excited because I got to introduce Clare to this whole crew of friends that I have that are all really really awesome, great people that I love. I was so happy to be able to bring her into that world. I don't think of it necessarily as one trait. I think that's one of the interesting things about friendship, like romance, there's a degree of mystery. Like why do we choose certain people and why do certain people choose us? I think by and large I've been lucky to always be around truly inspiring people who are extremely creative. I think there is something almost addictive to that. It feels very natural and also very satisfying. I think it's the combination of being creative and also being very engaged in life."
How to make working with friends work:
MD: "With my relationship with Clare, we had a very clear, encapsulated thing that we were doing. It wasn't like, 'Oh my god, what are we doing?' She has a very clear thing that she does and she's really good at what she does. She just hadn't done a men's collection. So it was very finite. The main thing was that we got along really well, and we both have no problem being really clear about what we want and what we like and we aren't afraid to express that. I was so super grateful for that in working with her. Because I would say, 'Oh, I love this blue,' and she would say, 'Oh, I love this green.' And that's great, because we don't always have to agree, and that's okay. Sometimes, things get better by not agreeing. As long as you have no problem being clear, it makes everything so much easier. And I think that's so incredibly important in that friend/business partner collabo thing. I think a lot of people in business have a problem with being clear and I think that a lot of people in relationships have a hard time being clear, so I think it's hard to find."
 
Their favorite piece from the collection:
CV: "The overnighter is definitely my favorite piece. I think it's a really handsome bag for men to carry. Mike carries it as a day bag, to and from the studio. Or you could carry it as a carry on. It's very understated and elegant for a man to carry. It's very elegant without looking too fashion-y, which I like for me."