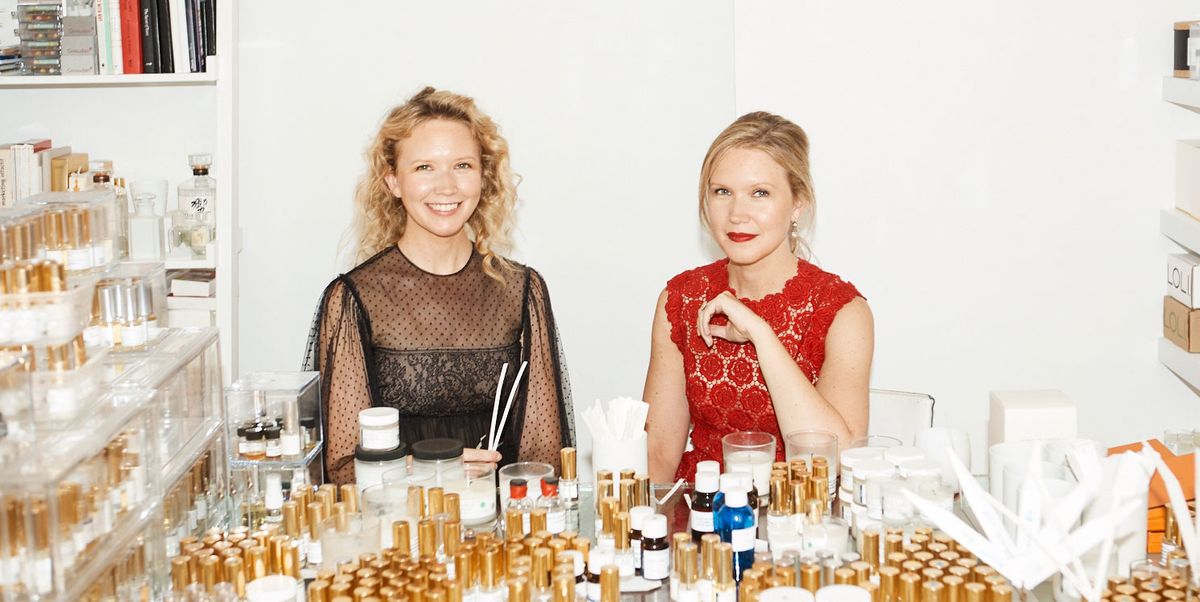 Beauty
12.29, a fragrance company run by twin sister synesthetes, is changing how fashion labels think about branding.
Weston Wells
For a couture show, every little detail is carefully thought out and considered. You've seen Dior and I—or, if you haven't (and you really, really should)—and just take a peek inside Chanel's atelier to get an indication of how much work goes into a collection and its presentation. But here's a detail we're going to bet you haven't thought of before: scent.
Creating brand fragrances is big business and one that companies as big as Cadillac are getting into—in large part thanks to the twin sisters behind 12.29, a fragrance company that creates custom scentsfor brands as varied as Opening Ceremony, Art Basel and the Thompson Hotels. But it only makes sense: if Joy by Jean Patou brings back nostalgic memories of your grandmother, why wouldn't a hotel or fashion label want to ignite a similar emotional response in their customers? In our curiousity as to how one goes from a Rodarte collection to a perfume, we ended up at 12.29's Flatiron studio. We were greeted by Sam and Dawn Goldworm, the aforementioned twin sisters who own and run the company as business director and scent director, respectively—naturally, they were decked out in head-to-toe Valentino. It was there they explained to us how a special neurological phenomenon called synesthesia allows them to "smell in color" and how one painting lead to the creation of Valentino's brand scent, which, you guessed it, was diffused through the venue at the label's couture show today. Like we said: Every. Last. Detail.
---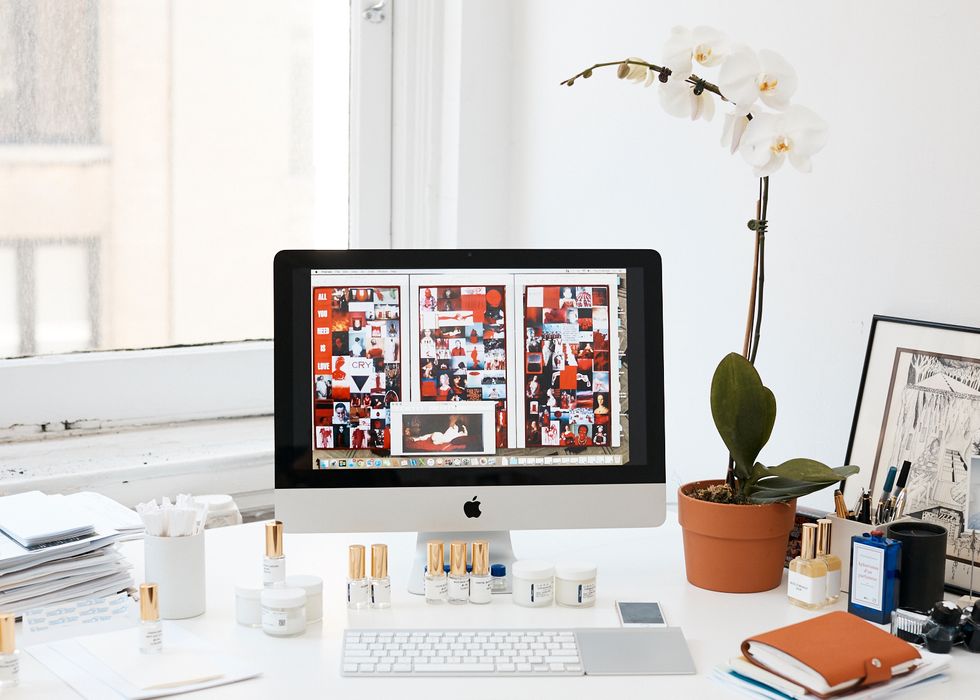 What it takes to create a brand scent for Valentino (and any other brand):

Dawn: "I take them through a branding process, which takes about two hours. I dissect the brand. It has nothing to do with smell during the process. I ask them really easy questions like: what is the color of the brand, what is the texture of the brand? All the way through to who exactly is your target customer and how are you speaking to them? Every point that a brand uses to communicate itself, we talk about. At the end of that I pretty much know what they smell like. And then I do follow up. I ask them to send me any films that they may have or clothing items. Anything that they want me to touch. For Cadillac, I went for a drive in a car. With Valentino, I saw some of the archives. I went to the couture atelier, which was amazing. And they gave me these boards which highlight a lot of what they told me: The Roman Empire; the religious influences. The thing about a brand like Valentino is that they're so consistent, they really know their brand.

"This nude painting symbolizes everything that we spoke of during the branding process [with Valentino]. The scent is really based off of this image. The rest of these images are great and gave me an idea of all the different shades of red that they play with"
How they took that inspiration to create the scent itself:
Dawn: "The scent of Valentino was based on the different facets of red that the brand encompasses with their aesthetic. It's such an emotional brand. You see the dresses and they have this amazing pure, graceful, organic lightness, but they're also very empowering. They're overtly feminine without being trivial or frivolous.Some of those facets of red are about the monastic, sacred, religious parts of Rome and that's depicted throughout, not only through blood and the typical things we associate with red in Rome, but with the beauty and love and passion and these other emotions that are, iconically, associated with red as well.
"When you first smell the scent, it's all these different facets of the color red. We did that with geranium, which is right on top—it's a rose note that's mixed with mint. It has a little bit of a sparkle and a freshness to it, but still has a classic spicy, rose piece. And we used a variety of rose notes in the heart of the scent. Some of them quite classic, waxy, full and voluptuous. But it's a little bit more petally, dewy, and easy because Valentino, even though it's steeped in a lot of culture and history, is still modern and quite light. A lot of it is based off of couture and a couture dress for Valentino looks like it barely touches the body, but it is still perfectly structured, that structure has to come from somewhere. But, the lightness, that is what you see and that is the emotion you feel. So for the lightness we used peony and magnolia and all of these petally, dewey, light flowers. The other part of the scent is that it's so red and passionate and so graceful in its wholeness. It's when you really get into the back of the scent that you start getting into the history of Rome and the culture of the brand and that strength of construction. So you have a big, black, leather piece and it's embraced by this very creamy, very sensual balsamic note. It makes the bottom of the scent quite profound. The contrast between the top and the bottom is the contrast you see throughout the whole Valentino brand."
How the final scent was chosen:
Dawn: "With Valentino I presented four scents. Two of them, they liked, but they very quickly put them on the sides. Typically, one or two go very quickly. Between the two that they really liked, it took them a few minutes and then within just one moment, Maria Grazia and Pier Paolo looked at each other and said, 'It's that one.'
"Most people go for the safe option. But Valentino went for the signature option. Out of the last two, they were like, 'This one is safe. This one is exactly who we are. But this one is the signature option.' And that is what they went for.
"It's called Effortless Grace. I think the Valentino brand is very much defined by effortless grace. All the girls are very natural. They don't do a lot of makeup, they don't do a lot with hair. In the last couture show, the girls were barefoot. There's no need for heels or platforms or even bags. There's no jewelry. It's just a beautiful girl, very clean and fresh and a beautiful dress."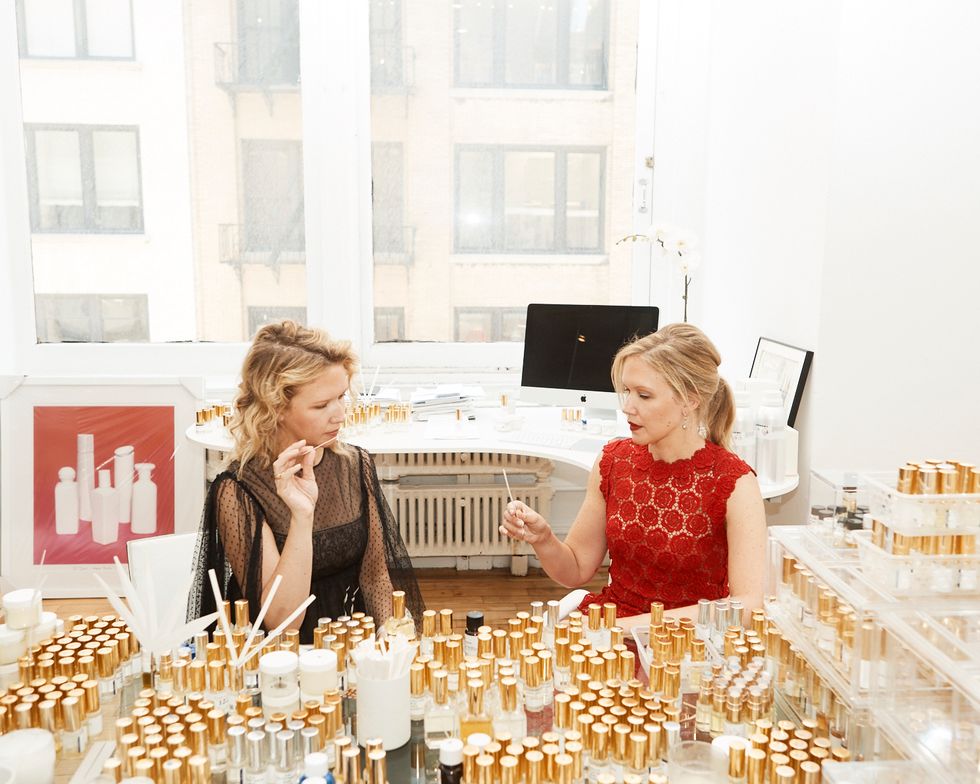 The neurological phenomenon that allows them to do their job (seriously):
Sam: "We both have synesthesia. Technically, it's one sense interpreting another. It's a cross-wiring of your brain. When we smell something, we'll see a color. Some people, when they hear something, they'll taste it in their mouth. It's a rare condition. People used to think it was a disease. But, now, they think it's a blessing—they think that Beethoven had it. Many artists have it. Kandinsky had four types of it which is why his pieces were so emotional. Pharrell has synesthesia.
Dawn: "It's interesting because we didn't know that we had synesthesia. When you're a twin and something happens, you just ask your twin. If my twin says that's the way it is, it must be the way it is. I would say, 'Oh my god, 11 is so yellow today.' And she would say, 'Like bright sun, yellow.' And you just decide that five is green. And you don't realize that no one else sees letters or numbers or words or things in colors. When I started in perfumery school, my mentor was a synesthete and he painted perfumes for brands. When I looked at the painting, I knew what the perfume smelled like without smelling it. I started training and I was seeing colors and I was like, 'Is it weird that I can see the color of this scent?' And he was like, 'No. I think you have synesthesia.' So then I told Sam and of course she has it as well."
Sam: "She would basically stick something in my face and ask me what color it was."
Dawn: "As I started training my nose more and training her nose more, it went beyond color. It went to tonalities of color, shades of color, shapes of color, and textures. And then it became three dimensional. When you add another ingredient, how does it change the color? When I was finished with the Valentino branding process, I saw it. I know at the end what the brand smells like because I saw it.
"Along with the synesthesia that Sam and I share, which is for colors, scents, words, letters, and numbers, I also have synesthesia through sound and touch. That's why the fabric samples I receive from brands are so important to me because I can touch them. And that, automatically, has a color and a scent for me. And the same thing with sound."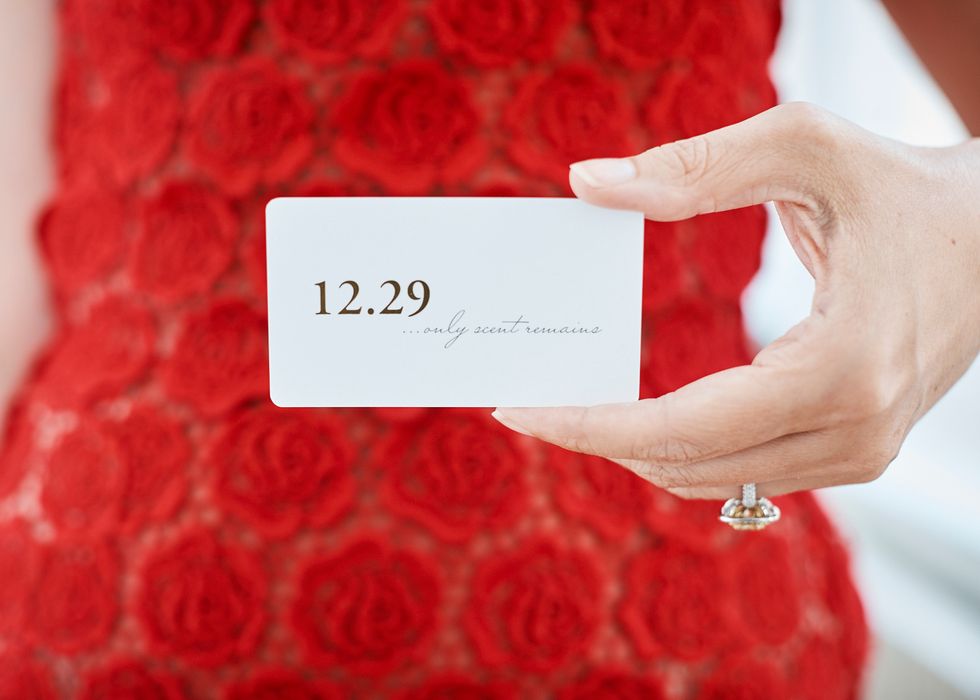 How 12.29 came to be:
Sam: "When Dawn was at Avon and Coty, doing in house work, I was doing consumer insights for American Express, Lancôme, and other major companies, working in their marketing departments. When Dawn had the idea for 12.29, all about using smell to create this emotional connection and loyalty, it made a lot of sense for me because that was what I had been working to do, through visual means."
Dawn: "We did our first project in 2009. We were both working for other people at the time. The company didn't kick into full gear until 2013. I went to undergraduate, graduate, perfume school, and then back to graduate school. The second time I went to graduate school, it was in the evenings and I was writing a graduate thesis on olfactive branding. Which is the idea that because scent and memory live in the same part of the brain and directly affect how people perceive the world around us and understand our life experiences—how can we use that to change our perceptions of our world and use that in a business sense to change people's perceptions of brands.
"I moved to Paris and my friend, Gabrielecorto Moltedo, the son of the Bottega Veneta family, was opening up his store, Corto Moltedo. I asked him if I could play out this idea with his brand and he said yes. We played around with it and it worked, we got great feedback. A few months later, I was having lunch with Alex de Betak from Bureau Betak and he said, 'Why don't you scent the Rodarte show for me?' And at the time, no one had really scented a fashion show. They'd sprayed perfume or scented candles, but no one had infused the space during a show. And that's when I went to Sam and was like, 'Hey, bored at American Express?' And she was like, 'Not really. But, this sounds so much cooler.' So then we scented the Rodarte show. And the rest was history from there. We started doing a lot more fashion shows and art fairs and we still do a lot of them."
Their client list is impressive, to say the least—and somewhat unexpected:
Sam: "We did Design Miami, and the Armory Show. We did Rodarte, and the next season we did Jason Wu, and Zac Posen. And then Thakoon, Prabal Gurung, Opening Ceremony, The Elder Statesman, Valentino, Maria Carnejo, Joseph, Juan Carlos Obando…"
Dawn: "We do a lot of fashion. We do banks as a branding exercise. We do car companies, furniture companies. Really any brand that wants to communicate emotionally with their client. The easiest and best way to do that is through scent. It's not always obvious. With Valentino, they're a very strong brand, so their scent and their story is really strong: when you walk in you expect them to have a scent. But, with some of the brands we work with, you wouldn't even know it's scented, but it is. And it changes the way you perceive the environment that you're in.
"We started with fashion and art. Fashion has had such a long love story with perfume. But when we started talking to telecommunications companies, banks, car companies—we just spoke with people at a political conference—that is when you're like, 'Wow.' It really does work for any brand. You would think that it is more suited for fashion, and it does work really well and organically for that, but it is also very universal."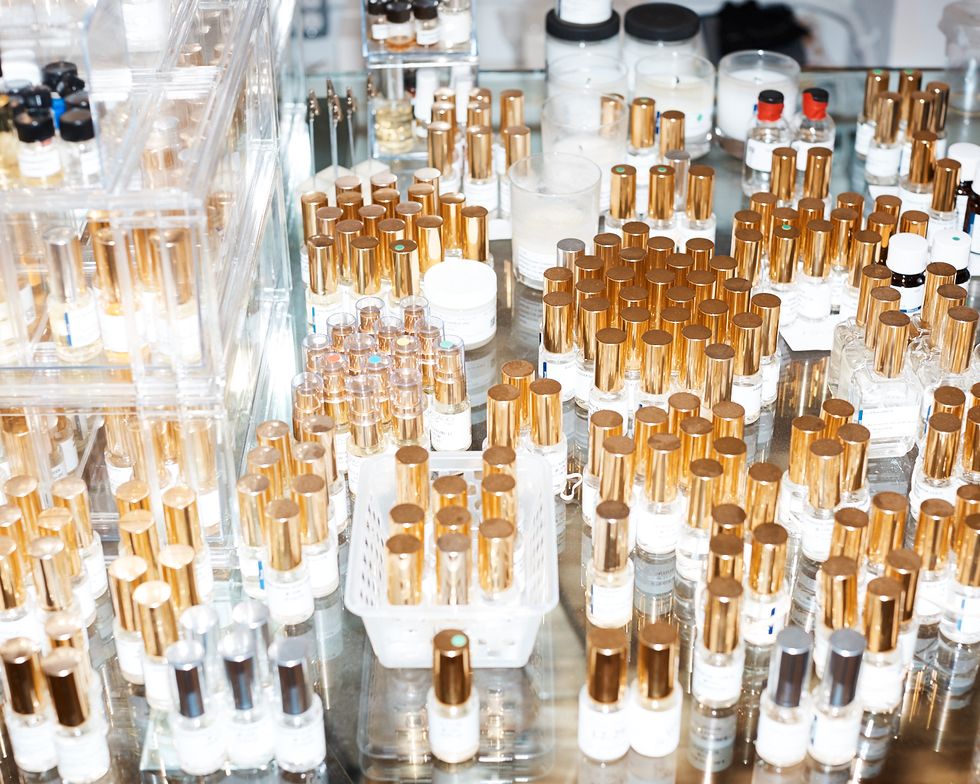 The biggest challenge of having their own company:
Dawn: "When you have your own company, a start-up, especially with us, we're in an industry that is completely new. There is no one to follow. We fail at something every day, but when we have success, it's amazing and it's completely ours. It's our blood, sweat, and tears, all of our passion, all of our energy. You mess up a lot and you learn from your mistakes, but they also kick you a little. The only person who will pull you back up is you and the people you work with. You have to remember to celebrate the success. Very often, because you fail so much, once you finally have something good happen, you breathe, but you forget to celebrate."