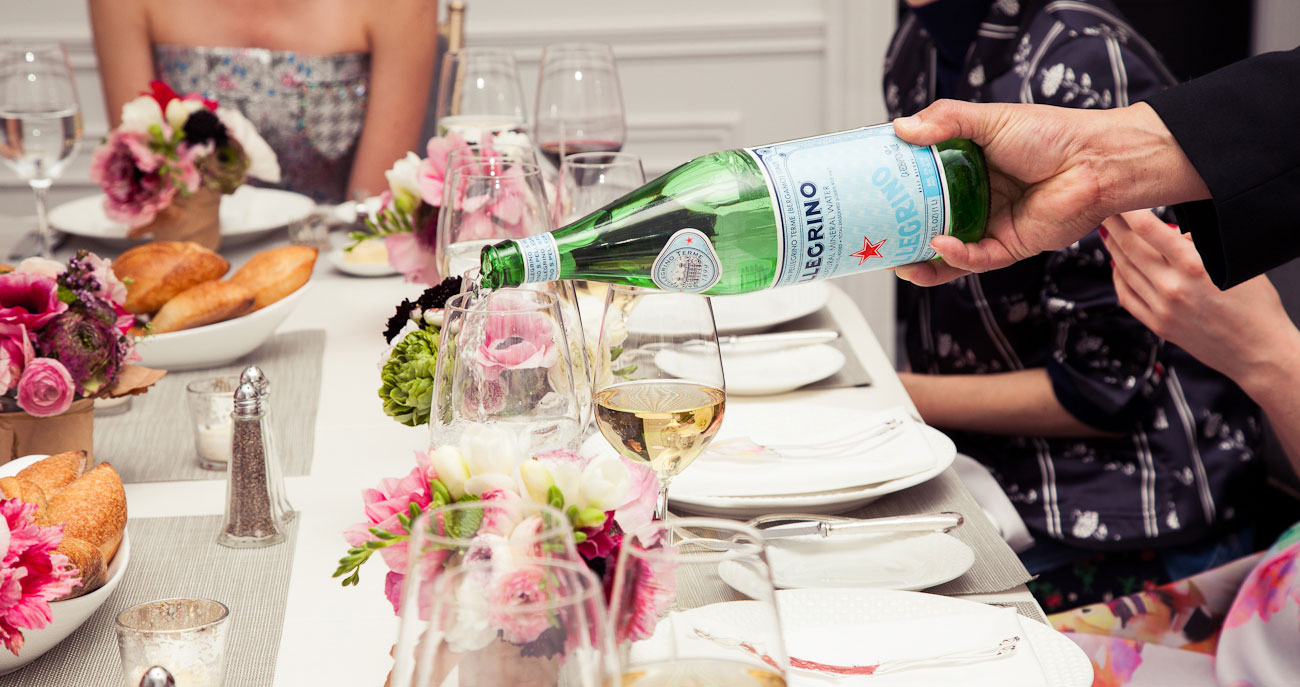 Our Editor's Guide to Summer Entertaining
Wherein we channel our inner hostess.
If you're like us, eating outside is the very best kind of summer luxury. During these fleeting precious months, we try to soak up as much time outdoors doing things (by "things" we mean eating) as possible, which usually involves inviting friends and family over for impromptu drinks and full-fledged weekend barbeques. While our entertaining style falls somewhere between potato chips and red solo cups and hors d'oeuvres and crystal flutes, here are some of the things that help our editors feel a bit more Martha Stewart-like when we're hosting at home.
Emily Ramshaw
Senior Editor
1. Rosé: Duh. Basic or not (I beg the latter), I drink rosé all summer long. And so do my guests—mostly because it's pretty much all that's in my fridge May to September.
2. MDS Stripes dress: In reality, when I have people over to my apartment, I'm usually wearing denim shorteralls from Topshop, but ideally, I'd be wearing something befitting a sophisticated hostess like this adorably preppy dress by MDS Stripes.
3. Brothers in Arms by Dire Straits: Summer is almost always a nostalgic trip for me—this album has been the soundtrack of every party my cottage has ever seen.
4. Robert Siegel serving bowl: In my opinion, the centerpiece of a summer dinner party should be a fresh and colorful salad (watermelon and feta; corn and beans) and served in a gorgeous bowl.
5. Nest Corsica Reed Diffuser: I'm as obsessed with scented candles as the next spendthrift person, but diffusers feel a little bit more appropriate for hot summer nights. And one that smells like Corsica (fig leaves, olivewood, lemon zest) is ideal.
1. Dodo Bar Or Dress: I'm that person who's constantly having friends over. I'd much rather catch up at home where the wine flows freely than go out, especially in the summer when my back deck is way more appealing than any crowded bar. When I'm hosting, the last thing I want to do it spend time figuring out what to wear. Enter: this printed Dodo Bar Or dress, which speaks for itself, no accessories needed.
2. Fornasetti Candle: Life hack number 45, whenever friends pop by for a surprise visit, I just quickly light fifteen candles, open a bunch of red wine and throw some cheese on a board. It makes everything seem way more put-together.
3. Treestump Woodcraft Salad Bowl: My go-to meal is always grilled steak served atop a bed of of lettuce and veggies, then thrown into a really great serving bowl. It takes fifteen minutes max.
4. Dagny "Backbeat": I'd be lying if I told you I've been listening to anything else besides Views 90% of the time (I know, I know, I'm not even embarrassed though, it's so good) but Norwegian singer Dagny's Backbeat has made its way to my newly minted summer playlist.
5. Maranello Cocktail: My solution for multiple people and drink preferences is whipping up a bunch of these summer cocktails in pitcher form.
Laurel Pantin
Editorial Director
1. Denim Couch: I'm on a mission to furnish my apartment. My husband is a baby when it comes to committing to furniture, but as it is now, there's literally nowhere to sit in our living room (see my Snapchat for proof: @LaPantin). This denim couch is my dream—large enough for all our friends, or for one-on-one cozy time, and the fact that it's denim makes it look really cool.
2. Pink Glasses: Ok, my husband won't actually let me populate our home with the pink versions of these glasses, but we have the white ones and they're fantastic. I love how thin and light they are—they're the only thing in my life I would describe as "minimalist."
3. Chamucos Tequila: Tequila is the offical beverage of The Coveteur, and it doesn't get any better than Chamucos. It's really hard to find, but if you're trying to impress a tequila snob, this is the thing to buy.
4. Trademark Pajama Sandal: When I'm feeling like a glamorous exotic hostess (when am I not?) I put these on with a swishy midi-skirt and swan around my apartment offering guests (who don't have anywhere to sit) snacks and treats that I had delivered from the deli mere moments before. Because, surprise! I can't cook for shit.
5. To Wong Foo, Thanks For Everything Julie Newmar: Guaranteed party hit: play your favorite movie on mute. To Wong Foo is mine, forever and ever, John Leguizamo in drag always, every time.
Noah Lehava
Senior Editor
1. Astier de Villatte Pitcher: Sangria is my jam, but it's about time I swap out my transport-friendly camping pitcher for something a bit more adult, like this Old-World terracotta vessel.
2. RabLabs Amostra Tray: Unless it's during a torrential downpour, during the summer every meal I'm hosting is outside. A cut-from-stone tray definitely helps with transporting everything to the garden setup, but it's also so damn pretty that it could almost double as a tabletop centerpiece.
3. Mad Et Lan Pot Pourri: In reality, I can't be possibly luck out with good weather every time I like to have friends over—I do love entertaining—so this is my way of bringing the outdoors inside. It's woodsy and fruity—a.k.a. summer packaged up into scented little dollops of amber. It's so not my grandma's potpourri.
4. Amara Cowhide Pouf: I have a come one, come all MO for essentially any gathering I throw, so I'm always (always!) looking for more seating. This is glam AF.
5. Miguelina Playsuit: This falls right into my wardrobe criteria: it's just one piece and incredibly girly. Just no red wine, please.
Meagan Wilson
Editorial Manager
1. CB2 Rose Gold Pedestal Tables: To be totally honest, in my current one bedroom apartment the notion that I'm hosting anything beyond a bunch of crowded bodies with drinks in their hands for a half hour as a stop en-route to somewhere else in pretty laughable. But while my guests might not be particularly picky about things like ambiance at this point in the game, I am. Enter: these pedestal tables, which are pretty ideal for scattering around a room to host an array of half-empty beverages. They're also *so pretty,* and will hopefully stand in as a shining beacon of hope the morning after (when I have to clean everything up).
2. Gucci blouse: What, like this isn't the most practical and obvious outfit choice when you're supposed to be dealing with food, and the potential for spills is at an all-time high? Silk's propensity for staining aside, I wouldn't dream of playing hostess in anything else. Emphasis on the 'dream' part.
3. Le Creuset Heart-Shaped Dutch Oven: I think this is supposed to be the sort of thing you don't admit out loud (or on the Internet), but I would get married for the sole purpose of registering for a full Le Creuset set more than anything else. Just keeping it real over here.
4. Tisch New York Placemat: I grew up with the kind of mom who could—and still does—throw down an incredible seasonal tablescape at a moment's notice. While I can only aspire to one day reach her levels of Pinterest wizardry, I think these splatter placemats are a step in the right direction.
5. Marble Cutting & Serving Board: My entertaining game is admittedly a work-in-progress, but if there's one thing I know, it's how to put together a fancy-ass meat and cheese plate and bring it somewhere. It's my equivalent of a party trick, if you will. The first step to success in this department? A marble cutting & serving platter. Trust me on this one.