Travel
Designer Amina Muaddi shares the spots you won't find on TripAdvisor.
Renée Rodenkirchen
Meagan Wilson
One of the best perks hands down about playing international home invader for a living? That we're meeting real life locals, and leaving their places with the type of recommendations (and if we're lucky enough, reservations) that you won't find on TripAdvisor. This especially rings true in cities that can be—to put it mildly—wary of English speakers. Namely, Milan.
As it turns out, what really helps is to have someone like Amina Muaddi—our nominee for the most glamorous woman of all time—play tour guide for the day. Which is exactly what she did, meeting us one morning at the Bulgari Hotel (her absolute favorite, as you'll learn), clad in a gold Faith Connexion blouse, Vetements jeans, Saint Laurent bag and her own Oscar Tiye heels. We came away with enough recommendations to fill an entire week in the city—and now we're opening our little black book to you, too.
---
STAY
The Bulgari Hotel
Via Privata Fratelli Gabba, 7b, 20121
"This hotel is an oasis; somewhere you can relax in the middle of the city. Even if you only have one hour, you can have a nice lunch there and feel like you're recharging. The Sunday brunch at Bulgari is the most well-known brunch in Milan, and it's amazing. They have a drink called the Bali Mule, which is a special Moscow Mule and is delicious. They also have such a beautiful garden—it's so rare to have that here.
The spa is beautiful and very zen. The massage is on another level, one of the best in the city. The facial [is also great]. I do those two things all the time and I really enjoy them."
EAT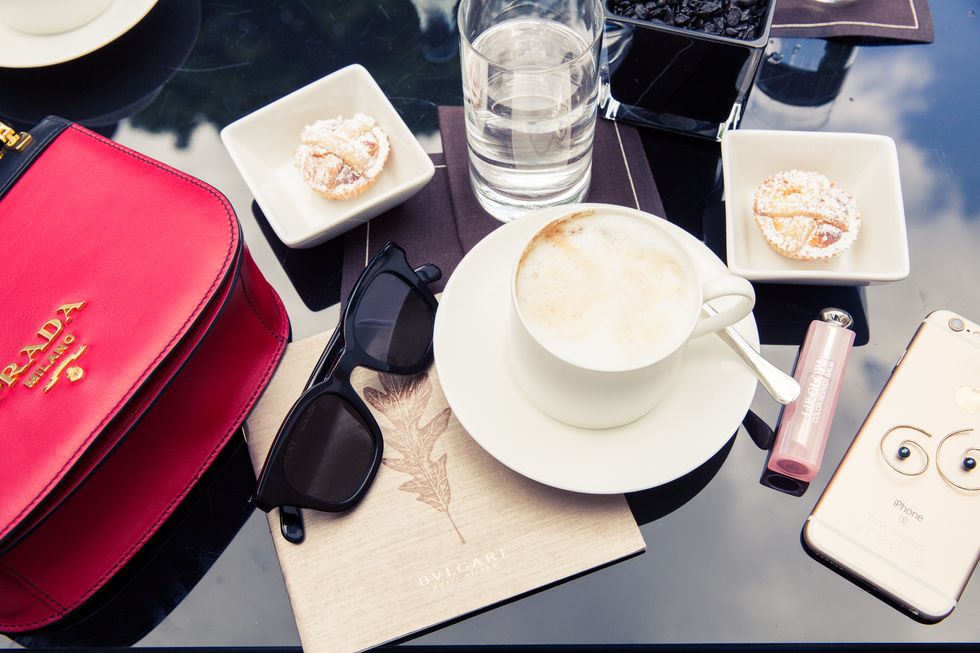 Bacaro del Sambuco
Via Monte Napoleone, 13
"This is another restaurant with a little garden inside. It's run by this man and his wife, and they're the ones doing the cooking. I feel like they're my friends! They always give me cookies to take home. I love having that familiar thing with everyone wherever I go. It's cozy and the food is really good! I really recommend the ravioli with pumpkin, and their eggplant ravioli is to die for. Honestly, foodgasm. But, they're only open for lunch."
Il Salumaio Di Montenapoleone
Via Santo Spirito, 10
"This is more well known—a gorgeous, historical location. It's in the city centre, near Bulgari."
L'Osteria Di Brera
Via Fiori Chiari, 8
"I love it here—it's a very good fish restaurant."

De Santis S.r.l. - Panini Milano
Corso Magenta, 9
"This is where I get my green juice. They also have the best paninis in Milan, I'm not even exaggerating."

Dry
Via Solferino, 33
"They make very good cocktails, and you have a cocktail and pizza and it's so nice."

Bar Basso
Via Plinio, 39
"There's a spot called Bar Basso that is really historical in Milan. A lot of people in fashion go there for drinks. It belongs to a very big family—they're famous for their Negroni cocktail."
Giacomo Bistrot
Via Pasquale Sottocorno, 6
"This is my favorite restaurant! It's amazing traditional Italian."
La Latteria di San Marco
Via S. Marco, 24
"This is an Italian trattoria that I love, that's very traditional and typical. It's run by a lady from the South, with her husband. You can never book [a reservation], it's always full! The place looks like a house in Southern Italy; it's almost like you're going to your grandmother's. The food is exquisite."
Trattoria Torre di Pisa
Via Fiori Chiari, 21/5
"This is a Florentine trattoria that I also love. It's more traditional and homey."
SEE & DO
La Vigna di Leonardo
Corso Magenta, 65
"This is Leonardo Da Vinci's vineyard in the city. It's amazing! It's right in front of the church where the painting of the Last Supper is, Santa Maria delle Grazie. It's cool because the vineyard is right across the street, and it's a beautiful villa with a beautiful garden. I have a thing for gardens! The first time I went there, actually, was for a Vogue Italia event. I was mesmerized with the place and I still think it's one of the prettiest buildings in Milan."
Chiesa di San Maurizio al Monastero Maggiore
Corso Magenta, 13
"My office is at the beginning of Corso Magenta, and Chiesa di San Maurizio al Monastero Maggiore is at the end of it. It's a beautiful street to walk around. I get my nails done at Tong Tong Nails, across the street from my office, next to De Santis. You can get your nails done, get your green juice, get a panini, go to the church, say a prayer, and then go to work!"
SHOP
L'eclettico
Via S. Gregorio, 39
"This is one of my favorite furniture stores—what I love about it is that it deals with mostly vintage furniture. It's a beautiful collection, they have super iconic design pieces, and they do installations and exhibitions in the store. They did one during the furniture fair inspired by Alice in Wonderland. It's a beautiful, artistic, creative space."

10 Corso Como
Corso Como, 10
"It's an iconic place in Milan; everyone who comes to Milan should come here, whether it's for the fashion, the art, the garden, or just the space. The courtyard is amazing, you just want to have a coffee there. You can shop or go through books and magazines at the library. The selection is awesome—they have everything."

Antonioli
Via Pasquale Paoli, 1
"It's very different than everything that is in fashion in Milan. It has a much darker vibe, it's all black. The selection is great, the brands are amazing, but it's a bit more for the fashion connoisseur. Not everyone knows Antonioli."