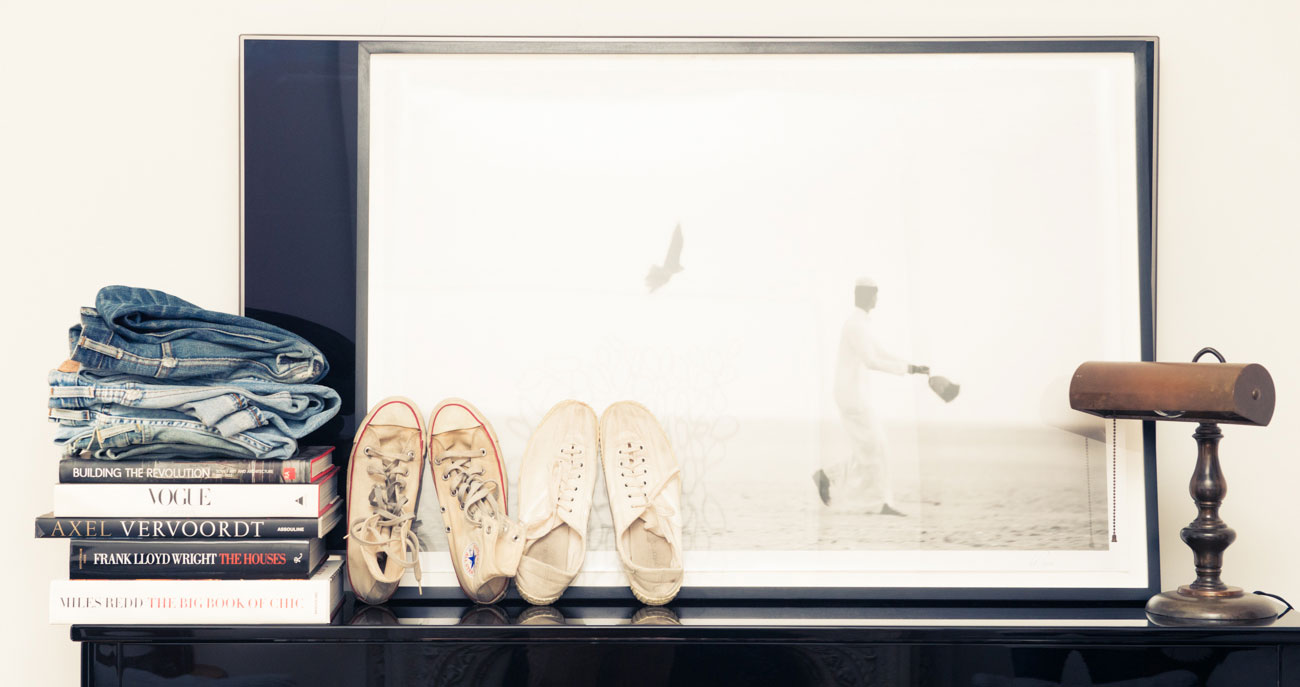 The Wardrobe Staples Our Editors Love
We don't think we could get by without these essentials.
Try as we might to come to work in interesting outfits, to be 9-to-5 peacocks, perennially inspired and inspir-ing sartorially, the truth is that more often in not we show up in a very slight variation of the same thing every. single. day. Jeans are big at TCHQ, as are grown-up watches, flats, and itty-bitty bags. And while these items aren't the ones that make the biggest splash, they're the things we simply can't live without. Here are the pieces we reach for morning after morning—that keep us looking pulled together, and even provide the perfect backdrop for when we do decide to toss in an oddball statement piece.
Laurel Pantin
Editorial Director
1. Emporio Armani Watch: In my opinion, there are three things that can make anyone look instantly pulled together: a good blowout, a fresh manicure, and an adult-looking, beautiful watch. This one says "I care about being on time; I am responsible," and it also happens to go with 100% of the items I already have in my wardrobe.
2. Mansur Gavriel Tote: Since I bring my laptop to and from work every day, I need a tote that's structured enough to hold my computer (and the thousand other pounds of gym clothes and garbage I lug back and forth), and also looks polished for meetings. Fact: I think Mansur's tote is even better than the bucket bag.
3. M.I.H. Cropped Flares: No hyperbole here, I don't think I could make it through a week without wearing high-rise, cropped flare jeans. I've been cutting my jeans off above the ankle for the last five years, and the fact that brands are now giving me exactly what I want without the nerve-wracking process of cutting them off myself makes me endlessly happy.
Emily Ramshaw
Senior Editor
1. Topshop Mom Jeans: I wear high-waisted jeans, either of the vintage Levi's or Topshop variety nearly every single day of the week. In my opinion they go with everything, no matter the season.
2. Theory turtleneck: In the winter, I wear black turtlenecks like it's my job. In the summer I wear short-sleeve or sleeveless turtlenecks in cotton or jersey, again, like it's my job. What can I say? They go really well with high-waisted jeans.
3. Acne Studios Jensen ankle boots: I swear to you: these are the most versatile, fashion-y, but not too fashion-y ankle boots out there. Plus, they're comfortable. Plus, they go well with high-waisted jeans.
Noah Lehava
Senior Editor
1. The Row White Blouse: I would say I wear some form of denim bottoms six out of seven days of the week. So to make it more 9-to-5 appropriate, I have a cache of blouses; white being the most versatile. I really don't know what I would wear otherwise!
2. Pointed-toe flats: I have the same MO for wearing embellished flats as for blouses—it's my excuse to wear jeans every damn day. Also, as much as I love a great heel, I'll almost always reach for the flats. I have to say that investing in these instead of pumps is the best decision I've ever made.
3. Diamond earrings: Okay, okay, I get that this seems like a big ask. But hear me out! I'm all about jewelry you don't have to take off (who has time or energy for a daily change-over?), so uber-dainty diamond earrings can have permanent residence on my lobes.
1. Fendi bag: Lugging around a massive bag all day is a nightmare. So when I'm not toting my laptop back and forth from work, I'm all about a teeny tiny bag. Card holder, phone and lipstick, that's it.
2. Gianvito Rossi pumps: I envy anyone who can wear heels all day long. For me, my fashion pain tolerance went out the window when I reached the other side of 25. Enter the best-of-both-worlds-block-heel, which truly works just as well for office as it does for dive bar drinks. Plus, *ankle ties*.
3. Emporio Armani watch: I love a bit of arm candy—bracelets, tiny chains, a good watch. And as much as I reach for my iPhone for everything, having the time on my wrist will always be a must for me (it makes unplugging a lot easier, too)