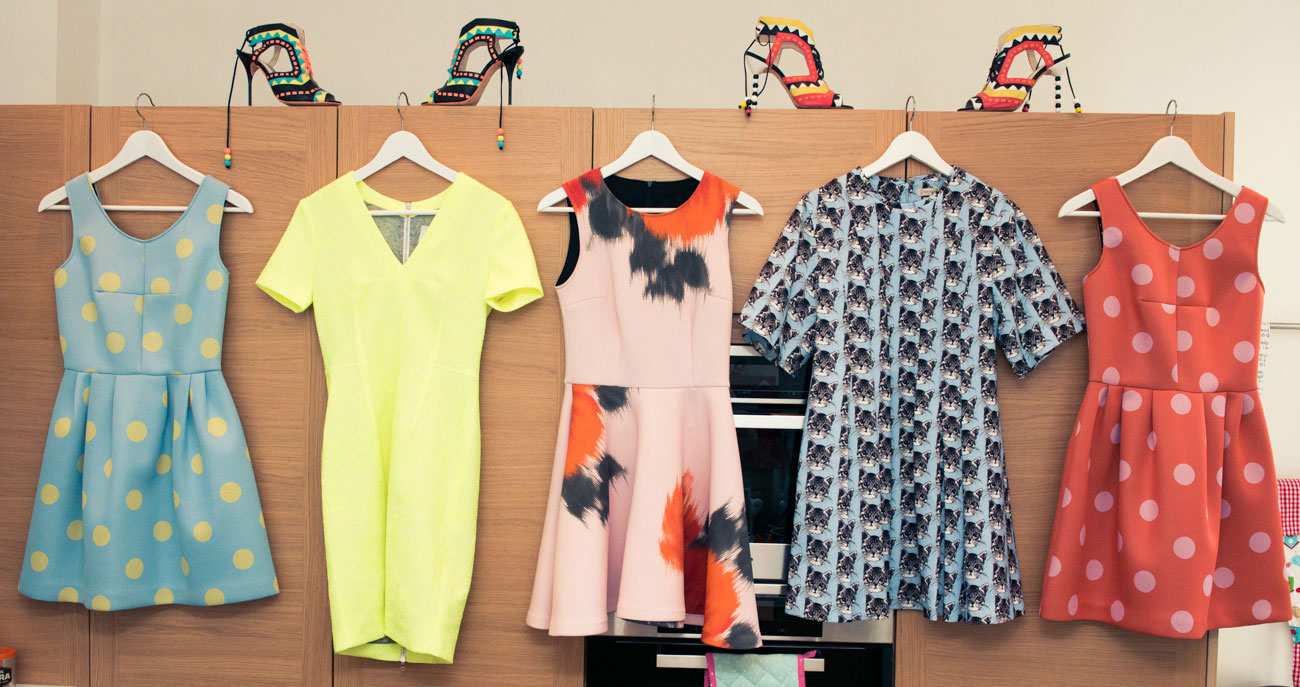 What Our Editors Are Wearing for Wedding Season
All the sparkly shoes and sexy (but not too sexy) dresses.
Just like most of you, we're collectively attending our fair share of weddings. One of us (Laurel) just had her own; and another (Alicia) is currently beginning planning for hers—add that to the fact that it's all any of us have been thinking about for the past month preparing for Wedding Week. And, well, we're ready to get all dressed up and party. Besides, there's no better time to flex your formalwear-fashion muscle than a wedding—which is how we like to think of it TBH.
Emily Ramshaw
Senior Editor
1. Jonathan Saunders Dress: Typically, my wedding guest uniform is a silk slip dress in some bright shade or a metallic. But this Jonathan Saunders chiffon dress is too pretty to pass up. And with that printed sheer overlay it straddles the line between sweet and sexy. Also, the light fabric won't make me sweat, which is all I can really ask for in any dress worn to a summer wedding. 
2. Delpozo Heels: I wear flats nearly everyday, but it's my humble opinion that you don't really look dressed up unless you're wearing a significant heel. And these Delpozos are just about perfect for any wedding and any dress. 
3. Edie Parker Embroidered Clutch: I've long had a thing for Edie Parker's clutches—if only because they force me to edit all the unnecessary stuff I tend to haul around with me—but I'm really, really into their new embroidered ones. Festive, right? 
4. Dior Diorshow Waterproof Mascara: No matter what, I always, always cry at weddings. Waterproof mascara is an absolute must to save myself, from myself. 
5. Charlotte Tilbury Lipstick: IMO, Charlotte Tilbury's K.I.S.S.I.N.G. lipstick in Love Bite is the best red in the game. I'll be wearing it at every wedding this summer. 
1. Emilio Pucci Gown: Along with my brother's wedding—which I'll be wearing Reformation bridal to—I have my cousin's Newport mansion-located black tie nuptials to attend. It naturally calls for fiery red Pucci. 
2. Oscar de la Renta Earrings: And long gilded earrings to up the elegance factor. 
3. Paul Andrew Shoes: Way back when when we featured Paul Andrew, he made an adamant point about his designs being comfortable, first and foremost. I'll be putting that to the test all wedding season long with these ankle wrapped nude heels. 
4. Oscar de la Renta Bag: I pretty much despise carrying a clutch in general, but especially to formal events—nobody likes balancing a champagne flute, iPhone, bag and crostinis. If I do have to carry one though, it's going to be this ridiculously embellished version. 
5. Becca Shimmering Skin Perfector: A dress and accessories situation like the one I'm planning requires seriously dewy and natural looking makeup; meaning swipes of Becca's famously great highlighter and mascara.
Noah Lehava
Senior Editor
1. Dolce & Gabbana Dress: I only have one wedding to attend this year, but I'm a bridesmaid. Though, I have to say (and I swear it's the honest truth), I'm pretty excited. First of all, two of my best friends are getting married, and secondly, it's in the South of France. Yeah, not bad. It's a weekend-long celebration at a chateau and all I can think about is wearing this dress. Now, if only it didn't cost a month's rent. 
2. Mara Hoffman Swimsuit: I will be spending whatever free time I have between wedding activities at the villa pools. And, okay, so this won't leave me with the best tan lines but it will look really good against the vineyard backdrop. 
3. Shiseido Sunscreen: South of France + August + outdoor wedding = necessary SPF
4. Westward Leaning Sunglasses: These are just so good!
5. Melissa Joy Manning Earrings: I hate fussing with jewelry when I travel, so I'm always looking for the simplest, most versatile jewels I can wear the entire time. These understated earrings are something I would never take off! 
Laurel Pantin
Editorial Director
1. Alice McCall Dress: A good friend of mine wore an Alice McCall dress to my wedding that was so cute, I very nearly asked her to go home and change. I had dress envy, despite the fact that I wore (over the course of 5 hours) three of my dream dresses. Now, I too must own an Alice McCall dress.
2. Asos Heels: Sure, these flower-embellished shoes are totally questionable and possibly hideous, but I don't care! I like them! And, the block heel won't sink into grass at an outdoor wedding.
3. Living Proof No Frizz Nourishing Oil: I've been using this stuff on my (extremely damaged, extremely parched) hair for a few weeks, and I've never found anything that makes my curls look bouncier, or happier. Like most Living Proof products, this one is genius.
4. Loewe Flamenco Micro Petal Bag: Maybe this isn't the perfect wedding bag, per se, but I want it, so I'll use an upcoming wedding as an excuse to purchase. I'll take off the crossbody strap and use it as clutch!
5. Celine Sunglasses: You know what ruins a beautifully lit, perfect photograph? When you're totally blinded by the sun and can't keep your eyes open. Chic sunglasses help.