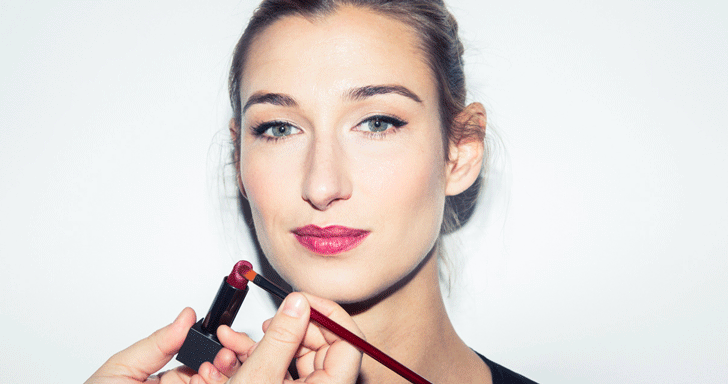 The Perfect "I'm Going To A Wedding" Beauty Look
Because we want to look pretty, too. (And we haven't hired a makeup artist for the occasion.)
A casual poll around TC HQ and we're collectively attending more than double our numbers—and while there's a bridesmaid here and there, there isn't a bride among us (we're still young, guys; we'll get there eventually. Maybe.).  And while we've taken to trading wedding appropriate dresses among ourselves ('dusty rose' has become a bit of a theme), we've been in search of an easy beauty solution. So when Lauren Remington Platt's announcement that Vênsette, her at-home professional hair and makeup service, was launching a special bridal version (bridal as in for the whole party, not just the bride), it was kind of like she had our office bugged. Cue a sit down with Remington Platt as she took us through the perfect wedding guest look: romantic, classic, sexy—and, happily, not too fair out of our comfort zone. Heck, the cat-eye-red-lip-blow-out combo will take us from our college roommates' woodsy wedding Upstate to the black-tie extravaganza a particularly, um, fussy cousin is throwing at the Carlyle. Bring it.
FACE
PREP THE FACE with a hydrating moisturizer. Vênsette artist Pheobe used Embryolisse Lait-Crème Concentrè and a spritz of CHANEL Hydra Beauty Essence Mist for added hydration. Pro tip: Spritz the beauty mist on cheeks after the makeup is finished for a fresh, dewy look.
LIGHTLY SPREAD FOUNDATION in a circular motion around the face for even coverage using a foundation brush or beauty blender. For Lauren, Pheobe chose Armani Luminous Silk Foundation in #4 to give her a dewy complexion.
USE YOUR FINGERS to warm and activate the ingredients in your concealer and lightly press under the eyes and in any areas that have imperfections for a flawless base. We recommend Clé de Peau Beauté concealer—not only does it cover any problem areas on your skin (dark circles, blemishes and more), but it works to correct the issues causing those problem areas, too.
FOR BLUSH, smile slightly and apply with a brush moving up the cheek toward the corners of the face.  For a natural, rosy flush we used Burberry Peony Blush in #4.
USE AN ILLUMINATOR to highlight your face on your cheekbones and press slightly onto the skin with your fingers for a natural glow. Josie Maran Argan Illuminator allowed for  a beautiful, dewy finish on Lauren without looking shiny.
FOR YOUR EYEBROWS, use an angled brush in an upward motion, beginning in the upper outer corner, to create shape. Once you have a baseline, start lightly filling in the arch to create lift and open up your face.  On Lauren, we used Clé de Peau Beauté eyebrow compact #2. A tip to finish off is to use a clean disposable mascara brush to comb the brow hair up and set into place.
EYES
USING A LIGHT, NATURAL SHADE, cover your entire eyelid and the inner corners of the eye. Lightly dust over the crease of your eye with a medium-dark shadow depending on your preference to contour and highlight your eye. Chanel Les Ombres Palette in 79 Spices Palette has all the shades you need to create this natural look. Remember to blend completely so you can't see any lines or creases.
WE USED Lancome Black #601 gel eyeliner on Lauren to create a signature eyeliner flick.  Starting at the outer corner of your eye, create a light flick extending outwards and slightly up. Once you have the flick, create a soft line on your upper lash-line and connect.  If you're doing this at home, it can sometimes be easier to use a liquid liner to create the perfect point.
IT IS BEST TO APPLY MASCARA by working from the base of the lashes outwards in circular motions to create fullness and length. To add extra volume, use tweezers to place individual eyelashes one by one on your upper lash line. Chanel Inimitable Mascara in #10 is an excellent mascara—great for fullness and volume. Pro tip: You only need three individual lashes on each eye to create a natural look similar to Lauren's.
LIPS
FINISH OFF YOUR LOOK WITH A STATEMENT LIP. Starting with lip liner, outline your lips and fill in to create a base for your lipstick or gloss, which will keep your lips from looking too cakey. Liner is always necessary as it makes your lip color last longer and gives you a perfect, even shape. Lightly coat a lipstick using a lipstick brush rather than applying directly for more precision and the perfect amount of lipstick. For a berry pout, we used Lancome Lip Pencil in Raisinberry and Burberry Lipstick in Bright Poppy #311.
HAIR
USING THE RIGHT AMOUNT OF PRODUCT IS KEY for the perfect blowout. A light serum or mousse such as Miracle Hair Treatment is all you need. Use a nickel-sized amount of product through the ends of damp hair to create natural body and fight frizz pre-blow dry.
DIVIDE YOUR HAIR into four sections and pin them out of your face for a quick and easy at-home blowout.  Start from the bottom of your head and blowout each section using a boar bristle or 100% ceramic brush depending on your hair texture (boar bristles for fine hair and ceramic for thick hair). Work your way to the top section-by-section. For extra curl and bounce, twist your hair out with the round brush after each piece.
FLIP YOUR HEAD and comb through your curls with your fingers. Flip back and you have a full blowout.
AND LAUREN REMINGTON PLATT ON HOW TO KEEP IT ALL TOGETHER NO MATTER HOW LATE THE DJ PLAYS:
"I'm the first to admit that maintaining my Vênsette blowout and makeup in the summer can be challenging. Warm days and humid nights are not friendly to a flawless face and frizz-free hair. When it comes to maintaining my blowout, I rely on Oribe's Impermeable Humidity Spray. It's the perfect finishing touch and banishes frizz while also adding a shimmer. For makeup, I swap out my dewy foundations for those with a matte finish to control any shine. I like to keep my face looking a little dewy, so I opt for powder highlighters to add a touch of radiance. Clé de Peau Beauté has an excellent luminizing face enhancer that comes in three different shades and offers a subtle glow. Most importantly, I finish my look with a makeup setting spray like Clarin's Fix Makeup Refreshing Mist. This spray simultaneously keeps my makeup in place and hydrates—both important when things get sticky."