Weddings
If there was ever a time to let your girliest side out, it's now.
Renée Rodenkirchen
Close your eyes. Just do it for a second. Think back and picture the most romantic, fluffy, pink-tinted wedding fantasies you had growing up—or, you know, last week. That dress you've imagined yourself in; floor-length, lace, embellished with the most delicate hand-beaded crystals, was likely brought to fruition by wedding dress master-creator (and now, master-creator of shoes, dishware and invitations, too!) Monique Lhuillier. We mean, she trailblazed the whole minimal-slip-dress-as-bridal thing and introduced blush as an alternative to white (YES, it was all because of her!). So when Lhuillier invited us over to play in her L.A. showroom, we begged her to pull out the most iconic dresses in her archive. If there was ever a time to let your girliest side out, it's now.
---
The designs that defined her aesthetic:

"The Laura dress is one of the first that I ever designed. It's quite simple: silk-satin crepe with a low back. It really started the trend of minimalist dressing in bridal. I was quite surprised with how well this dress did because it's quite lingerie-like, but it just resonated with a lot of brides. The other one that is really iconic to my brand is the Scarlett. It was a trend that I started by cutting lace without having all that structure, so it really followed the lines of your body. It was a bestseller of mine for so many years because it was flattering on lots of different brides. It was traditional in a sense with the fabrics, but the way it was cut with a low back had never been done before. It's still in my collection today. She's a good dress. Another that is so important to me is that I introduced the blush pink color. It's so subtle, but it's there. And then I added contrasting sashes, which really accentuated the waist. It took a life on its own. It was like every bride wanted a sash to accentuate her waist.
What's so wonderful to see is a lot of these dresses are 19-years-old and are still relevant today. They have been fine-tuned throughout the years, but yet you can see the timelessness that runs through my designs."
Why she can never choose a favorite gown:

"Designing is very emotional and personal to me. When I start the process and when the dress evolves and becomes what it is on the runway, and then eventually onto the bride, it takes a life of its own. I'm so emotionally attached to them."
When the blush-pink dress became a thing:

"The blush pink was a trend that I had been doing for a long time, but when Reese Witherspoon got married and decided to embrace the blush pink, all the sudden it was in all the magazines and it was okay to wear color in your wedding."
The Monique Lhuillier bride is...

"Well-travelled. She is fashion-forward and she is confident with her own personal sense of style. She's not afraid to try new things but ultimately she sticks to what feels right for her. She's not a trend-setter but she knows what looks best on her."
On creating *that* dress:

"I love approaching bridal and starting the process by thinking, this is the most joyous occasion in somebody's life. It signifies the next chapter—one filled with so much hope and love and a bright future, so the dress has to have romance in it. It needs to encompass all these wonderful elements. I have to say, it's still magical after all these years."
Her process:

"For me it starts with a moodboard. I think about the feeling of the season. I design each dress individually because I don't believe it should be a collection. It should be individual dresses because the bride is only going to buy one—it doesn't really matter what season it's from. I treat the dresses like their own pieces of art.
On her inspirations:

"My travels. I love to discover new places and I love also contemporary art. I love living and seeing. Beautiful fabrics could start my collection; a beautiful accessory could start the process. But I have to say travelling is a big part of my design process."
On designing custom gowns:

"I limit custom dresses to ten a year because they take a lot of my time. I meet with the bride and we talk about what her ideal wedding day is going to look like; what are things she's been dreaming of, and then I translate that into a dress. I present sketches and different fabrications. I present my box of ideas and then she approves a direction. I start with muslin (we do two muslin fittings) and I mould the dress on her body. Then I cut the real fabric for the third fitting. There is one last sizing to finalize everything. Those are really one-of-a-kind and I'm in all of the fittings and really there from the beginning to the end.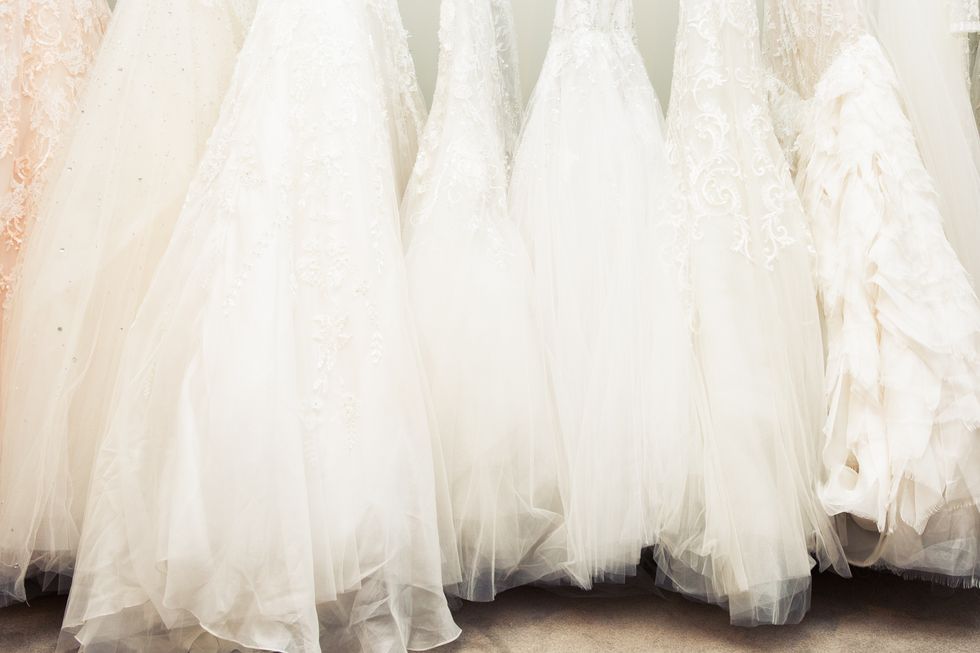 The bridal trend she stays away from:

"I don't like dresses that swallow the bride. Sometimes the skirt is too full or has too much crinoline underneath and you don't see the bride. She's so uncomfortable all night and she can't enjoy herself at the party. So those over the top, very full, voluminous skirts that are overdone with heavy embroideries, those, I really don't understand. I also don't like too many accessories on my brides. You can have a beautiful dress but if you wear a tiara, a necklace, earrings, and bracelets, it takes away from the effortless beauty that you already have from within."
The trend she's loving right now:

"I love a long, sheer sleeve. I have to say, it's so refreshing for me to see brides using this option. You can still see the silhouette of the corset underneath, so you still get that strapless look yet you're a little more veiled and I think it's so special."
The most over-the-top dress she's created:

"For one of my one-of-a-kind customers I created a dress that had over 500 yards of fabric. And it was so heavy. We did a very sculpted top and a very full skirt, and then underneath we had all these organza strips, and then it was beaded on top of that. It was really elaborate and really beautiful—it was a pure fantasy dress. It took us ten months to do that dress and multiple fittings."