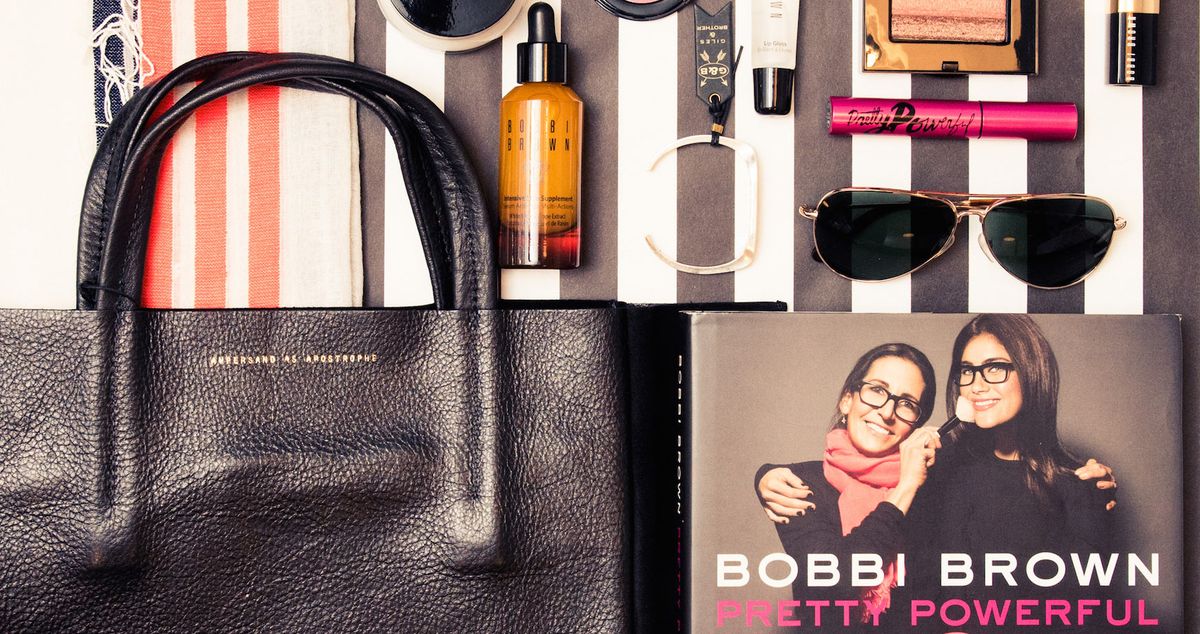 Shopping
Why Bobbi Brown is Giving Back This Mother's Day
And how you can too (by bidding for Bobbi's chic AF stuff).
ICYMI: this Mother's Day, it's not all Hermès diaper bags, we're teaming up with The Adventure Project, a charity that helps women in developing countries become entrepreneurs, and help their own communities in turn. Cool, right? It gets better: For Mother's Day, we're helping TAP raise money for medical kits that women in Uganda can use to provide healthcare for their communities.
To speak to the effort, we turned to a few of our favorite women—ahem, Aerin Lauder, Bobbi Brown, and Zanna Roberts (NBD)—to show us the contents of their bags, and what empowers them on the daily. Even better? IfOnly.com is auctioning off that same bag, plus its contents to raise money for the project. Bid on insanely chic stuff, empower women around the world? We'll take it.
---
Let's be real: Bobbi Brown essentially wrote the book on female empowerment. Quite literally. Did anyone else study her many books as a teenager and learn how to feel like yourself and feel confident? Of course, when we heard about The Adventure Project's Mother's Day mission, Brown came to mind, well, immediately. And it took her exactly the same amount of time to agree to be a part of it. And lucky us, because of this project (and her seriously glam donations), we got the chance to quiz the makeup artist and beauty tycoon on being a mom to three sons, how she balances her aforementioned tycoon status and her aforementioned motherhood, and why, when you give back, you get even more in return.
Why she's donating to The Adventure Project:
"The Adventure Project presents an amazing opportunity to lift women and their families out of poverty by empowering them to start their own businesses—be it by selling healthcare essentials or mastering stove maintenance. Like The Adventure Project, I believe in the mission and importance of helping women and their families create better lives for themselves."
Why Bobbi Brown is all about female empowerment:
"When I started Bobbi Brown Cosmetics 25 years ago, my goal was to empower women to be themselves. Today, the brand's Be Who You Are philosophy remains the same—that with the right makeup and knowledge, women can look like themselves but prettier and more confident. Along the way, I've met so many women who have inspired me not only through their beauty, but through their stories. I feel very lucky to do what I do because I'm doing what I love and it doesn't feel like work to me. I only hope to continue to meet the needs of all women and empower and inspire them as my brand continues to grow."
How her mother empowered her:
"My mother inspired me from the beginning. She taught me that being beautiful isn't about being flawless. It's about having self-confidence and playing up the qualities that make you unique. She went on to empower me to follow my dreams of becoming a makeup artist."
Why philanthropy is so important:
"I believe that the more you give in life, the more you get back, so I've always made a point to donate anyway I can—volunteering my time, donating lightly used clothing or pledging money. Over the years, I've worked with countless philanthropic organizations, from Dress for Success to local charter schools in NYC."
Bobbi's Mother's Day traditions then and now:
"Every year, we would spend the day with my mother, grandmother, and aunt—and it was typically around a pool in the sun.
Now my mother-in-law and sister-in-law live near us in New Jersey, so we usually spend Mother's Day with them, along with my husband and sons. We like to pick a spot for a picnic, or we'll go to a new restaurant."
The perfect Mother's Day present:
"Having all of my boys—my husband, three sons and dog, Biggie—under one roof and cooking a meal."
What surprised her about becoming a mom:
"Becoming a mother is like putting on glasses for the first time—your priorities become very clear. I was surprised by how quickly my perspective shifted—you want to make the world a better place for your children. It's the hardest but most rewarding job you'll ever have."
How to find balance as a mom:
"I started the company when I was pregnant with my first child, and he's now 26. It was hard in the beginning because I didn't want to be away, but quickly realized that it's all about finding a balance. For me, family always comes first. I spend two days a week at my office in New York City and three days a week at my office in Montclair, New Jersey, which is where I live. When I'm not working, I love to spend time with my family and I always make time for important life events. The key is to find a healthy and happy balance and to prioritize. If you know what's important to you, you will always make the right decisions."
Remember that being a mum doesn't mean you have to be perfect:
"I've learned to focus on the things that you can do rather than cannot. It's important to live in the present and start appreciating what we have now. It's okay to make mistakes. Just make sure to learn from your past mistakes, forgive yourself and move on."
Her donation for The Adventure Project, decoded:
· Ampersand As Apostrophe Bag: "This is the bag I carry everywhere—whether I'm on my way to yoga, to the office, or to the airport. It goes with and holds everything."
· Lem Lem Scarf: "I love these handmade scarves from Ethiopia. Lem Lem empowers local artists, and supports maternity care in many African countries."
· Aviators: "Aviators are my go-to sunglasses. I love how classic they are."
· Giles & Brother Cuff: "I wear this silver cuff every day."
· Pot Rouge for Lips & Cheeks: "I was inspired to create Pot Rouge by my grandmother, who applied lipstick to her cheeks instead of blush. The creamy cheek color is the perfect pop of color to brighten your face."
· Gel Eyeliner: "I once found myself on a shoot without eyeliner and, for a quick fix, dabbed a Q-tip in my waterproof mascara. When it stayed put until the next day, I was inspired to create a long-wearing gel eyeliner that lasted for hours without smudging."
· Shimmer Brick: "Backstage at New York Fashion Week I was once asked to create a lit -from-within glow at the last minute, so I applied a touch of shimmer eye shadow to all of the models. This inspired the Shimmer Brick, which is one of my best-selling products."
· Lip Gloss & Lip Color in Brown: "A pop of color on the lips can transform any look and brighten up the face. These are my go-tos that are flattering in a wide range of shades."
· Everything Mascara: "I never the leave the house without black mascara. I put this one on and wear all day."
· Intensive Skin Serum, Repair Moisturizing Balm, and Hydrating Face Cream: "Great makeup starts with great skin. These are some of my skincare essentials to moisturize, plump, and soothe skin."
What she carries in her bag every day:
"I never leave home without corrector and concealer (it's the secret of the universe, especially for moms), black mascara, and Pot Rouge. Also in my bag I keep: Altoids, a scarf, aviator sunglasses, and Kind Bars for when I'm running in between meetings or a shoot."