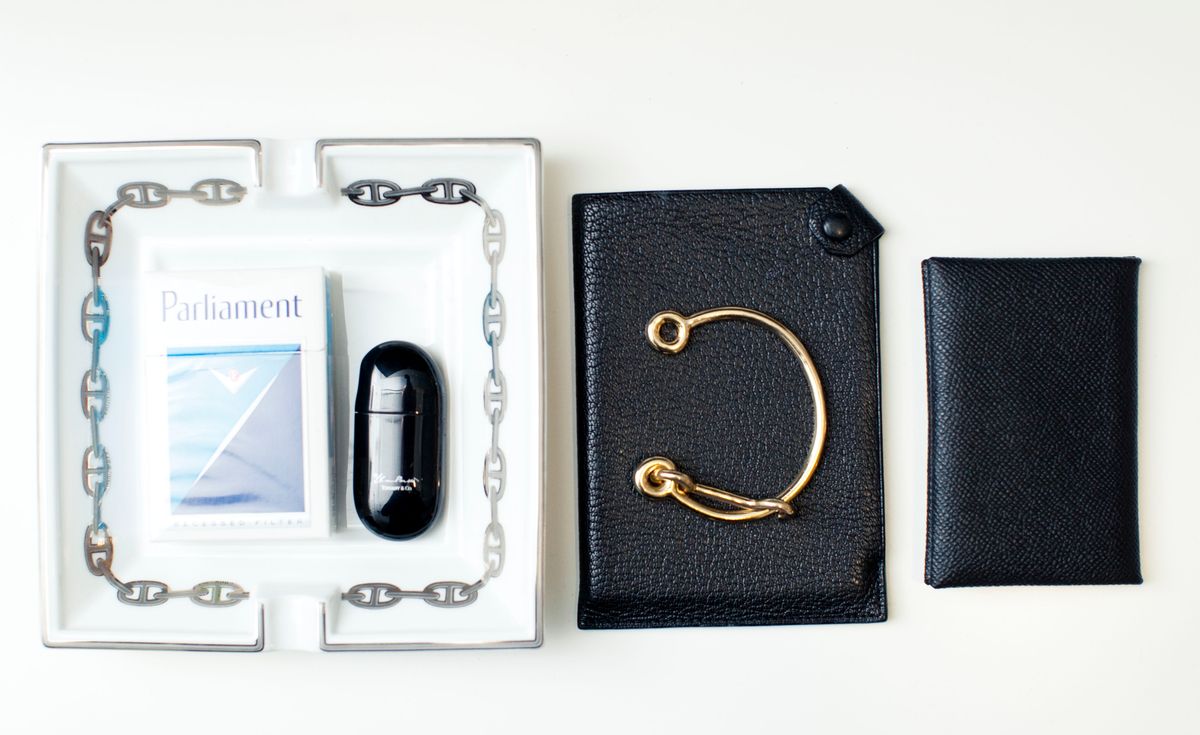 Career
How the fashion set's favorite jewelry designer is making his mark.
Eddie Borgo is true to himself. You can tell by following the chronology of the jewelry designs strewn across the necks and arms of his glitterati—who can forget his spiked bracelet that Sienna Miller weaved into her hair (!!) some odd Met Galas ago. His pieces are recognizable, yet embody a true representation of artistic restraint and focus, much like Borgo himself. We got to know this all too well when we entered his Nolita studio to talk shop. Being, his metalsmithing beginnings (he hopped around from smithing benches to smithing bench throughout the city to hone his craft) and how his side hustle (he was third assistant on editorials by day) of creating one-off pieces of jewelry landed on the arm of Tilda Swinton. NBD. And unbeknownst to none, things went up (like wayyy up) from there. As in, he went on to create runway jewelry for the likes of Phillip Lim, Marchesa, Altuzarra and Proenza Schouler way back when. Again, NDB. But like we said, Borgo manages to maintain this sense of control—even with his latest venture into handbags—and his intrinsic geometric DNA throughout every. single. piece. of work (which, uh, us creative types aren't so adept to). We're going to go ahead and say we can't wait to see what he's up to next. Hint: Coming to your living room soon.
---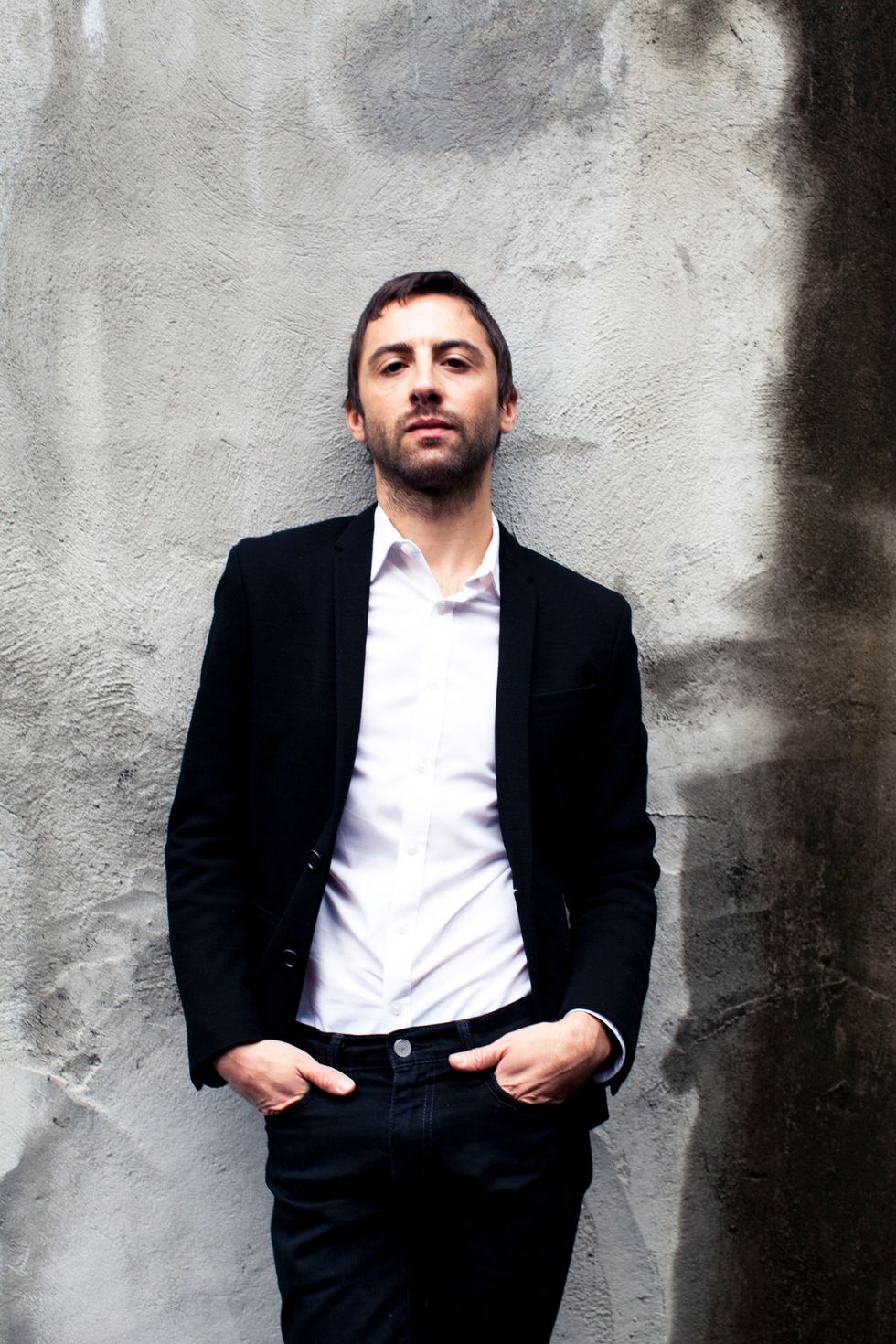 HOW IT ALL STARTED:
"I was still in college and studying Art History, when I decided to turn my focus in my thesis towards the history of adornment. We started to study the way different points in time and culture could be identified through the use of adornment and the the use of jewelry. The way that a certain stone would be used to differentiate a tribe, from a clan, from a family within certain cultures. That really interested me. I turned to it as a point of interest, and started apprenticing at different metalsmith booths in New York and in Rhode Island. I was just doing it as a hobby, strictly to learn the craft of metalsmithing, stone cutting and lapidary work. That sort of organically snowballed into this idea of the possibility of starting my own company."
MAKING THE NEW YORK DESIGNER ROUNDS BEFORE LAUNCHING HIS OWN COLLECTION:
"Before I started the business, I was doing runway jewelry—sort of as one-off projects. While I was still in school, I was assisting stylists on photoshoots as a third and fourth assistant; dragging garment bags around and doing all of the things that stylist assistants do. Because I started making accessories, a lot of the stylists started to notice that it was a hobby of mine. This was before the world of commercialism, not everything had to be for sale and it was actually important at that time for a lot of these editors to have one-of-a-kind things on set that would differentiate their photographs from others. They started asking me if they could credit me for these pieces. I hesitantly agreed to, because I had no way of creating them except one-by-one. Then, that eventually snowballed into an introduction to different designers and I started making runway jewelry.
In those first few years, I created jewelry for Phillip Lim, Marchesa, Joseph Altuzarra—we did his jewelry for his first three seasons. We were introduced through an editor to Jack and Lazaro at Proenza. We did Derek Lam's jewelry for a little while. We did Jason Wu's belts—which not a lot of people know—for the first few seasons. So yeah, we've worked with a lot of different designers in New York, which I love to do. It brings a lot of new creativity to the table."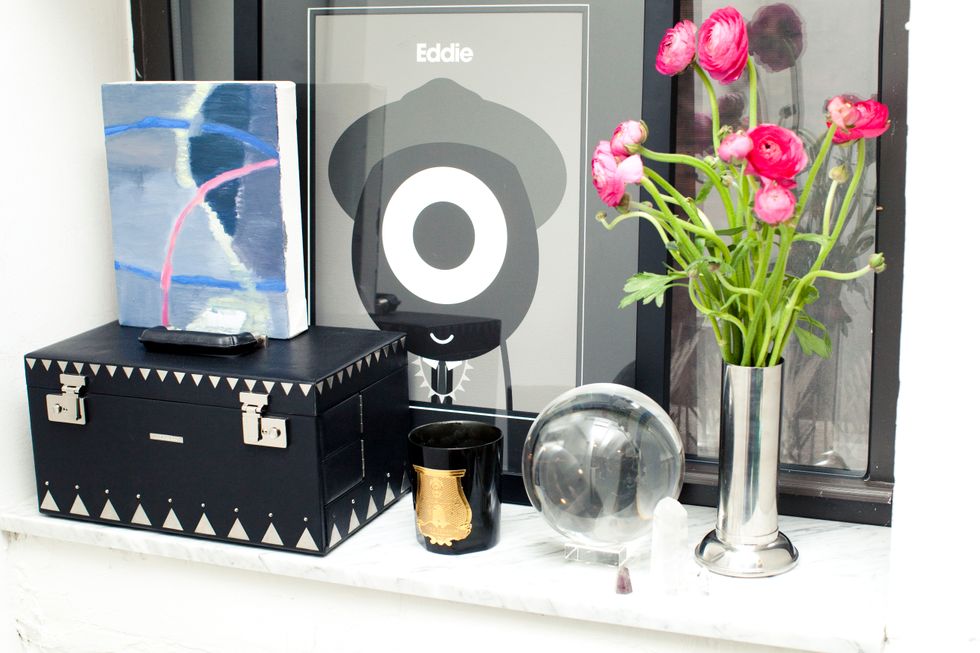 WHY COLLABORATION IS INTEGRAL TO THE EDDIE BORGO BRAND:
"It's important to ensure that one aesthetic isn't overpowering the other. When you're talking about designers working together in any capacity, it's two creative minds that work every differently, have different processes, different modes by which they work, different sources of inspiration. It's very important to make sure that your point of view is getting across while considering the other person's point of view. And when someone's coming to you for jewelry for their collection, in particular, it goes without saying that it's important that the jewelry truly represents their point of view. Sometimes it's hard, but when it happens, it's really great! That's a truly successful collaboration for me."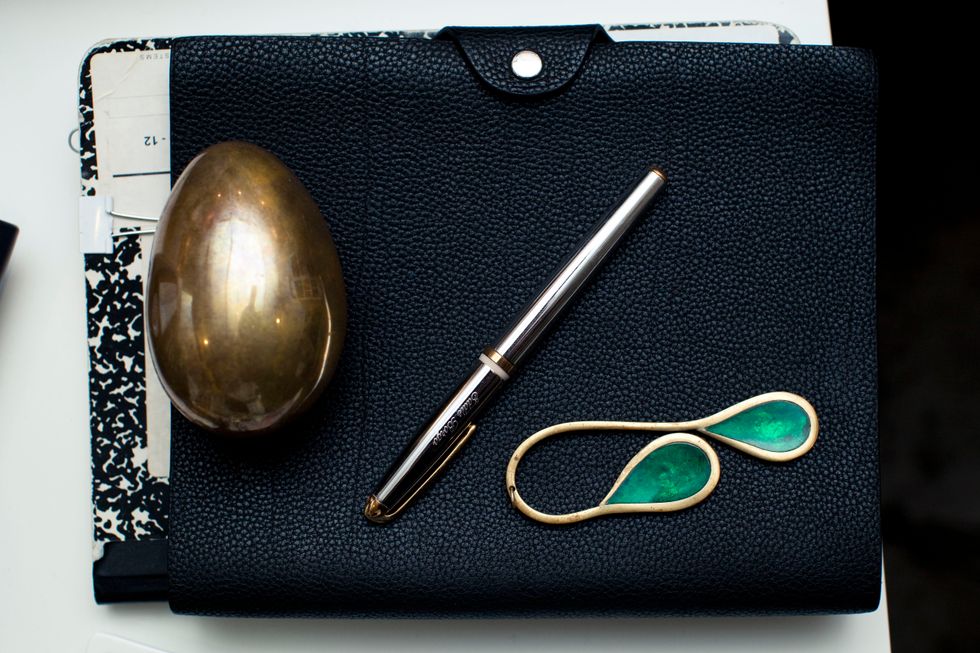 HOW TILDA SWINTON HELPED LAUNCH HIS CAREER:
"The first piece that I ever made was for Camilla Nickerson for a W Magazine shoot with Tilda Swinton. It was when I first started making jewelry, and her accessories editor at W at the time—who later became my studio manager—contacted me and asked me if I would hand-stud these bracelets for Camilla. I agreed to do it, and I made all of these leather cuffs for her which they ended up shooting on Tilda. That was really exciting! We ended up incorporating that idea into the collection."
HOW HIS FIRST COLLECTION CAME ABOUT BY ACCIDENT:
"Runway was more specific, because it was for the individual designer, and it was very much direction that I was taking from them. I had started to create my own collection of jewelry on the side while I was learning. One-off pieces that I was making that ended up getting shot by a couple of editors when they were asking to borrow things that I was making. Those initial pieces that I was making for editorial and for myself as a hobby became my spring/summer 2009 collection. I had just seen so many people go through so many hardships in opening their own businesses, and I resisted it for a very long time. Then I decided to show the collection formally at the Algonquin hotel in Midtown, and we sold to a few stores in that first season."
HOW TO SCALE AND MAINTAIN BALANCE:
"One of the struggles was moving from what was considered to be a smaller startup design firm, to a much larger jewelry house. Now we deliver to over three hundred stores worldwide. In the first year and a half to two years, we were only selling to five or six stores. It's the thoughtful decisions that lead up to expanding the business and opening up our distribution. All boring business-related decisions, but that really impacts the future of the business. We certainly have made mistakes along the way that we have learned from, but I would say that was the biggest learning curve is just deciding how to grow it, and to really stay true to the foundation of why I decided to open the business in the first place."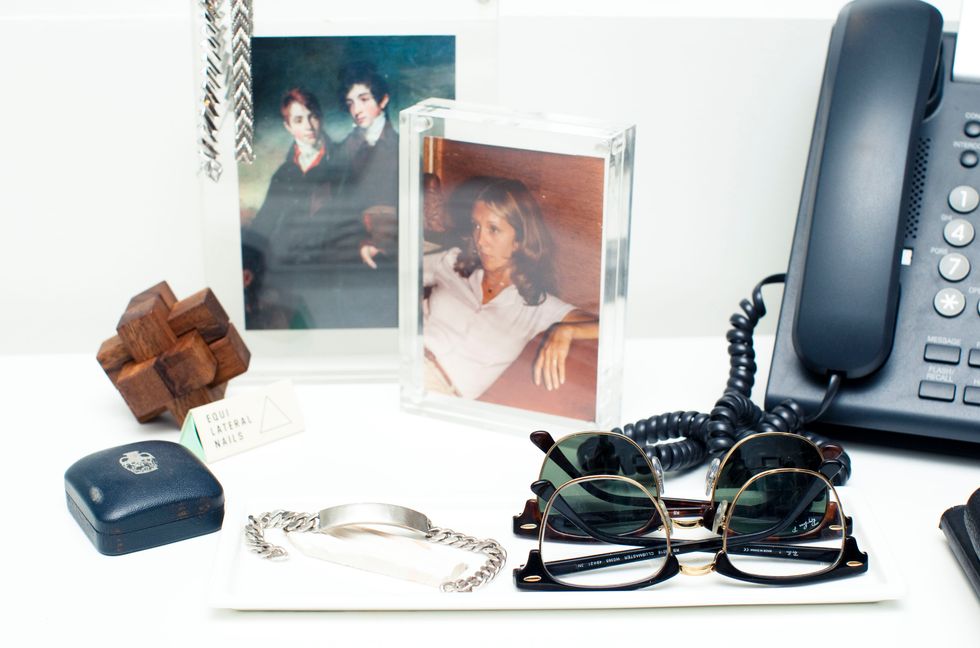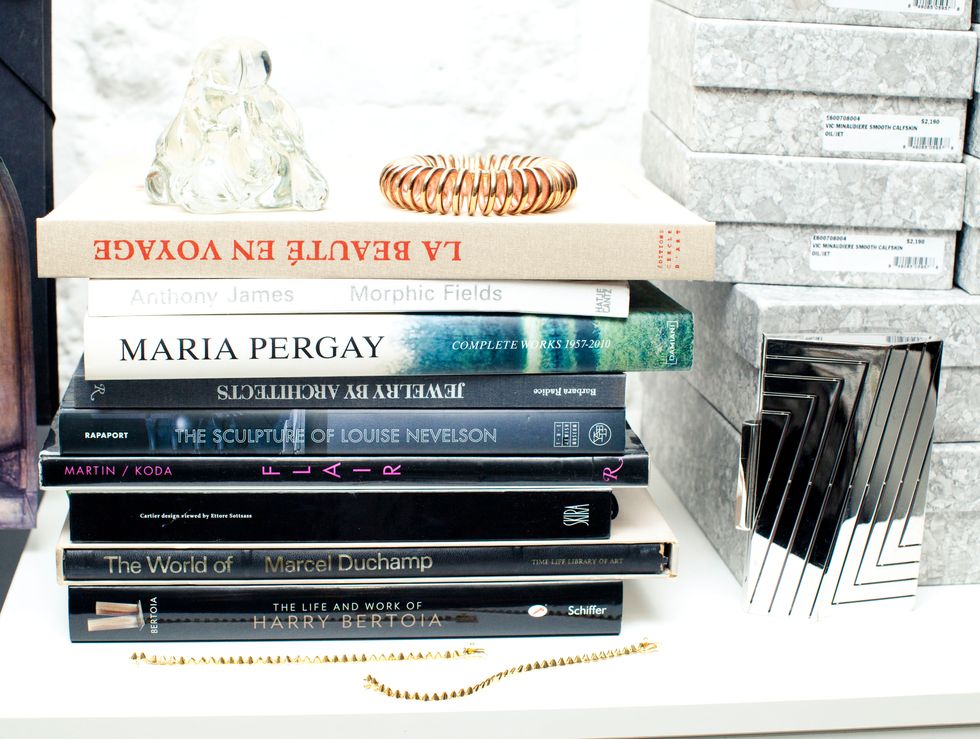 WHAT IT REALLY TAKES TO CREATE ONE (!) JEWELRY COLLECTION:
"What is the impetus for every collection that we've created is material. Whether it's concrete, lava rock, marble, silver—just how different materials can be manipulated into form.
It'll usually start with the idea of a material that will develop into a mood board. Then once the mood board has gotten to a point where I feel that I can present it, I will show it to my design team and we'll sit down and talk about it. Then, we each go and collect inspiration based on that idea; So one of us might go to the picture library in midtown, one of us might search on different blogs and Pinterest, one of us might go looking at vintage jewelry at the flea market. We bring everything back for a concept meeting. Then we agree upon a finalized idea for the collection, and we each begin sketching. Those hand sketches are looked over by various people in the company, including my sales team and my merchandiser.
We take those sketches and we move them into a 3D rendering program and print them as waxes, and then look at the piece physically and try it on. Once we've agreed upon a collection from those 3D renderings and the printed waxes, we go ahead and we start our carvings. We do all the carvings in rubber, and they're all done by hand. We have a mould archive now, so sometimes we'll go through the old moulds to apply them to new collections. Then we start the polishing process and laying the stones. If there are stones that need to be purchased and cut, we do that as well. That's how a collection is made.
WHY CONSISTENCY IN DESIGN IS KEY:
"I don't think that we had a grand plan when we were creating those first few collections, but we developed, at that time, an aesthetic that is pretty easily recognizable and identifiable. What we've tried to accomplish over the past six years is to carry that aesthetic from collection to collection, year over year, to ensure that it's always there. One of the things that you will find in every one of our collections is some sort of geometric DNA. We've really been thoughtful about how we've taken those very simple ideas and perpetuated them through collection to collection. We've taken these simple ideas and extrapolated them into ideas that are altogether new. It's very challenging to oversee that. If the piece doesn't sort of have that very special element within it that feels as if it came from our studio, then we will either not show it or we'll put it on hold and move it to a future collection."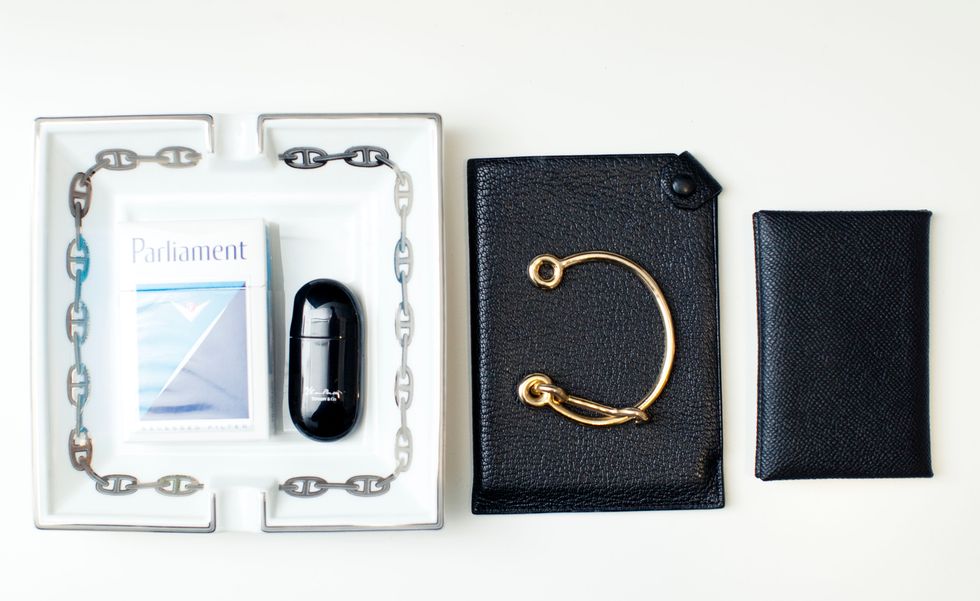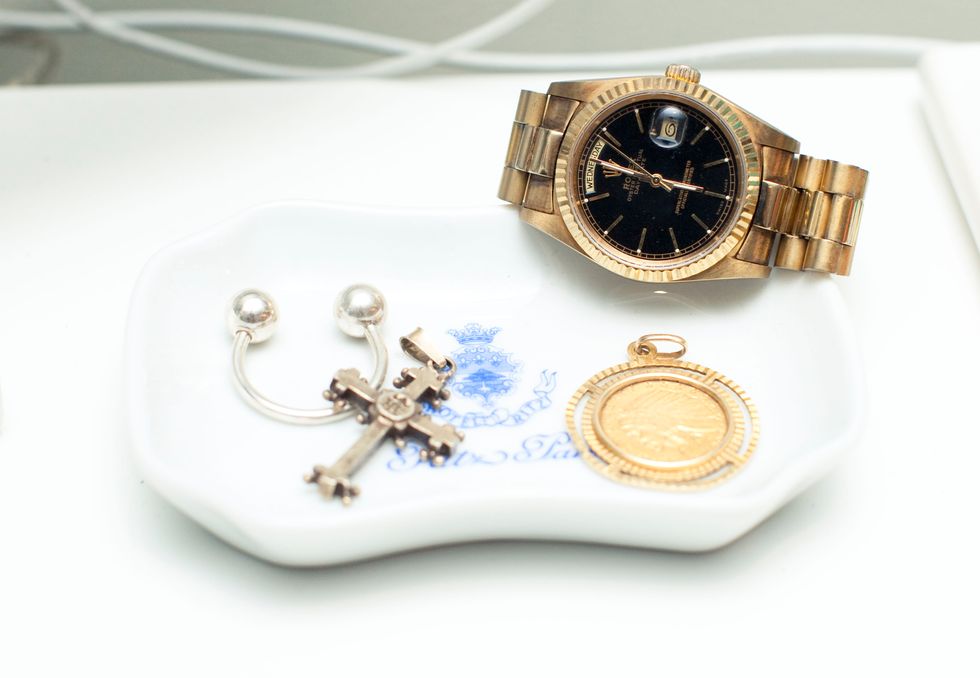 HOW THE EDDIE BORGO BRAND IS EVOLVING:
"I never launched the collection with intention of us being constrained by the world of fashion. The intention was never to show four seasons a year, which we now do; the intention was never really to show on the calendar, which we now do. I always thought of the firm as much more of a design house, which is why I always have done these special projects and worked with other designers. Jewelry is probably as close to sculpture as fashion-related pieces can get, and I would love to take those ideas and really work on a home collection. I would like to see the firm grow into something much broader than that in terms of design."
THE BEST PIECE OF ADVICE HE'S RECEIVED:
"Someone a few years ago said something to me that I've really carried with me, and it was just this idea of practicing restraint in your life. There's so many things that we want to do as creative human beings. Sometimes it's best to let ourselves sort of sit with those things for a while—we don't have to do everything at once, we don't have to see everything at once, we don't have to say everything at once, we can move in moderation. Restraint is something I try to achieve and consider in every aspect of my life now. If you can find restraint I think you can also truly find balance in your life, which certainly, in the world of fashion, most of us need."
HIS ADVICE FOR ANYONE TRYING TO MAKE IT IN THE INDUSTRY:
"Stay humble. I don't know if restrain is the right word in terms of advice for someone trying to break in, but there's a time to learn and then there's a time to grow. Sometimes people overlook that time of learning, or they want to escape it. My advice would be you never really stop learning, even after you do whatever you wanted to achieve. Start your own business, begin your own namesake label, whatever it might be. Learn and listen and let that time be precious. Don't rush it."