Beauty
The Beauty Advice We're Taking From Our Moms
Because they really do know best.
Full disclosure: out of all the stories we've put together, this is one of our favorites. Because, while it's our job to get schooled by beauty industry insiders (from supermodels to makeup artists), going back to the beauty advice that's shaped our entire ethos, you know, from the one person who means the most to us (our moms!), was something special. So we texted—oh, yeah, so 2016 of us—our mothers to ask them to give us some more sage beauty advice.  And let's just say, we weren't all that surprised when they collectively listed confidence, sleep, water, and not over-plucking your eyebrows (!), as the pillars of any good regimen.
---
1. Use night cream on your face, neck and décolletage (gravity travels down).
2. Always use sunscreen.
3. Never ever forget to brush your teeth, especially at night (which could be 12 hours).
4. Always, BUT always remove your makeup at night.
5. Go out with your favorite girlfriends at least twice a month to keep your sanity and inner beauty.
6. Stop the torture of your inner voice and be kind to yourself—you are worth it (as we learned from Estée Lauder).
7. Always keep your hands moisturized to avoid aging brown spots.
8. Sleep on your back to keep gravity from pulling your face down.
Karen Cesaro
— Alicia's mom —
1. I wash my face with Dove sensitive skin beauty bar, then remove excess eye makeup with Lancôme Bi-Facil, followed by Clinique Dramatically Different Moisturizing Lotion, Clinique All About Eyes Serum—for puffiness and dark circles, then I apply Olay Regenerating Eye Lifting Serum—for fine lines and wrinkles.
2. Rarely wear face makeup.
3. Try to drink plenty of water daily.
4. Eat healthy and don't drink alcohol.
5. Always wear hats when you're in the sun.
6. Be happy, keep a positive attitude, smile at and be kind to others.
7. Also try to surround yourself with positive people. I read somewhere that it helps slow down the aging process and contributes to an overall well-being!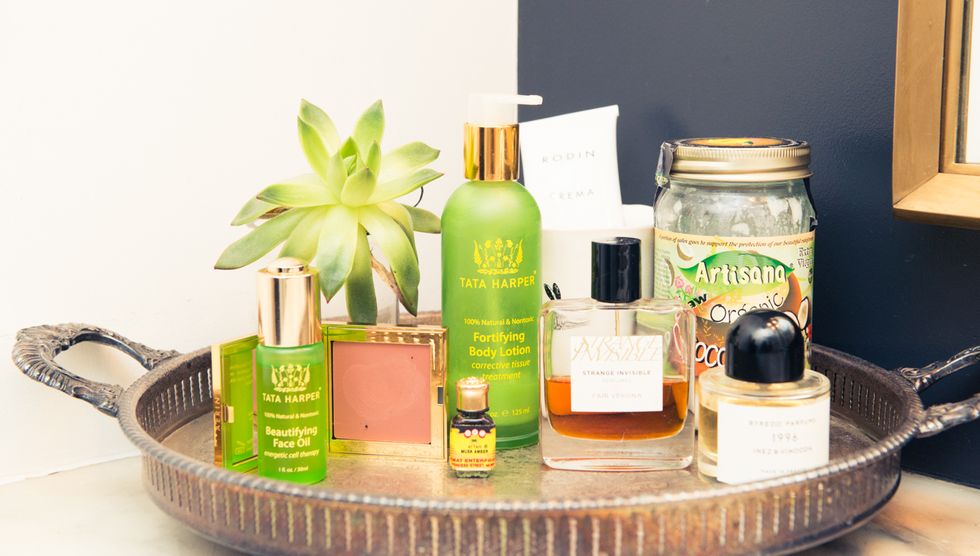 1. Beautiful skin is not about what you put on it, but what you put in it.
2. Eat good food, get lots of sleep and water.
3. Avoid toxic stuff like cigarettes, booze and additives.
4. Stop over-tweezing your eyebrows!
1. Hold your body with good posture. There's not a dress beautiful enough on earth to make a woman who's slumping look good. Stand up tall, look straight out (not down), hold your arms bent at the elbows with hands meeting just at your navel and position the elbows back slightly. Watch House of Cards if you want a lesson in how this is done.
2. Nothing radiates beauty and appeal like a happy, loving spirit. It can overcome any physical flaw.
3. Sleep. When you're rested, your skin glows, your eyes are bright, you're more fun to be with and you feel better about everything. Everyone wants to be with that person.
4. Shampoo your hair. Hair that's clean and shiny and smells fresh is intoxicating.
5. Exercise. Do something to work up a sweat every day. Commit to being strong and toned. Almost any outfit looks beautiful on a strong body. Plus, your skin will have a beautiful pink flush.
6. Eat right. You know what to eat. It makes a difference. Just do it.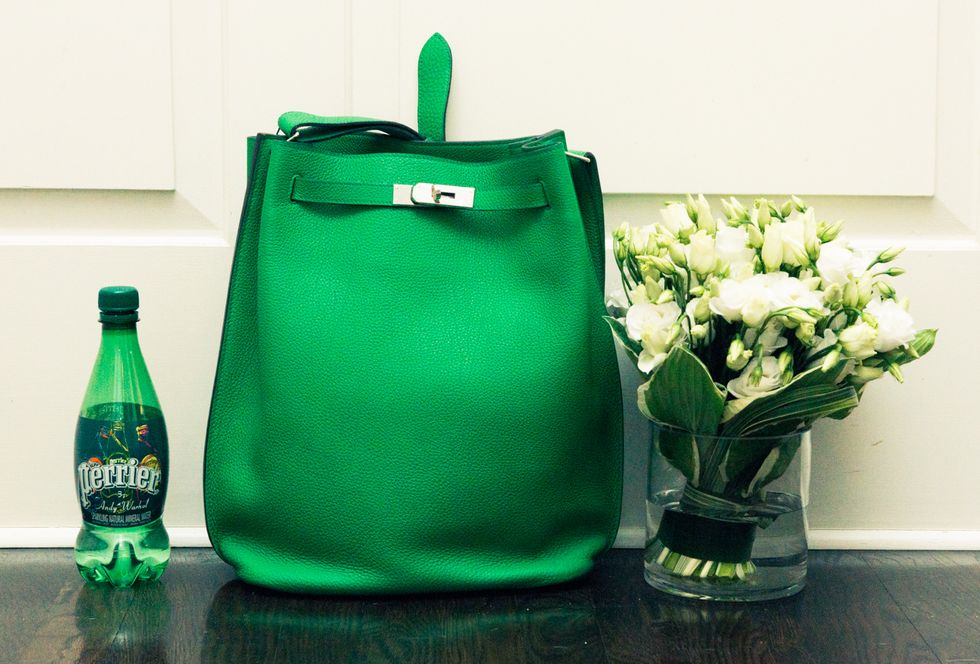 1. Drink lots and lots of water.
2. Exercise.
3. And laugh a lot.
1. Confidence, because knowing that you're beautiful makes you more beautiful.
2. Start using retinol early.
3. Never over-tweeze those eyebrows.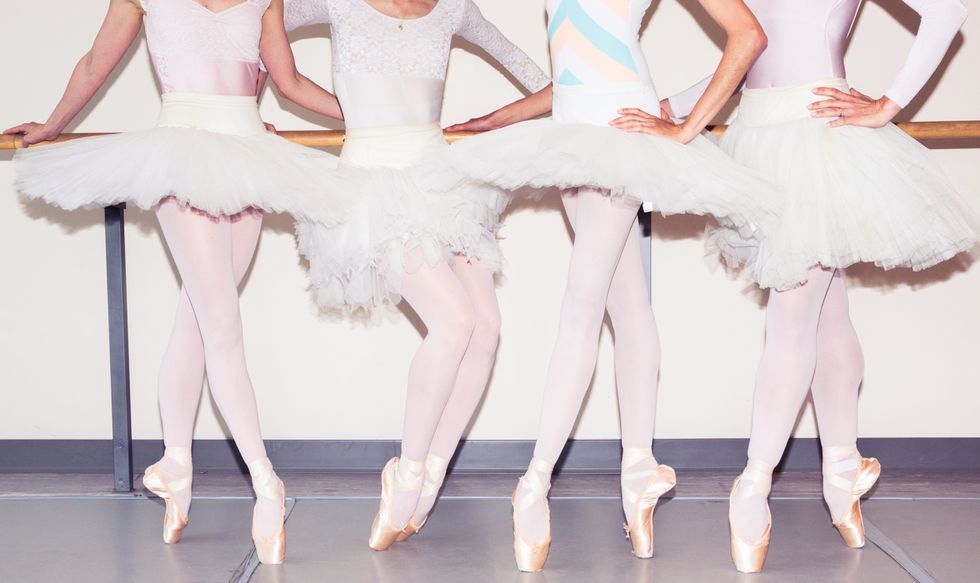 I do think the most infectious thing in the world is a beautiful smile. Other than that...
1. Be curious and happy. This is no small feat. It takes energy to find your place in the world and figure out what makes you feel alive.
2. Exercise makes everything better. Walk at least 30 minutes every day. Lately I am obsessed with moving all of my muscles to become more flexible and have really enjoyed doing these eccentrics exercises that elongate and strengthen. The mom who created it was a ballet dancer in Canada, I love this one with the daughter, Sahra, teaching four different routines.
3. Eat right. This one is hard because we get so much conflicting advice, but it seems that everyone agrees to eat more vegetables, eat less chemicals and avoid sugar.
My beauty tips for you my love are very simple...
1. Be grateful for all the good things you have in your life. Don't focus on what you don't have and you will be happy.
2. Believe in yourself and be confident always.
3. Always keep your teeth healthy so you can show your pearly whites. Smile!
4. Hydrate. Always drink water and get plenty of rest. Don't skimp on sleep.
5. When getting ready for a special occasion, don't overdo the makeup or hair. It's not you, and when you look back at photographs you won't look like yourself. Be your natural self.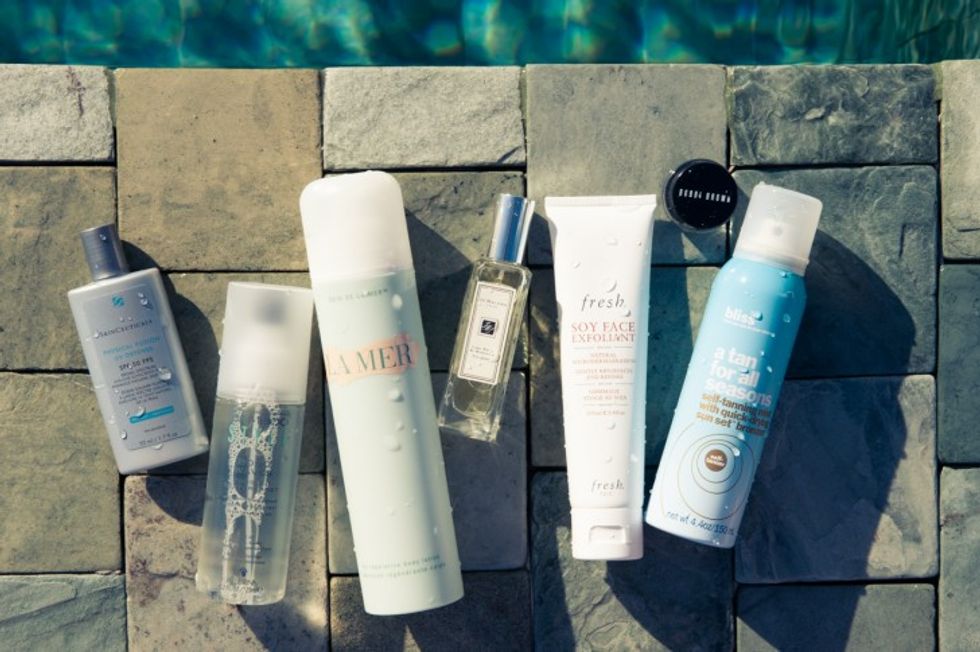 1. Let your raw self show—beauty is a confidence thing.
2. Use a light hand with makeup for a little polish. But sometimes a red lip with a swipe of mascara and a hint of blush is all you need to up your look to sassy.
3. Sunscreen, sleep and plenty of moisturizer for radiant skin.
Hope some of these help to keep you as beautiful as you are…
1. Always take your makeup off and wash your face, making sure you rinse very well with cool water to close your pores.
2. Always apply moisturizer—one with sunscreen during the day.
3. Get enough sleep. That's very important.
4. If you don't have time to do your nails, at least keep a coat of nail hardener on. I've also found that biotin helps considerably.
5. Don't cut your cuticles but push them back whenever you dry your hands.
6. For smooth feet, forget all the PedEgg, soaks, etc., just get a rough emery board and gently use it on your heels and any other rough spots. It's quick and works as well as anything I've tried.
7. So many negative things happen to our bodies due to gravity. I think that sleeping upside down would drastically cut down on this. Think of all the hours you could combat that. Now, the only negative might be some broken capillaries around your eyes but that is easier to fix than all the bad things you could avoid.
8. My mother once got several stitches on her forehead, I applied vitamin E to the wound as soon as the stitches were removed and there was no scar at all. Considering that she was 63 at the time, that's pretty amazing. It has to be directly from the gel cap, not vitamin E creams, etc. Pierce the capsule with a pin and squeeze a small amount right on the affected area. Wrap the capsule in plastic wrap and you can use it several times.
1. Never pluck your eyebrows, no tattoos and delay pierced ears. When you were a kid I wanted you to think your own body was beautiful, which requires some age and comfort before you started adorning with invasive piercings. I felt that piercing ears at a really young age was not the child's choice but the mother's, which, in my mind is antithetical to having the final say in what happens to your body. When you were older but still prepubescent, I didn't want you to think you had to add adornments that are semi permanent, painful and invasive to make yourself beautiful or to match any kind of inflicted beauty standard. I wanted you to know you were beautiful and special, in the body and mind, just as you were/are.
2. More than makeup, I believe that feeling good about yourself, doing what you love and being with people who make you feel good about who you are make you fulfilled and happy. This makes you shine and beautiful. With the demands of life, realistically, it's pretty impossible to get all aspects in this frame at the same time. But being aware of what is up (or down) in your life will help you move to something better. In other words, try to fill your life with things that feed your soul! Even if it's one thing a day
3. I think 'less is more' or makeup that looks more natural is best. A little mascara, a tiny bit of foundation and maybe some lipstick. Heavily made up, to me, takes us away from who we genuinely are and tends to make us play a game of life behind a disguise.
4. As one gets older, the temptation to use more age fighting procedures to keep our youth is high, especially as lines appear and skin loses elasticity. It's so tempting to use botox or other surgeries. For me, after writing this about piercing and makeup disguises, this would be rather hypocritical! I try to focus on doing things that make me feel good. Aging gracefully feels more important and true to myself.
5. All these roads are tough at all ages with all the force of beauty standards impacting us. Whatever your beliefs of what is okay, stay true to yourself.
1. Always use cool water to wash your face. Always pat dry. Always use a light foaming facial soap.
2. No heavy foundation.
3. Moisturize various times during the day especially if you are outside. Use a clarifying lotion every evening.
4. Try to get your proper rest. Eat healthy, lots of greens.
5. Use sunscreen year round.
6. Use green tea and cucumber facial masks.
7. Drink lots of water and smile.
1. Start the day with two glasses of warm water on an empty stomach with lemon or cucumber slices.
2. Good skin is all about moisturizing, you do not have to use expensive moisturizers. A $20 cream can do wonders as well. Moisturizing in the morning and an hour before bedtime will make your skin glow. My favorite ones are Boots No. 7 and Olay.
3. My must-have eye cream is Clarins, which I have been using for 20 years—the gel formula is amazing. Using it regularly helps diminish puffiness and hydrates the delicate eye area.
4. Vaseline is a great remedy for chapped and ugly looking heels. Soak your feet in water for 10 mins, clean with a pumice stone and dab vaseline on your heels. Wear socks and go to bed and be ready for a new day ahead.