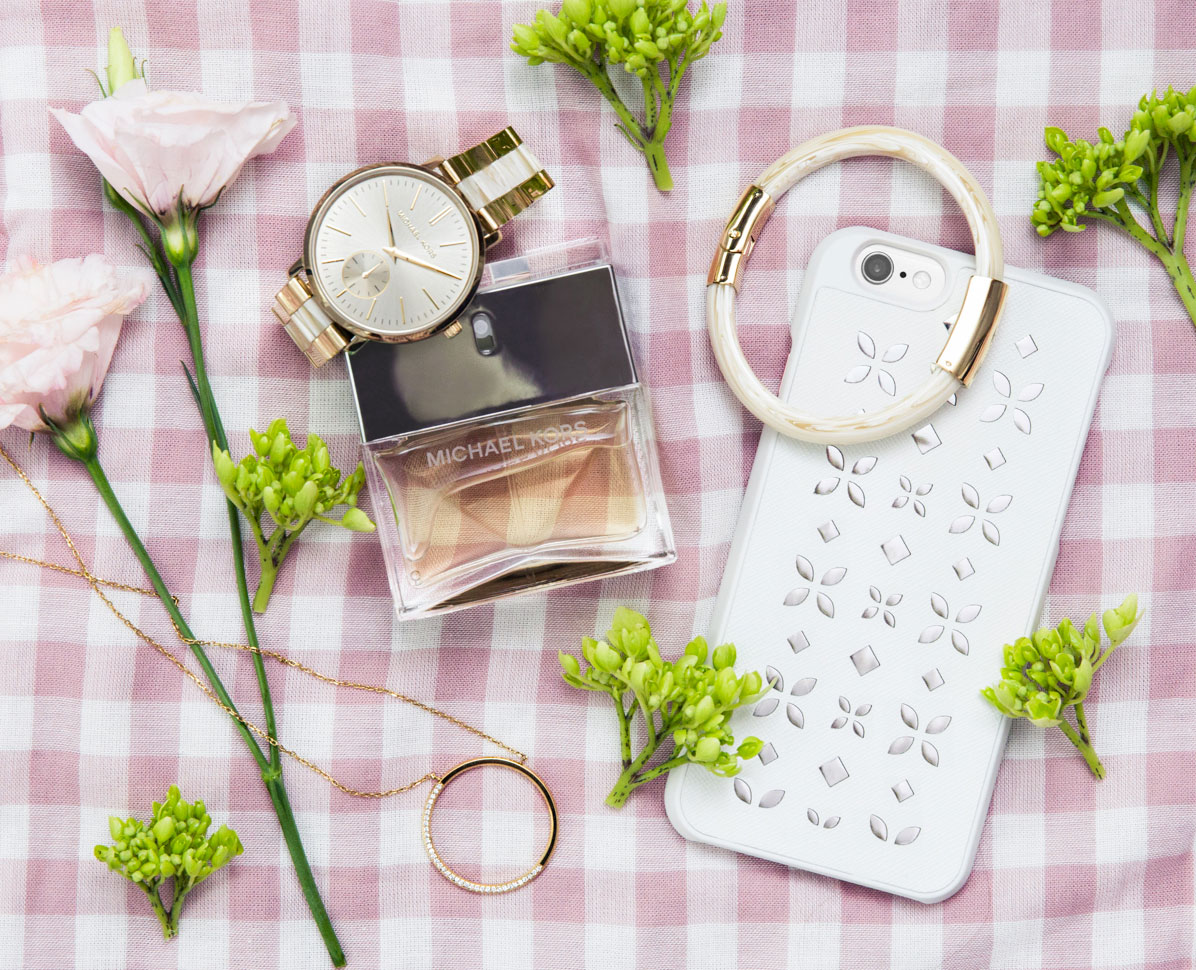 How a Supermodel Does Motherhood
Caroline Trentini on tattoos, motherhood and the one thing she wants to pass on to her sons. In collaboration with Michael Kors.
You may not need a perennial Hallmark holiday to tell you how to treat the important people in your life, but it doesn't hurt to get an occasional reminder to show the ones you love that you appreciate them. And our mothers, who, let's be honest, have been there for us through pretty much all of life's monumental moments (and the ones we kind of wish we could forget), deserve extra-special treatment today and every other day. No one knows this, now more than ever, quite like round-two-mom-to-be and model Caroline Trentini—you may recognize her from the countless Michael Kors runways she has walked—who is currently pregnant with her second child. And because a mom knows what a mom wants and should receive, we had her list off some of her favorite things—like an especially photogenic and practical MK handbag (yeah, we took notes)—all while indulging us her in new-found wisdom on motherhood, wellness and life. It's a good one, friends.
The most rewarding part of motherhood:
"It's so funny because every day is a challenge; every day is a new thing—especially now that I'm pregnant with my second one. But the little things, like, just now, when I was looking at a magazine here at home and he came up to me and looked into my eyes and just smiled. Being a mom, I just found this completely other side of me. Before, I didn't really pay attention to the smaller things, and now every single day, every single joke I notice."
The most surprising thing she's learned from becoming a mother:
"You know people always say you're not going to get enough sleep, you're not going to rest enough and your life changes completely. I have to tell you, until the moment I became a mom I had no idea. I used to be a very good sleeper and now, every single noise I hear—even if it's not from my son—I wake up. You're on 24/7. Even if I'm not with him, I'm alert. I really thought I was going to still have peace sometimes, but it really doesn't happen. My whole life is around him, so I don't have one moment that I'm not 100%."
The Mother's Day traditions she celebrated growing up:
"We always woke up my mom with breakfast in bed and some flowers that we cut. Now she lives in a city far away from us, so we try to do a little something every time—we have flowers delivered by someone that she likes or we even try to surprise her. We're three sisters, so every Mother's Day we try to have one of us surprise her. I remember one time we wrote a song for her because my sister was learning how to play the guitar. She cried so much. It's one of the oldest memories I have."
On the traditions she has with her son, Bento:
"It's only been two years, but I think he is starting to understand more. Last year, he painted a little vase and my husband bought flowers for the day. They brought it to me in the morning—it was very sweet. I don't know if he's going to make it a tradition—we'll see!"
The best gift she's received from her son:
"The first thing he said was 'mama'—I was so happy about that. But the actual gift, the thing I can look at, is the painting he made for me."
The best gift she's received from her husband:
"Oh, that's hard! Yesterday was International Kiss Day. We kissed for the first time 13 years ago yesterday. We haven't been together since then—we dated and then we broke up, and then we got back together and got married. I always joke that he was the one who kissed me, so I guess I'll say that was the best thing he ever did."
Most sentimental gift she's ever received:
"My mom's wedding ring. My dad passed away when I was very little, and my mom used to wear his wedding band. She gave it to me the day of my wedding, and she wrote something really beautiful—I can't even think about it because it makes me want to cry. I will remember that moment forever. I wear it every day with my wedding band."
How her style has changed since becoming a mom:
"I was always the more chill, comfortable kind of girl. But I guess it changed lots in the way that I have to be ready for everything, all the time. I feel like I grew up a little bit. Sometimes I think, 'Oh, this is too short'—so I've changed a little bit in that way. I was wearing a lot of shirts with buttons in front so I could breastfeed wherever I was. That has become a big part of my closet: shirts, shirts, shirts. Basic, classic ones, I guess."
How her reasoning for staying healthy has changed:
"Before, I was more like: I'm going to stay healthy for my job. Now, I just want to stay healthy for life so I can live more and watch my son grow. And, obviously, whatever I eat, he sees. I never liked to eat junky stuff but now I watch what I eat more closely because I want to be a good example for him. Now we're thinking about moving to a place where we can get food that is fresher, where we can take the kids to see the farm where everything is actually made."
What's on her wishlist:
"I'm in love with a Michael Kors bag that Michael gave me for a show I did for him. It's a small one, so I would love to get one that is a tiny bit bigger, like the Emry large tote, so I can throw in the baby stuff too. That way I can just wear that bag every day."
Where the name of her son came from:
"My first son's name is Bento. Bento is the word 'blessed' in Portuguese, and my husband chose it. It sounded perfect, a perfect fit for us. We go to church every weekend when we can and we have a lot of faith in God, so that's one thing that we thought was perfect. He's a blessing in our lives. And my second son, his name is going to be Benoah. I started saying it in my head, and I couldn't think of anything else. I convinced everybody else around me to agree, and everybody loves it!"
The advice she wishes she could give her pre-mom self:
"I wish I knew what a life-changing experience this whole thing would be. I wish I had paid more attention to the things that my mom said to me, like 'Enjoy your sleep.' You really, really learn and understand what your mom is all about when she says that she's worried about you every day. Now I'm 28 and my mom still calls me asking where I am. Before, I was like, 'Mom, come on, you know I've been living by myself for over 10 years.' Now I understand completely what she means. I wish I'd listened to her more and paid attention to the little things that she said and what she did for me."
The best piece of advice her mom has given her:
"To have faith. My first pregnancy was a little hard—the whole experience was hard for me, and I actually had a few issues with my blood. In my head and in my mind, it was always my mom telling me to have faith. I even got a tattoo of the word faith in Portuguese on my wrist to remind myself. When I became a mom, I learned how to have faith and respect. Respect time, respect what the world has for you."
Advice she hopes to pass on:
"To respect people and just be good, take time and have patience, which is something I always had to work on myself. I think it's very important to respect and be kind to people."