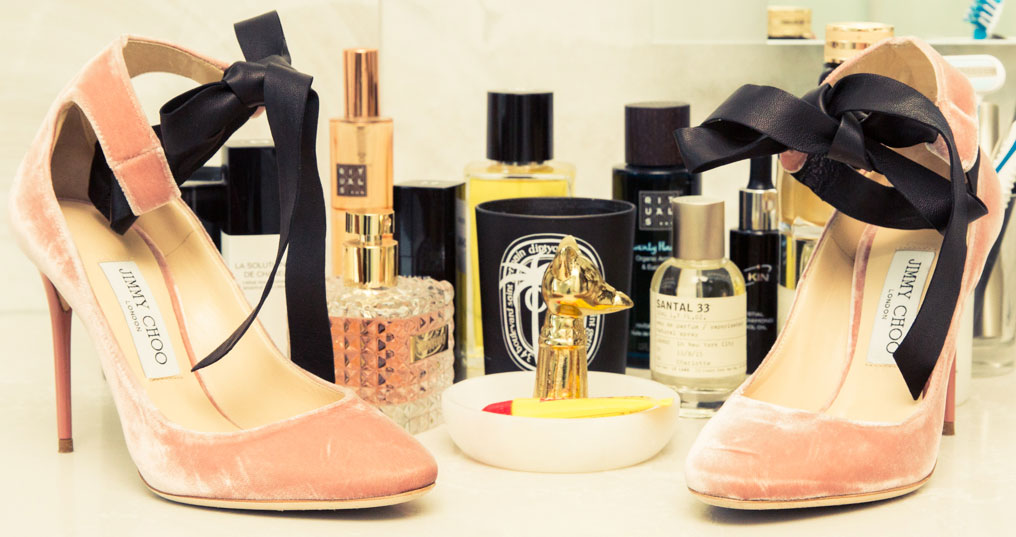 The Prettiest Date Night Makeup According to 5 Fashion Girls Who Know
Red lip or smoky eye?
As we enter into part three of our Date Night Series we can say for sure we've learned a few things. For starters, we've learned that dressing drinks are just as important as the uh, actual dressing part. Another useful tidbit? Knowing that on date night, lipstick is pretty much a no-go (so that you can properly scarf down that spaghetti pomodoro without having to worry about touch-ups). Keeping that in mind, we had the same five girls break down the anchors of their pre-date beautifying routines: skincare, makeup and scent. Which, if you're them, all comes down to getting glowy, natural looking skin, perfectly winged eyeliner and an intoxicating signature scent. Time to take notes, guys.
Beauty look
"I love a bronze smokey eye, it's sultry and sexy, yet still effortless. I start by wiggling Wander Beauty's Slide Liner gel eyeliner in bronze into my upper lash line. Here's a great tip, use a liquid shadow to keep your application mess free and easy. My go-to is our Exquisite Eye Liquid Shadow in bronze. I developed our liquid shadow so that it wouldn't fade or crease throughout the day, it really lasts! Next I curl my eyelashes using a three step curl which keeps your lashes up all night. Start with a gentle squeeze at the base, one in the middle and a final squeeze at the tip of your lashes. I finish off my look with a volumizing mascara to really draw attention to my eyes."
Eyes or lips?
"I always play up my eyes on a date and wear a neutral lipstick. My favorite is Wander Beauty's Wanderout Dual Lipstick. I developed our date night shade, a nude beige, for this exact occasion. On the other side is a classic red called GNO which is perfect for a night out with your friends! To make my lipstick last all night I blot, apply a second coat and then dust a translucent powder on top."
Favorite scent
"I bought Jimmy Choo's fragrance specifically for my wedding day, my husband actually picked it out and I love it. It brings back such great memories! For any bride-to-be I definitely recommend buying a signature scent for your big day. I spray it on pulse points like the back of my knees and cleavage, they're warmer spots on your body which will react with the scent and make it last throughout the night."
Beauty look
"I use the same products always, because they just work. I start with Dior Pore Minimizing Primer. Then I use LA Prairie Caviar Concealer in Mocha & Koh Gen Do Aqua Moisture Foundation, and I follow with my favorite blush of the moment, Honest Creme Blush in Truly Daring. Eyes are always Dior, always—Dior Lash Primer and Diorshow Mascara, and the Dior Art Pen which is the only eyeliner I can use because it's foolproof—I love a simple cat eye. Ziba eyebrow pencil in medium and eyebrow wax help me to fill in my forever 'growing them out' brows. I finish with a light dusting of Dior Nude Air Powder and a light lip—I've been using Chanel Rouge Coco Stylo in 218 Script. I also love to use the M‑61 by Bluemercury Fast Blast 2 Minute Mask before applying makeup, it's gives me a nice glow."
Eyes or lips?
"Eyes for dates, for girls night I can do lips. When my hubby and I go out we usually do dinner and a movie. I don't want to worry about my lipstick while I'm scarfing down my Chilean sea bass."
Favorite scent
"Frederic Malle's Carnal Flower hair mist. Only two sprays on the hair, that's all you need."
Beauty look
"I love Glossier, their products are super light and natural looking so you get just enough coverage without looking overly done up. I'm also obsessed with heavy mascara and my favorite product is definitely Sephora's Outrageous Volume Mascara."
Eyes or lips?
"I usually only wear lipstick on my makeup off days for a pop of color so if I'm going on a date, I'll usually pick eyes over lips. You'll also probably get more kisses without lipstick on."
Favorite scent
"I have a secret potion that I have been wearing for over 10 years now and I can't give it away but it's all organic non synthetic scents that come from essential oils."
Beauty look
"I'm getting really into the Dr. Dennis Gross Skincare Alpha Beta Peel. It makes my skin feel really smooth. Then I use Rodin Olio Lusso, a face oil, because I have dry skin. I can't live without it. My biggest "trick" is that most of my makeup is Wet n' Wild. I don't think expensive makeup is worth it most of the time—the cheap stuff can be even better. With the exception of concealers and tinted moisturizers—for those, I'll go higher quality."
Eyes or lips?
"I switch back and forth. I'm okay with lipstick on a date. Sometimes if I think a make-out is near and my lipstick is heavy, I'll wipe it off in the bathroom, since lipstick kissing isn't very appealing. There's that famous Andy Warhol quote, 'People look the most kissable when they're not wearing makeup. Marilyn's lips weren't kissable, but they were very photographable.'"
Favorite scent
"I like Dolce and Gabanna Pour Femme. It's quite girly. I spray it on my hair and underwear… because you never know."
Beauty look
"My date night makeup isn't very different from my normal routine. That said, I recently fell back in love with eyeliner after a long break—Charlotte Tilbury's Rock N Roll Kohl in Marlene Midnight is my go-to product—and will wear it on both my lash line and my waterline at night."
Eyes or lips?
"Eyes, for sure. In my highly unscientific testing, I've determined that my fiancé kisses me more when I'm not wearing dark or bright lipstick, or heavy gloss, so I tend to stick to balms or stains when we're together. I usually have Lipstick Queen's Frog Prince on hand, which looks a bit scary in the tube, but turns into a pretty, bright-but-still-natural pink on my lips."
Favorite scent
"Le Labo Rose 31, sprayed on my neck and wrists."