Fashion
Getting Coachella Ready with Bebe Rexha
We spied on the the singer's pre-show routine.
Arriving to meet Bebe Rexha on the first night of Coachella was kind of surreal. It had been a long day in the desert heat and although we were reminded a thousand times over by festival regulars, we naturally hadn't consumed enough water or applied enough SPF. And it wasn't until we showed up at the singer's suite in Indian Wells, catching her at the tail end of hair and makeup prep, that we realized how tired we probably looked. Which only becomes more evident when you're smack dab in front of someone who a) looks like *that* following back-to-back shows slash parties, and b) is responsible for a multitude of Billboard topping songs.
---
"For makeup, I usually stick to two simple looks; I either do a red lip and a winged eyeliner, or a smoky eye and a nude lip. Tonight, I'm going for a smokier look; during the day I did a very light brassy look—super simple. But now, since it's getting darker on stage, we went for a darker look with blacks and browns that show up on stage, while still keeping a very nude lip. I use Spice M.A.C lipliner—I love it.
For a red lip, I love M.A.C stains. I love their Cherry lipliner. My favorite lipstick of all-time is a lipliner from M.A.C that I use as a lip color; it's called Nice n' Spicy. I love it SO much. I'll put a light pop of gloss on it to lighten it up. It looks really pretty, because you can overdraw a little bit to have that full lip."
"Honestly, I'm actually really bad at nighttime skincare. I use Neutrogena makeup wipes when I get really tired and I won't wash my face until the next morning—it's so bad! I make sure to take all the makeup off by using three wipes. When I wake up in the morning, I'll take a shower and properly exfoliate.
For exfoliating, I use a drugstore scrub from Neutrogena. And then I use Clean & Clear cleanser—it actually takes of all my self-tanner, which is a good secret. And then I use Bobbi Brown all over my face, nothing crazy."
"I'm really excited about my performance tonight. We've been performing this song with G-Eazy on tour for so long, doing Jimmy Kimmel, Jimmy Fallon, all these big things. But I think tonight's the night that's going to be amazing. It's the start of summer, the end of this chapter and the beginning of a new chapter."
In case you didn't know, Rexha's voice is the one behind that song you've got on repeat, "Me, Myself and I…" And is continuously stuck in our heads. Not that we're complaining, though—it's served as the theme song to many a breakup, pregame *and* road trip. Plus, she's the one just casually collab'ing with the likes of Nicki Minaj, G-Eazy and David Guetta on tons of number one songs. Oh, and she helped pen a little Eminem and Rihanna song you may or may not know. 
"My favorite lipstick of all-time is a lipliner from M.A.C that I use as a lip color; called Nice n' Spicy."

 
Safe to say, girl is one to watch (if you haven't yet)—and after hearing about what's next from the singer (it involves Sam Hunt, but our lips are sealed), we couldn't agree more.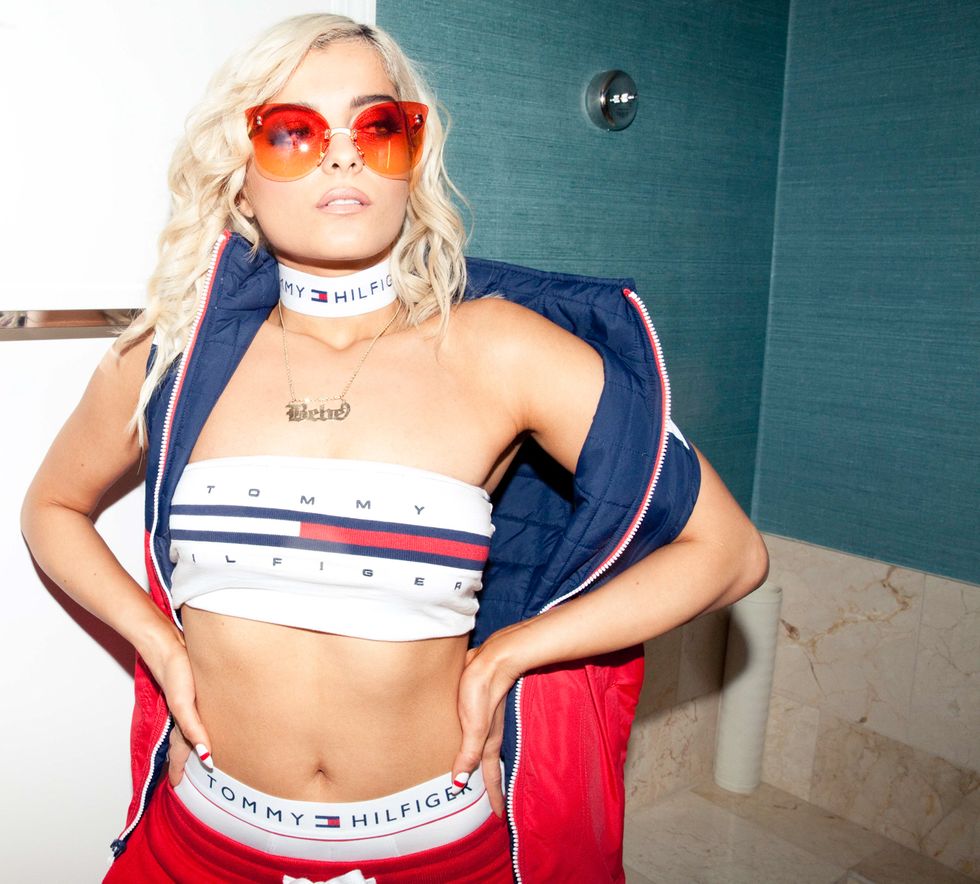 "For my hair, I use organic coconut oil every night before I go to bed. Legit every night. I use Sachajuan oil and a vegetarian shampoo and conditioner that don't build protein in your hair. I take really crazy good care of my hair and I'll rarely put heat on it. During shows, I just use tons of oil and put it in a bun or ponytail. That's why my hair is always up; I refuse to let it fall out. I try to get Olaplex treatments in my hair, too. They also sell it in these little bottles, which I like to use at home."
"When packing for Coachella, I bring a lot of extra [clothing] options. We were lucky enough to get a lot of cool stuff from Calvin Klein and Jeremy Scott, and a lot of other up-and-coming designers. But I definitely overpack—I brought about 20 pairs of sneakers. Lots and lots of options!
I always have my Black Currant Pastilles, which are lozenges for my throat and spray. I always have a good moisturizer (the Bobbi Brown one), my Céline sunglasses (I have them all the time they're my go-to). And I always keep a good baseball cap in my book bag, along with my phone and phone case, which has all my cards in it."
"Love in general inspires me—it may be heartbreaks or the general amazingness of it."
"The last thing I Googled was Sam Hunt. I can't say why…I can't tell you. I think he's hot. I wanted to see what he looked like [laughs]"
As the makeup artist briskly applied finishing touches to Bebe's on-stage look for her performance with G-Eazy that evening—an eye that was equally smokey and shimmery—our photographer got to snapping. After a quick chat, where the singer broke down her skincare routine—including how she sometimes forgets to take off her makeup before bed (artists, they're just like us!) and her festival essentials, which featured tons of custom Tommy Hilfiger, Louis Vuitton and Moschino (not really like us…)—she was off to soundcheck. G-Eazy and a casual polo field full of thousands of fans, were waiting after all.