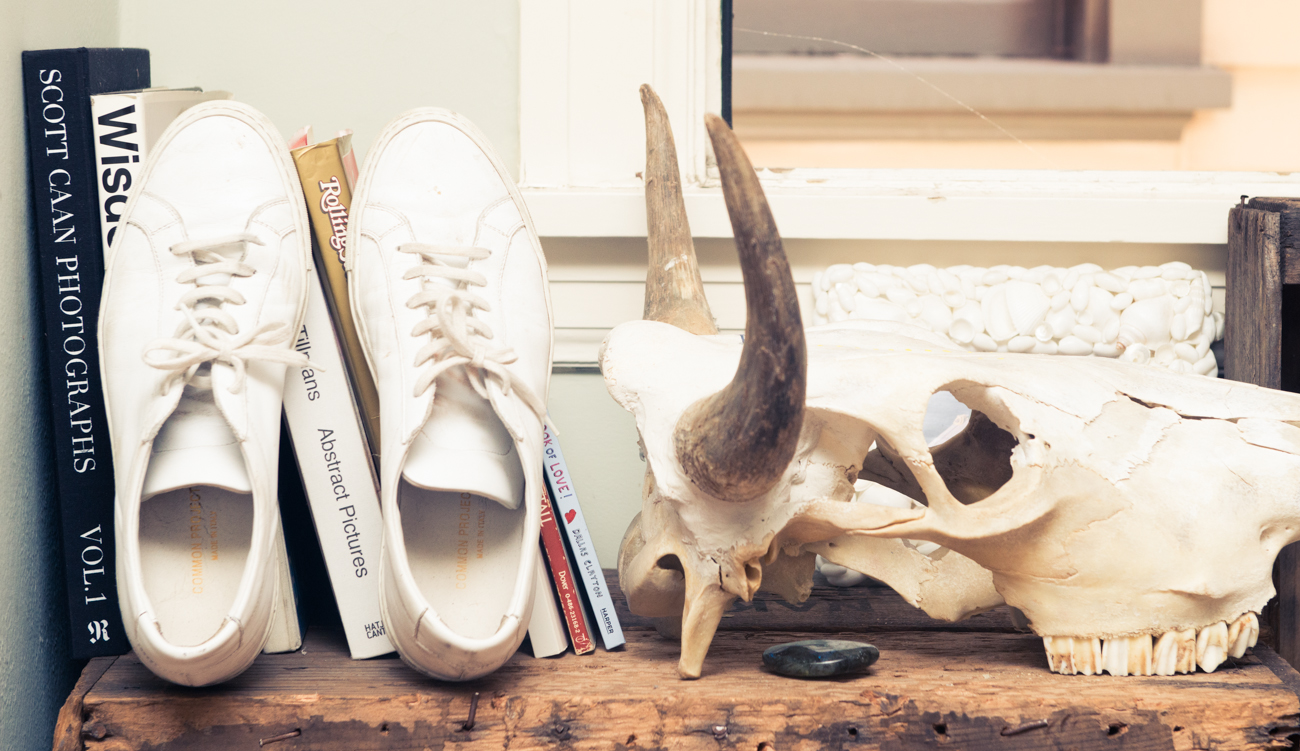 Editor's Picks: Coachella Edition
Because you don't need to go to the festival to dress like you are.
What are you guys doing this weekend? Possibly heading to a little festival called Coachella? One of our own is heading out (have fun, Alicia!) and the rest of us, well, we'll be living vicariously through her snaps (in case you don't follow us on Snapchat yet, now's a really good time to start). Whether you have a case of FOMO or FOGO when it comes to music festivals, we've got you covered. Here are all the things we'd bring with us, or stay home and do (or wear!) instead during the first weekend of Cali's most major spring event (as you'll see, the majority of us are skipping out this time around).
Meagan Wilson
Senior Editor & Social Media Manager
1."One Dance" by Drake: When I say this has been on repeat since last weekend, I do mean ON. REPEAT. As in, playing for the entirety of my walks to and from work, the gym, and just about everywhere else.
2. Krewe sunglasses: Moda Operandi consistently kills it in the here-are-one-million-upcoming-designers-you-need-to-know-about department; and Krewe (have you heard of them? Am I supposed to have heard of them?) is no exception.
3. "These Two Guys Are Changing How We Think About Fashion": I generally fangirl over anything Alexander Fury, but this is on another level. Plus, those covers? :100:
4. Golden Goose glitter sneakers: I think my feet actually might cease to be useful if these don't appear on them soon. Imagine how great these would look while dancing in Indio?
5. The Coveteur: Private Spaces, Personal Style: Shameless plug time: WE WROTE A FUCKING BOOK! Inside is possibly my favorite closet shoot of all time.
1. Chloé pants: It's officially gotten to the point where I'm sick of jeans (gasp, I know) and refuse to wear tights. Enter: these wide-legged track pants with a perfectly youthful stripe down the side to solve all wardrobe conundrums until it's time to go bare legged.
2."Child's Play" by SZA: If you're reading this, chances are I'm in the Indio desert listening to SZA make her Coachella debut.
3. Paula Cademartori Bag: Weird how the weather affects our moods (and shopping habits) SO drastically, right? I'm convinced this multicolored and tropical bird covered bag will brighten up the blues that accompany April showers (as well as standing out among the fringed bags at Coachella).
4. Corral del Rey Hotel: I kind of left my heart in Spain when I lived there a few years back and going to visit is always special. The architectural vibes in this boutique hotel converted from a 17th century home are stunning, and are giving me a serious reason to book a flight to Sevilla.
5. Raden Luggage: The launch of this line gave me a complete "why didn't I think of that" moment. It's the smartest—there's a scale, GPS and phone charger in every waterproof case—and prettiest luggage on the market. They've basically thought of everything. 
Laurel Pantin
Editorial Director
1. Dorateymur Patent Boots: Full disclosure: I just pre'o'd the baby pink version of these for next fall, and I. Can't. Wait.
2. Somm: I love a good documentary, and after hearing our Site Director, Andee Olson, talk about Somm (all about the process of becoming a master sommelier), I'm dying to watch this while I stay cozy and happy inside my apartment this weekend, having exactly zero FOMO about Coachella.
3. Loewe Hobo Knot Leather Shoulder Bag: I'm in desperate need of a new tote. I bring my laptop absolutely everywhere, so it needs to be big enough for a MacBook Air, but also look cool and professional. I'm leaning towards this one, but I'm concerned that between my travel schedule and my general dislike of napkins (smudgy fingers!) I'll ruin it in, oh, about sixteen seconds. Thoughts?
4. Loquet London: If I'm being real with myself, the number one ultimate item on my wish list is a locket necklace from Loquet London. I've designed it so many times using their online tool and fantasized about all the ways I'd wear it for so long, I think this is my year to actually do it. Currently in my dream locket: an emerald, an aquamarine, a pearl, a moon, and a mother of pearl star. *Swoon*
5. Avenue of Mysteries by John Irving: I love John Irving (A Widow For One Year is one of my all-time favorite books) and I'm currently devouring his newest novel. It took a minute for me to get into it, but now I'm beyond hooked.
Noah Lehava
Senior Editor
1. Sanderson London: I completely fell in love with London when I visited a few weeks back—it might have had a little to do with Kendrick—and can't wait to go back.But the best part of a working-vacation is going back to a soaking tub at your hotel at the end of back-to-back shoots. Bliss.
2. Giambattista Valli heels: These are the shoe version of a mullet: business-ish (it counts) in the front, crystal-flower party in the back.
3. Daryl Dixon action figure: I've reached peak fangirl status for anything The Walking Dead—to the point where I'm actually considering investing in a pint-sized Daryl to sit on my desk.
4. Vianel wallet: I recently moved out of my condo and a casualty of said move was a silver card holder. I NEED to replace it with a customized gold version.
5. Shower speaker: Apparently everyone does this but I've recently (as in this morning) experienced what it's like to listen to music while in the shower. It's just changed my life. Listening to music in my rain shower wins over listening to music is a dusty, hot desert this time around.
Emily Ramshaw
Senior Editor
1. The Sixties: Okay, this is about to make me seem like a huge nerd (which, in many cases, is accurate), but I'm currently seshing CNN's documentary series about one of the many decades I wish I didn't miss on Netflix. So, like, I guess while you guys are watching A$AP Rocky at Coachella, you can think of me under five blankets reliving JFK's assassination. 
2. Brother Vellies shoes: Seriously obsessed with this collection. And these shoes make fur in the summer completely acceptable.
3. Paulie Gee's: I just tried this Greenpoint institution for the first time this week and it was literally the best pizza I've ever had in my life—not even an exaggeration, which is saying something because I'm pretty much made of pizza (okay, so that was a tad hyperbolic, but you get the picture). If you haven't yet, just go.
4. The Association of Small Bombs: Next up on my neverending reading list, my book club is having me read Karan Mahajan's novel about the aftermath of a terrorist attack in 1990s Delhi.
5. Bumble and bumble Thickening Dryspun Finish: A hairstylist gave me a bottle of this on set last week and I've been using it obsessively ever since (so, for like six days). But it actually seems to deliver on what it promises—to create "instant fullness and airy texture"—which for someone whose hair is perpetually thin and flat, is pretty miraculous. This would be the first thing I'd pack if I were heading out to Coachella.