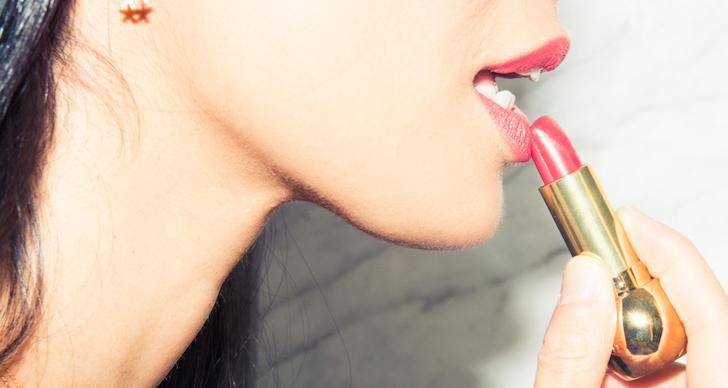 Editors' Picks: Our Favorite Lip Products
From drugstore to department; all the balms, stains and treatments we stock up on.
There's something about finding the right lip product—matte but not drying, high color payoff but not too high-maintenance, moisturizing but not goopy—that can feel like an absolute miracle. If it ticks all the aforementioned boxes and comes in just the right shade to flatter our skin tones, well, then we want to tell all our friends about it and stock multiples of it just in case it gets discontinued. At the same time, though, we fully admit to hoarding tubes of various products in various shades—because you just never know when you're going to want to wear dark purple lipstick. So, while we may have a serious stockpile, that doesn't mean we don't play favorites. Here are the key products making up our editors' lip arsenals.
I'm going to be honest with you guys, here: While my whole apartment may be Marie Kondo-ed to the max—as in, I keep little, throw away often and edit what I do keep—there's one area that's exempt from the constant purge: my beauty cabinet. The number of lipsticks (or general lip products) I own is borderline ridiculous. Especially when you compare it to the number I keep in constant rotation.
On the day-to-day, I always have chapstick, duh. But, unlike most people, I've yet to find my go-to. Instead, I rotate between different formulas; right now, I'm loving Fresh's Lip Treatment, but Aquaphor and Lucas' Papaw Ointment are the OG chapped-lips fighters. When I just want a hint of color during the day but nothing too lipstick-y or high maintenance, I swipe on Clinique's Baby Tint, which gives the prettiest pink shade. If I'm looking for more color payoff, I use Tarte's LipSurgence lip tint in Enchanted. I'm so obsessed with this product that I now keep multiples in various bags and cabinets, just in case. You can apply it without so much as a glance in the mirror, and it fades beautifully—which means no need for constant touch ups. If I'm having a serious lipstick occasion, it's NARS Velvet Matte Lip Pencil in Dragon Girl every time. As you've probably heard a million times over, the color really does flatter everyone, and once it's penciled on, it really stays put. So, basically, worth every award and ounce of hype it gets.
Laurel Pantin
Editoral Director
As far as annoying allergies go, I won the jackpot: beeswax and red wine. Red wine is a buzzkill for obvious reasons, but beeswax is in 99% of lip products and makes my lips split and crack like crazy. Before I made that discovery, I thought my lips were just chronically dry and the answer was to apply more balm, more often, which obviously made the issue worse. It was horrible. So I have to be a little bit more picky with my lip products, and my all-time favorite beeswax-free balm is VMV Hypoallergenic's Boo Boo Balm. It's formulated for babies (which is a little weird, but whatever), so it's gentle, and it contains a ton of coconut oil, meaning it's both moisturizing and healing (coconut oil is naturally antibacterial). It makes a great all-around wonder-balm, and I use it on my cuticles and on small cuts and scrapes too. It's the only product I would want to have (besides SPF, obviously) were I to be stranded on an island. Which, considering the hideous weather in NYC lately, actually sounds pretty good right now.
Neosporin also makes an incredible overnight moisturizer that I LOVE. It goes on really thick, almost like a night cream for your lips, and when you wake up, they're incredibly soft and moisturized. Another good one is Lano Lanolips' 101 Ointment Multipurpose Superbalm—it's made with Australian lanolin, which is really good for your skin. Once my lips are soft and flake-free, I'll sometimes go for Benefit's Benetint Cheek and Lip Stain. I'm not a big makeup-wearer—I don't like the way it feels, and I generally think I look better without much on—but this doesn't rub off, and it gives the perfect amount of I just ate a cherry popsicle color.
Meagan Wilson
Senior Editor & Social Media Manager
Confession time: I've never really worn lipstick. I've obviously dabbled, but, for me, it's like a smoky eye: pretty on everyone else but it just feels…strange on me. That said, dry, cracked lips escape pretty much no one. I've had to find at least a few lip products I like enough to have kicking around in my nightstand and purse. Aquaphor is obviously the OG and will soothe even the most tortured, splitting lips. I also love Fresh's Lip Sugar in Rose for something that's soothing but a little less heavy-duty (plus, it has the sliiiiightest hint of color that doesn't send me recoiling at my reflection). Finally, Vaseline's Rose Balm—again, in the classic tin, not that goopy little container.
Noah Lehava
Senior Editor
Other than the fact that I hoard lipsticks, my lip routine is pretty simple. I rotate through colors depending on what I'm wearing and how I'm feeling. Like a mood ring, but with lipstick. A few of my favorite brands are Bite Beauty (it's all natural and the texture is perfect), Dior (it's sheer and super silky) and Tom Ford (because the color selection is insane).
If I'm wearing a bright or saturated color, I'll always (ALWAYS) wear lip liner. I'm not too particular on whether or not it's a perfect match, and I'm not dedicated to one brand. The trick is (or my trick, rather) is to line my lips and color them in with the pencil first. Then I apply a similar shade of lipstick on top. I press my lips into a tissue to set and touch up the lines with the liner again, if necessary. On days when I'm feeling a bare lip, which, I'll admit, is most of the time lately, I'll use Blistex in the dark blue pot. It's cool, minty and seems to be the one that moisturizes best.
Emily Ramshaw
Senior Editor
First things first: I have a deep and long-standing love affair-slash-addiction with lip balm. And I've had it since I was a kid. My dad, weird hippie that he is (he doesn't believe in deodorant, if you can stomach that—not sure how my mom does, tbh), was anal about one thing, and that was Chapstick. And just like him, for as long as I can remember, I've had a stick of Chapstick or Burt's Bees or Blistex (I have no loyalty apparently) next to my bed. I also have some kind of lip balm in literally every bag that I carry, usually in multiples. I recently cleaned out my closet and found bags from years back that had five slightly stale lip balms sitting at the bottom of each. My favorite to carry is Fresh—especially the tinted ones. And if I don't have one on me, it inspires a kind of pseudo-panic unlike anything else. Does lip-balm dependency count as daddy issues in this case?
Lip gloss is a no-go for me. I have very long straight hair that ends up everywhere, so anything sticky is out of the question. And lipstick I have a love-hate relationship with. I LOVE how lipstick looks and I put it on whenever I need to feel that much more put together. I also own 1,000,000 tubes (barely an exaggeration) and am constantly switching favorite brands (although NARS, Charlotte Tilbury and Dior remain high up there, no matter what). BUT considering the fact that I completely forget about my makeup when I'm not staring at myself in the mirror, I'll show up to a party, dinner or workday with a great color on and within half an hour it's reduced to a school-librarian lip liner rim and then, soon after, nothing. Simply put, I'm typically not one for a regular refresh. Also, how does one kiss one's boyfriend wearing a YSL red? I have yet to figure it out. You know where to reach me if you do.