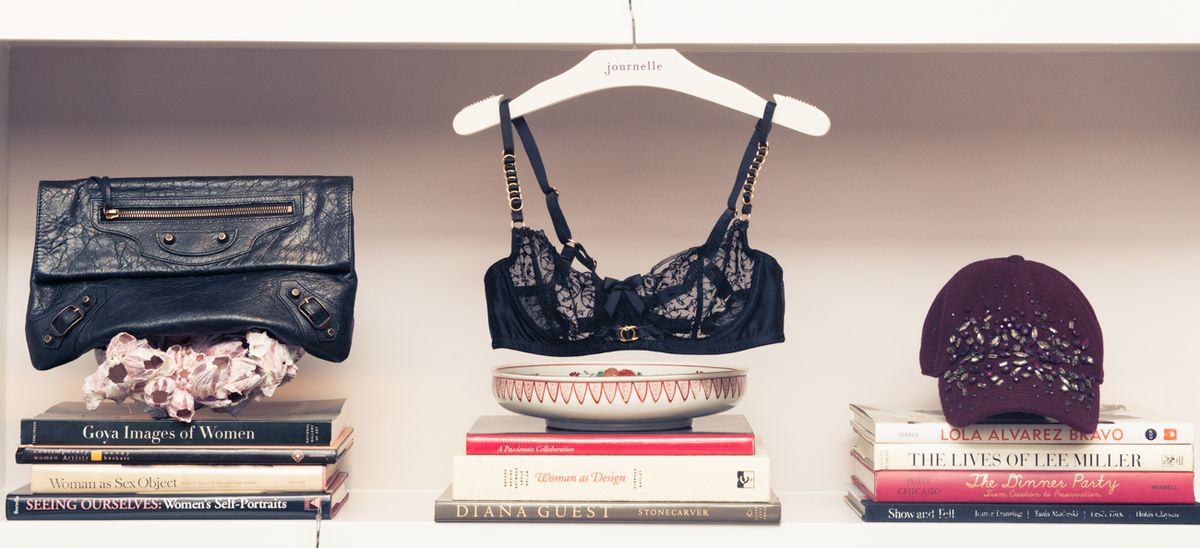 Fashion
Ashley Graham, Josephine Skriver & more break it down.
Finding a good bra is notoriously difficult. It's the one thing most women wear day in and day out, and yet an overwhelming number of us find ourselves wearing the same old worn, faded and stretched-out number we may have had in rotation since high school or college. Oops?
With our own struggle in mind, we consulted a panel of women who are what we'd consider "experts in the field." As in, they either design lingerie (Jennifer Zuccarini of Fleur du Mal, Allison Beale of Journelle, Lauren Schwab and Marissa Vosper of Negative Underwear) or wear a lot of it (Candice Huffine, Josephine Skriver, Ashley Graham),and do it well. Here are their tips on finding a bra so perfect, you'll be more than happy to toss out your "vintage" model.
---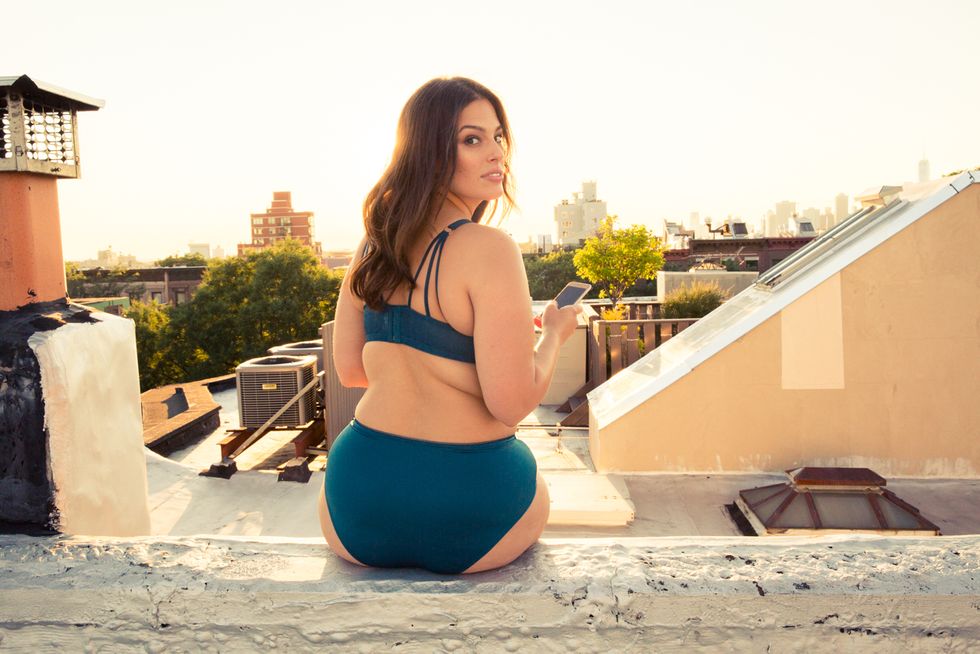 Why finding the perfect bra is the key to everything else:
"Your bra is the foundation for your entire outfit, especially for women with larger breasts—we need to make sure they're supported and looking good! It's all about the fit, so make sure you know your true size."
Exactly how to find the perfect fit:
"I highly recommend getting fitted by a specialist and getting refitted if you experience a change in your weight. Chances are you've been wearing the wrong-size bra for years. You'll also want supportive bands and straps that aren't too thin—make sure they aren't leaving marks on your skin, riding up or sliding down."
The styles she's loving right now:
"Right now I'm loving a bondage strap, a mesh cut-out or subtle lace, and I incorporated those elements into my collection with Addition Elle. Also, the bras from my new 'Essentials' collection with Addition Elle are perfect for everyday wear, under a T-shirt or when you want something a little less fancy."
What pushed her to design lingerie:
"I saw a void in the market for lingerie for curvy women who need undergarments that make them feel sexy. I wanted to design a collection that would encourage curvy women to wear bras that they'd want to show off, not hide. We really listen to our customers and give them what they're asking for. Larger-chested women want to be wearing the same sexy styles that women with smaller breasts are, and there isn't any reason why we can't!"
Her go-to everyday style:
"I like to incorporate something sexy into my everyday wear. If I'm wearing a pair of dropcrotch pants and a leather jacket that are a bit more masculine, I might wear my balconette bra with bondage straps to add some sexy."
Lauren Schwab & Marissa Vosper
Founders, Negative Underwear
The best bras for smaller sizes:
"For smaller cup sizes, where support is less of an issue, you can get away with a broader range of styles, from demi cups to balconettes to bralettes. That said, a lot of women with smaller cup sizes struggle with gaping in traditional molded cup or padded bras that leave you feeling like your chest is on the floor when you take off your bra—not so cute. We say own your body as it is and find adaptive, unlined bras in beautiful fabrics that make you feel sexy regardless of how much curve you're flaunting."
...and larger cup sizes:
"When you have a larger cup size but don't have to worry about support, aesthetics are really driving the decision. Of course, you still want to ensure the band fits snugly, the center gore lays flat, the straps don't dig and the bra feels good on, but you have the luxury of sexier cuts than might otherwise be the case. Because you're already well endowed, skip the heavy push-up pads and go with a sexier, unlined demi cup bra.
When you've got a naturally larger bust, it's more about the support of the materials than the cut per se. Of course, higher-coverage bras can lend additional support because there's more fabric in place, but if you have a supportive band and cup fabric (like a powerful mesh), you can wear sexier cuts and still feel supported."
...and when you want a little lift or cleavage:
"If you're after a lot of lift and cleavage beyond what your girls naturally have, a push-up bra is the standard option. However, we're more interested in a natural (but still perky!) shape, which typically means an underwire bra (versus a bralette). The lift of a bra really depends on the cut and how it fits your body—when you're wearing a well-fitting bra that provides the right amount of support for you, you'll get the lift easily. When your bra is too loose, too small or bulging in places because the fit is off, it's a lot harder to get a natural lift."
What they keep in mind when designing for every bust size:
"The materials in your bra should be adaptable—we never understood bras made with rigid ribbon straps or stiff lace trims."
What you don't know about bra shopping:

"Believe it or not, there's absolutely no rules when it comes to bra fitting. You'd think a 34B is a 34B across the board, but it's not—each brand has their own specific fit. When it comes to building a new product, many companies simply make samples in a sample size—for efficiency and to keep pace with the fashion calendar. Because we believe that women don't care so much about seasonal lingerie, the majority of our collection is core, and so we've chosen to make our bra samples across every size we make in order to get specific feedback about each size up and down the spectrum, from 32A to 32DD, 34DD and 36D. It's a much more arduous process, but you end up with a way better fit as a result."


"The key to feeling sexy and confident is wearing a bra that fits just right. I love the Victoria's Secret Very Sexy Lightly Lined Plunge Bra. It provides great support and just the right amount of cleavage. Whether you opt for a style with delicate lace details or vibrant prints, there's something for every occasion to make you feel confident."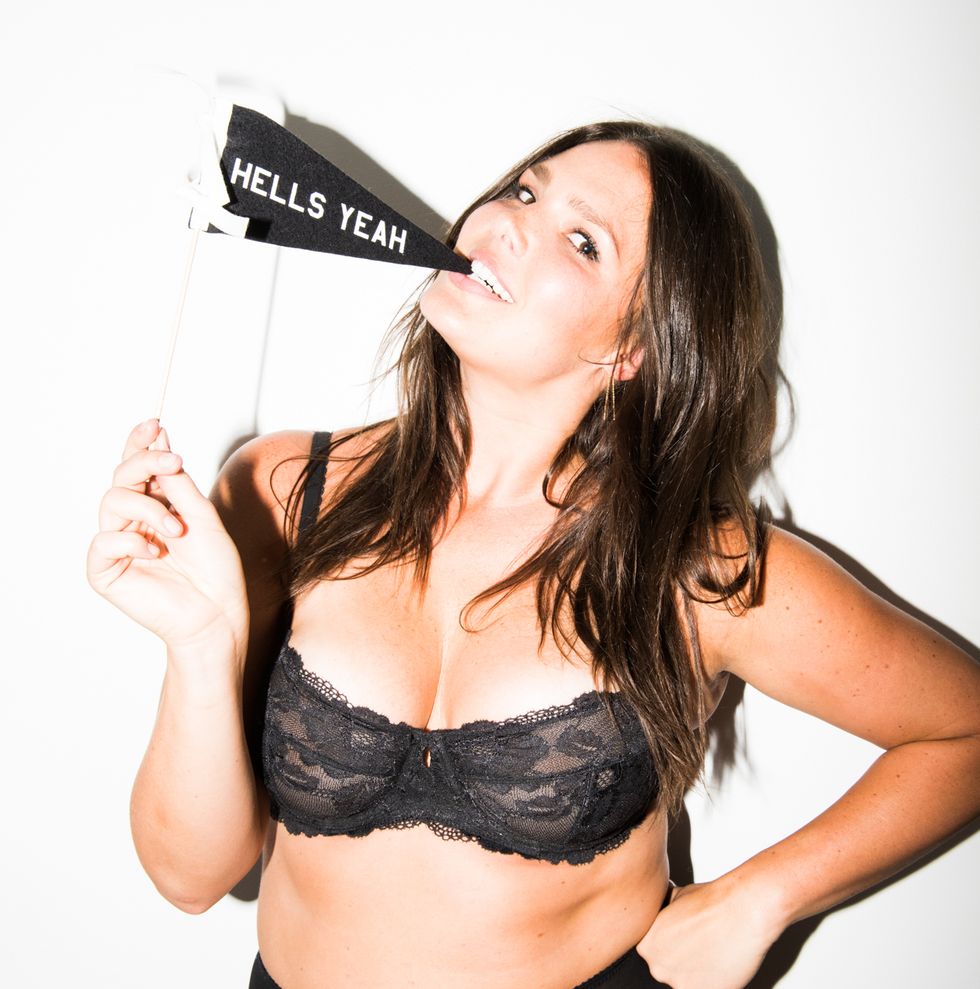 Her go-to for everyday wear:
"A T-shirt bra. It's black—it has an underwire, but isn't padded at all. I'm already a busty girl and I personally don't want them to be bigger. Not because I'm ashamed of them in any way—I love my breasts—but sometimes, for clothing purposes, I just want a very simple casual bra. I'm a T-shirt gal, so it works perfectly! Calvin Klein and Wacoal make my favorite ones. I get the Wacoal ones in racer back and regular. Basic colors, basic shape, no bells and whistles. That's my every day. Of course, I have options when I want to spice it up and wear something a little bit sexier, but that's my all-purpose bra."
And her sexier favorites, too:
"It doesn't have to be red and lacy when you want to amp it up a little. I'm a huge fan of Fortnight lingerie. I find that to be so sexy. It gives you what lace gives you, but in a different way because they use a lot of mesh. Their bras also aren't aggressive push-ups at all. I love their longline style—it's very feminine in a way that makes me still feel sexy and comfortable. I'll play around with a sheer blouse so that you can see a peek of it—it can almost be a statement piece underneath."
When the event calls for a little bit of cleavage:
"Cacique is also really great at supportive bras that make 'the girls' look beautiful and have really sexy elements. It's a total misconception that if your breasts are bigger, any sort of sexiness or style goes out the window and you just have to have, like, the plain boulder-holder with six-inch straps [laughs]. There are so many options now, it gives you a chance to play around with different styles and accentuate your cleavage. It's not taboo to have your bra stick out. There are really beautiful pieces made exactly for that."
The perfect sports bras for bigger sizes:
"I just ran a half-marathon, so I'm an expert in sports bras. They're tricky because there are tons of different ones that are made for different purposes, which took me a long time to figure out. I was getting the sports bras for low- and medium-impact workouts, which meant I was not held in whatsoever. I've been wearing a lot of Victoria's Secret sports bras, actually. Their new sports line is working really well for my size."
How her days working at the mall formed her view on bra fittings:
"I can't stress enough how important it is to try everything on and get fit. I used to work at Victoria's Secret back in the day, and I would always try to encourage women to get fit. Like, 'Please, before you try anything on, please let me fit you.' Most of the time, the reason that you think your bra is crappy is because it's the wrong size. Our breast size is always changing and our width is always changing. Somebody told me in a bra fitting once that I was a size F, and I've never worn an F again; which meant that I would've been wearing a bra that was too small in that brand if I would've just stuck to my guns about what size I thought I was."
Jennifer Zuccarini
Founder, Fleur du Mal
The best bras for smaller cup sizes:
"Smaller cup sizes are perfect for triangle or any soft bras without a wire, since they need less support—although if you want a bit more help, a lightly padded plunge or demi bra works well too."
...and larger, too:
"Larger cup sizes can wear many different styles if they are constructed properly. Demi bras have a cup that is built up on the top with the straps set closer in, usually providing the most support. Balconette bras—a sexier style where the cups are very straight across lifting more like a shelf, can work as well. The key is not to limit yourself and try things on! Triangle bras are usually not the best option."
And for lift and cleavage:
"Plunge shapes or padded demi bras work best for lift with cleavage. The cups are angled inward and the center front is usually very low, with additional padding, everything is pushed in to create cleavage."
What she keeps in mind while designing for different sizes:
"It's challenging to make a bra that fits a 32B also fit a 36 DD—it's a completely different thing—the elastics, overall fit, width of the wings, everything has to change. We offer a variety of shapes every season and try to balance soft bras, with wired bras that have no padding, lightly padded bras etc. We recently added DD to our best selling styles but I'm working on a new design that will be specifically fit for larger cup sizes."
Allison Beale
Brand Director, Journelle
What smaller cup sizes need to keep in mind:
"There's a perception that if you're a small cup you can wear anything, and that's not untrue. Barely there bralets, lacy styles, quarter-cup demis—they all look fantastic on smaller cups. The Timpa Duet Lace Underwire is a cult favorite at Journelle. It's low-cut so you can show off your décolletage and supportive enough to give a good bit of lift, sans padding. Hard to argue with the rainbow of colors offered too. If you're a fan of padding, Timpa does a similar style in a padded, half-cup silhouette."
The bras that fly off the shelves in larger cup sizes:
"Don't be mistaken, you can still opt for a lace underwire if you have a bigger bust, but you'll want a silhouette with a three-part cup offering slightly more coverage and support. Miss Mandalay is known for gorgeous full-coverage styles boasting adjustable all-the-way straps that give even more support and—bonus!—are comfortable to wear."
When you're looking for a little cleavage:
"Head straight for the balconette bra. Balconette literally means 'balcony,' which gives you a visual of how the bra will fit. Select a style with an inner sling (bonus if it's satin) and you'll see some support, too. The Eva balconette from our Journelle Collection and the L'Agent Vanesa are two gorgeous, lift-inducing balconette bras."
Her favorite bra brands:
"I love all the British brands—Bordelle, Lascivious, Damaris, Agent Provocateur—for their overtly sexy but powerful, cheeky approach to lingerie. I'm also a huge fan of Dear Bowie and Olivia Von Halle for their over-the-top luxe loungewear and hands-down some of the best prints around. And I would be lying if I didn't say that unlined lace demi bras didn't feature heavily in my lingerie drawer. For those, I go to our in-house Journelle collection and L'Agent by Agent Provocateur. My collection of bras is a little insane."