Career
James Nord & Rich Tong are changing the whole influencer game.
Ben Ritter
We've absorbed a lot of secondhand advice by invading people's homes and offices over the years. And we're lucky enough to be able to call up those industry vets and grill them for all sorts of career, life and beauty tips. The underlying theme? Don't quit. Basically, keep at it, work hard and refuse to give up, and your dreams will manifest themselves in due time. Fohr Card, however, is here to tell you differently, which, guys, is a Coveteur first. Founders James Nord and Rich Tong (whose story of meeting, changing their career paths and starting a business together is pretty inspiring to say the least) are encouraging creatives to quit their jobs in favor of, you guessed it, following their dreams. But not in a totally fantastical way—in a very tangible, business savvy and 2016 way.
---
But before you up and leave your nine-to-five to qualify for membership in the Fohr Card Quitter's Club, let us break it down for you. In this Instagram-heavy age, there are a ton of "influencers" (i.e., all your favorite fashion bloggers, photographers, artists) in the game. But there are also a ton of brands that are looking for ambassadors to represent them. Enter Fohr Card, which matches the two groups—so that all those influencers get to work with the brands they love and vice versa—which makes everyone happier and more successful in the long run. Genius, no? So naturally we had to head over to Fohr Card's airy new digs in Soho (where, BTW, we also met Penelope, the fluffiest office dog ever) to have Nord and Tong explain their business to us. Herein their workday essentials (The Wall Street Journal *and* bourbon, because balance), career advice (it's pretty straightforward: don't be an asshole) and the struggles (and successes) of building a business from the ground up. If it all makes you want to up and leave your cozy desk job (or if you already have), they should be your first call. Just saying. 
THEIR CAREERS UP TO THIS POINT
"I've been all over the place, picking up random bits of experience and knowledge. I started on Wall Street, worked at a wedding website, then did some e-commerce work. I was doing sales when I met Rich [Tong]. 
Rich had a similar story in that he studied to be an architect and did store design at Coach for a while, before leaving to start a fashion startup called Weardrobe. While there, he taught himself how to code and ended up selling the business to Google. Following that, he was the fashion director over at Tumblr, which is where we met." – James Nord
HOW ONE EMAIL LED TO FOHR CARD
"When I met Rich, I had a decently popular Tumblr blog and I was hoping to shoot some fashion. I'm from Georgia and didn't know a soul in the fashion industry, but Rich was doing these Tumblr fashion week activations and I really wanted a spot. I took him out to lunch and made my pitch on why I should be included in the upcoming fashion week program. He didn't end up asking me, but a few weeks later he emailed and said Oscar de la Renta needed someone to shoot their FNO party and asked, was I interested? I was!
 
That email really changed my life insofar as me being a photographer and early 'influencer.' Once Rich left Tumblr, we thought, if he could change my life with an email, maybe we could build a business that could do that for thousands of people. That's how Fohr Card began." – JN
THE CHALLENGES AND SUCCESSES OF STARTING A COMPANY
"[Fohr Card] was my first time starting a business and Rich's first time trying something at this scale. I think our first issues involved competing with an underdeveloped market while simultaneously competing against our own naiveté. When we started, 'influencers' were not really a part of the conversation the way they are now.
 
For us, we were always a business that was going to have to make money to survive. That seems crazy to have to say, but in today's startup landscape that's not always a given. We became really good at making money and have been able to reinvest our profits into building a great company. Being able to move into the city, hire world-class people and grow our revenue and profits is incredibly satisfying." – JN
HOW FOHR CARD IS CHANGING THE INDUSTRY 
"Basically, brands want to work with influencers to market their products. We build technology that helps those two groups work together more efficiently. We are unique in that Fohr Card uses millions of data points and fairly complex algorithms to help make the best influencer recommendations, set fair market pricing and report on the efficacy of a brand's social-media campaign." – JN
WHY THEY WANT YOU TO BE IN THE QUITTER'S CLUB
"We started the Quitter's Club to celebrate influencers who have quit their day jobs to pursue their passions full-time. We love that Fohr Card is a part of many of these stories and that people are leaving jobs in PR, finance, sales and more to be full-time influencers.
 
Undoubtedly, the road is going to be a lot longer than you predict when you are starting out, but I think the destination will be a whole lot better than you imagine as well. Keep your head down, work hard, trust yourself." – JN 
THEIR AVERAGE DAY (FROM MORNING TO NIGHT)
"I race bikes here in the city and wake up around 5-5:30AM to train for two-to-three hours before work. I live in the Lower East Side, so I get to walk to our office in Soho. Luckily, once I step in, my day is always different. I drink a lot of coffee, eat 20-40 Tic Tacs a day and leave around 7 PM. I don't have a TV, so I usually get home, read, listen to records, do other things people in the 1920s enjoyed, and pass out around 9:30PM." – JN
 
"Since moving into the new office, my mornings have been starting at around 7 AM or so—which for those who know me will come as a shock. It used to be so much easier to wake up at 9:15, roll out of bed and walk five feet to my desk to be 'into work on time.' I still like to go to my normal spot in the neighborhood for coffee, Abracadabra. There's still something very therapeutic about the routine of it. After I wade through the sea of humans crowding the sidewalk outside the coffee shop acting like they've never seen rainbows in the form of a bagel before, I'll hop in the car and drive across the Williamsburg bridge into work.
 
Once I'm in the office, the first thing I do is start with a quick check of my schedule to know whether or not I have a 'makers' or 'managers' day ahead of me and block my day into two- or four-hour blocks accordingly. A half-hour spent responding to any emails or Slack notifications from my team requiring my attention, a quick standup with the dev team, and then I'm clear to take care of whatever's on my docket—recruiting, designing, coding, reviewing work or planning out what's next. I wrap up right around six or seven, depending on what's on for the evening, which gives me just enough time to take Penelope home and have a quick shower or nap before any evening plans. I'm a creature of habit, so most likely you'll find me at one of a handful of spots—Lucky Dog, Dram or Maracuja—before the evening's up.
 
When my head hits the pillow, I like to read a part of a book that piques my curiosity for 10 minutes on my phone. Recently, it's been a book called Standing Next to History: An Agent's Life Inside the Secret Service. Inspired by wondering how it's possible for President Obama to just roll up to Torchy's Tacos in Austin at SXSW—because, clearly, he's not just rolling up—I had to know. So I followed the rabbit hole and found this book, which is incredibly fascinating." – Rich Tong 
THEIR FAVORITE READS AND WORK STAPLES 
"I read The Wall Street Journal in the morning, The New Yorker on the weekends, Monocle on planes and about 30 books a year. My workday essentials are my laptop, Ricoh GR camera, WSJ, Mont Blanc pen, Moleskine notebook and Tic Tacs." – JN
 
"Daily, I read CNN, ESPN, Hacker News. Weekly, I read the mail in my mailbox. Coffee and sugar-free Red Bull are my two true workday essentials." – RT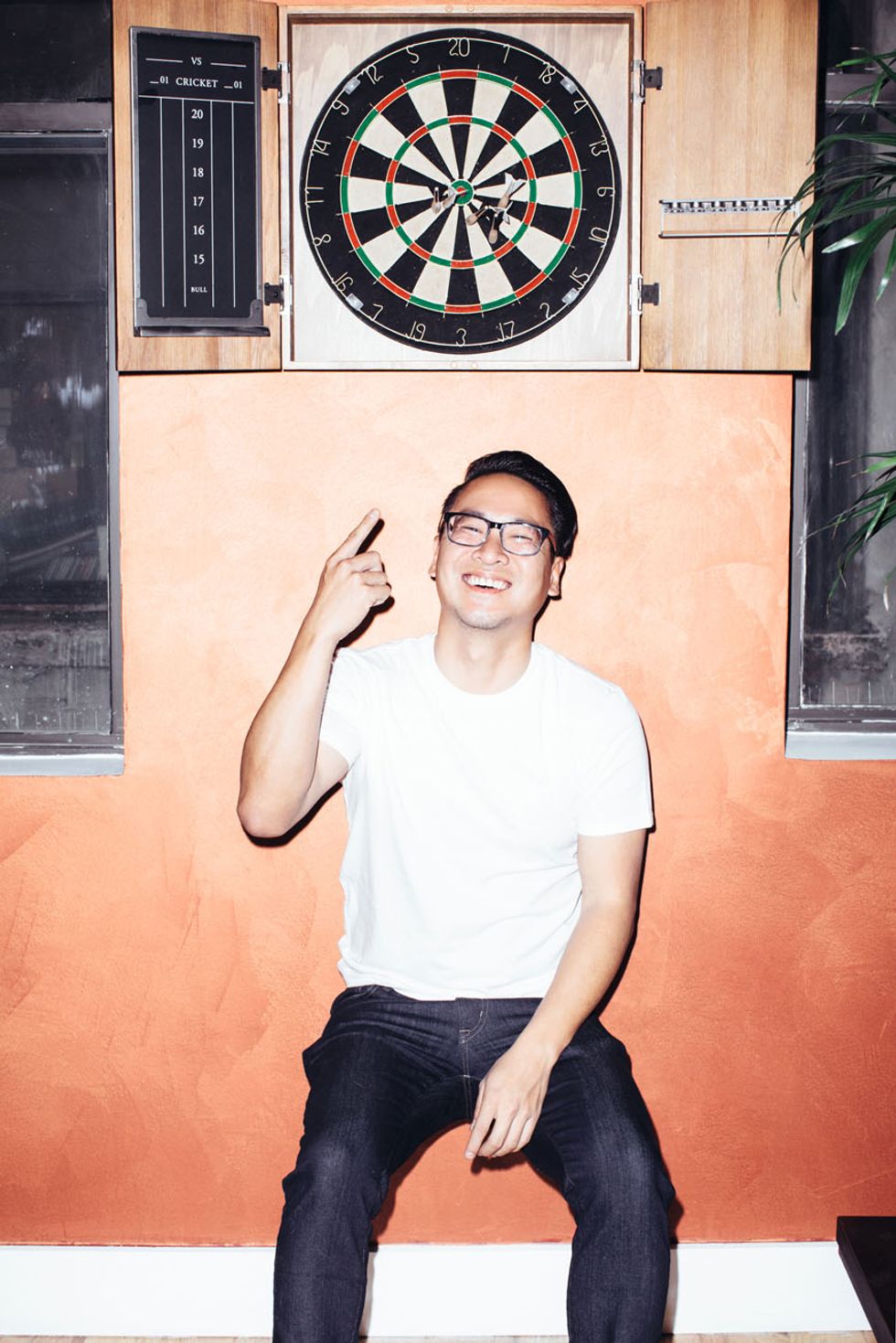 PERKS OF THE JOB?  
"We get to hire everyone, so I don't work with any assholes. That's really nice." – JN


"Getting to hear [James] Nord talk about how great his hair is every day." – RT
ON HOW THEY STAY INNOVATIVE (IT INVOLVES LOTS OF HOW-TO VIDEOS)
"We expect excellence from our employees and ourselves. That expectation creates a culture where we are all constantly trying to push the business forward. As the space becomes more crowded, it gets harder and harder to stand out and gain a following. The stories and content coming out of social are incredible, and I think it's harder to be passively popular. You have to be good every single day." – JN
 
"The key for me has been adopting the belief that nothing is sacred. The work we do, the site we've designed, the code we've written—I'm mentally okay throwing it out the window and starting from scratch at any given point in time. It comes from knowing that if we anchor ourselves too much in the reality of our current situation, we often find restrictions on how we do things rather than freedoms to try new things. As for staying inspired, how-to tutorials or videos are my jam. Doesn't matter if it's a coding tutorial on transitions or a video of Yolanda making that incredible BB-8 drone cake or a clip of someone shaping a door knob on a lathe—if it has to do with making things, I'm in." – RT
THE BEST CAREER ADVICE THEY'VE RECEIVED (YOU'LL WANT TO TAKE NOTES)
"It's the most obvious and most important thing—just don't give up; keep going. The more I work, the more I realize that the most important thing an entrepreneur can have is tenacity. You can get by without being the smartest or the most creative or the most attractive, but if you can't keep working through seemingly insurmountable obstacles, all the talent in the world won't save you." – JN
 
"Someone once told me the hardest thing I would ever do in life was to build a team—not get married, not have a kid, not raise money—build a great team. At the time, I wasn't in a place to really appreciate the weight of the statement. But over time, it shifted the balance of priority in my head to team first, company second, and it's proven to be a meaningful change." – RT
THEIR ADVICE FOR OTHERS (WE FULLY SUPPORT IT)
"I don't have much industry-specific advice, but, generally, don't underestimate your ability to achieve great things, the amount of work it will take to achieve them or the amount of learning you'll have to do before it's possible. It's a practice in self-awareness and self-confidence." – JN
 
"Don't be a dick." – RT
5 EVERYDAY ESSENTIALS
"The things I wouldn't want to live without—but feel like I could survive without—are Fiber-tipped Pentels, paper to scribble on, my computer to code on, a bottle of bourbon nearby and the Chipotle downstairs." – RT


"My bike, self-confidence, people to challenge me, books to challenge me, Tic Tacs." – JN